Weekly Meal Plan: Deliciously Vegetarian
Stephie Predmore | Stephie Cooks
Going vegetarian isn't just good for you, it's good for the planet. Try it for a week - our plan is so delicious, you won't miss the meat!
We all need a little meal inspiration throughout the week. Meal planning is one of the hardest things to do, but also one of the most necessary when you have a family. Lucky for you, I have put together a 5-day meal vegetarian meal plan that will make even the meat eaters happy.
Monday:
Since Mondays are hard and we are often devoid of much energy, let's make the meal a one-pan wonder: Spring Vegetable Pad Thai. This recipe is healthy, quick and easy, and full of vegetables. It's a summertime wonder! And because it is Monday, we can end the meal with a little treat: Fruit Cobbler made in the slow cooker. You won't even have to turn the oven on for this one! 
4 Servings
13 Ingredients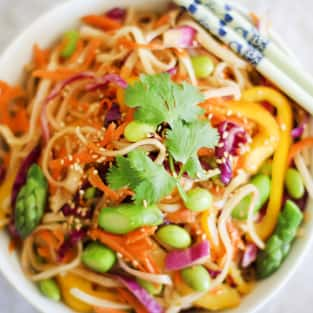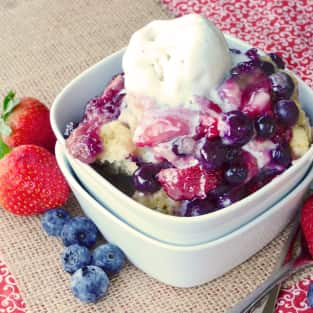 Tuesday: 
Let's keep the exotic flavors going and serve Coconut Curry Soup with Sweet Potatoes and Roasted Chickpeas. Don't worry – even though this is a soup, it can be served hot or cold, making it perfect for summer! Carry the flavors of the meal right through by serving your soup with some naan and Cucumber Raita.
4 Servings
15 Ingredients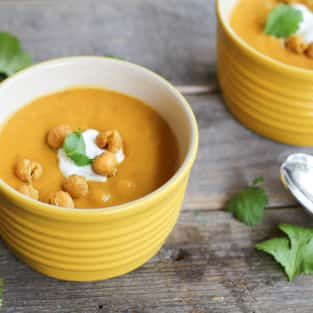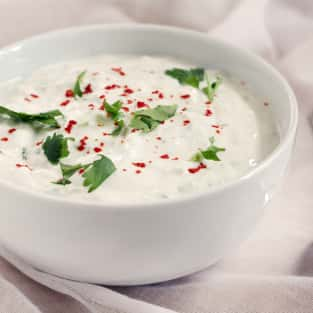 Wednesday:
On Wednesday night, why not continue to spice things up a bit with a Spicy Black Bean Burger recipe? In case the burgers are a bit too spicy for you, you can cool your taste buds by serving them alongside leftover Cucumber Raita from Tuesday night. End the meal with Chia Seed Pudding, a quick and easy no-bake, no-cook dessert that is so good you won't believe that it is healthy for you. (Just don't tell the kids!)
10 Servings
14 Ingredients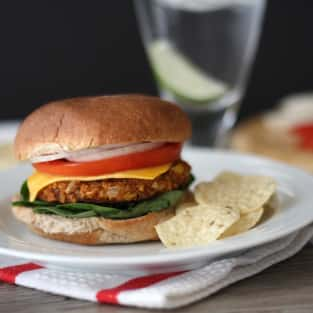 Thursday:
Make Thursday night pasta night by whipping up a batch of healthy Kale Pesto and serving it on top of your favorite whole wheat pasta. Make a Greek Chopped Salad for your side – simply leave out the chicken for a vegetarian version, or serve it on the side for any meat-eaters that might be joining you for dinner.
16 Servings
7 Ingredients
2 Servings
14 Ingredients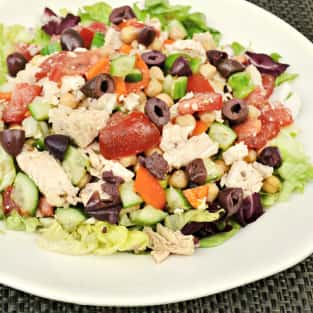 Friday:
It is finally Friday! Use your leftover Kale Pesto from Thursday night to make Roasted Eggplant Sandwiches that are so robust and full of flavor, you won't even miss the meat. A Cucumber Tomato Salad recipe makes for the perfect refreshing summer side dish, and the perfect end to a deliciously vegetarian week.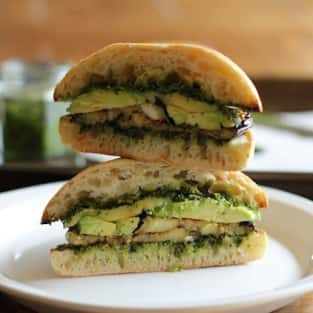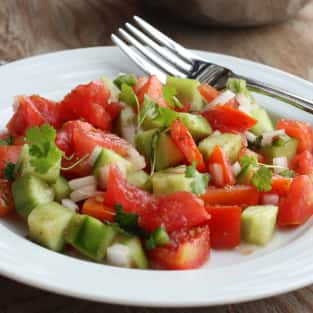 Tags: Meal Plans, Vegetarian, Vegetables
Sign Up for Weekly Personalized Recipes. FREE!