Popeye's Chicken Recipe
Kim Beaulieu | Cravings of a Lunatic

Popeye's Chicken is everyone's favorite fried chicken. Only now you can make it at home with this copycat Popeye's chicken recipe!
I am busting out of my usual chocolate mold today to share a special recipe that I love so very much. My copycat recipe for Popeye's chicken!
While I may be the resident chocolate fanatic here, I also love so many other foods as well. One of my absolute favourites of all time is fried chicken.
There is just something about frying up chicken that brings me to my happy place. And there's nothing like Popeye's chicken!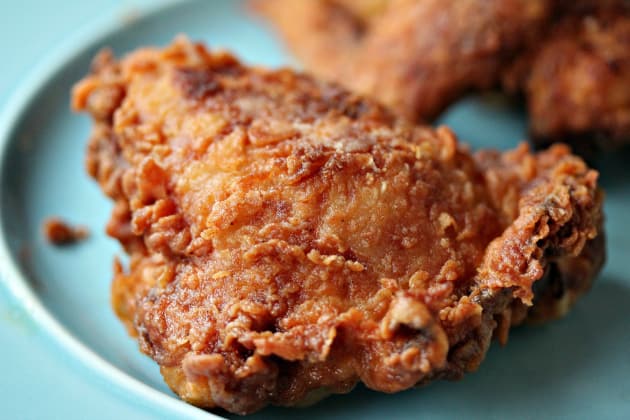 I've been making different versions of this Popeye's chicken recipe for years, but this has to be my favourite way to make it.
It's full of flavour and fried to absolute perfection. I once made 50 pounds of this for a stag and doe party (I think they call these bachelor and bachelorette parties in the US) - not a single piece was left!
There are so many great places you can go out for fried chicken. I love to try it everywhere we go just to see how others make it.
But we all know, hands down, one of the best places is Popeye's. They have perfected fried chicken like no other restaurant. 
We happen to live in Canada, so we do not have Popeye's here. But, we just so happen to be lucky enough to live about 20 minutes from the American border.
That means we get to zip over as often as we like to go out to eat, and shop too!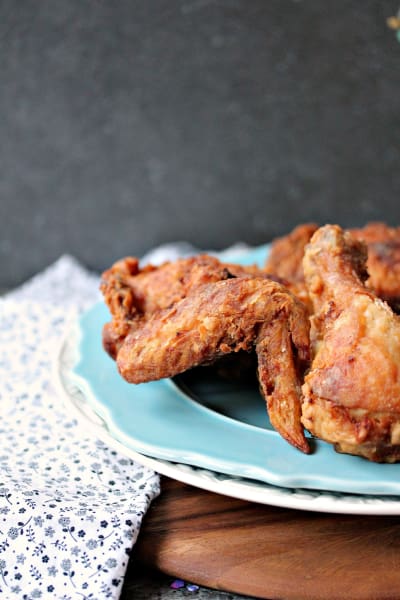 One of our favourite places over the years to swing by is Popeye's. Since I'm a sucker for good fried chicken, it fits the bill.
It's always tender inside but the skin is golden and perfectly crisp. Just the way I like it. Plus there's some heat!
I've played with many different variations of this recipe trying to nail down the exact flavor and crunch of Popeye's chicken.
After much ado, this recipe is the winner!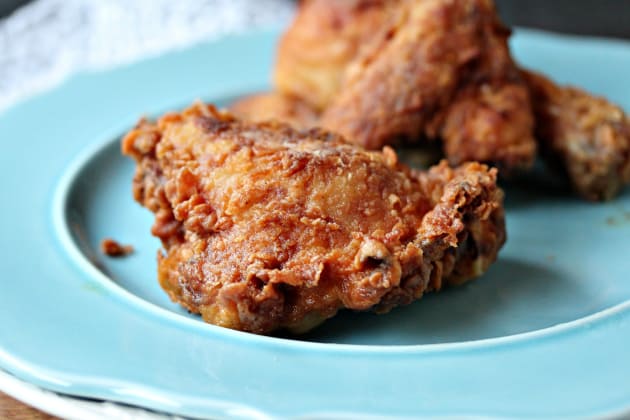 Tips for Making Copycat Popeye's Chicken
I think the key to really good fried chicken is taking your time to do it right. If you're going to cut corners, get take out fried chicken instead.
Use buttermilk, allow it to soak, dredge each piece before frying, and always use good oil. I also think it helps to make sure you buy really good chicken.
If you get the basics down you can start playing around with spices and flavour.
I really enjoy trying new seasoning in mine as often as I can. Typically I'll make a couple of different flavours at one time. 
Whether you like yours spicy or mild, you need to whip up a batch of this Popeye's chicken recipe today. I suggest making a double batch at that very least.
You will thank me for that little piece of advice. It's absolutely scrumptious, so the more you make the happier you will be. Plus, it's perfect for your spring picnic!
Popeye's Chicken Recipe
Ingredients
3 pounds Chicken, Cut up into pieces
For the Brine:
2 cups Buttermilk
1 teaspoon Red Hot Sauce, optional
1 teaspoon Salt
1/4 teaspoon Black Pepper
For Breading:
2 cups Flour
1 teaspoon Salt
1/4 teaspoon White Pepper
1/2-1 teaspoon Smoked Paprika
1 teaspoon Sugar
1 1/2 teaspoons Brown Sugar
Canola or Vegetable Oil, For frying
Directions
Place chicken pieces in a large casserole pan. Mix buttermilk and red hot sauce, if using, with salt and pepper in a large measuring cup, and then pour buttermilk mixture over top of the chicken. Cover and refrigerate for at least 4 hours, preferably overnight for about 8 hours.
Remove from refrigerator about 20 to 30 minutes before frying.
Mix the flour, salt, white pepper, smoked paprika, sugar, and brown sugar in a large bowl. Set aside.
Preheat oil for frying. You can use a deep fryer, or a large deep pan filled halfway up with oil. I typically use 2 large, deep frying pans for one batch so it all finishes at the same time and my pans won't be over-crowded. Bring the oil to a bubble over medium heat.
Start taking the pieces of chicken out of the buttermilk and then dunk each one in the flour mixture, making sure to coat on each side. Place each piece carefully in the pan of oil. Repeat until all the chicken is in your pans. You can then discard any remaining buttermilk and flour mixture.
Cook the chicken for about 8 to 10 minutes, flipping with long tongs to ensure all sides are cooked evenly. Now reduce heat to low, cover the pans and allow chicken to simmer for about 25 to 30 minutes, making sure to flip at least 2 to 3 times during the process. Uncover the pans and allow to cook for about 5 more minutes to really crisp the chicken up.
Remove pieces carefully with tongs and place on paper towel lined plates. You can dab off excess grease if you like.
Serve with a big old "I can make my own dang chicken at home from now on" smile!
Recommended
Published:

Modified:

Author:

Cooking Method:

Fried

Category:

Copycat

Tags:

Related Recipes:

Recipe Yields:

6 people

Prep Time:

Cook Time:

Brining:

Total Time:

Related Post:
Published:
Author: Kim Beaulieu
Recipe Yields: 6 people
Prep Time: 15 minutes
Cook Time: 40 minutes
Total Time: 295 minutes

Nutrition Facts
Servings Per Recipe 6
---
Amount Per Serving
Calories from Fat 36
Calories
441
---
% Daily Value*
12%
Total Carbohydrate
37g
---
* Percent Daily Value are based on a 2,000 calorie diet. Your daily values may be higher or lower depending on your calorie needs.
** Nutrition Facts are estimated based on ingredients and data provided by
Fat Secret
. Please consult a doctor if you have special dietary needs.