Homemade Cinnamon Whiskey Recipe
Susannah Brinkley Henry | Feast + West

Homemade Cinnamon Whiskey fills you with the warmth of bourbon and spices. Now you can make your own spiced whiskey and control the amount of spice and ingredients.
Infusing spirits is my absolute favorite thing right now.
Okay, "right now" is a stretch. This has been a years-long phase that probably will last forever.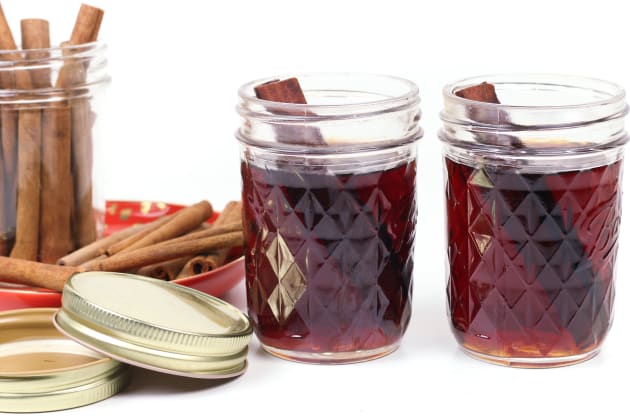 It all started a few years ago when I was visiting Washington, D.C. and ate at a Russian restaurant with some friends.
Lining the walls on the way to our table were huge glass vats filled with various fruits.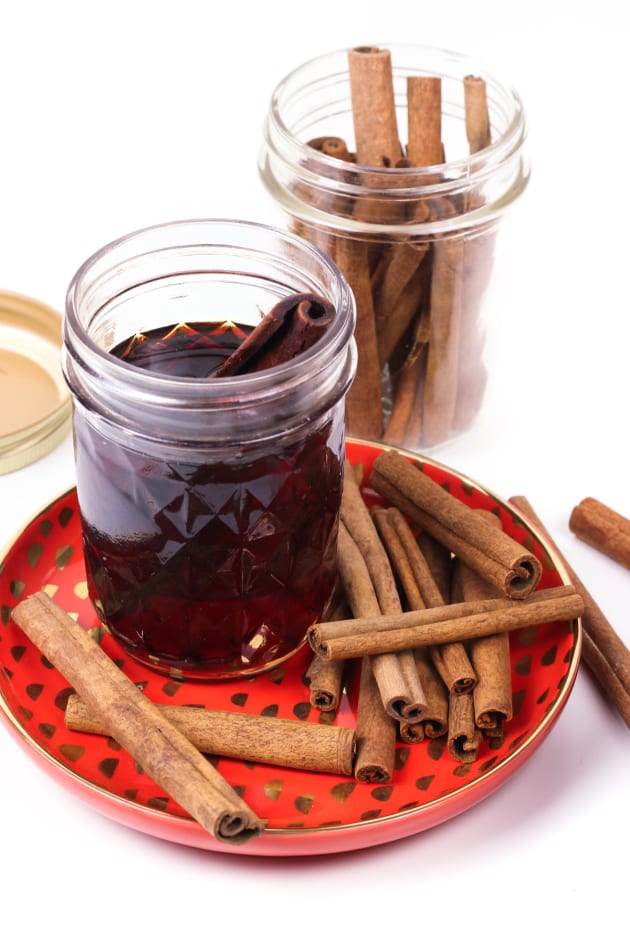 I wondered for a moment why they had vats of fruit until I realized the vats were filled to the brim with liquid. Vodka! I realized. Infused vodka!
I've never been a fan of flavored liquors. They always tasted so fake to me. That is, until I tried infusions.
The ability to flavor your own spirits with whatever flavors you love, and actually CONTROL what they taste like was so novel to me.
But that was years ago, and now I'm obsessed to the point that I'll never buy the gross stuff again. I've even gotten my fiancé interested in infusions.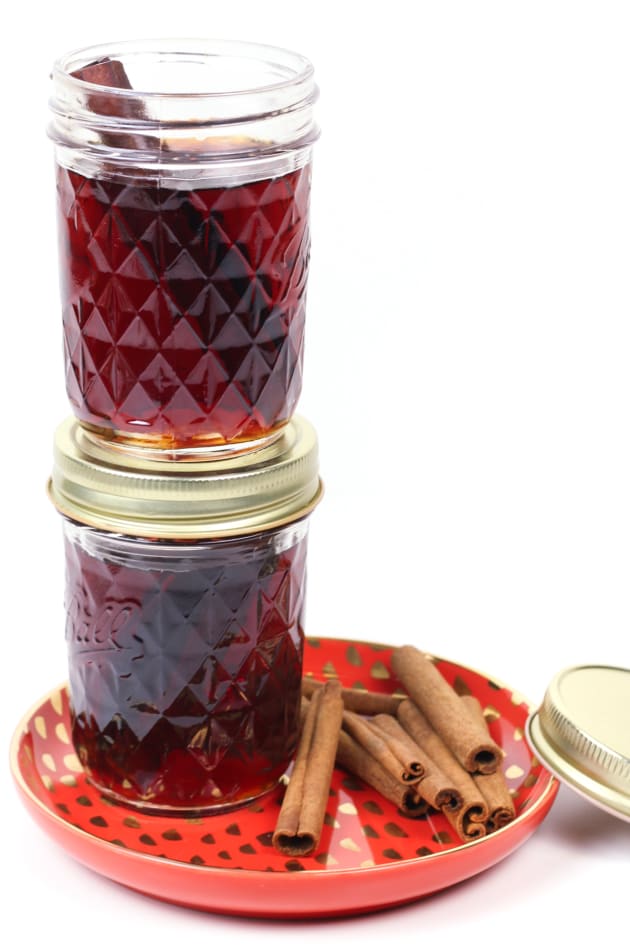 We love making Homemade Spiced Rum, Homemade Honey Whiskey and Homemade Coffee Liqueur to mix into our favorite cocktails at home.
In fact, my fiancé is the one who suggested we make our homemade cinnamon whiskey recipe again, and he made this batch all himself.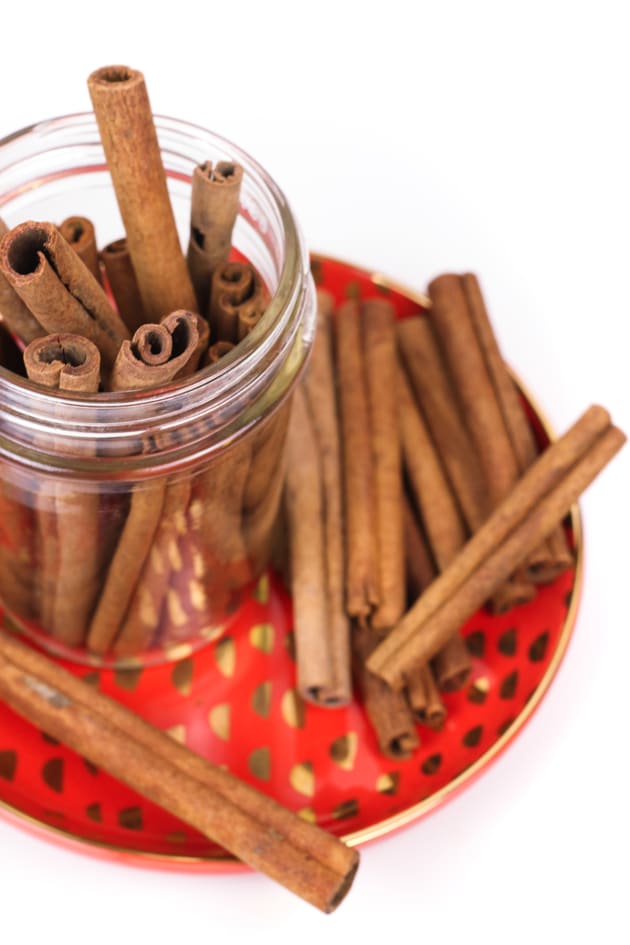 Cinnamon whiskey has been on my list to re-make for a while. I made it a number of years ago to go in my Apple Cider Bourbon Jell-O Shots, and I've made it a few times since.
But this time we wanted it to be a bit more spicy like Fireball brand whiskey. The kind that's brings the heat when it hits your throat!
The trick is using more cinnamon sticks and letting it infuse for longer.
If you let the infusion set for a couple of days, you'll get a gentle cinnamon flavor that is really lovely. But if you let it sit for a couple of weeks, the cinnamon flavor can get really strong.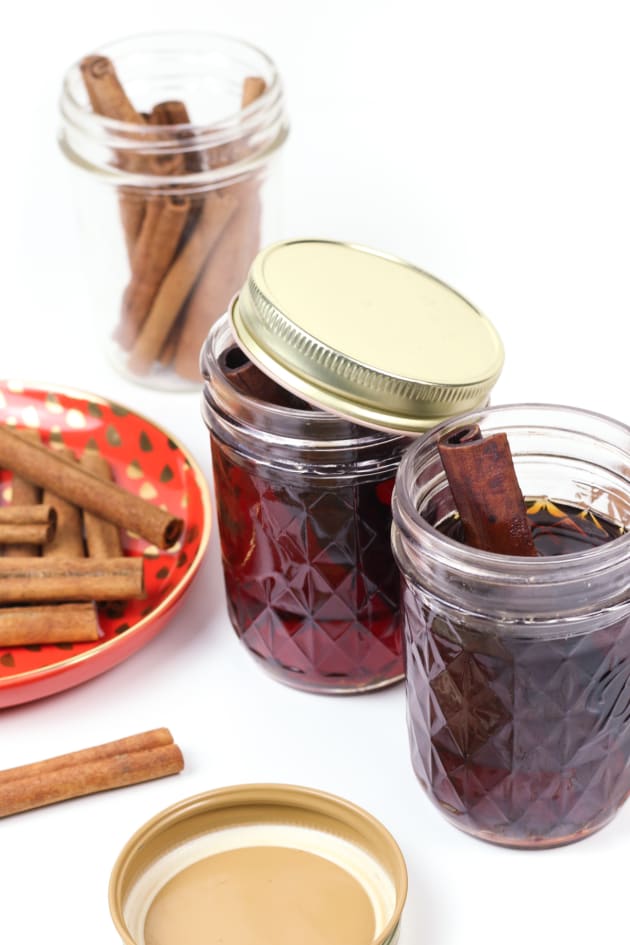 Fire whiskey strong.
We even experimented with adding whole cloves for a little extra zing. This part is totally optional, but it does add some complexity to the notes, making it really exceptional for mixing into cocktails like a spicy version of this Chai Old-Fashioned Cocktail.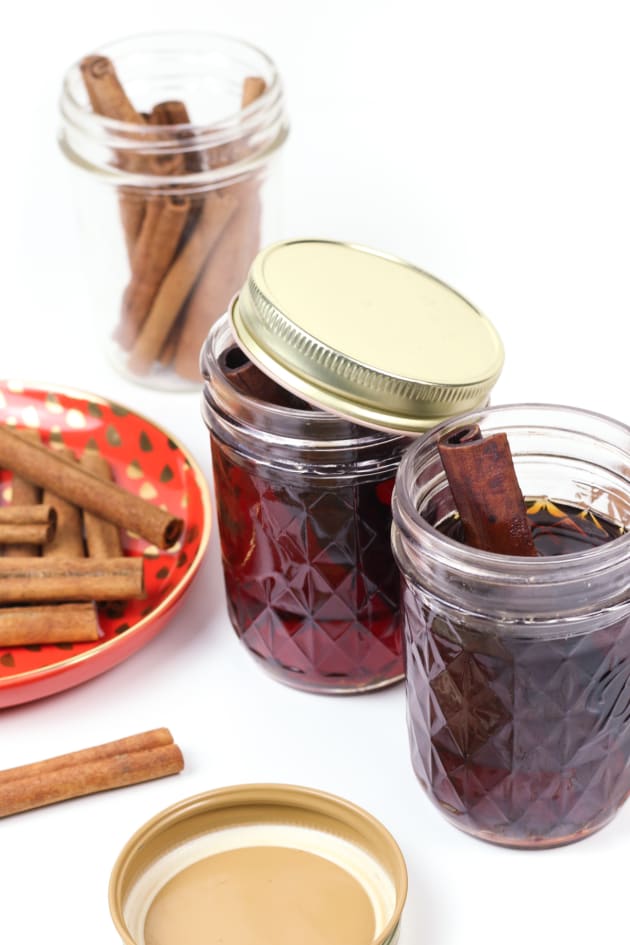 Too many cloves can actually give a numbing sensation in your mouth if it is too strong, so I wouldn't recommend using more than one or two especially if you are doing a long infusion.
If you have ever wanted to try making an infusion, or if you like the idea of a fiery cinnamon whiskey but don't like how strong the store bought versions can get, then I highly suggest you try making this homemade cinnamon whiskey recipe.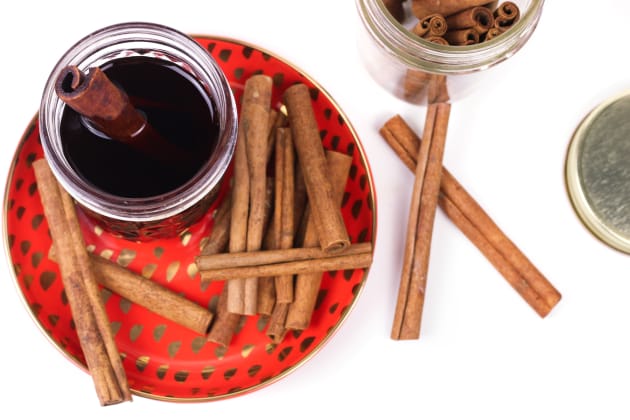 Having the ability to control how much spice flavor you end up with is absolutely game changing. 
All you need is a mason jar or some kind of vessel with a lid, some cinnamon sticks (and whole cloves if you desire) and the bourbon or rye whiskey of your choice.
Combine all the ingredients in a jar and let it sit for a few days to a few weeks. I recommend sampling your homemade cinnamon whiskey with a spoon every two or three days or so until it is at a spice level you like, then you can remove the whole spices.
(Note: The cinnamon sticks will expand and unroll as they get saturated.)
And then? It's safe to store for a few months. You can enjoy it as shots, gift it to a Fireball lover or mix it into cocktails like this Cinnamon Toast Crunch Cocktail.
Whether you like your cinnamon whiskey super spicy or just a little spiced, I hope you enjoy infusing your own!
Planning a dinner party and need some inspiration?
How about looking for a new slow cooker dinner idea?
We've got you covered in our ever-growing Facebook group! If you're not a member yet, why not?!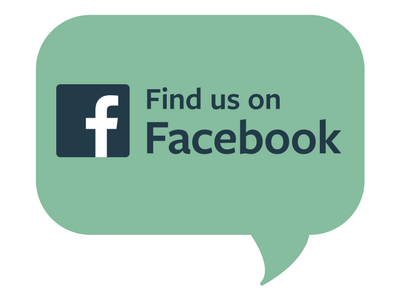 We're chatting cooking techniques, dessert ideas, and everything in between. If you're already a member, invite your friends to join us too!
Homemade Cinnamon Whiskey Recipe
Directions
Pour bourbon into a 16-oz. mason jar or two 8-oz. mason jars.
Insert cinnamon sticks and cloves. For less spice, use fewer whole spices.
Store in a dark place. Smell and taste it every 2-3 days until it reaches your preferred level of spice. More time and more spices will yield a stronger taste.
Notes
If the cinnamon whiskey gets too strong, dilute it with more whiskey, preferably the same brand/type you started with.
Recommended
Nutrition Facts
Servings Per Recipe 16
---
Amount Per Serving
---
% Daily Value*
---
* Percent Daily Value are based on a 2,000 calorie diet. Your daily values may be higher or lower depending on your calorie needs.
** Nutrition Facts are estimated based on ingredients and data provided by
Fat Secret
. Please consult a doctor if you have special dietary needs.