Healthy Chicken Enchiladas Recipe
Amber Bracegirdle | Bluebonnet Baker

Healthy chicken enchiladas made with something you wouldn't expect - egg whites! Sub them in for a tortilla and you've got a low carb dinner!
There are two big deals in the Food Faith Fitness household: Brinner (breakfast for dinner) and Mexican food.
I, like most people, am totally into the "brinner" part of that statement (I'm pretty sure that I could eat oatmeal for every meal of my life, everyday forever and ever) How-ev-er, the Mexican part? It's not really my "thang."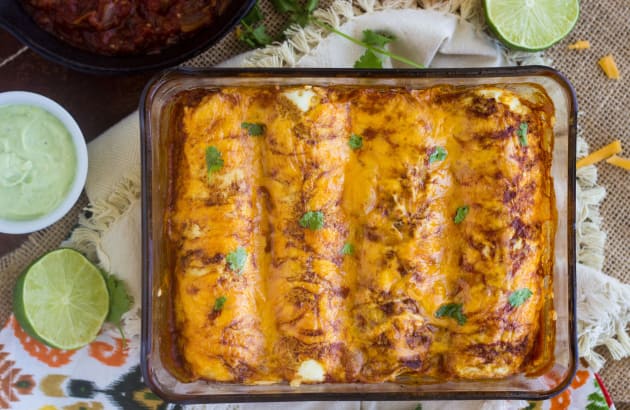 Until these Chicken Egg White Enchiladas.
My hubby and I eat eggs every day because "an egg a day keeps the doctor away"
Or something like that.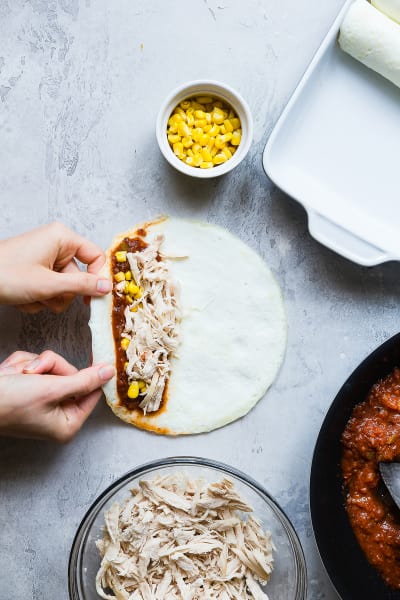 But, sometimes (a lot) the hubs requests something a little different than plain, scrambled egg whites. Something with cheese. Something with "BAM" kind of flavor.
And, usually, something Mexican.
So, out on a mission I went. I needed to think of something that had flavor, cheese, BAM, and something Mexican to make the hubs happy. It also needed be healthy, but relatively simple to make, to keep me happy.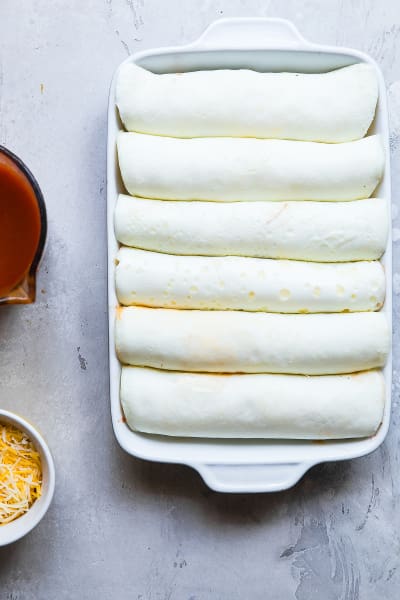 When I came across these Chicken Enchilada Stuffed Peppers and these Cilantro Pesto Meatballs In Enchilada Sauce, I had an AHA moment! Great Mexican food did not have to be accompanied by a tortilla, and a ton of carbs to boot. I had a plan.
I thought "let's combine the two big deals in our house into something that keeps the whole family happy." And so, the Chicken Egg White Enchilada was born.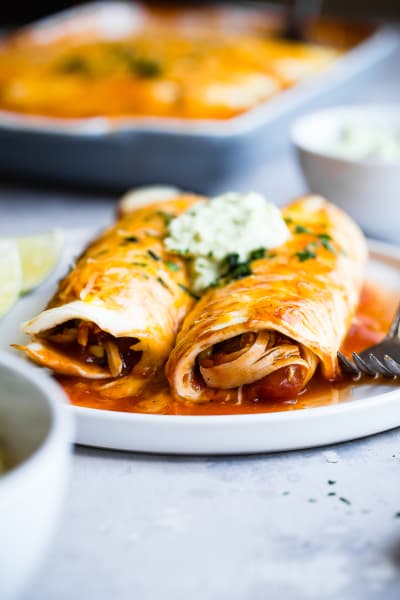 Instead of scrambling my usual egg whites, I let them cook like an omelet, flipping over half way to create a "tortilla." As long as you use enough egg whites, they cook up nice and thick and are the perfect vessel to hold in all the saucy goodness.
Speaking of filling, it's super simple! Mix up some onions, tomatoes, some spices (for the BAM!) and a little frozen corn and pulled chicken. Pop 'er in the egg whites, roll it up, cover it with above mentioned saucy goodness…and cheese. Don't forget about the cheese. It's a key playa'.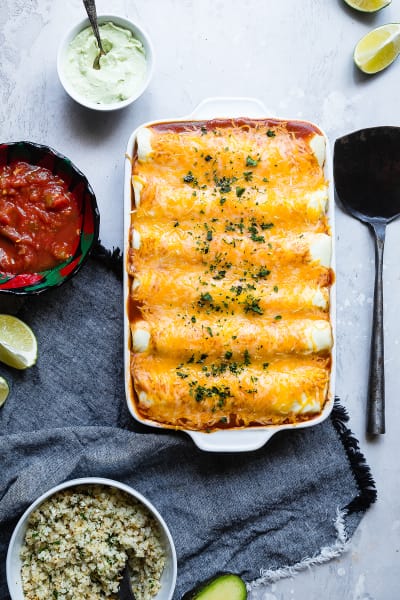 Just like that, your dinner, or breakfast, is done.
And, guess what? You won't even miss the tortilla. These enchiladas pleased both my breakfast and Mexican food loving husband AND my breakfast and healthy food loving self.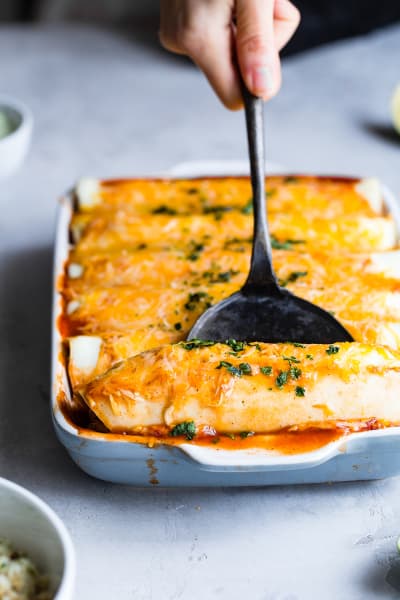 I could even go out on a limb and call them a fiesta for your taste buds?
Too much?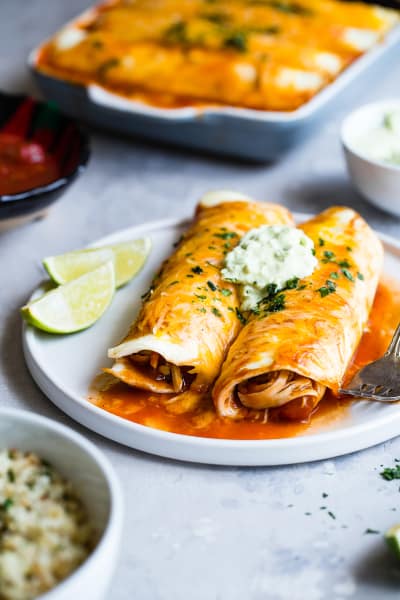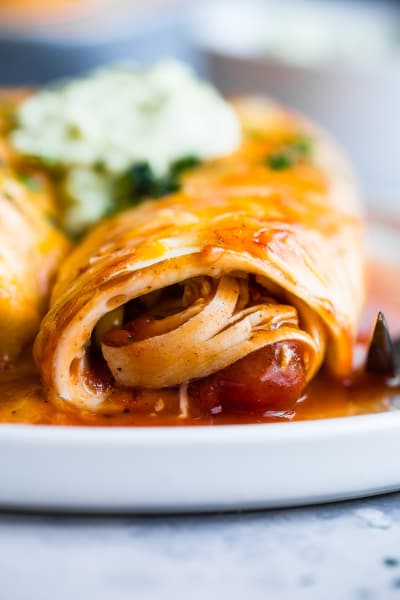 Planning a dinner party and need some inspiration?
How about looking for a new slow cooker dinner idea?
We've got you covered in our ever-growing Facebook group! If you're not a member yet, why not?!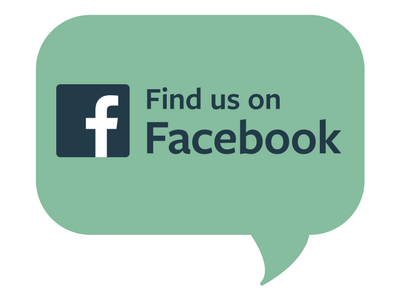 We're chatting cooking techniques, dessert ideas, and everything in between. If you're already a member, invite your friends to join us too!
Healthy Chicken Enchiladas Recipe
Ingredients
1 Boneless Skinless Chicken Breast, shredded (about 1 cup)
2 cups Egg Whites
1/2 tablespoon Olive Oil
1/2 small Onion, chopped (about 1/4 cup)
1/2 tablespoon Garlic, minced
1/2 cup Fire Roasted Tomatoes, blended in a food processor
3 tablespoons Salsa
1/4 teaspoon Red Chili Powder
1/8 teaspoon Cumin
1/8 teaspoon Smoked Paprika
1/8 teaspoon Crushed Red Pepper, optional
Salt and Pepper, to taste
1/4 cup Frozen Corn, if frozen, thawed
1/2 cup Reduced Fat Shredded Cheddar Cheese
3/4 cup Enchilada Sauce
For the Avocado Crema:
1/4 cup Avocado, about half a large avocado
1/4 cup Plain Greek Non Fat Yogurt
Salt and Pepper, to taste
Directions
For the Enchiladas:
Bring a large pot of salted water to a boil and cook the chicken breast until it is no longer pink inside, about 15-20 minutes. Using two forks, shred the chicken and set aside to cool.
Preheat your oven to 400°F and spray a small baking dish (mine was 6x8) with cooking spray, set aside.
Spray a small, non-stick, frying pan with cooking spray and heat on high. Once hot, turn down the heat to medium/low and slowly pour 1/2 cup of liquid egg whites in, covering with a tight fitting lid. Cook until the top of the whites are just set and slightly bubbly (about 2-3 minutes). Remove the lid, carefully flip the egg whites and cook for an additional 2-3 minutes, or until the "tortilla" is cooked. Slide onto a plate and repeat with the remaining 1 1/2 cup egg whites.
While the egg whites are cooking, heat the 1/2 Tablespoon oil in a large pan on medium/high heat. Cook the chopped onion and garlic until soft, about 1-2 minutes. Stir in the blended tomatoes, salsa, chili powder, cumin, paprika and red pepper flakes, if using. Season to taste with salt and pepper.
To Assemble:
Take one egg white "tortilla" and place 2 Tablespoons of the tomato sauce in a line along the bottom portion. Top with 1 Tablespoon of the thawed corn and 1/4 cup of shredded chicken. Roll up tightly and place in the prepared baking dish, securing with a toothpick if needed. Repeat for the remaining enchiladas.
Pour the enchiladas sauce evenly over the dish and top with the grated cheese.
Bake until the cheese is melted, 8-10 minutes.
While the enchiladas bake, add the avocado and Greek yogurt into a small food processor, and blend until well combined. Season to taste with salt and pepper.
Serve the enchiladas hot with the avocado crema and cilantro.
Recommended
Nutrition Facts
Serving Size
2 enchiladas
Servings Per Recipe 2
---
Amount Per Serving
Calories from Fat 148
Calories
492
---
% Daily Value*
6%
Total Carbohydrate
19g
---
* Percent Daily Value are based on a 2,000 calorie diet. Your daily values may be higher or lower depending on your calorie needs.
** Nutrition Facts are estimated based on ingredients and data provided by
Fat Secret
. Please consult a doctor if you have special dietary needs.