Detox Salad Recipe
Taylor Kiser | Food. Faith. Fitness.

This Detox Salad is just what you need all January long. Filling, full of flavor, and all the good-for-you stuff that will help you feel great.
D-E-T-O-X.
IE: the word you're going to hear A LOT about over the next week weeks as we shake-shake-shake off the ALL COOKIES diet that we've had going on the past few months and transition into a month of New Year's Resolutions sandwiched between eating Detox Kale Salads, Detox Cauliflower Mushroom Bowls, Detox Soup and whipping up a few green smoothie recipes.
It's the month where your gym is gonna get MEGA BUSY and everyone is going to be bettering themselves after plates piled high with scalloped sweet potatoes, homemade stovetop stuffing, and OTHER carb-o-rific food happenings in their real person life.
You know what I usually associate the word "detox" with though?
RABBIT FOOD.  That tastes like THE GROUND.
IE. Something I RLY RLY BADLY do NOT want to have near my mouth at any time of my life no matter how "JANUARY APPROPRIATE" it is.
I can see you looking at your meal plan, loaded with weirdo, way-too-EARTHY, whole30 salads loaded with kale, for the next week and shaking your head VRY VRY vigorously in agreement.
Internet friends this grated RAW CAULIFLOWER detox salad is about the change your mind about 1. Detoxifying foods being only for rabbits and 2. raw cauliflower being SO GROSS FOREVER AND EVER THE END.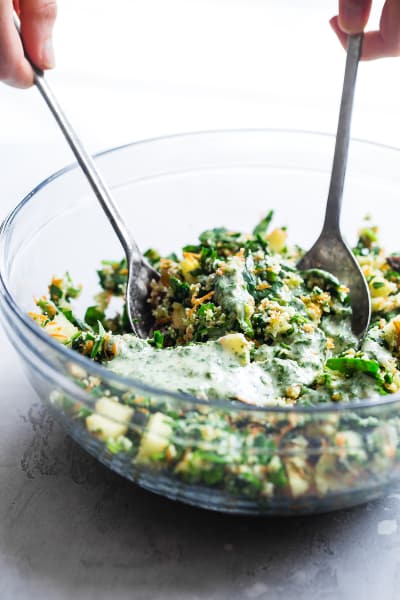 #2 might just be my dealio though. Maybe you're one of those humans who downs florets of raw cauliflower on the REG, like it's YOUR JOB, and actually ENJOYS IT.
Tell me your secrets to being a healthy-food-eating QUEEN please.
Anyway. That is not me. To be 10000% honest with you, there are not many veggie friends that I actually enjoy putting in my mouth without a little roasting or sautéing situation going on.
UNTIL THIS EASY CAULIFLOWER SALAD.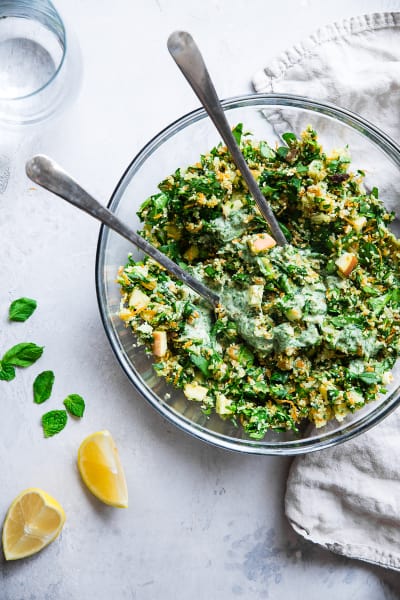 Have you ever grated cauliflower before? ME EITHER.
I didn't even know this was "a thing" that people do 'cause I thought everyone was just super savvy about cauliflower now being sold pre-riced in stores
P.s  thank you whoever decided to do this and end my #firstworldproblem about HATING doing it myself. Why is ricing cauliflower SO MESSY and ANNOYING?
But, upon pondering some detox salad recipes and scouring Pinterest for what people eat on a "Detox," I learned about this not-cooking-method. 
How to make cauliflower salad 101:
You gotta grate your cauliflower, which is literally XACTLY how it sounds.  Head of cauliflower + cheese grater + you = grate, grate, grate (don't grate your fingers!) =  GRATED cauliflower. BOOM.
Mix this raw salad in a bowl with diced apples, spinach (GREEN FOOD HEALTH YO) carrots (SO MANY VEGGIES) and a chewy burst of sweetness from GOLDEN RAISINS that pairs well with addicting little swirl of cumin on your tongue.
Blend-blend-blend creamy, RICH tahini and SUPERFRESH mint and cilantro in a food processor, adding a zest squeeze of lime and naturally sweet apple juice.
MIX-MIX-MIX
Actually LOVE putting raw vegetables into your mouth. ß TRUE STORY. YOU WILL.
All the flavors and chewy-crispy-crunchy texture going on in this grated raw cauliflower detox salad?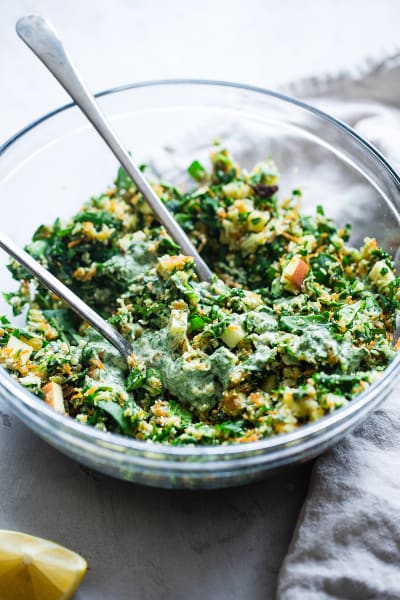 So perfect. SO healthy. SO gonna make your inner glowing-healthy-food-detox-GODDESS shine through.
Or something like that.
Whatever, you get it.
Go boldly into the world of too-many-people-at-your-gym, armed with peace and love and good health and in form of a Tupperware of deliciously-detoxifying-goodness in your lunch-eating-future.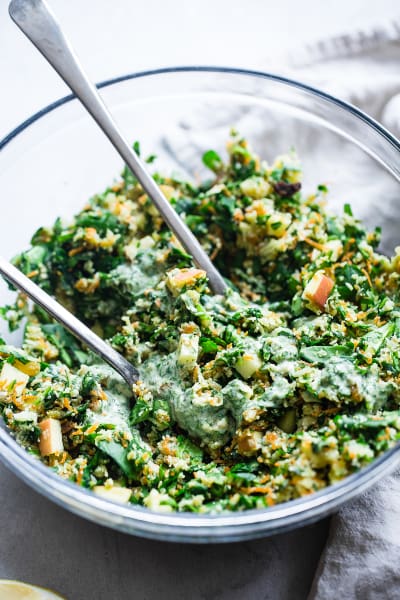 Are you tired of the dinner routine?
Stuck in a rut or looking for fun new recipes to try?
Our Facebook Group is growing every day! If you haven't joined yet, we invite you to come check it out and join the fun.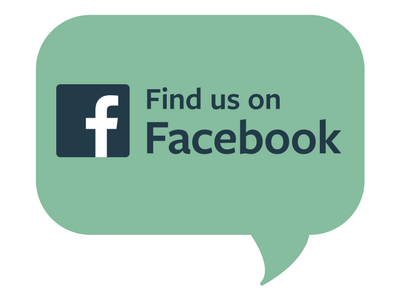 You can ask for recipe ideas, talk about cooking techniques, or get help figuring out the right new pan set for you. If you've already joined, invite a friend along!
Detox Salad Recipe
Ingredients
For the Dressing:
3 tablespoons Apple Juice, (not from concentrate)
2 tablespoons Tahini Paste
2 tablespoons Fresh Cilantro, packed
1 tablespoon Mint, packed
1 teaspoon Lemon Juice
1/8 teaspoon Sea Salt
For the Salad:
2 cups Spinach, finely chopped
1 1/2 cups Cauliflower, grated
1/2 cup Carrot, grated
1/2 cup Apple, diced
1/4 cup Golden Raisins
3/4 teaspoon Cumin
1/2 teaspoon Sea Salt
pinch of Black Pepper
Directions
Put apple juice, tahini, cilantro, mint, lemon juice and salt in a small food processor ( mine is 3 cups.)
Pulse the ingredients, stopping to scrape the sides as necessary, until the ingredients are completely mixed. Set aside.
Place the grated carrots in a kitchen towel and ring out as much excess water as a you can.
Mix all salad ingredients in a medium sized bowl.
Pour salad dressing over the salad. Mix until well combined
DEVOUR !
Recommended
Nutrition Facts
Servings Per Recipe 2
---
Amount Per Serving
Calories from Fat 64
Calories
224
---
% Daily Value*
11%
Total Carbohydrate
32g
---
* Percent Daily Value are based on a 2,000 calorie diet. Your daily values may be higher or lower depending on your calorie needs.
** Nutrition Facts are estimated based on ingredients and data provided by
Fat Secret
. Please consult a doctor if you have special dietary needs.