Sugar Free Gluten Free Oatmeal Carrot Muffins with Garam Masala
Taylor Kiser | Food. Faith. Fitness.

Sugar Free Gluten Free Oatmeal Carrot Muffins are a way to make your day start brighter and healthier. Filing and delightful, they'll be your new favorite muffin.
Oh, don't mind me. Just sitting here in the corner of the interwebz putting savory spices into ANY kind of baking recipe I can find.
It started with vegan zucchini bread with five spice and sweet potato muffins and now, here we are with GARAM MASALA carrot muffins.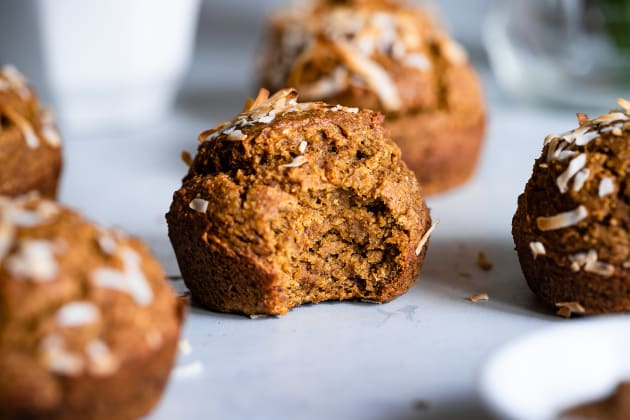 I don't know what it is, but there is some little person living in my soul that just keeps forcing me to dump non-savory-non-traditional flavors into sweet food and I am NOT one bit mad about it because these healthy gluten free muffins you guys?
They are GEMS. Like, ugh-cannot-get-enough-can-I-eat-them-for-dinner kinda obsessed with them.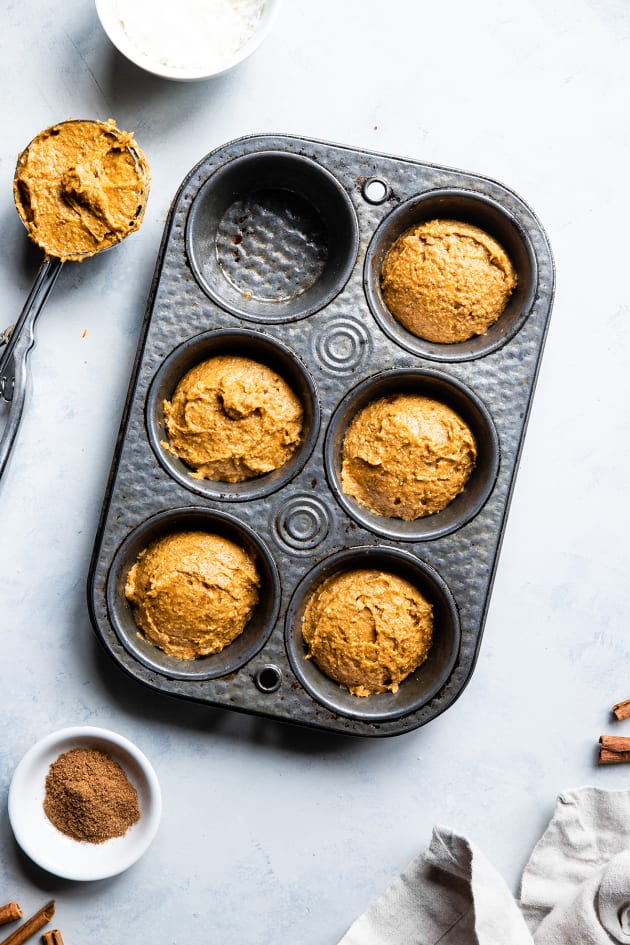 Because we've been eating food for 6 years together, I already know you're like "GARAM WHO? WHAT ARE YOU TALKING ABOUT?" So, let's just clear that up before we go any further
What is Garam Masala?
Garam Masala literally means "hot spices" and is a spice blend used in Indian cooking. It is typically made from coriander, cumin, cardamom, cloves, pepper, cinnamon and nutmeg. However, it varies region to region, so there isn't one standard Garam Masala!  It's typically used to make something like chicken curry.
That is, until TODAY.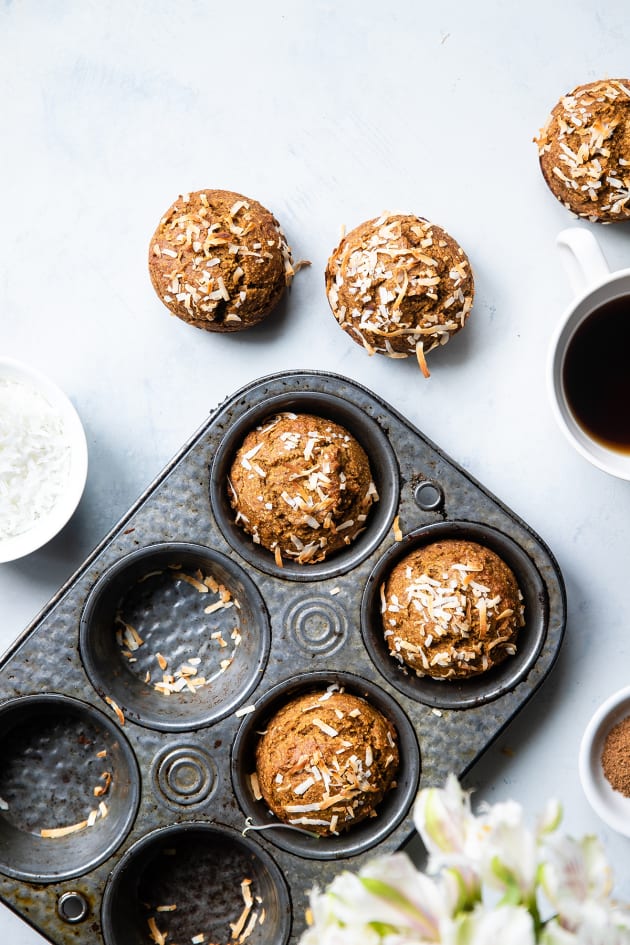 Think of these dairy free carrot muffins kind of like if an Indian Dahl Recipe and healthy gluten free sugar free carrot cake had a food baby together.
Actually, don't think of that. Because that does NOT sound appetizing.
What you really need to do is just open your MIND and embrace the new! The wonder! The bold!
And you'll be appreciating all the savory-sweet and spiciness that munchin' on some sugar free gluten free oatmeal carrot muffins will bring to your life.
Besides adding a little zip and a little zap (?? Roll with it) to your food-eating-real-person-life, making the wise choice to add carrot muffins to your daily list of "things to eat" (or am I the only one that has one of those?) will also add an EASE that you will LOVE because they are BLENDER MUFFINS.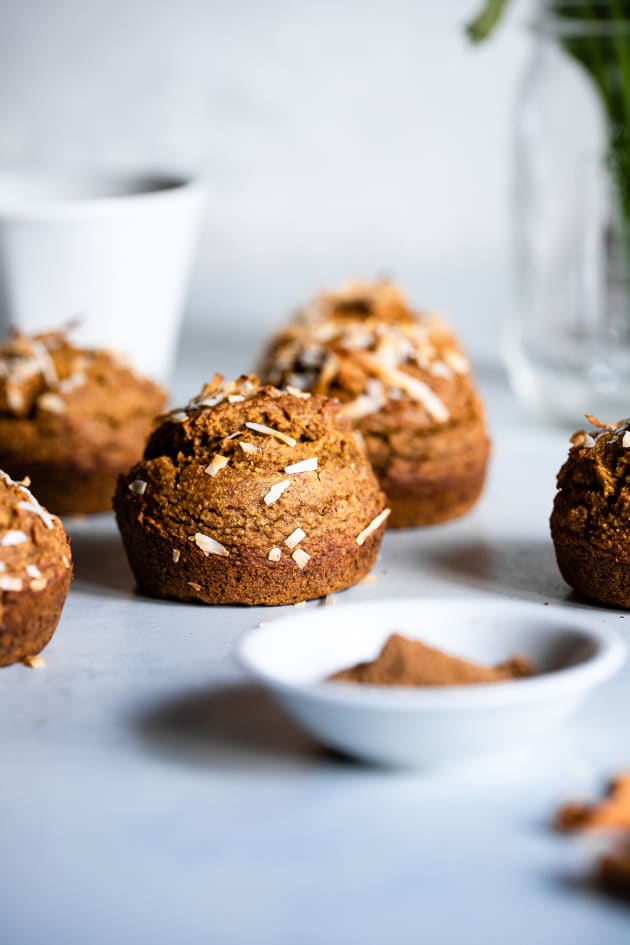 Or, FOOD PROCESSOR muffins. Really, just whatever sharp-bladed kitchen utensil that lives on your counter. It will do.
Liiiike, DO allllll the work for you. 
Do you not just love the magic of technology? How did the world survive before the magic of food processors?
Other things that are easy but might possibly freak you out: carrot baby food.
Internet friends. It's just carrots. It's just easier to buy it all blended up for you then do it yourself because you are a busy person and have other important busy person things to do.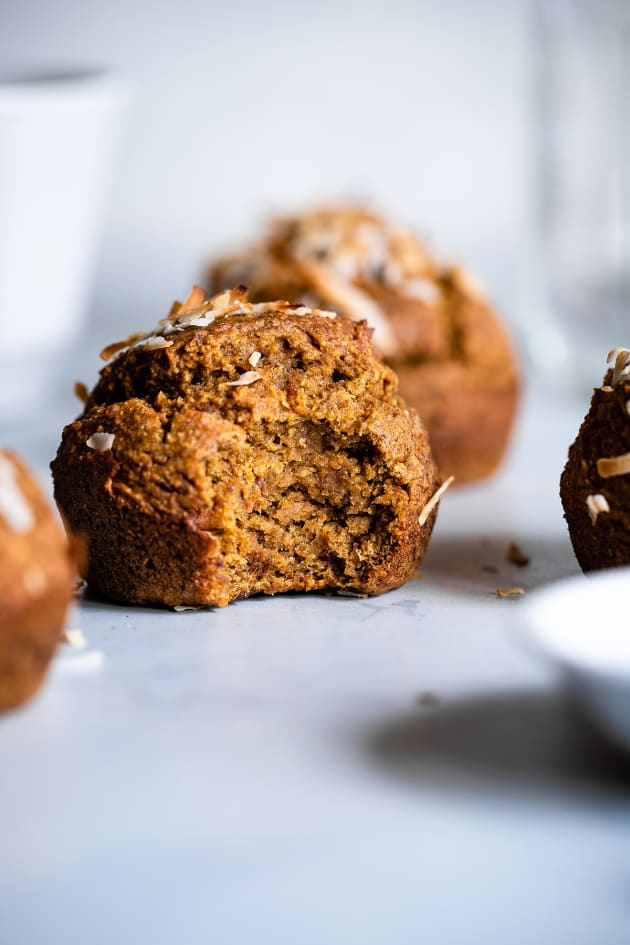 Just breathe. We will get through this and you will eat baby-food-turned-muffin and you will feel VRY VRY okay about it. I pinky swear.
At first taste you get this flavor Garam Masala PUNCH that is might confuse your taste buds if you aren't used to Indian food.
But then LAYERS of cardamom, nutmeg, coriander and cumin will dance across your tongue, blending with the intense sweetness of the dates and toasty notes of coconut and you will wonder where Garam Masala has been all of your baking life.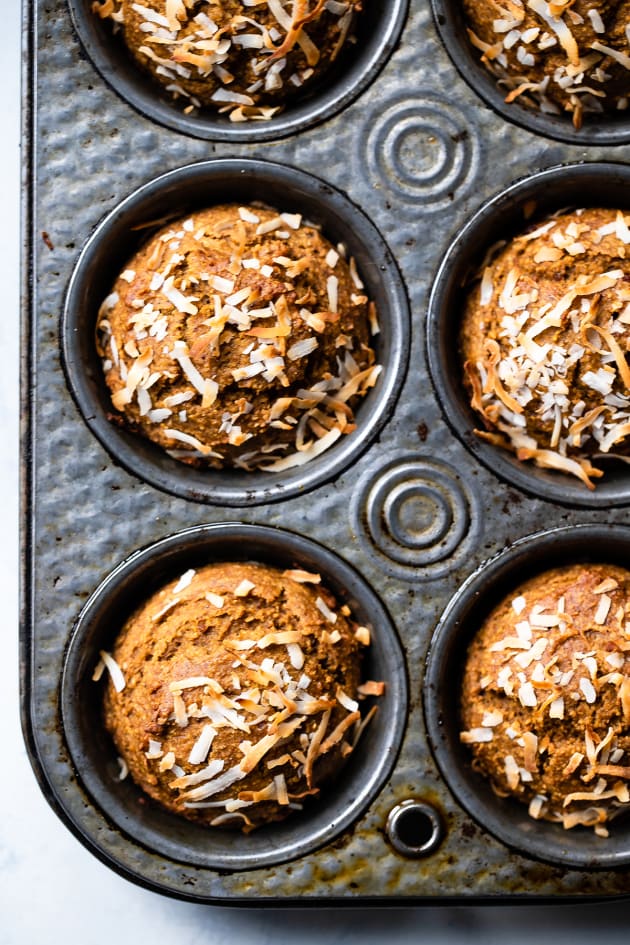 They're a little sweet, a little spicy and a WHOLE lot of intriguing.
Exactly like you. <3
Are you tired of the dinner routine?
Stuck in a rut or looking for fun new recipes to try?
Our Facebook Group is growing every day! If you haven't joined yet, we invite you to come check it out and join the fun.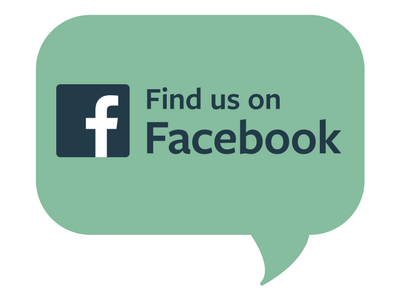 You can ask for recipe ideas, talk about cooking techniques, or get help figuring out the right new pan set for you. If you've already joined, invite a friend along!
Sugar Free Gluten Free Oatmeal Carrot Muffins with Garam Masala
Ingredients
1 cup Dates, halved and lightly packed (156g)
1/2 cup Unsweetened Cashew Milk, or almond milk
6 tablespoons Carrot Baby Food
1 Egg White
1 teaspoon Pure Vanilla Extract
1 cup Oat Flour, (104g)
1 teaspoon Baking Powder
1 teaspoon Garam Masala
3/4 teaspoon Cinnamon
1/2 teaspoon Ground Ginger
1/4 teaspoon Baking Soda
1/4 teaspoon Salt
2 tablespoons Unsweetened Coconut Flakes
Directions
Spray a muffin pan with cooking spray and heat your oven to 400°F.
Place you dates in a microwave safe bowl and microwave for 30 seconds to a minute, until they are very soft. **
Place the dates, along with the milk, baby food, egg white and vanilla in a large food processor and blend until smooth, stopping to scrape down the sides as necessary.
Add all the remaining ingredients, except the coconut, and blend until well mixed.
Fill 6 muffin cavities 2/3 of the way with the batter. I like to use a large, spring-loaded ice cream scoop to get a nice domed top. Sprinkle with the coconut flakes.
Bake until the top is golden brown, and a toothpick inserted in the center comes out clean, about 20-22 minutes.
Let cool in the pan COMPLETELY!
DEVOUR!
Recommended
Published:

Modified:

Author:

Cooking Method:

Baking

Cuisine:

Gluten Free

Category:

Healthy Eating

Tags:

Healthy Eating, Muffins, Breakfasts, Brunches, Gluten Free, Sugar Free, Carrots, Oatmeal, Curry, Baking, Baked

Related Recipes:

Healthy Eating Recipes, Muffin Recipes, Breakfast Recipes, Brunch Recipes, Gluten Free Recipes, Sugar Free Recipes, Carrot Recipes, Oatmeal Recipes, Curry Recipes, Baking Recipes, Baked Recipes

Recipe Yields:

6 muffins

Prep Time:

Cook Time:

Total Time:

Related Post:
Published:
Author: Taylor Kiser
Recipe Yields: 6 muffins
Prep Time: 10 minutes
Cook Time: 20 minutes
Total Time: 30 minutes

Nutrition Facts
Servings Per Recipe 6
---
Amount Per Serving
Calories from Fat 19
Calories
172
---
% Daily Value*
12%
Total Carbohydrate
35g
---
* Percent Daily Value are based on a 2,000 calorie diet. Your daily values may be higher or lower depending on your calorie needs.
** Nutrition Facts are estimated based on ingredients and data provided by
Fat Secret
. Please consult a doctor if you have special dietary needs.