Vegan Zucchini Bread with Five Spice Recipe
Taylor Kiser | Food. Faith. Fitness.

This Vegan Zucchini Bread with 5 Spice is the perfect accompaniment to a cup of tea. It uses up all that extra zucchini from your garden.
If big BOLD flavor is the game, then this vegan zucchini bread recipe is its NAME.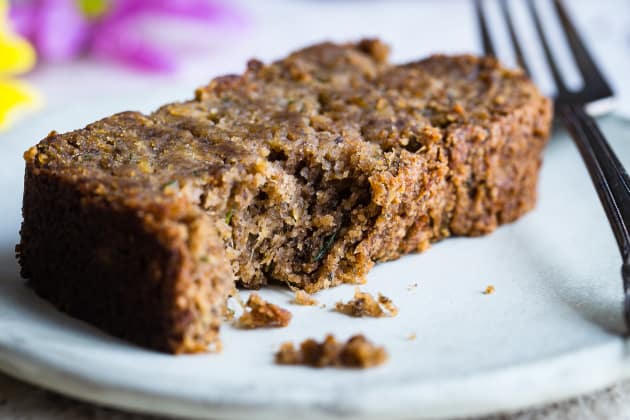 I think I kind of messed up the usual FLOW of that saying but DO NOT CARE because this intriguingly-flavored gluten free zucchini bread is literally about to BLOW YOU UP.
Errr. Your taste buds that is. Not your actual person/self.
We're internet BFFs. We would never blow each other up aside from sharing deliciously nutritious food items with each other. LOVE <3.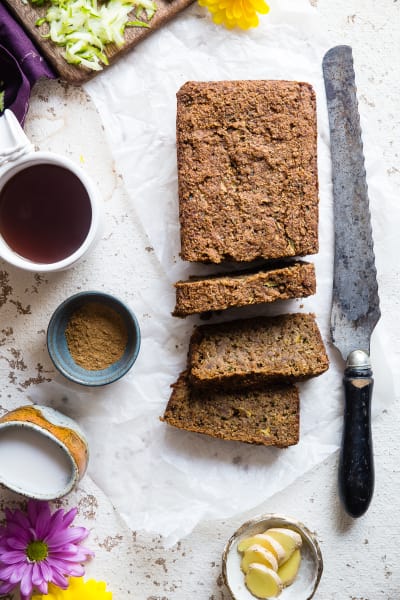 Like HOOOLY though. Words can't even describe my love for the warm and spicy-sweet, but just a little savory magic that is gonna dance across the tip of your tongue as it tingles with ginger, cardamom, pineapple, zucchini and CHINESE 5 SPICE in every mouthful.
Yes. Chinese 5 spice. Like the kind we used in paleo oven baked ribs, and is usually a BIG DEAL in Asian cuisine. In gluten free zucchini pineapple bread.
You're gonna be OBSESSED WITH IT. PROMISE.
What spices are used in Chinese 5 Spice?
This hot diggity little blend of deliciousness consists of cinnamon, cloves, star anise, fennel and peppercorns, and has this zippy-cozy warm flavor profile, with a burst of SPICY pepper and a rich DEEP note of fennel.
It's slithering (weird word choice. Going WITH IT) itself between every nook and cranny of fruity, sweet pineapple and mixing with tender twirls of zucchini in a way that is gonna make your eyes LIGHT UP with pure food B-L-I-S-S.
Literally LAYERS upon LAYERS of flavor going on in this vegan gluten free zucchini bread, friends.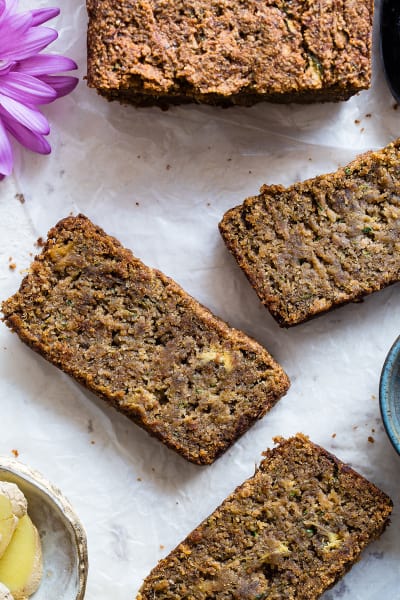 Beyond being really yummy and the kind of thing that makes you fight your husband for the last slice (true story. Really happened) this eggless vegan zucchini bread has the most AMAZING texture.
You would think a zucchini with no eggs would be PRETTY crumbly. I mean you've got a WHOLE lot of moisture going on with all that zucchini shenanigans, paired with the fact that we're using almond flour with lacks structure on its own.
BUT WAIT – LOOK! There's SUPERHERO ground chia seeds coming in to save the POSSIBLY icky bad texture-d DAY.
Our little fiber-rich friends add structure and absorb any crazy excess moisture in this vegan zucchini bread recipe, so that food-eating-you will actually look FORWARD to eating something packed with, dare I say it, VEGETABLES.
And green ones AT THAT.
Look at you, being a green-food-eating healthy human.
What can I substitute for tapioca starch?
You can PROBABLY substitute cornstarch in equal measurement (please weigh it!) as I have had success doing this in other recipes, such as paleo coconut flour banana pancakes. However, I have not tested it, so I can't guarantee if it will work!
The tapioca starch is KEY as it also helps absorb moisture and prevents a puddle-of-bread-that-once-was scenario happening in your oven.
Now, let's talk end goals. The goal when baking this bread is to get a REAL crunchy feelin' top with a SERIOUS golden-brown edge situation going on. That's the sweet spot and THAT is when you take it out of the oven.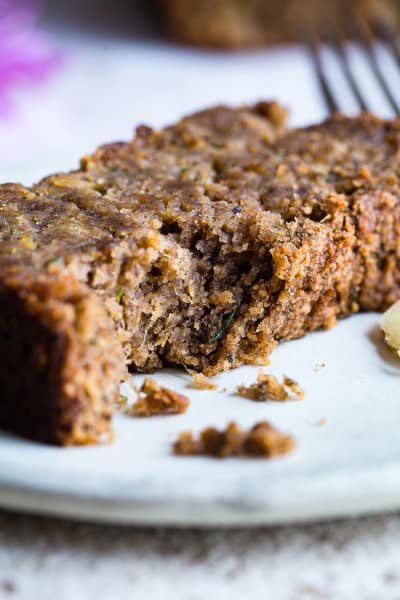 Not more. Not less. CRUNCHY TOP. ßNo crunchy means SINKAGE. Which means BAD bread.
Then. You WAITTTTTTT.
Like, you put your big girl panties on and SUCK IT UP until it has COMPLETLEY cooled.
Not kinda cool. Not still a little warm but ALMOST room temperature.
COLD.
Then tell yourself that you'll just have one slice. Good luck with that.
Are you tired of the dinner routine?
Stuck in a rut or looking for fun new recipes to try?
Our Facebook Group is growing every day! If you haven't joined yet, we invite you to come check it out and join the fun.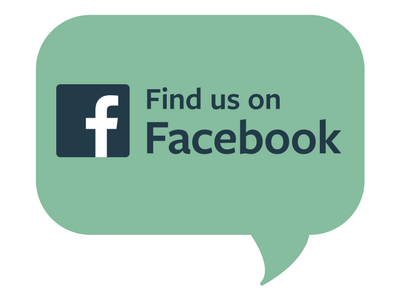 You can ask for recipe ideas, talk about cooking techniques, or get help figuring out the right new pan set for you. If you've already joined, invite a friend along!
Vegan Zucchini Bread with Five Spice Recipe
Ingredients
2 1/4 cups Almond Flour, 225 grams
1/2 cup Coconut Sugar, plus 2 tablespoons, packed
1/2 cup Tapioca Starch, plus 1 tablespoon, 68 grams
1/4 cup Ground Chia Seed
1 1/2 teaspoons Baking Soda
1 1/2 teaspoons Chinese Five Spice
3/4 teaspoon Ground Cardamom
1/2 teaspoon Salt
1/4 teaspoon Ground Ginger
1 1/2 cups Grated Zucchini, lightly packed
1 1/3 cups Crushed Pineapple, drained
3 tablespoons Coconut Oil, melted
1 1/2 tablespoons Apple Cider Vinegar
1 1/2 teaspoons Pure Vanilla Extract
5 tablespoons Water
Directions
Preheat your oven to 350°F and line the bottom of a loaf pan with parchment paper, rubbing the sides with coconut oil
In a large bowl, whisk together the almond flour, coconut sugar, tapioca starch, chia seed, baking soda, 5 spice, cardamom, salt and ginger until well mixed.
Place the grated zucchini in a kitchen towel and ring out ALL the moisture. Really put some muscle into this! Dump the zucchini into the bowl with the flour, but don't mix it in.
Repeat the process with the pineapple, ringing out all the moisture. Then dump it in the bowl, on top of the zucchini, not mixing it in.
Make 3 wells in the flour mixture. In one well, pour the coconut oil, in the other pour the apple cider vinegar and, finally, pour the vanilla into the third, not letting them all mix.
Pour the water over top of the bowl and use a fork to stir everything together until well mixed.
Scoop into the prepared pan and spread out evenly. Bake until very golden brown and crunchy on top, and a toothpick inserted in the center comes out clean, 55-60 minutes.
Let cool in the pan COMPLETELY.
Very gently slice and DEVOUR!
Recommended
Published:

Author:

Cuisine:

Vegan

Category:

Healthy Eating

Tags:

Healthy Eating, Healthy, Vegan, Quick Bread, Bread, Snacks, Family Meals and Snacks, Zucchini, Easy, Summer

Related Recipes:

Healthy Eating Recipes, Healthy Recipes, Vegan Recipes, Quick Bread Recipes, Bread Recipes, Snack Recipes, Family Meals and Snack Recipes, Zucchini Recipes, Easy Recipes, Summer Recipes

Recipe Yields:

12 servings

Prep Time:

Cook Time:

Total Time:

Related Post:
Published:
Author: Taylor Kiser
Recipe Yields: 12 servings
Prep Time: 20 minutes
Cook Time: 60 minutes
Total Time: 80 minutes

Nutrition Facts
Servings Per Recipe 12
---
Amount Per Serving
Calories from Fat 128
Calories
248
---
% Daily Value*
6%
Total Carbohydrate
19g
---
* Percent Daily Value are based on a 2,000 calorie diet. Your daily values may be higher or lower depending on your calorie needs.
** Nutrition Facts are estimated based on ingredients and data provided by
Fat Secret
. Please consult a doctor if you have special dietary needs.