Morning Glory Pancakes Recipe
Heather Tullos | Sugar Dish Me

Dense and earthy with just a little bit of crunch, these Morning Glory Pancakes are a great way to celebrate cooler temperatures and fall Saturdays. Doesn't that sound delightful?
My son is 17 years old and he knows ABSOLUTELY EVERYTHING.
I mean, at this point I'm really not sure how I ever made it for the 36 years of my life before he turned 17. That's how many things he knows.
Here's an example: Two nights ago, he came in after a long night at work.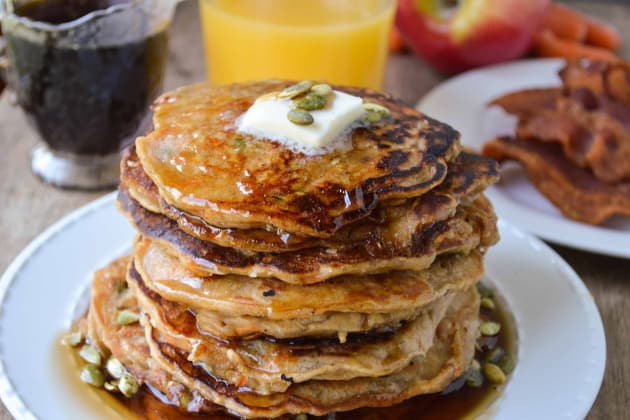 >>>I should stop my story here to say that I am incredibly proud of his work ethic. I also spent all of my teen years and most of my adult life working in food service, so I know firsthand that 7 hours on your feet, even when your feet are only 17 years old, is no small accomplishment.<<<
Anyway. My kid comes home from a long night at work and he's like, "Mom. Is there stuff in the dryer?"
Me: "Yup. There are sheets in the dryer."
Andrew: "Oh, well can I put them on the couch? I need to dry my shoes"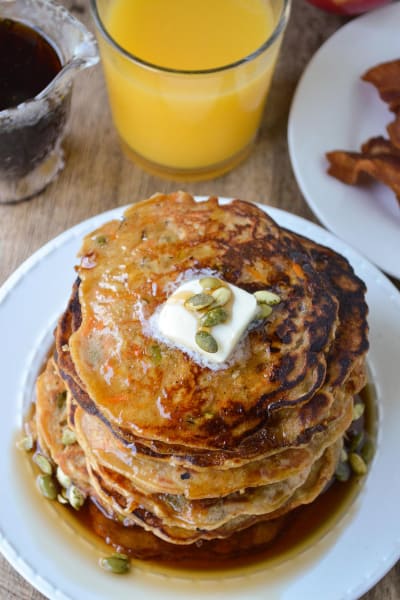 >>>Another interlude to say that it is infuriating that no one in my entire house is capable of folding things except me. Putting sheets on the couch is code for "NOT FOLDING THAT SH*T"<<<
Me: "No. You cannot put them on the couch. And you cannot put your gross kitchen shoes in my dryer."
Andrew: "MOM. My shoes are SOAKING WET. Do you even know how much water is on the floor in the kitchen at my job??!!??"
>>>Okay sorry. Stopping again. Because I am SO sure that the kitchen in this restaurant is INCREDIBLY different than all of the other kitchens I have ever worked in. [can you see my eyes rolling? They are rolling so hard they might get stuck in the back of my head]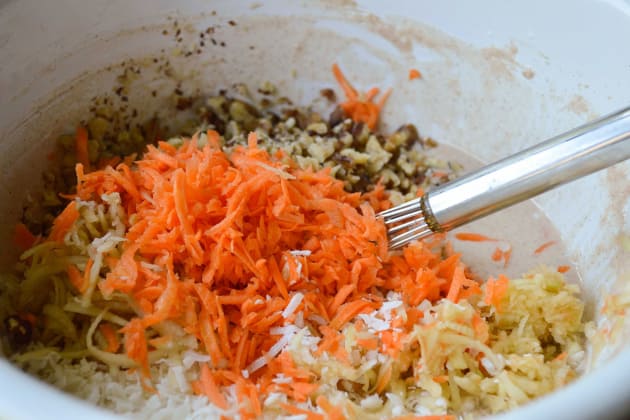 If you have never had the privilege of working in a commercial kitchen I'll share with you some things. The floors have drains in them. You work on top of huge rubber mats with holes in them so that you aren't slipping and sliding all over the floor. The holes let anything that spills head towards the drains in the floor.
When you close at night, you drag those mats outside to be cleaned, you sweep, and then you dump water and cleaning solution everywhere.
Scrub, scrub, scrub, and squeegee the water into the drains. If you aren't rolling around a mop and a bucket, this is how it goes.
Sixteen years of restaurant experience has nothing on a 17 year old kid though.<<<
Me: "Dude. You are not putting your gross shoes in my dryer. You can go to the laundromat. You can buy new shoes. But you are NOT putting those shoes in my dryer."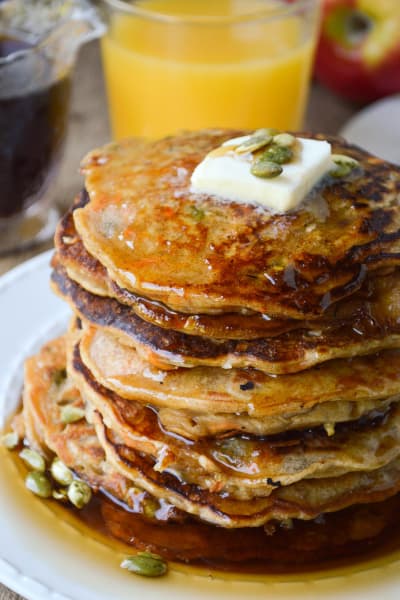 This went on for quite some time, obviously.
And I won, also obviously.
And I'll share with you another thing that I learned with my 16 years of restaurant experience: how to make REALLY AMAZING PANCAKES.
Homemade Fluffy Pancake Mix is one of the most popular recipes on my site. You can use that mix and add all the extra goodies here, or you can just mix these up from scratch really quickly. If you have a food processor the shredding goes super fast.
Morning Glory Pancakes mimic all the good flavors of morning glory muffins. Shredded carrots, apples, and coconut.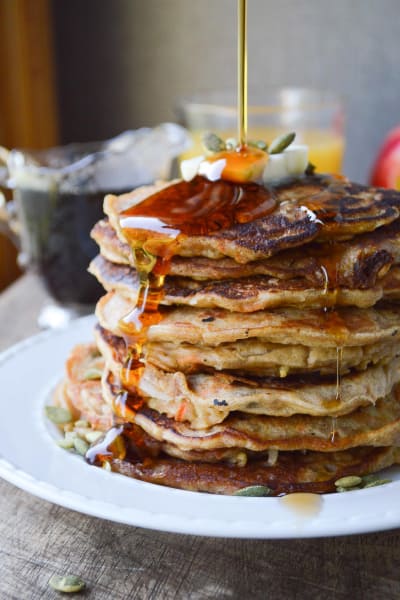 Chopped walnuts and pumpkin seeds. Raisins if you are a raisin eater. A hint of cinnamon and ginger. SO MANY GOOD THINGS.
If you love these flavors, you should totally try these One Bowl Apple Carrot Muffins. Also on the list of must-try's are these Cinnamon Raisin Bread Pancakes.
Oh! And if your kid also knows everything? This Cinnamon Toast Crunch Cocktail is totally amazing.
Morning Glory Pancakes Recipe
Ingredients
2 cups All-Purpose Flour
2 tablespoons Brown Sugar
2 teaspoons Baking Powder
2 teaspoons Ground Cinnamon
1/2 teaspoon Ground Ginger
1/2 teaspoon Salt
1 1/2 cups Milk
1/3 teaspoon Vegetable Oil
1 Egg
1 cup Shredded Carrots
1 cup Shredded Apple
1/2 cup Sweetened Shredded Coconut
1/2 cup Chopped Walnuts
1/4 cup Pumpkin Seeds
Directions
In a large bowl whisk together the flour, brown sugar, baking powder, ground cinnamon, ginger, and salt.
Add the milk, oil, and egg and stir until the batter is combined. Then stir in the shredded carrots, apple, and coconut, chopped walnuts, and pumpkin seeds.
Heat a pancake griddle or large nonstick skillet to medium high. Spoon the batter onto the hot cook surface and cook on the first side until bubbles appear and pop on the surface of the pancakes (3-4 minutes).
Flip and cook on the second side for 1-2 minutes.
Serve warm with butter and syrup.
Recommended
Nutrition Facts
Servings Per Recipe 6
---
Amount Per Serving
Calories from Fat 115
Calories
374
---
% Daily Value*
15%
Total Carbohydrate
46g
---
* Percent Daily Value are based on a 2,000 calorie diet. Your daily values may be higher or lower depending on your calorie needs.
** Nutrition Facts are estimated based on ingredients and data provided by
Fat Secret
. Please consult a doctor if you have special dietary needs.