Khasta Kachori
Amber Bracegirdle | Bluebonnet Baker

Learn how to make khasta kachori, the crispy and delicious Indian snack with a spicy, savory filling
Everyone loves a savory, deep fried, crispy snack and one of the tastiest around has to be khasta kachori. The word 'khasta' actually means 'crispy' in Hindi and this mouthwatering vegetarian snack is enjoyed as a street food in both central and northern India.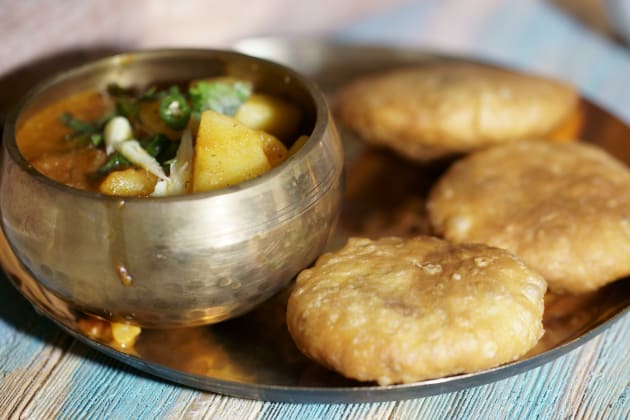 It consists of a wonderful flaky puff pastry wrapped around a filling of moong dal and spices, then deep fried. It is eaten at any time of day and is often served with potato curry for breakfast, or as an appetizer with green chutney.
Alternatively, you could serve it with curry to make a great dinner. Chances are, though, you'll enjoy eating these crispy treats just as they are!
What is moong dal?
Moong dal - also known as mung dal or yellow moong lentils - are the most commonly used lentils in Indian cooking.
They are the split version of whole mung beans and are often cooked with tomatoes, onions, herbs and spices to make a side dish.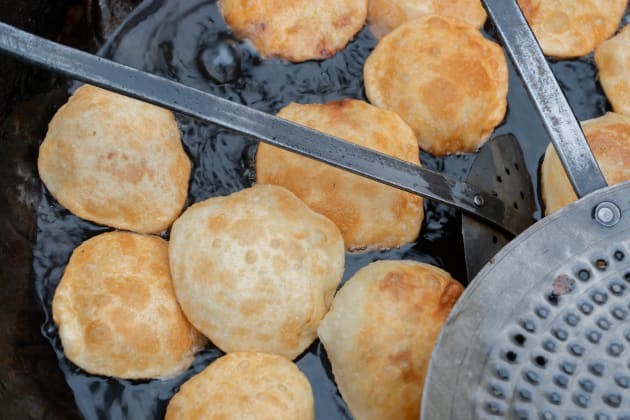 How to make your own ghee
This recipe calls for ghee, which is a type of highly clarified butter. It is great for cooking as it has a higher smoke point than regular butter, meaning it doesn't burn as quickly.
You can buy ghee in almost any grocery store, but if you only need it for this recipe you might prefer to have a go at making it yourself.
Add unsalted butter to a small pan and warm over a low heat. 
Once the butter has melted and is starting to simmer, it separates into layers.
At the top is a layer of foam, caused by the evaporation of the water in the butter. Skim if off with a spoon. You'll need to do it a few times before it is all gone.
As the butter continues to cook, the foam becomes clear bubbles, with a translucent middle layer and - underneath that - milk solids at the bottom of the pan. Cook for about 20 minutes and the ghee will be done - all you need to do then is remove it from the heat, let it cool for a few minutes, then strain it through cheesecloth or a coffee filter into a glass container.
Once cool, the ghee will be pale yelow in color and opaque.
Khasta Kachori
Ingredients
Pastry:
1 cup All-Purpose Flour
1 tablespoon Ghee, melted
1 tablespoon Vegetable Oil
1/2 teaspoon Salt
1/4 cup Cold Water
Filling:
1/4 cup Moong Dal, soaked for four to six hours in advance
1 tablespoon Vegetable Oil
1 teaspoon Cumin Seeds
1/2 teaspoon Coriander Powder
1/2 teaspoon Ginger Paste
1/2 teaspoon garlic paste
1 teaspoon Chili Flakes
1 tablespoon Dried Mango, powdered (also known as aamchoor)
1/4 teaspoon Asafoetida
1 pinch of Salt, to taste
oil Vegetable Oil, for frying
Directions
Make the pastry by putting the flour, melted ghee, vegetable oil and salt into a deep mixing bowl and bringing them together with your fingertips.
Add the cold water a little at a time to make a dough. Knead until it is medium-firm, then put aside to rest while you make the filling.
Heat the vegetable oil over a medium heat.
Add the cumin seeds and cook until they stop spluttering.
Then add the pre-soaked moong dal, coriander powder, ginger paste, garlic paste, dry red chili flakes, dried mango powder and salt to taste.
Stir thoroughly and cook until the mixture darkens and turns aromatic, stirring often.
Set the cooked filling aside.
Lightly flour a clean, flat surface and knead your dough again, then divide it into 12 equal-sized portions.
Flatten a portion into a circle 3 inches to 4 inches wide, with the edges thicker than the center.
Spoon a tablespoon of the cool filling into the middle of the circle, then pleat and pinch together the edges to create a dumpling with the filling enclosed inside.
Flatten this dumpling and keep aside, then do the same with the other portions of dough.
Allow to rest for three to five minutes whilst you heat the vegetable oil for deep frying.
To heat the oil, put it into a deep wok over a medium heat. When the oil is ready for deep frying a tiny ball of dough dropped into it will sizzle and rise to the surface. If it doesn't, the oil is still cold, but if it rises very quickly, the oil is too hot.
As the oil is heating, take each kachori and flatten into a circle 3 inches to 4 inches wide on a very lightly floured surface with the palm of your hand.
Press the edges slightly more than the center so that they are thinner.
When the oil is hot enough, drop in one to two kachoris at a time to fry, but don't overcrowd the wok.
When the kachori has fried on one side for two to three minutes, turn it with a slotted spoon to see if it is golden.
When it is, fry the other side until golden, then drain the khasta kachoris with the slotted spoon and place on kitchen towels.
To serve, cool briefly then poke a hole in the middle of one side of a Khasta Kachori and pour in some tamarind chutney and mint-coriander chutney.
Nutrition Facts
Servings Per Recipe 12
---
Amount Per Serving
Calories from Fat 27
Calories
68
---
% Daily Value*
---
* Percent Daily Value are based on a 2,000 calorie diet. Your daily values may be higher or lower depending on your calorie needs.
** Nutrition Facts are estimated based on ingredients and data provided by
Fat Secret
. Please consult a doctor if you have special dietary needs.