Pizza Hut Seeks to Compete With Taco Bell With So-Called Italian Taco
Ryan Nadolny

In response to Taco Bell's Mexican Pizza, the legendary pizza brand pokes fun with the Italian Taco.
News of Pizza Hut's new Italian Taco addition to their menu raised a few eyebrows this week, but what came next was a good humored chuckle.
If you were a kid in the late 80s and 90s, you probably remember the reading program called Book It rewarding kids with free pizza at Pizza Hut restaurants.
When you hit your goal, it meant a pizza party - slamming ice cold Pepsi, smashing pizza and playing table-top video games listening to Top 40 music.
These were pinnacle moments of my childhood and I long for those simplistic days! Pizza Hut was everything to my generation for that very reason.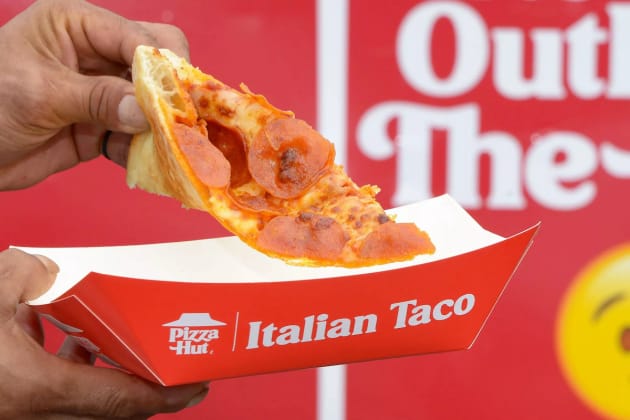 What Is Pizza Hut's Italian Taco?
Honestly, as an adult? I would fully expect the most talked about pizza in the country to be from Pizza Hut! How could there possibly be any other option?
Low and behold, none of us saw the meteoric rise of Taco Bell's Mexican Pizza coming. Seriously, how could anyone see that happening?!
While both Pizza Hut and Taco Bell are part of Yum! Brands, I'm willing to bet that the marketers at Pizza Hut have not been pleased over the turn of events.
Enter the Italian Taco! And with that, Pizza Hut has challenged Taco Bell with their tongue-in-cheek jab at the much loved late night munchie maker.
You see, the Italian Taco isn't an actual taco at all, nor is it a new menu item. That's literally the entire joke, which is pretty brilliant if you ask me.
In order to enjoy Pizza Hut's Italian Taco, you just need to simply fold your piece of pizza in half and just like that you have a taco! It's that easy.
Pizza Hut is challenging the Mexican Pizza with the "Italian Taco", which is just a folded slice of pizza pic.twitter.com/WwwHKzsGqj

— Taco Bell Alerts (@TBAlerts) September 16, 2022
Wait, Pizza Hut's Italian Taco Isn't Really a Taco?
When word of the Italian Taco first hit, Pizza Hut said, "Feast your eyes and mouths on a hand-tossed taco shell stuffed with a classic marinara sauce, mouthwatering melted mozzarella cheese and whichever fillings you choose from pepperoni to jalapenos."
Shortly thereafter the internet caught onto the joke when Pizza Hut admitted that the Italian Taco is simply a slice of their pizza folded in half.
As if that joke itself wasn't enough, the 64-year-old purveyor of pizza responded with one more left hook to put this whole thing to rest.
Pizza Hut joked, "The best part? This nearly unbelievable innovation will never run out. The Italian Taco has been here and will be here forever," referencing Taco Bell's difficulties keeping Mexican Pizza in stock. 
Just remember, no one out pizzas the hut!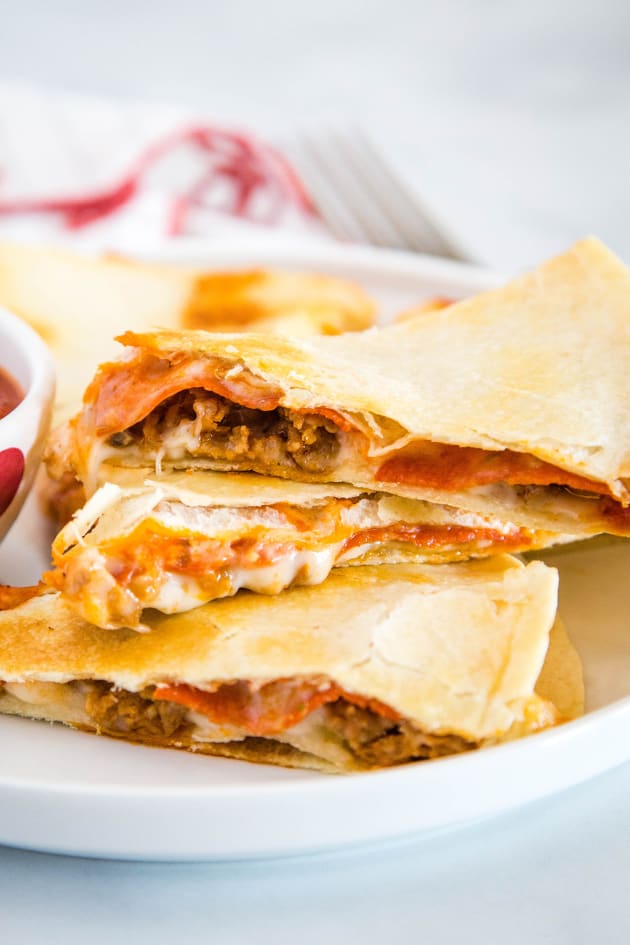 Looking For More Innovative Pizza Recipes?
If a fun and tasty food mashup involving pizza is your thing, no worries, we've got you covered - no delivery nor drive thru required! 
Our pizza quesadilla recipe might not be an exact Mexican Pizza dupe, but it sure is close! Our taco pizza recipe is also a huge crowd pleaser.
Not unlike Papa John's new crustless Papa Bowls, our crustless pizza bowls recipe is super versatile and great for meal prepping.
When it went crazy on TikTok, we made Hailey Biber's pizza toast recipe. The verdict? It's absolutely delicious and about to be your new favorite lunch.
Heck, we've made everything from pizza monkey bread and crispy pizza chips perfect for a party to pizza dip and homemade pizza empanadas.
Of course, anytime you're eating pizza in any form it's always good to know how long pizza is good leftover in the fridge. (Spoiler! It's not two weeks.)
Planning a dinner party and need some inspiration?
How about looking for a new slow cooker dinner idea?
We've got you covered in our ever-growing Facebook group! If you're not a member yet, why not?!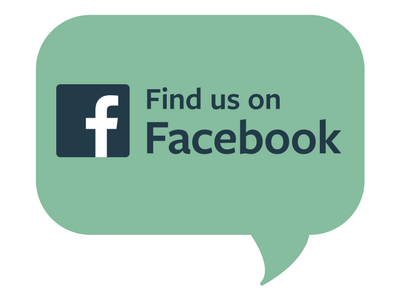 We're chatting cooking techniques, dessert ideas, and everything in between. If you're already a member, invite your friends to join us too!

Ryan is a food and writer from Toledo, Ohio where he's had a love affair with food since 1984. When he's not cooking or writing, he's planning the next he wants to eat.

Tags: Pizza, Food News