Our 11 Most Popular Tex-Mex Recipes Make For an Easy Dinner
Ryan Nadolny | Ryan Eats Everything

These are our most talked about Tex-Mex recipes, and they all make getting dinner on the table as easy as it is delicious.
Here at Food Fanatic, some of our most popular recipes come from our collection of Tex-Mex recipes. It's easy to understand why!
Tex-Mex recipes are tasty, crowd-pleasing dishes that also make an easy dinner that's as delicious as it is simple to whip up any night of the week.
Fusion recipes and restaurants are all the rage right now, combining multiple cultures into one tasty dish. One of the most popular styles of late is the mash up of French and Asian cuisine.
Before this ever became a viral fad though, we had Tex-Mex. Can we talk about Tex-Mex for a minute? It may be the best culinary experience you'll ever have.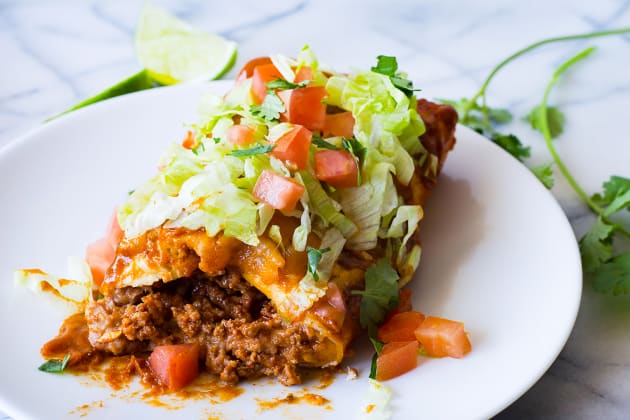 What is Tex-Mex Cuisine?
The Tex-Mex name sort of explains what this beloved style of food is all about, but not entirely. It's literally a hybrid of Texas and Mexico after all.
Tex-Mex is derived from the Tejano people, those who were living in Texas that were of Mexican or Spanish heritage before Texas became a republic.
This style of cuisine would later expand and ultimately explode into its own fad in the 1990s with brands and restaurants popping up everywhere in the US.
If you're like me and spent your entire life in the northern Midwest, then Tex-Mex was the closest thing you had to authentic Mexican cuisine.
Tell me you loved Chi-Chi's without telling me you loved Chi-Chi's! I'll go first:
Fried ice cream!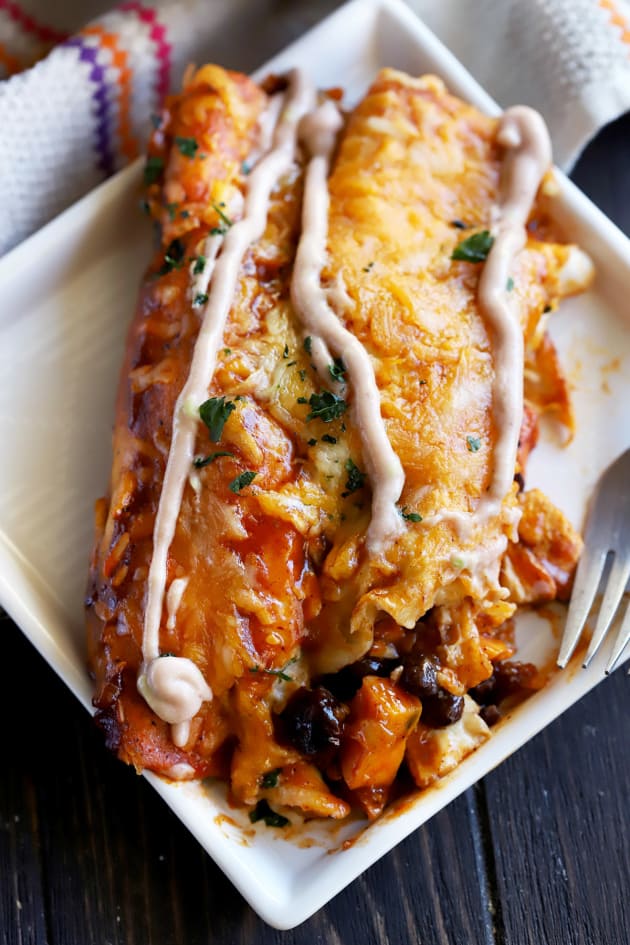 Fajitas, nachos, ground beef, and black beans are all examples of beloved Tex-Mex fare.
Unlike authentic or traditional Mexican food, you see a lot of melted yellow cheese used in certain Tex-Mex dishes.
These ingredients aren't very popular or readily available south of the Rio Grande, but you know us Northerners love our yellow cheese!
Today I'm sharing just shy of a dozen of our most popular Tex-Mex dishes. Try a new version of an old favorite or discover something entirely new.
Either way, dinner will be ready in a hurry and taste mighty tasty, too!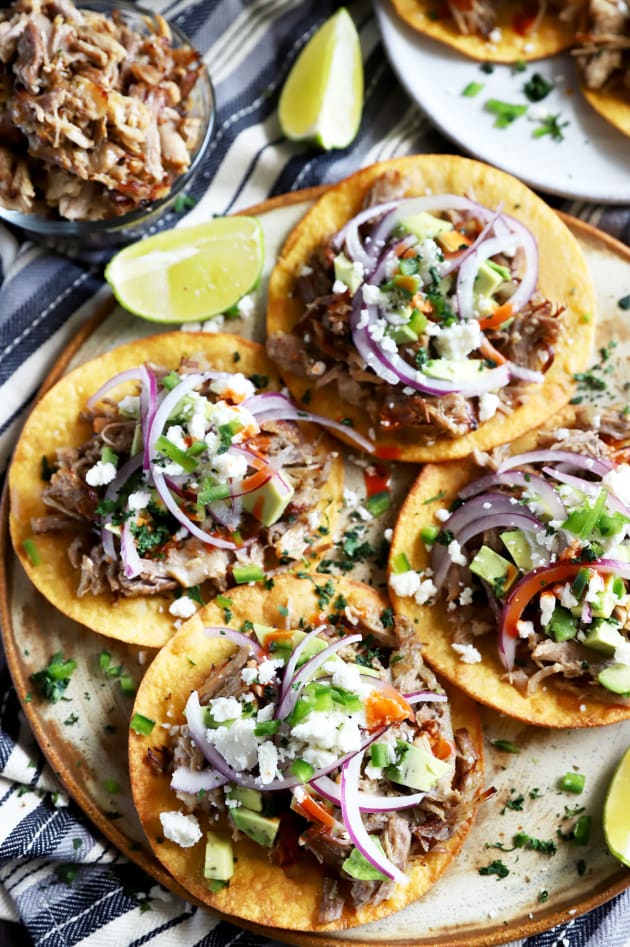 Make Tex-Mex Your Way
I find cooking without rules is the best way to indulge. Should I put pickles on my peanut butter and jelly sandwich? Why not?! Honey drizzled on pizza? Go for it!
You can go a more traditional route with Enfrijoladas, which are like the younger sibling to Enchiladas.
Instead of using a chili sauce, they're dunked in a bean sauce. Vegan friendly and so very tasty!
Or you can go off the rails and make yourself a Tex-Mex pizza! This recipe incorporates all your favorite flavors into one crispy and flavorful meal.
Another great dish to get the whole family involved and let everyone make their own pie. Cook with your heart and don't be afraid to bend the "rules"!
Without further ado, here are my picks for your next Tex-Mex feast!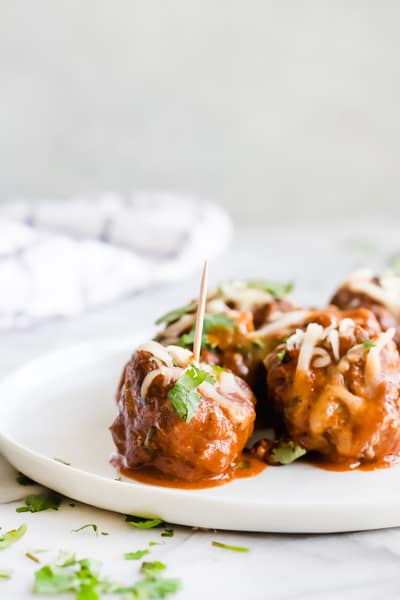 Who doesn't love a good meatball?! These little things are bursting with flavor and make the perfect appetizer or side.
Pair them with some refried beans and rice and call it a meal - a meal that's sure to leave you with a full belly.
This recipe adds a little spicy chorizo to the beef for an added zip, plus it's made with homemade enchilada sauce.
Pro Dad tip! If you're short on time, skip the homamde enchilada sauce - canned sauce will work just fine.
It's the middle of the week and you need to get dinner on the table in the next half hour. This is the recipe for you.
Utilizing a single pan makes cleanup a breeze. It calls for ground beef, but you could use any meat or even a meat substitute.
To make this dish even quicker, use leftover rotisserie chicken and microwaveable rice instead of uncooked.
Also, I keep frozen chopped onions for when I really have no time to spare.
You may achieve slightly different results using pre-cooked foods, but your kids are going to hate anything you cook, so don't stress it!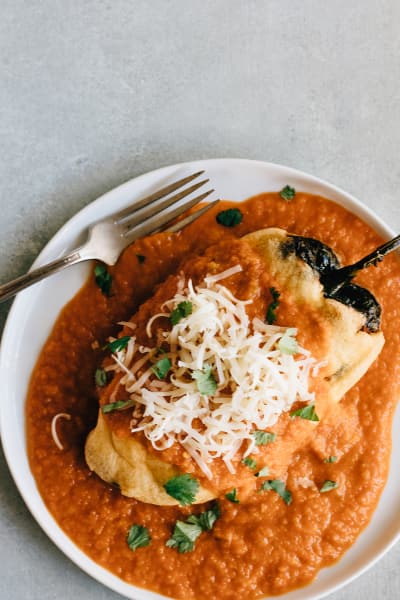 Somehow, it took 35 years for me to discover Chile Relleno. How did this happen? Now, I can't leave our local Mexican joint without having one.
It's a simple recipe of cheese stuffed in a poblano pepper and fried. Feel free to add meat or rice to it but understand that it doesn't need it.
It's absolute perfection.
The sauce is also very simple to make but rich and decadent in flavor. I'm confident you'll find many uses for it.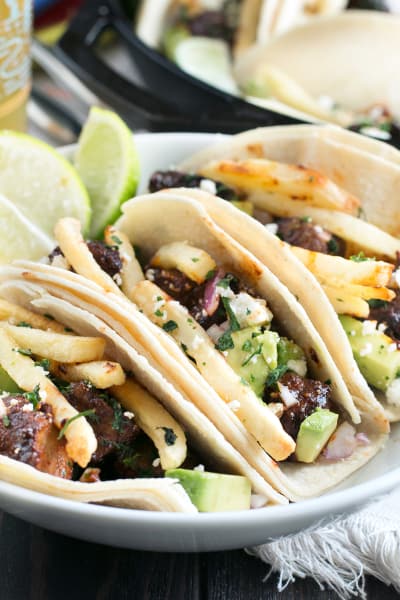 Vegetarians can skip to the next recipe. It's much more your speed. This recipe is for us red meat eaters only. Steak to be specific!
Who doesn't love steak?! Well, probably those vegetarians reading the next recipe. I love steak in all forms and fashions. This recipe is no exception.
Packed with all sorts of seasonings and spices, giving you multiple layers of robust flavor. The spice from the peppers comes through heavily, so eater beware.
With the addition of brown sugar, you end up with a well-balanced and decadent marinade/sauce. The fries add another depth of flavor that is unexpected.
My biggest tip concerning the fries is to make sure they are crispy! No one likes soggy limp fries. Not even the vegetarians! (I kid, I kid.)
I highly suggest giving these a try on your next taco night. I guarantee you won't be disappointed in the least!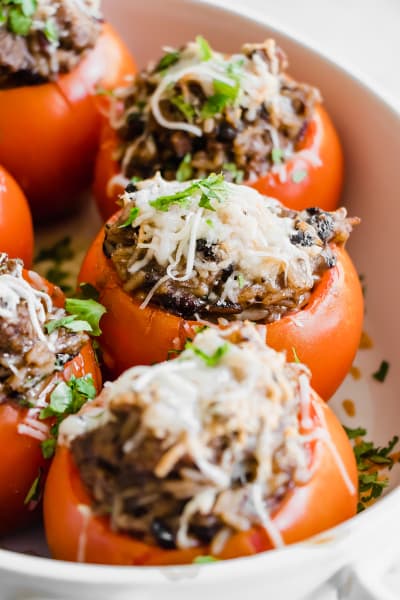 Welcome back, vegetarians! You're probably wondering why I would recommend this dish to you, considering it calls for ground turkey.
No need to fear, my darling plant poacher, this dish comes together beautifully without meat or by using a meat substitute. More cheese and rice would fill that spot nicely!
This dish uses a black bean and rice dinner mix, which is great for getting a full dinner out in less time.
Less time cooking = more time for a bubble bath and wine.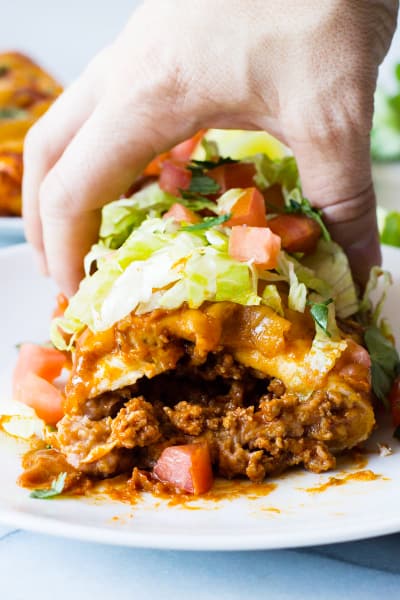 For me, this is the epitome of Tex-Mex cuisine. A huge tortilla stuffed full of beef, beans, and cheese then topped with a flavorful gravy and more cheese! Yum!
These are similar to enchiladas but with more filling. The beauty of this recipe is how customizable it is. Fill it with whatever your heart desires.
With a couple tweaks, this recipe is easily made vegetarian friendly. Pro tip: Don't try to stuff your burrito with vegetarians. They don't like it. Don't ask!
The gooey cheese and hearty beef mixture bring this dish to new levels of comfort. If a meal could hold you through the night, this would be it!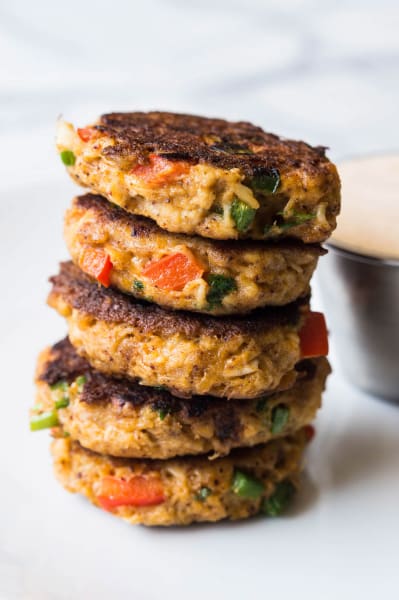 This is how I am making my crab cakes from now on. Jalapeño, cilantro, and chili powder give this dish a one-up on other crab cake recipes. At least in my humble opinion.
If you're anything like me, you're a baller on a budget and crab is expensive. We've made these with canned tuna instead, and they were just as good.
Ok, maybe not quite as good as crab, but a close second!
Serve these as an appetizer or a dinner. I like mine with hot sauce or some sort of spicy southwestern sauce. Even just a squeeze of lemon will suffice.
Make extras because these delicious snacks won't last long!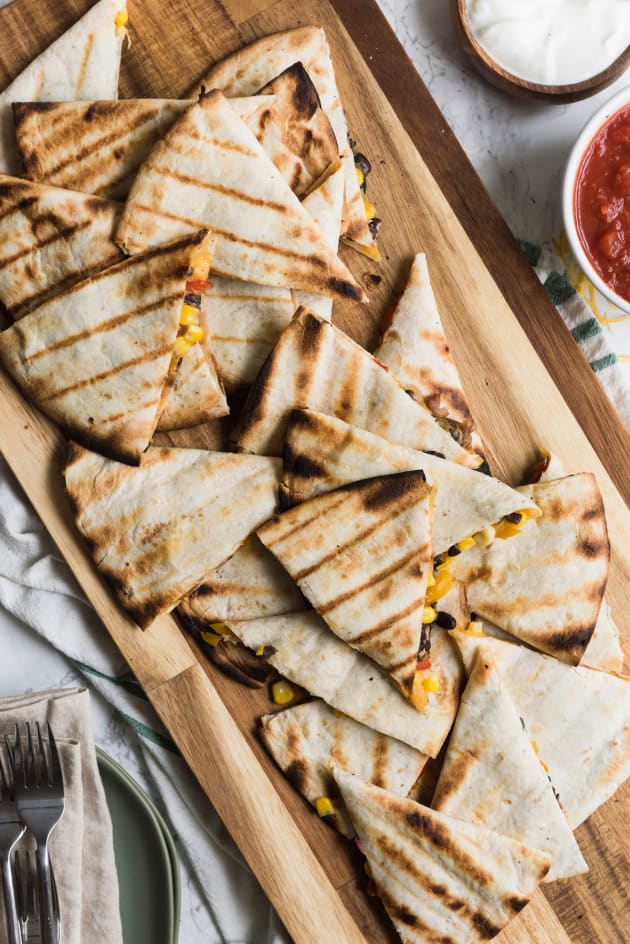 Vegetarians rest assured that this is 100% meat free. No tweaks are needed. This is a dish anyone can eat.
(Well, except vegans, but that's going to have to wait for another day.)
I'm a carnivore through and through, but I do love me some veggies. With this recipe I swear you don't even realize you're not eating meat.
All your favorite southwestern flavors are present, plus gooey melty cheese. Make it with extra cheese. Your future self with thank you.
I look at this recipe as a template. You can add or remove whatever tickles your fancy.
"Tickles your fancy?" Where the heck did that come from? Who am I?
Apparently, I'm 117 years old now. Ha!
Finally, we get to the nachos! I've yet to meet a single person that doesn't like nachos.
And if I ever meet one, I'll politely explain that we can't be friends. I just don't need that sort of negativity in my life.
The sheet pan is the only way to make nachos. We need wider plates of nachos, not taller.
Spread them out so all the chips get that topping love. No chips left behind!
(From now on we're referring to that as NCLB by the way. I said what I said.)
This is yet another dish that can be made to suit your likes and dislikes. By using cubed cooked chicken (shredded would work, too) you get to skip having to cook the meat and get straight to building your 'chos.
Whenever we visit our local warehouse store, we make sure to grab a rotisserie chicken. Having cooked chicken on hand is a lifesaver during those hectic weeknights.
These get baked with just the chicken and cheese until the cheese gets all melty. We set ours up like a taco bar and let everyone put on their own toppings.
I like mine with sour cream, guacamole, black olives, and extra hot sauce!
This is another dish that I wouldn't believe was vegetarian if you didn't tell me so. Great flavor and a breeze to put together.
I used to spend so much time rolling up my enchiladas and praying they didn't fall apart. It never seemed to go as planned.
Years ago, while shopping at a local Mexican market I asked the gentleman wrapping up my Tamales what the trick was to get the tortilla to roll perfectly.
He laughed and said at home he doesn't roll them. He does it casserole/lasagna style. He said you achieve the same result with half the work.
To this day, this is how I make my enchiladas! It's so easy to put together and bake until all the cheese is melted, and the sauce is slightly bubbling.
Let cool for 5 to 10 minutes and then use a metal spatula to cut into squares and serve. You won't be able to refrain from going back for seconds!
Planning a dinner party and need some inspiration?
How about looking for a new slow cooker dinner idea?
We've got you covered in our ever-growing Facebook group! If you're not a member yet, why not?!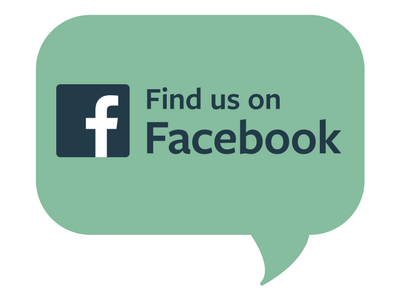 We're chatting cooking techniques, dessert ideas, and everything in between. If you're already a member, invite your friends to join us too!

Ryan is a food and writer from Toledo, Ohio where he's had a love affair with food since 1984. When he's not cooking or writing, he's planning the next he wants to eat.

Tags: Easy Dinners, Tex Mex, Dinners, Easy, Family Meals and Snacks