Cherry Lime Popsicles
Erin D. | Texanerin Baking
Cherry lime popsicles are tart, sweet, and oh-so-refreshing! Plus they're easy to make so you can have homemade popsicles any time.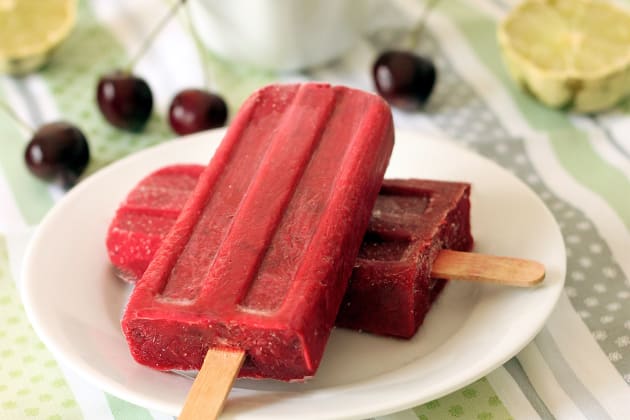 I recently bought some cherries with the intentions of making these gluten-free mini cherry pies but it's been in the 90s recently. I live in Germany, where nobody has AC at home (and most people don't have it at work, either!), which means the oven isn't going on. There's just no chance.
So I'm happy to have found a way to use up all those cherries and cool down! Another great way to cool off would be with this avocado ice cream.
Have you ever looked at the ingredients on a box of popsicles? I'm not afraid of a little processed food here and there but the ingredients in popsicles are just gross.
Artificial flavoring, artificial coloring, corn syrup, and even more sugar. Just… no! You can make popsicles that are actually good for you in only a few minutes. All you do is puree everything and pour the mixture into a popsicle mold. It shouldn't take you any more than 5 minutes.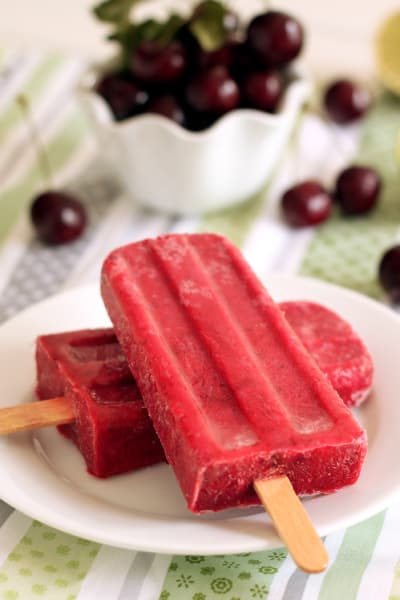 Actually, I take that back. It does take about 10 minutes to pit the cherries but if you've got a cherry pitter, it's not that much of a hassle. It is, messy, though, so put on an apron!
If you don't want to use honey as your sweetener, you could use granulated sugar and maybe another 2 tablespoons of water. Maple syrup would probably also work well.
If cherry lime isn't a combination you like, just omit the zest and replace the lime juice with water. Or use lemon juice and zest! Popsicles are so incredibly easy to make and adaptable to your preferences. As long as you have enough sweetener, you really can't go wrong!
If berries are more your speed, try these ginger berry popsicles. They're perfect for upset tummies! These vegan pina colada popsicles are another fun variety!
Ingredients
2 cups Fresh Sweet Cherries, 350 grams, pitted
1 cup Water, 240 milliliters
3 tablespoons Honey, 60 grams*
1 tablespoon Lime Juice
1 teaspoon Lime Zest
pinch of Salt
Directions
In a food processor, blender, or using an immersion blender, puree all the ingredients until smooth.
Pour into popsicle mold and freeze for at least 3-4 hours or until totally frozen.
Run warm water over the bottom and sides of the mold to help release the popsicles. Keep frozen until ready to serve.
Notes
Use 4-5 tablespoons if your cherries aren't very sweet.
Recommended
Tags: Gluten Free, Frozen, Frozen Treats, Desserts, Summer, Cherries, Limes, Citrus, Snacks, Family Meals and Snacks