Gluten Free Lemon Crinkle Cookies
Erin D. | Texanerin Baking
Gluten free lemon crinkle cookies are bright and sweet, and perfect with Earl Grey tea. You've gotta try them!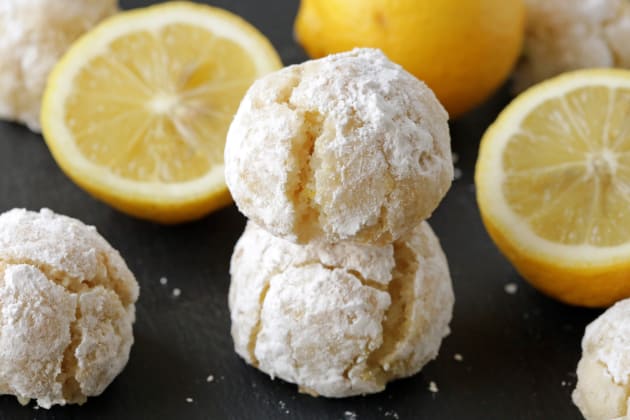 You know what I like? Easy recipes. Ones without excessively long ingredient lists. I made one recipe recently that had about 30 ingredients and was made over the course of two days. It was totally worth all the trouble, but now I'm in the mood for something ridiculously simple. These gluten free lemon crinkle cookies are just that!
If you have a few leftover egg whites, this is a great use for them. I usually make a favorite drink of mine, German egg liqueur, around this time of year for Easter, and always have so many egg whites that I really don't have a use for. I know that angel food cakes use a lot of egg whites, but they use too many – my egg liqueur recipe (which is way more delicious than it sounds!) only calls for 8 eggs.
For this recipe, you need two egg whites, which you beat and combine with the flour mixture. I normally groan when I see a recipe calling for beating egg whites, but it's actually quicker and less fussy than beating butter. The dough will be a regular thick cookie dough so you don't have to worry about the eggs deflating or mixing a little too much.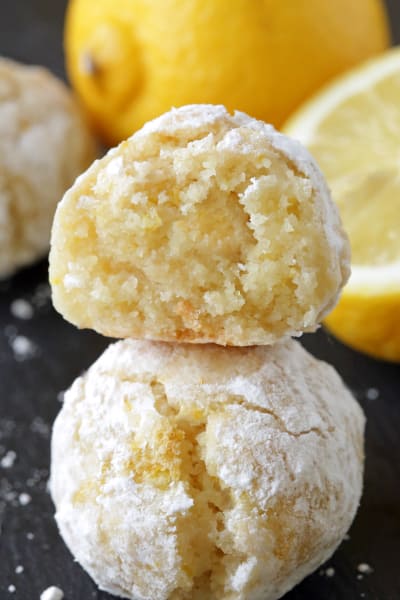 I originally made these lemon crinkle cookies without the lemon zest and extract, thinking they'd make some fine almond cookies, but they just tasted bland. You definitely want to add some kind of extract! These cookies are almond flour-based, which is a pretty bland flour to begin with, so without the extract and zest, these crinkle cookies are a blank palate.
I'm thinking of using lime zest, coconut extract and rolling them in toasted coconut next time for a more summer-y version! By the way, you don't have to roll the cookie dough balls in powdered sugar. They taste just as good without. The only difference is that they don't crackle.
If you don't have almond flour on hand, try these lemon ricotta cookies for something different! They're a perfect lemony treat.
Ingredients
2 cups Blanched Almond Flour, 200 grams
1 cup Granulated Sugar, 200 grams
2 tablespoons Lemon Zest
pinch of Salt
2 Egg Whites, Room temperature
1 teaspoon Lemon Extract
1/4 cup Powdered Sugar, For rolling, 29 grams
Directions
Preheat oven to 350°F and line a baking sheet with a piece of parchment paper.
In a medium mixing bowl, stir together the almond flour, granulated sugar, lemon zest and salt. Set aside.
In a large mixing bowl, beat the egg whites at medium speed using an electric hand mixer or stand mixer until soft peaks form. Stir in the lemon extract and then stir in the flour mixture. It'll be a thick dough.
Roll into balls, about 1 1/2 tablespoons in size, and roll in the powdered sugar. Place the cookies 2" apart on the prepared baking sheet.
Bake for 15-17 minutes or until the tops have crackled and the bottoms of the cookies have lightly browned. Let cool completely on the baking sheet. Store in an airtight container for up to 3 days.
Recommended
Tags: Gluten Free Baking, Gluten Free Desserts, Cookies, Desserts, Snacks, Family Meals and Snacks, Baking, Baked, Lemons, Easy