Blender Tortilla Soup
Allison Ruth | Some the Wiser
This quick and healthy blender tortilla soup will become one of your favorite family meals. It's a dinner winner!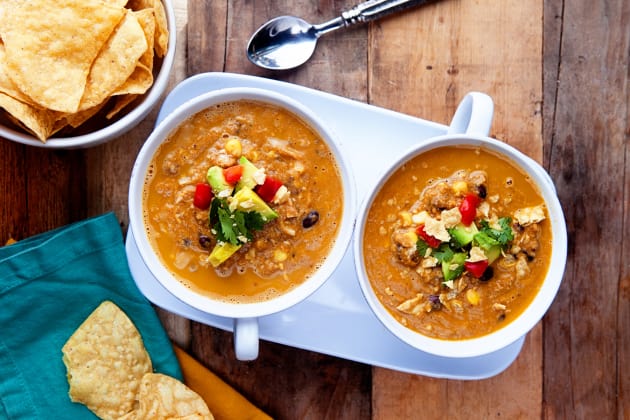 When it comes to family meals, the keyword for me is quick. While I dream of a day when my kids and I will cook together in the kitchen, stirring a pot of slow-boiling Bolognese sauce and kneading dough for our homemade bread sticks, that isn't reality right now.
With four little kids at home, meals and especially dinner need to be quick. While the kids love to help in the kitchen, their attention span is short and my to-do list is long. Spending hours on a fancy dinner does sound like fun to me, but it also sounds impossible at this stage of our family life.
You've heard of the witching hour, right? If you have small kids, then I'm sure you know right away what I'm talking about. At our house, it's that hour before dinner when things just get crazy! Everyone is hungry, everyone is tired, and chaos ensues.
Unfortunately, the witching hour is also my dinner prep time, which is why I insist that dinner be quick and easy. Quick and easy, however, can still be delicious!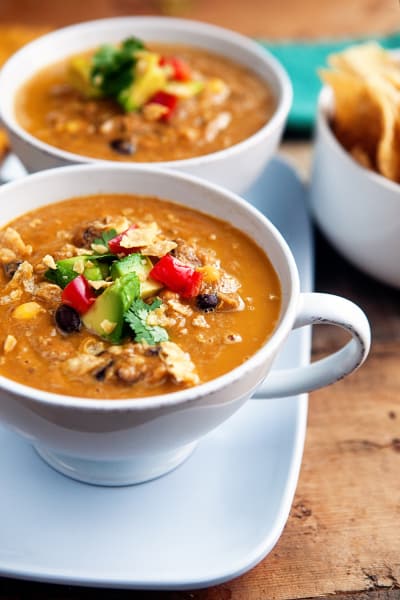 This Quick and Healthy Blender Tortilla Soup is one my best back pocket recipes. The kids ask for it frequently and I'm always happy to oblige because it takes me less than 20 minutes to get it on the table! Best of all, it's only healthy, whole food ingredients, with quite a few veggies packed in there too, and I feel really good about serving up such a healthy, convenient, homemade meal to my kids.
My sister first found a version of this recipe in the Blendtec Cookbook and introduced it to us. We've made some changes since then and perfected the recipe. It's full of the Southwestern flavors that we love and it's easy to make variations of this depending on your family's tastes and what you've got in the pantry.
You can easily make this vegetarian; just skip the meat. When I have a rotisserie chicken to quickly pull meat from then we add that it in, but when I don't, we just stick with the beans, corn, and veggies and it still works! I don't make this spicy because I'm feeding four kids, but if you want some heat throw in a bit of ground chipotle or some fresh jalapeño.
Don't be surprised if you find yourself adding this to the menu even more than once a week. It's such a good, family friendly, easy meal. Enjoy! 
Ingredients
1 14.5 ounce can Diced Tomatoes, Undrained
1 large Carrot
1/2 medium Red Bell Pepper, Seeds removed
1/2 large Ripe Avocado
2-3 sprigs Fresh Cilantro
1 teaspoon No-Salt Herb Seasoning
3/4 teaspoon Salt
3/4 teaspoon Garlic Powder
1/4 teaspoon Onion Powder
2 cups Warm Water
1 15 ounce can Corn, Drained
1 15 oz can Black Beans, Drained and rinsed
1 1/2 cups Cooked Chicken, Diced
Additional Cilantro and Avocado for Serving
Directions
In a large, high-powered blender (like Blendtec), add the tomatoes, carrot, bell pepper, avocado, cilantro, herb seasoning, salt, garlic powder, onion powder, and water and blend until completely smooth. Taste and adjust seasonings as needed.
Add in the corn, black beans, and chicken and pulse once or twice to blend but leaving the soup chunky.
Serve the soup with crumbled tortilla chips.
Top with cilantro and avocado. 
Recommended
Tags: Soups, Easy, Dinners, Chicken, Easy Dinners, Tex Mex, Mexican, Simmered, Fall