Sourdough Stuffing with Cranberries and Pecans Recipe
Amber Bracegirdle | Bluebonnet Baker

Sourdough Stuffing with Cranberries and Pecans is going to be your new favorite Thanksgiving side dish. Where's the gravy?

The contributor received Misen knives for review and was compensated for recipe development. All opinions are her own.
Perhaps a bit of foreshadowing to the foodie I would become, when I was growing up, my very favorite holiday was always Thanksgiving. Not Halloween with all its sweet treats, or even Christmas, with all its presents.
Thanksgiving, with its day full of family fun – games of Spades and Scrabble, everyone cooking in my grandmother's kitchen. The scents of that day, from stuffing and green bean casserole to pumpkin pie and kahlua pie, and even birthday cake, bring back so many memories.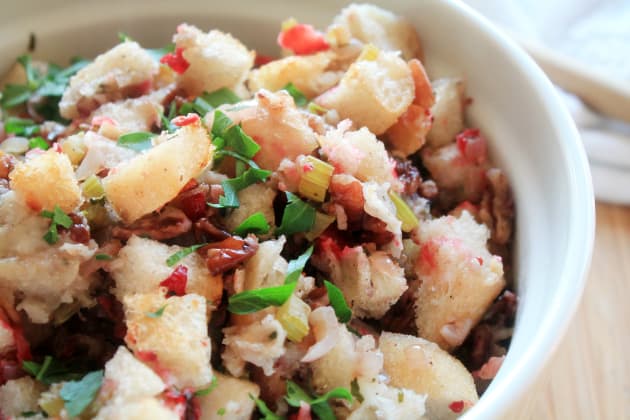 You see, my grandfather's birthday is November 23rd, and every so often, his birthday would fall on Thanksgiving. All of it filled my heart with joy that easily rivaled a new Cabbage Patch Kid at Christmas, or pumpkin-shaped bucket full of candy.
And I still feel that way today. We got married on my grandfather's birthday, which means every so often, our anniversary falls on Thanksgiving too.
I have to tell you, friends. It is SUCH a total win to have your anniversary fall on a holiday. But back to Thanksgiving food, which is why we're here.
My grandmother was famous for her stuffing. And I remember it being pretty phenomenal.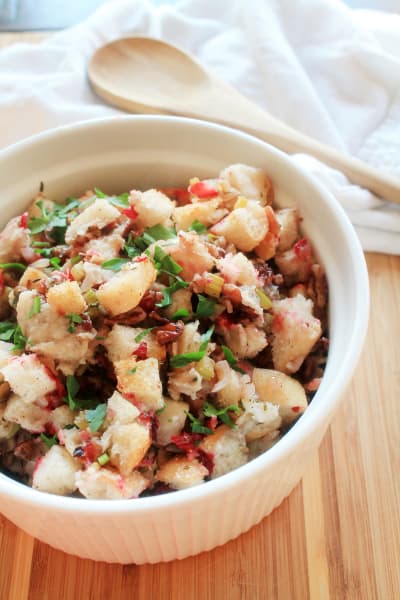 Sadly, we can't seem to find the card that particular recipe is written on. So until I find that dang card (I'm convinced it's in my giant box of her cookbooks that isn't unpacked yet), I'm creating new traditions by making my own.
I'm a huge fan of fresh cranberries in lots of things, and I've yet to eat a food with pecans added to it that isn't instantly better, so I decided if I was going to make my own stuffing, it was going to have both those things.
My husband isn't a fan of cranberry sauce on its own, but in a post-Thanksgiving sandwich, with stuffing and turkey? It's a must. So let's just jump right to that deliciousness and put them IN the stuffing. It's a gamechanger.
I was a little nervous about getting a good dice on my loaf of sourdough. I didn't want to use a bread knife, because cutting cubes doesn't really work out with that kind of knife. Turns out, I didn't need to be worried at all.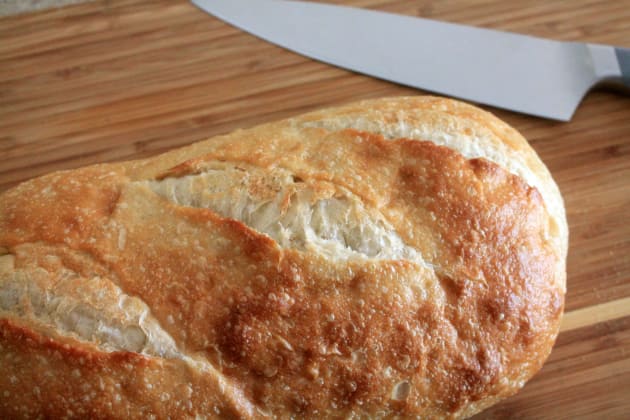 I'd been sent a review set from the fine folks at Misen – a chef's knife and paring knife. I've been meaning to purchase a new knife for a while, my favorite disappeared in one of our recent moves. If the same has happened to you, run - do not walk – and get one of these!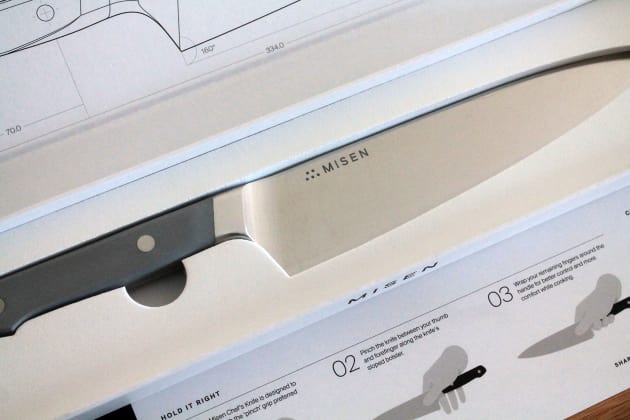 Misen has an interesting story. They started on Kickstarter in 2015, and their name comes from "mise en place", the culinary term that chefs use to describe setting up their stations for success before service.
Misen is an ode to mise en place; better cooking through proper preparation with quality tools.
Each Misen blade is made with premium Japanese AICHI AUS-8 Steel, and the chef's knife and paring knife are sharpened at a 15-degree angle for a much sharper cut. The bolster's been designed for a proper "pinch grip", making it super easy to grip and cut for long periods of time.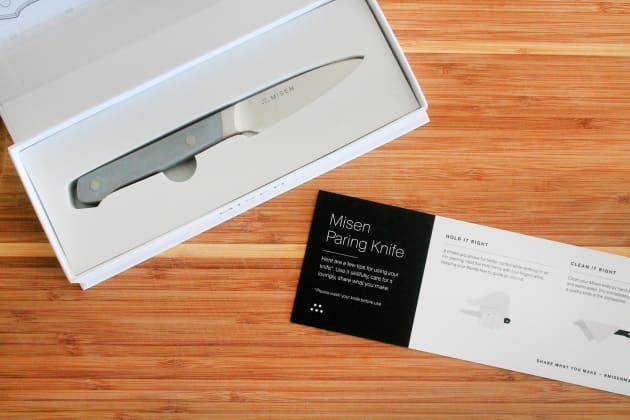 As I began chopping for this recipe, the term "Like Buttah" came to mind. Normally a non-serrated knife would make a real mess of a crusty loaf of bread. Not the Misen chef's knife.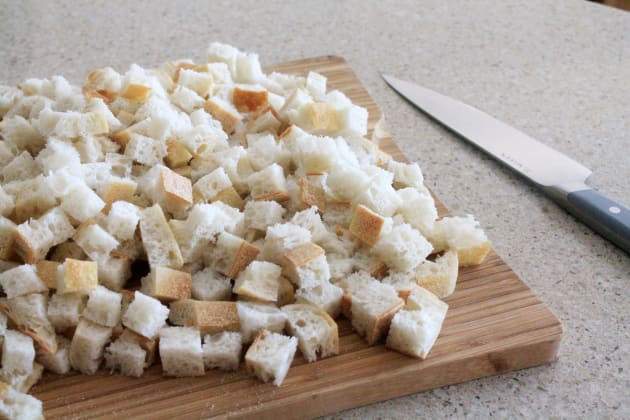 It made quick work of everything I threw at it – a giant loaf of sourdough bread, fresh celery, shallots, garlic, pecans and cranberries. All sliced with ease and nary a hand cramp to be had.
I very nearly also tossed some diced apple into the mix, peeled with their gorgeous paring knife. But I decided that would make this stuffing a little too sweet, and we are not trying to make a bread pudding, friends!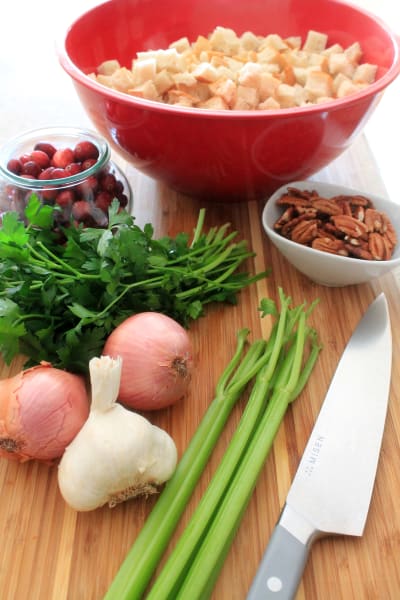 The hardest part of this whole recipe is all the chopping, which is to say, it's not a hard recipe at all. Making your own stuffing is actually way more easy than.. well.. pie! And since you're making it yourself, you can make it just how you like it.
As I mentioned, this is not the stuffing of my childhood. But I love it. A lot.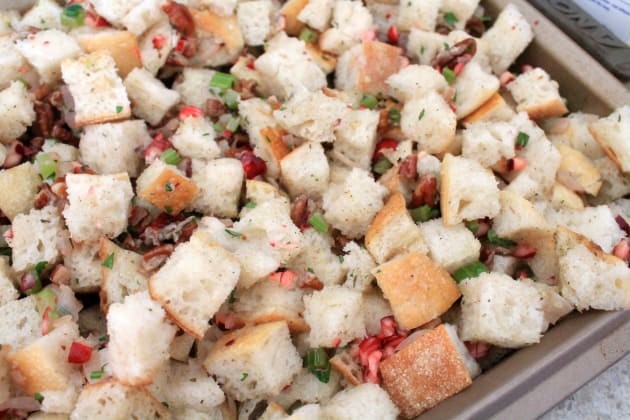 James and I came up with several dinners centered around this stuffing and gravy, just so we could keep eating it. (And since it makes enough servings for a big family dinner, we ate it for several meals!)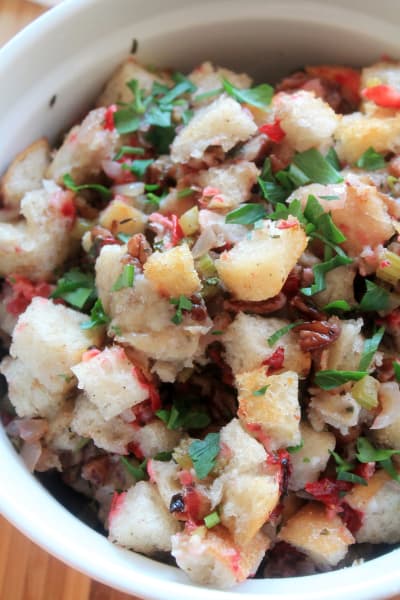 I think you're going to love it. And those Misen knives too. Did I mention you can win some for yourself? Make sure you check out the whole Misen collection!
Win your very own Misen Knife Set! 
($95 Value)
Sourdough Stuffing with Cranberries and Pecans Recipe
Ingredients
1 large round loaf Sourdough Bread, (1.5 lbs)
Cooking Spray
3 stalks Celery, finely diced
2 large Shallots, finely diced
1 tablespoon Minced Garlic
1 cup Chopped Pecans
1 cup Cranberries, chopped
6 tablespoons Salted Butter, divided
2 tablespoons Ground Sage
1/8 teaspoon Celery Salt
1/4 teaspoon Rosemary
1/4 teaspoon Dried Thyme
1/4 teaspoon Kosher Salt
1/8 teaspoon Black Pepper
2 cups Chicken Stock, turkey stock, or vegetable stock
Directions
Preheat oven to 350°F. Line two baking trays with silicone liners or parchment paper.
Dice the sourdough loaf into bite-size pieces or smaller. How small the bread chunks are is totally up to you.
Spread diced bread out on the baking trays in one even layer. Lightly spray the bread with cooking spray.
Bake for approximately 8-10 minutes, until the bread is a little bit toasted – the same texture you'd expect day-old bread left out to be. (Alternatively, chop the bread and leave it on the counter overnight.) Pour into a large bowl and set aside.
Dice celery, shallots, garlic, pecans and cranberries.
In a large sauté pan or skillet, melt two tablespoons of butter. Add the celery and shallots, cooking until soft. Stir often.
When the celery and shallots are soft, add garlic and stir through. Then add pecans and cranberries to the pan.
Stir through and allow to simmer for a few minutes, until the pecans are fragrant. Make sure to stir often so that the pecans do not burn.
Add to the bowl with diced bread and toss.
Melt the remaining four tablespoons of butter and allow to cool slightly.
While it's cooling, mix together the ground sage, celery salt, rosemary, thyme, kosher salt, and pepper. Pour butter and seasoning mixture over the bread mixture. Toss to evenly coat.
Preheat oven to 425°F.
Spray a large baking pan with cooking spray, then evenly spread the stuffing into the pan.
Pour stock over the stuffing, making sure to cover the entire pan well.
Cover the pan with aluminum foil and bake for 35-40 minutes.
Remove foil in the last 5-10 minutes of cooking, depending on how crispy you like the tops of your stuffing.
Recommended
Nutrition Facts
Servings Per Recipe 10
---
Amount Per Serving
Calories from Fat 115
Calories
409
---
% Daily Value*
19%
Total Carbohydrate
57g
---
* Percent Daily Value are based on a 2,000 calorie diet. Your daily values may be higher or lower depending on your calorie needs.
** Nutrition Facts are estimated based on ingredients and data provided by
Fat Secret
. Please consult a doctor if you have special dietary needs.