Pumpkin Flan Recipe
Rebekah Garcia Kalinowski | Kitchen Gidget

Pumpkin flan is the only dessert you need this fall! Pumpkin pie, cheesecake and flan combine in one epic dessert.
Ever since I posted Flan de Queso (cream cheese flan) on my blog it has firmly held the title for Most Popular Dessert. There something about the rich, tangy cream cheese that makes flan even better. Same reason No Bake Pumpkin Cheesecake is so good!
It's only fitting then that this Flan de Calabaza (pumpkin flan) contains cream cheese as well. It gives it a velvety texture similar to cheesecake – like two desserts in one!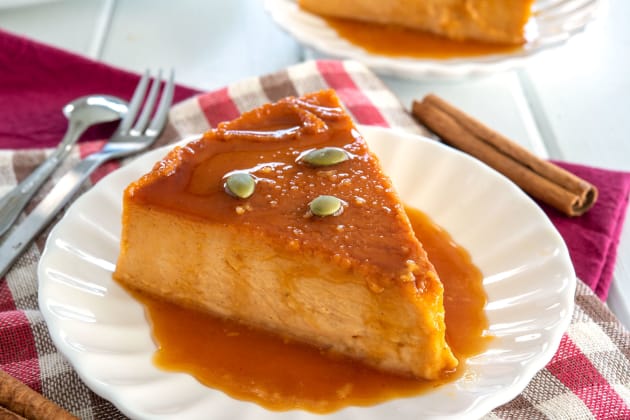 If you'd rather not add the cream cheese that's perfectly okay. You'll have a traditional flan with a silkier texture. If leaving out the cream cheese, go ahead and add another egg.
This pumpkin flan is taking over as my favorite fall dessert! Bye bye to pumpkin pie! Plus, it looks so impressive, yet it's easy (as pie) to make!
If you've never made flan before, continue reading for all my tips and tricks for the perfect flan every time.
Firstly, start a kettle of water to boil, preheat your oven and set out 2 pans for the flan. One should be an 8- or 9-inch cake pan with 2-inch sides. The other should be a larger pan that the cake pan can fit inside, such as a 13x9 or small roasting pan.
Next, you'll need to prepare the caramelized sugar syrup. This is what glazes the flan once you unmold it from the pan.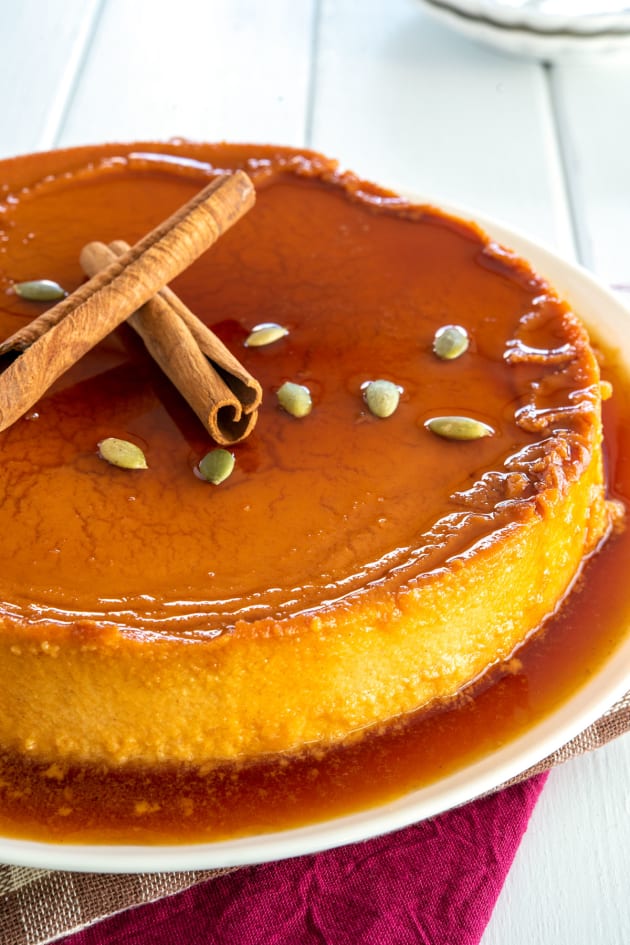 The process of melting sugar takes time, so don't rush it. Go low and slow so it doesn't burn and allow at least 10 minutes for results.
It can be tempting, but try not to touch the melting sugar with any utensils until it's liquified. To stir, gently swirl the pan around.
The sugar will be a dark amber color when it's finished cooking. The important part here is that all of the granules have melted and there are no clumps.
Pour the syrup into your cake pan right away and tilt the pan around to coat. Work quickly before the sugar hardens, but take care since the pan will get hot.
Set that aside while you prepare the custard. Simply place all the ingredients in a blender and process until smooth. Don't over-mix, however, since that will add extra air bubbles into the batter. We want a smooth, silky flan.
To remove air bubbles and any little bits that didn't get blended, pour the mixture through a sieve as you add it to the cake pan (which is nestled inside the larger pan).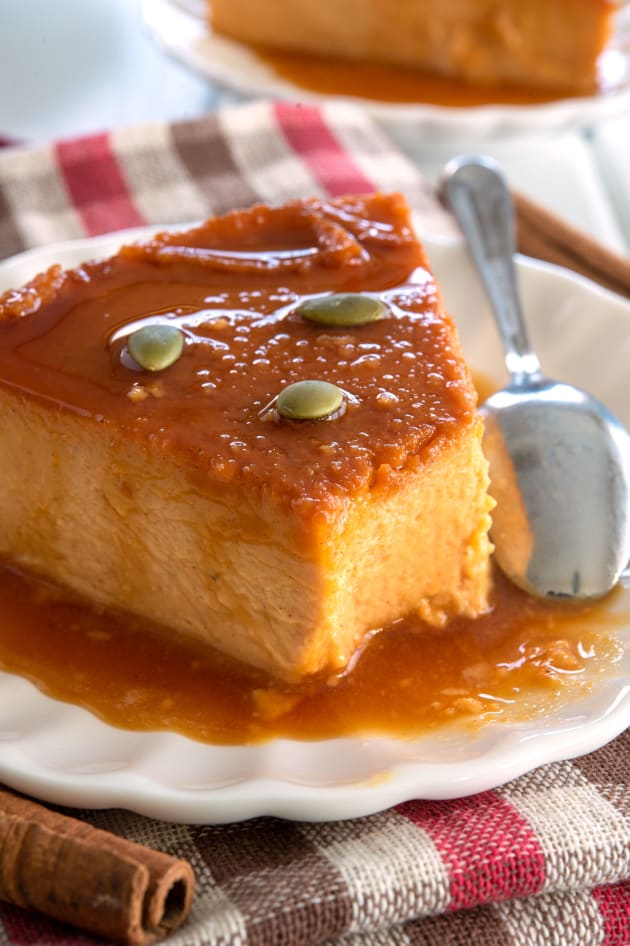 Add enough boiling water to the larger pan to come halfway up the sides of the cake pan. The flan will cook in a water bath also known as a baño de María or bain marie.
This gives it a more even temperature as it cooks and prevents it from curdling or forming crusty edges.
It takes about an hour to cook, but every oven is different. You can tell it's done when the outside is completely set and the very center has a slight jiggle. It will continue to set all the way as it cools. You can stick a fork or knife in the center to test just how firm it is.
Before serving, the flan needs to be thoroughly chilled. It will take several hours to cool down and then chill in the refrigerator, so plan on making this dessert ahead of time.
When ready to serve, run a knife around the edge of the pan. Place a plate over the cake pan and flip the whole thing upside down. Slowly remove the pan and let the syrup drip down.
To make it extra fancy, garnish with cinnamon sticks, pumpkin seeds and/or swirls of whipped cream!
Pumpkin Flan Recipe
Ingredients
1 cup Granulated Sugar
8 ounces Cream Cheese
1 14 ounce can Sweetened Condensed Milk
1 12 ounce can Evaporated Milk
1 cup Canned Pumpkin
4 large Eggs
1 teaspoon Pure Vanilla Extract
1 teaspoon Ground Cinnamon
1/8 teaspoon Grated Nutmeg
For Garnish:
Cinnamon Sticks
Pumpkin Seeds
Directions
Preheat oven to 350°F degrees. Set a kettle of water to boil. Place an 8- or 9-inch cake pan with 2-inch high sides inside of a larger baking pan (such as a 13x9).
In a medium sauce pan over low heat, melt sugar until completely dissolved. Watch carefully so it does not burn. You may swirl the pan to stir. Remove from heat when it is a dark golden, amber color.
Immediately pour the melted sugar into the bottom of the cake pan. Working quickly before it hardens, tilt the pan to coat the bottom. Caution: pan will get hot. Place pan back in larger baking dish.
In a blender beat the cream cheese, sweetened condensed milk, evaporated milk, pumpkin, eggs, vanilla, cinnamon and nutmeg. Mix until well combined.
Strain the custard through a fine-mesh sieve to ensure there are no lumps and to remove excess air bubbles. Pour the strained custard into the cake pan over the sugar caramel.
Next, add boiling water to the larger pan until it reaches halfway up the sides of the cake pan. Bake for 60-75 minutes, or until the flan is set around the edges with a slight jiggle in the very middle.
Remove from oven and let the flan cool in the water bath, about an hour. Once cool, cover and refrigerate until thoroughly chilled. Overnight is best.
When ready to serve, run a knife around the edges to loosen. Set a plate over the flan and flip upside-down to invert. If desired, garnish with cinnamon sticks and pumpkin seeds. Slice into wedges and serve.
Recommended
Nutrition Facts
Servings Per Recipe 12
---
Amount Per Serving
Calories from Fat 110
Calories
348
---
% Daily Value*
15%
Total Carbohydrate
45g
---
* Percent Daily Value are based on a 2,000 calorie diet. Your daily values may be higher or lower depending on your calorie needs.
** Nutrition Facts are estimated based on ingredients and data provided by
Fat Secret
. Please consult a doctor if you have special dietary needs.