Pumpkin Cookie Dough Turnovers Recipe
Hayley Parker | The Domestic Rebel

Pumpkin Cookie Dough Turnovers have a drizzle of white chocolate. With the pumpkin and cinnamon, you'll completely fall in love!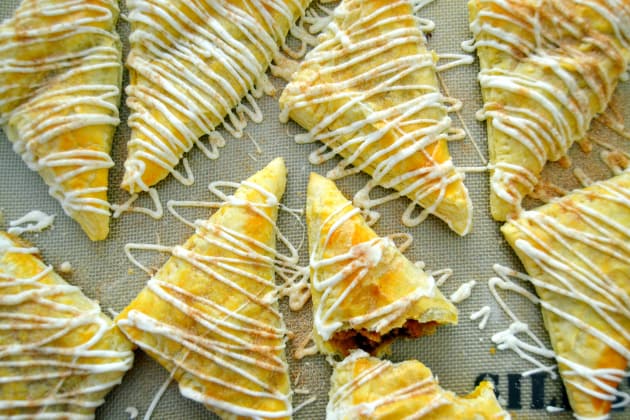 I am SO excited that Food Fanatic is celebrating Pumpkin Week, and I'm even more excited to be kicking it off with these irresistible pumpkin cookie dough turnovers!
For the longest time, I really despised pumpkin. For Thanksgiving every year, my grandma would buy one of those atrocious store-bought frozen pumpkin pies and every year, I would request a slice with the HUGEST helping of whipped topping on top. The ratio was easily 1 cup Cool Whip to 1 measly sliver of pie.
I would promptly spoon all of that luscious, fluffy whipped cream into my mouth and return the slice of pie in its entirety back to the table. Essentially, the pie was my scapegoat so I could get my grubby paws on that whipped cream.
Also, confession time: I'm probably the only person in the world who dislikes pumpkin spice lattes. I KNOW, I'm a disgrace – please don't send me hate mail! So those would never float my boat when pumpkin season rolled around.
But then one day, I decided to give this rotund orange squash some lovin' and turns out, I liked it after all. It tastes fantastic in breads and muffins, I loved the seasonal Pumpkin Kisses, and pumpkin pie was actually really good with Cool Whip. Who would've thought?!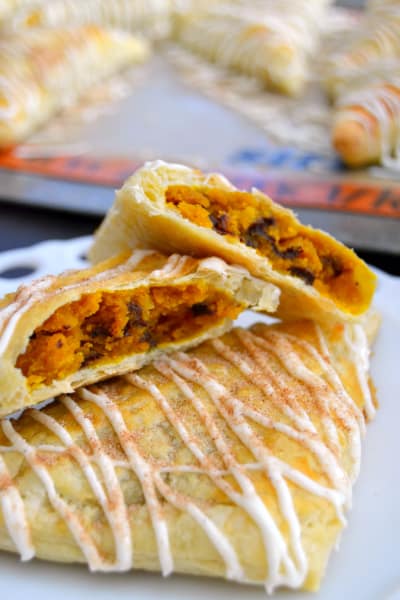 And now with fall in full swing, I cannot get pumpkin out of my mind. It's so good in nearly everything, from sweet to savory dishes and everything in between. However, now that I've had my share of these turnovers, this is my new favorite way to enjoy it.
The pumpkin chocolate chip cookie dough is SO light and fluffy, it tastes like a giant, sweet slice of that luscious pumpkin pie filling with little hints of semi-sweet chocolate pockets throughout each bite. And the turnovers are perfectly golden and flaky, topped with a sweet drizzle of white chocolate and ample sprinkling of cinnamon sugar. What's not to love?!
Pumpkin lovers & haters, unite! Because no one – and I mean it! – will be able to say no to these pumpkin cookie dough turnovers!
It's #PumpkinWeek on Food Fanatic! Follow along all week for fantastic new ways to use pumpkin!
Disclaimer: This post used to feature a giveaway provided to you by Le Creuset. It is now over. The views and opinions expressed by contributors on Food Fanatic are based entirely upon the contributor's experiences with Le Creuset products.
What a unique way to kick off Pumpkin Week! Looking for more unique ways to use pumpkin? Try Dan's pumpkin beer chicken tacos and Tracy's pumpkin pizza dough recipe too.
Planning a dinner party and need some inspiration?
How about looking for a new slow cooker dinner idea?
We've got you covered in our ever-growing Facebook group! If you're not a member yet, why not?!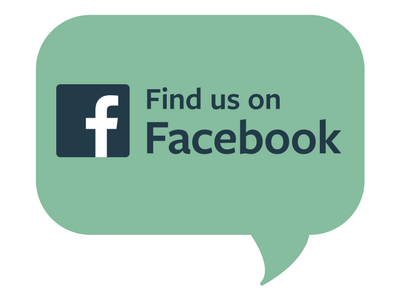 We're chatting cooking techniques, dessert ideas, and everything in between. If you're already a member, invite your friends to join us too!
Pumpkin Cookie Dough Turnovers Recipe
Ingredients
4 tablespoons Unsalted Butter, At room temperature
1/4 cup Dark Brown Sugar
1/4 cup Pumpkin Puree, Not pumpkin pie filling
1 teaspoon Pure Vanilla Extract
1 teaspoon Pure Maple Syrup
1/2 cup All-Purpose Flour
1 teaspoon Pumpkin Pie Spice
3/4 cup Mini Semisweet Chocolate Chips
1/2 cup Cool Whip, Thawed
1 package Puff Pastry Sheets, Thawed
2 pieces White Chocolate, Melted
Cinnamon Sugar, For garnish
Directions
Preheat your oven to 400°F. Line a cookie sheet with parchment or a silicone liner; set aside.
Meanwhile, in the bowl of a stand mixer, combine the butter, brown sugar and pumpkin with the paddle attachment and beat on medium-low speed, until creamy.
Add in vanilla, maple syrup, flour and the pumpkin pie spice until a soft dough has formed. Stir in the miniature chocolate chips.
Gently fold the Cool Whip into the cookie dough mixture or until combined as much as possible. Set the mixture aside.
On a clean work-surface, roll out each sheet of puff pastry and cut into four equal squares (so you have a grand total of 8 squares).
Place a generous tablespoonful of the pumpkin cookie dough mixture in the lower-left center of the puff pastry square, making sure there's still a border around the puff pastry.
Take a moistened finger (I use water) and moisten all of the edges of the square. Fold the top part over the filling so it forms a triangle. Gently pinch the edges to seal, and use a fork to crimp them completely closed. Repeat with the remaining turnovers and place them on the prepared baking sheet.
Brush each turnover with a beaten egg, if desired, and bake for approx. 15-20 minutes or until golden brown and flaky.
Allow the turnovers to cool for about 30 minutes.
Once cool to the touch, drizzle with melted white chocolate and top with cinnamon sugar.
Serve turnovers room temperature or slightly warmed up, though I find them to be best at room temperature and eaten the same day.
Recommended
Nutrition Facts
Servings Per Recipe 1
---
Amount Per Serving
Calories from Fat 1044
Calories
2335
---
% Daily Value*
80%
Total Carbohydrate
241g
---
* Percent Daily Value are based on a 2,000 calorie diet. Your daily values may be higher or lower depending on your calorie needs.
** Nutrition Facts are estimated based on ingredients and data provided by
Fat Secret
. Please consult a doctor if you have special dietary needs.