Pineapple Angel Food Cake Recipe
Christy Landry | My Invisible Crown

Pineapple angel food cake is the sort of cake you love to make. Simple, sweet, and something that everyone loves.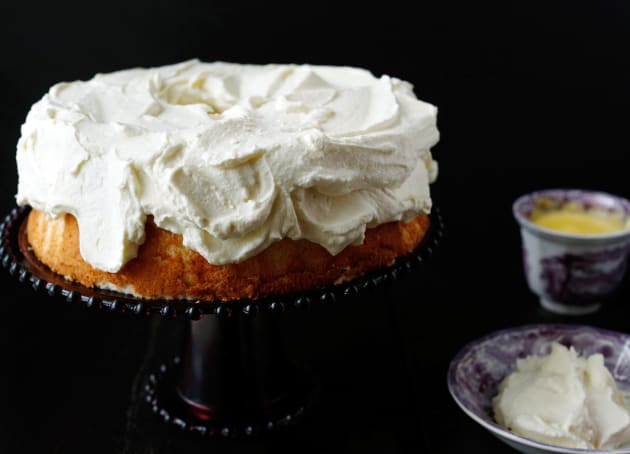 I love angel food cake. It's so light and fluffy and isn't terribly bad for you. There's very little sugar when you break it down per slice. It's almost all egg whites which means no cholesterol and gives you more protein than a traditional cake would. This recipe is for a Fresh Pineapple Angel Food Cake but you could really use any filling that makes you happy.
Pineapple Angel Food Cake is a recipe that is searched for often online but there really aren't many recipes out there for it. When I was doing some research I found a few people talking about it but nearly ALL of them used canned pineapple. That's not really my style, so I set out to make it fully from scratch and I'm so glad I did. It turned out great!
Pineapples are one of my most favorite fruits. I almost always have one sitting on my counter or already cut up and waiting in the fridge to be eaten, although they normally disappear as soon as I cut them. We are a fruit eating family, for sure. When I was little my mom would buy fresh pineapples and cut them almost into sticks and put them in the freezer and I ate them like popsicles all summer long.
They're also amazing grilled. I made Habanero Peach Pineapple Glazed Chicken Skewers for the 4th and they were a huge hit. They pair great with pork too, like in Mary Kay's grilled pork loin and pineapple recipe.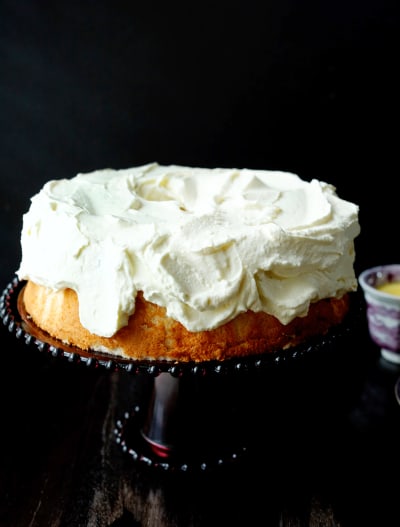 If you're not a huge pineapple fan, then by all means choose another fruit. Nearly any would work well. I do think though you need something with an angel food cake. Because it is so light, it can be slightly plain if served alone.
If you wanted to use a shortcut you could always choose your favorite jam as the filling. You could forego the filling part and make a lemon or lime glaze with milk, confectioner's sugar and the juice and zest from your citrus. If you do though, use a skewer and poke some holes in the top of the cake so it saturates.
Angel food cakes are great grilled as well. You could serve it in a pool of creamy vanilla bean lemon curd. It really is a very versatile cake and very simple to make so just have fun with it! You could even use slices in place of pound cake in Tanya's crazy lemon mascarpone grilled cheese dessert.
Just one quick note of caution when making this or any angel food cake recipe. Make absolutely certain you sift your dry ingredients several times. Because the batter is so light, the last thing you want is a big clump of flour or sugar in it.
Normally I employ the fluff-and-scoop method with flour instead of sifting. You can fluff it with a spoon and then scoop it into the measuring cup. But with angel food cake, you'll need to fluff-and-scoop, then sift and measure again.
Enjoy!!
Are you tired of the dinner routine?
Stuck in a rut or looking for fun new recipes to try?
Our Facebook Group is growing every day! If you haven't joined yet, we invite you to come check it out and join the fun.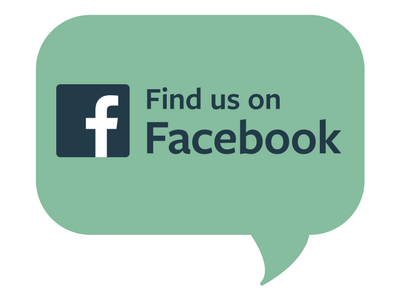 You can ask for recipe ideas, talk about cooking techniques, or get help figuring out the right new pan set for you. If you've already joined, invite a friend along!
Pineapple Angel Food Cake Recipe
Ingredients
1 cup Cake Flour
1 1/2 cups Super Fine Sugar, divided plus more for pineapple puree and whipped cream (to taste)
1 3/4 cups Egg Whites, approximately 13 large egg whites
1/2 teaspoon Salt, plus a pinch, divided
1 tablespoon Water, very warm
1 1/2 teaspoons Cream Of Tartar
2 teaspoons Pure Vanilla Extract
2 cups Pineapple, fresh
2 tablespoons Butter
1/2 teaspoon Cornstarch
2 tablespoons Honey, optional
1 1/2 cups Heavy Cream
Directions
For the Cake:
Preheat oven to 350°F.
Measure 1 cup cake flour then sift and re-measure.
Sift 3/4 cup caster sugar removing any clumps then combine it with the cake flour and sift 4 more times and set aside.
In the bowl of an electric mixer with whisk attachment add egg whites and warm water and start mixing on medium, about 1 minute.
When egg whites become foamy turn speed to high and add salt, tartar and vanilla.
When the egg white mixture is nearly tripled in volume and starts to form soft peaks, begin adding remaining 3/4 cup sifted sugar to the bowl a spoonful at a time and continue until stiff peaks form, about 2 minutes. Egg whites should be glossy with stiff peaks. Don't over beat. They will begin to break down if mixed too long.
Transfer egg whites to a large bowl with a wide mouth. Working quickly fold in the flour and sugar mixture in 6 additions by gently sprinkling on top and then folding in as you turn the bowl.
Gently spoon the batter into an ungreased angel food pan with a removable bottom and smooth the top so that the batter is even.
Cut through the batter with a knife going in a circular motion around the batter in the pan to remove any air bubbles.
Bake until the top is golden brown about 35-40 minutes.
For the Pineapple Puree:
Meanwhile take fresh pineapple and pulse in food processor so that it becomes a very chunky puree.
Place in a medium sauce pot with 2 tablespoons butter, corn starch, pinch of salt, honey and sugar (to taste) and simmer until thick and bubbly. remove from heat and allow to cool.
To Assemble:
Cool the cake by inverting on the counter for at least an hour.
Once completely cool run a sharp knife around the edges and remove from the pan.
Take a long serrated knife and cut the top 1/4 of the cake off horizontally and place aside.
Cut a trough or trench out of the middle of the bottom portion and remove about an inch of cake with fingers and discard. Fill trench with filling and place the top back on.
Whip heavy cream with approximately 2 or more tablespoons sugar until soft peaks form.
Fold in remaining pineapple filling in 2-3 additions being gentle so as not to deflate.
Cover top and down the sides of the cake about halfway with pineapple infused whipped cream.
Serve immediately.
Recommended
Nutrition Facts
Servings Per Recipe 16
---
Amount Per Serving
Calories from Fat 77
Calories
216
---
% Daily Value*
10%
Total Carbohydrate
29g
---
* Percent Daily Value are based on a 2,000 calorie diet. Your daily values may be higher or lower depending on your calorie needs.
** Nutrition Facts are estimated based on ingredients and data provided by
Fat Secret
. Please consult a doctor if you have special dietary needs.