Perfect Bar Recipe
Taylor Kiser | Food. Faith. Fitness.

This homemade Perfect Bar recipe will be your go-to for snacking! Make a batch to keep in your fridge today.
I'm worried that this is as good is it is ever going to get.
Both in terms of "ever going to get in life in general" and "ever going to get in the recipes that I make for you."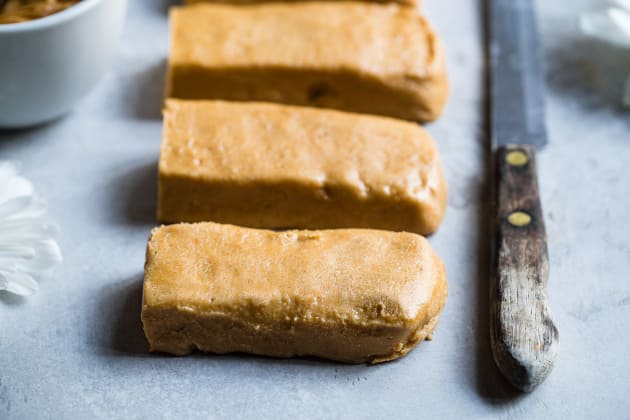 Liiiiike, this Perfect Bar recipe feels like EVERYTHING that I have been working towards in my life, all sliced up in a CHEWY, DENSE, protein PACKED and OH SO PEANUT BUTTERY little bar of pure, unadulterated MAGIC.
Better than an ultra-fancy paleo banana bread cake with chocolate almond ganache, or my favorite paleo lemon bars.
Aaaaaaannnnnnd it's not even REALLY "MY" recipe on account of it being a re-creation of one of my most FAVORITE snacks that has ever existed in my always-snacking-life.
Yep. Even more than that oatmeal breakfast bar recipe that I WAS making every single weekend until THESE rolled around.
Have you guys tried Perfect Bars? I still remember the first time that I did, and it was like what I would imagine dancing on top of a rainbow, while riding on a unicorn AND playing with a tiny, adorable puppy ALL AT THE SAME TIME would be like.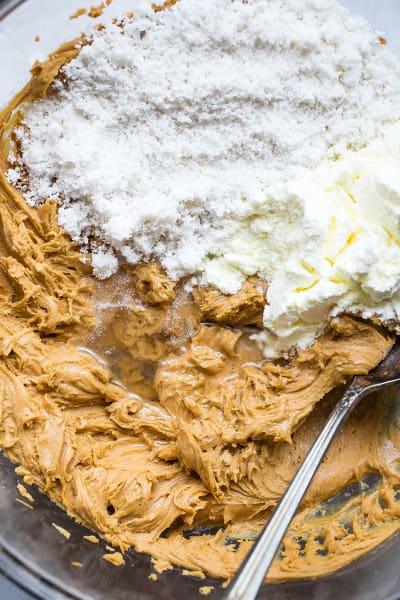 PURE BLISS.
They're made from real food. They have the most ADDICTING dense texture and they are loaded with nut butter soooooo there really is nothing else in the world that you could ask for.
Just kidding. There is à PROTEIN. Whiiiich, THEY HAVE.
I would buy one and put it in the fridge for a special treat, only to have the worst willpower alive and eat it negative 002 seconds later. WASH, RINSE, REPEAT every SINGLE DAY.
Considering Perfect Bar ingredients are SUPER simple and clean, and I needed to do something about this obsession so that Mr. FFF would stop thinking our visa ball was not SO PERFECT, these homemade Perfect Bars were born.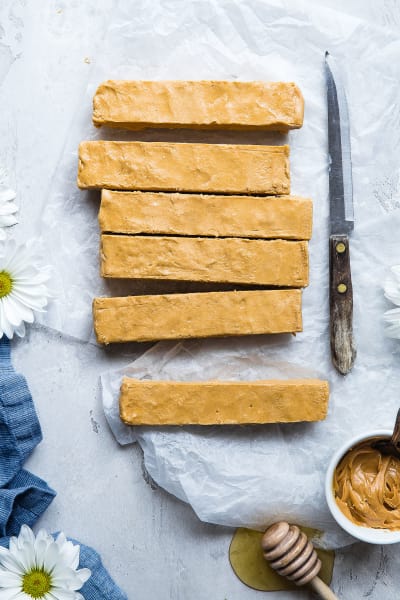 Aaaaand they taste pretty STINKIN' close to the store-bought ones, my internet friend. Everyone who tried them agreed. ßThat was A LOT of people because I did not want to promise you something PERFECT, only to crush your dreams and have you snacking in SADNESS.
Folks, this peanut butter protein bar recipe is one of the easiest and most delicious, and TOTALLY ZERO PERCENT sad things that you will ever have the satisfaction of shoveling into your hungry, snacking mouth.
All you have to do is beat a few wholesome ingredients together, press them into a pan and let the refrigerator firm it ALL up to create this DENSE and RICH, healthy-fat and protein-packed slice of HEAVEN.
Let's break down what you will experience: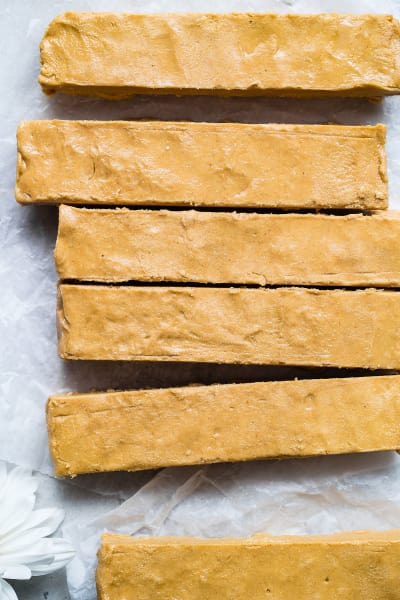 "Hmm. There is no way this easy protein bar recipe can be as good as Taylor said on account of it being so, well, easy."
*Takes a bite.*
*Taste buds fall of head as peanut butter WAVES envelop you in the densest, richest and most-happy-to-be-alive-and-eating-food-right-now hug of goodness*
Then POW *swirls of sweet honey sweep you off your feet*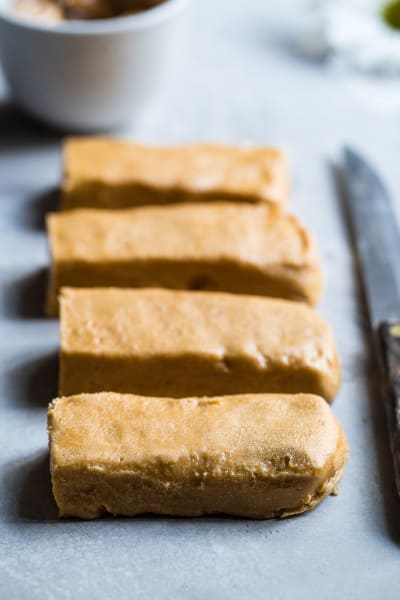 MUNCH MUNCH MUNCH and, 10 seconds later, you're already making ROUND 2 of this Perfect Bar recipe.
For real. You're going to be joining me in the lack of willpower and eating your "special treat" when it's not really a special time, but it's still the PERFECT time because they ARE called Perfect Bars.
OR at least this is how we can justify the insane amount of peanut butter-y bar eating that is about to happen in our VRY VRY near futures.
Don't tell me I didn't warn you.
Are you tired of the dinner routine?
Stuck in a rut or looking for fun new recipes to try?
Our Facebook Group is growing every day! If you haven't joined yet, we invite you to come check it out and join the fun.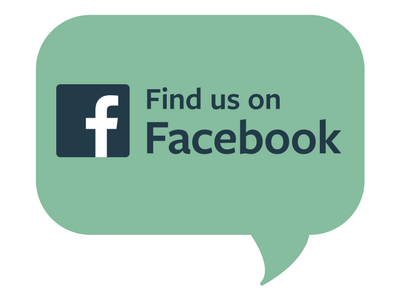 You can ask for recipe ideas, talk about cooking techniques, or get help figuring out the right new pan set for you. If you've already joined, invite a friend along!
Perfect Bar Recipe
Ingredients
1 1/4 cups Natural Peanut Butter, creamy variety
1/4 cup Honey, plus 4 teaspoons
3/4 cup Non-Fat Dry Milk Powder
1/2 cup Unflavored Powdered Egg Whites
3 tablespoons Coconut Oil, melted
Directions
Line the bottom and sides of a loaf pan with parchment paper.
In a large bowl, using an electric hand mixer, beat together the peanut butter and honey until they thicken up.
Add in all the remaining ingredients and beat until they begin to mix. Then, use your hands until well mixed. The dough will be thick, a little bit sticky, and soft.
Press evenly into the prepared pan and refrigerate for at least 4 hours, or until firm.
Slice into bars and DEVOUR!
Notes
To make dairy free: Use only 1/4 Cup plus 2 teaspoons honey and sub the dry milk powder for SIFTED (very important) powdered coconut milk.
I have also tried this by omitting all the milk powder and using all egg protein, if you want to make it suitable for a paleo diet, and it works great. It is slightly less sweet, but still very tasty!
I recommend a no-stir variety of peanut butter. Swap in almond butter for paleo.
Use refined coconut oil if you don't want a coconut taste.
Depending on the temperature of your fridge, your bars may firm up more or less – you can always place them in the freezer if your fridge isn't cold enough.
Recommended
Nutrition Facts
Servings Per Recipe 6
---
Amount Per Serving
Calories from Fat 252
Calories
475
---
% Daily Value*
8%
Total Carbohydrate
23g
---
* Percent Daily Value are based on a 2,000 calorie diet. Your daily values may be higher or lower depending on your calorie needs.
** Nutrition Facts are estimated based on ingredients and data provided by
Fat Secret
. Please consult a doctor if you have special dietary needs.