Lemon Coconut Cake Recipe
Julianne Bayer Dell | Beyond Frosting

Tangy Lemon Coconut Cake is a moist buttermilk lemon cake are with layers of a lemon curd. This cake is finished with a silky Toasted Coconut Swiss Meringue Buttercream.
If you love lemon, then you're in luck! I've taken my Lemon Cupcake Recipe and turned it into this mouthwatering Lemon Coconut Cake. Layer cakes are a thing of beauty, and I especially love the frosting on this cake!
This is a moist buttermilk lemon cake, it's filled with a tangy lemon curd and topped with the most silky, buttery toasted coconut Swiss meringue buttercream.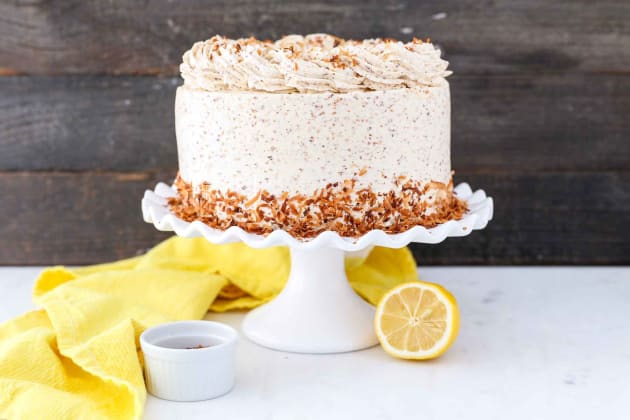 I've actually used this recipe before to make my Blueberry Lemon Mascarpone Cake, and I got so many compliments on the flavors, I knew the cake would making another appearance.
The best part about this cake is that it's not overly sweet. The buttermilk cake is moist and dense, a similar texture to a sponge cake. The layers of lemon curd really give you that punch of lemon flavor on your tongue.
You could certainty make your own lemon curd, but I usually buy it myself.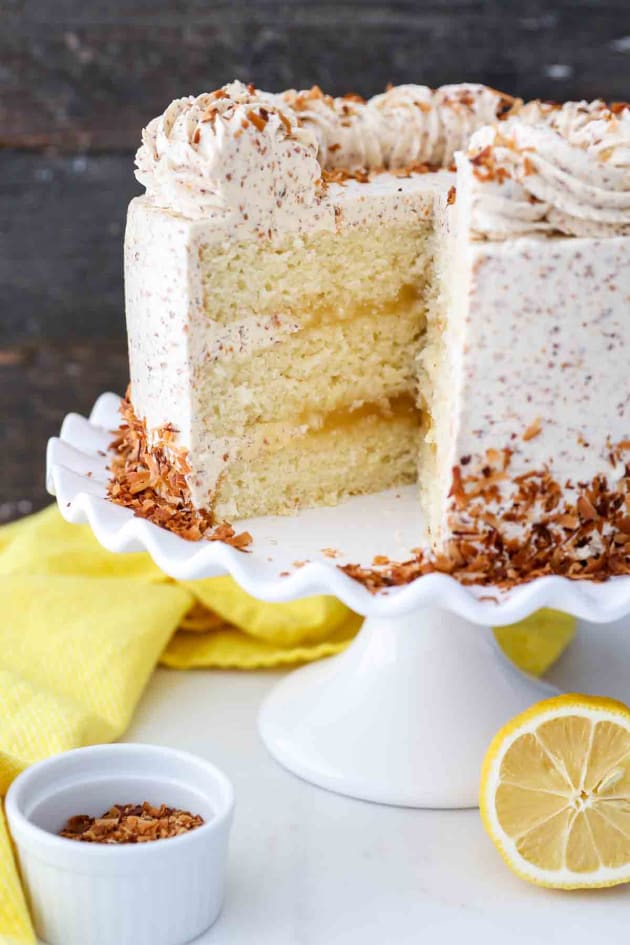 The lemon cake is a very approachable recipe. It's an oil-based cake, so it comes together very quickly. Oil-based cakes also have a more tender crumb, so while it's not really light and fluffy, the texture is still really nice.
For the liquid ingredient, the buttermilk really compliments the lemon flavor, and gives this cake a richer finish.  Then the sour cream is what keeps the cake so moist.
If you have to don't have buttermilk, don't worry you can make it yourself, this handy post will tell you how to make buttermilk.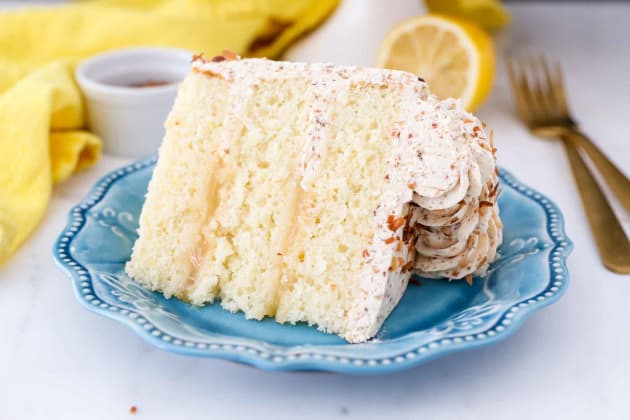 The lemon flavor in the cake is a combination of lemon zest, lemon juice and lemon extract. The lemon extract is optional, but I do think it broadens the lemon flavor profile.
It's the frosting that really sets this cake apart from its other lemon cake counterparts. If you're not familiar with Swiss Meringue Buttercream, that's okay. Read through all my tips and tricks, I break down each step to make it approachable.
Traditionally, Swiss meringue buttercream is a LOT less sweet than traditional American buttercream, but it also has a very buttery and silky finish.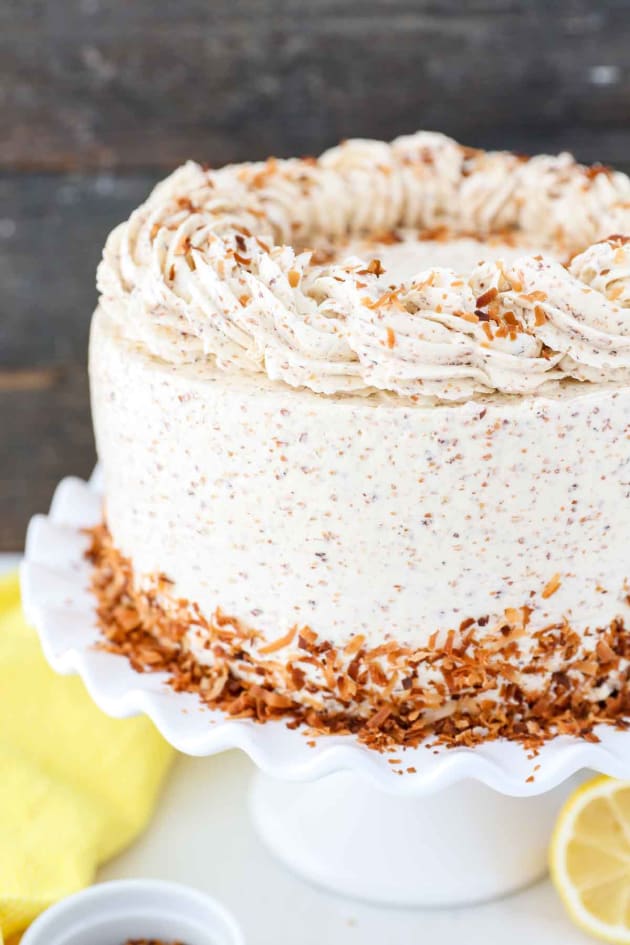 If you're new to this type of buttercream, you might be surprised just how different it is. The flavors are usually subtle, so it doesn't over power the cake. It just melts away on your tongue because it's so light and airy.  
For the toasted coconut buttercream, the coconut flavor is not super strong, but that's the way I prefer it. The toasted coconut has a nuttier flavor and I think it's less sweet once it's toasted as well. The buttercream is made with a hint of coconut extract to bring out the flavor. Even my friends who don't love coconut loved this frosting.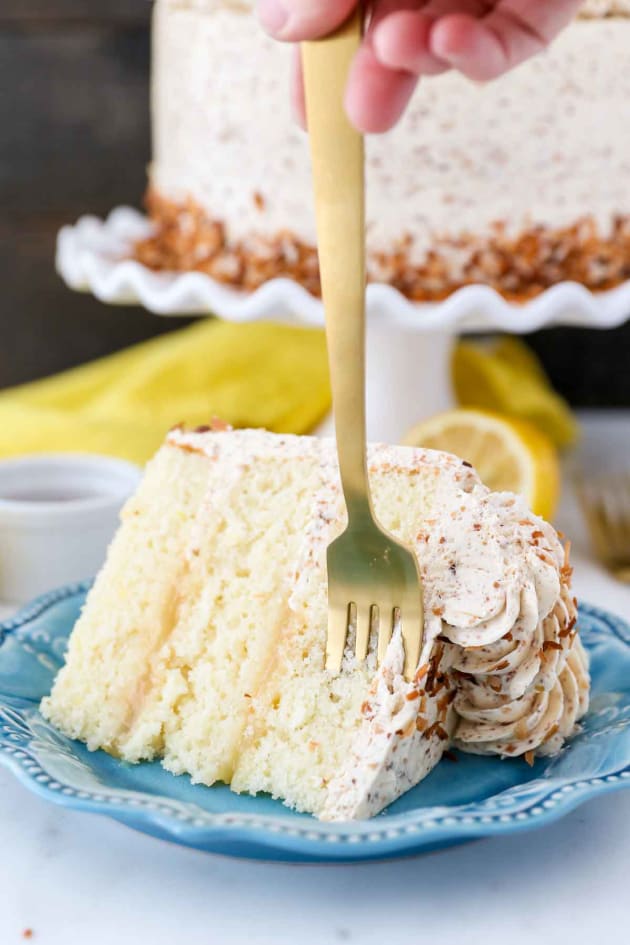 Tips for toasting Coconut
Once you're done baking your cake, toast the coconut right away so it has time to cool while you're making the frosting.
Toasting coconut is super easy. Just spread the coconut in a thin layer on a cookie sheet, preferably one with side walls, because you're going to spread and flip the coconut halfway through baking so that it bakes up evenly.
It can take a little bit for the coconut to start toasting, but once it does, it happens quickly, so don't venture too far from the oven.
It's best to do this directly on your baking pan, although parchment paper can be used, it slows down the process. Don't worry about spraying your pan with cooking spray, as long as you're using a nonstick pan, it should be fine.
Throw the toasted coconut in a food processor and grind it up, it should resemble a coarse powder. You can use either sweetened or unsweetened coconut, but I prefer to use sweetened myself.
If you don't prefer the taste of toasted coconut, you could certainly make this frosting using sweetened coconut, although I do still recommend grinding it in a food processor as coconut tends to be clumpy and sticky straight out of the package.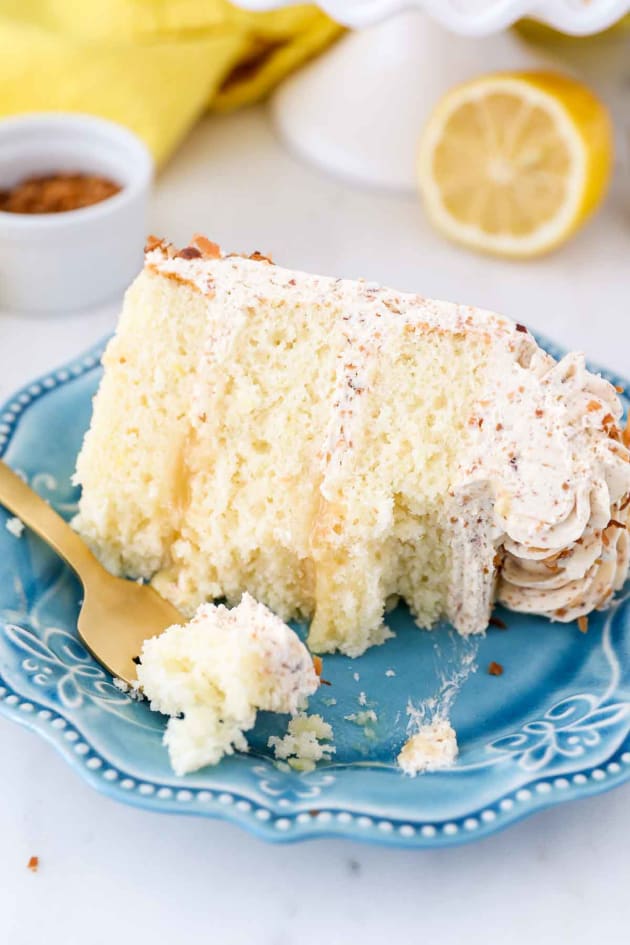 While this cake is perfect for spring, I feel there's never a bad time for cake!
Are you tired of the dinner routine?
Stuck in a rut or looking for fun new recipes to try?
Our Facebook Group is growing every day! If you haven't joined yet, we invite you to come check it out and join the fun.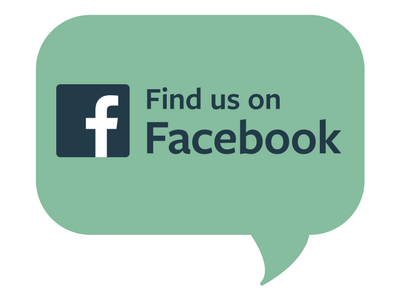 You can ask for recipe ideas, talk about cooking techniques, or get help figuring out the right new pan set for you. If you've already joined, invite a friend along!
Lemon Coconut Cake Recipe
Ingredients
For the Cake:
2 cups Granulated Sugar
1/2 cup Vegetable Oil
3 large Eggs
2 Lemons, zested
1 teaspoon Lemon Extract, (or pure vanilla extract)
1/2 cup Light Sour Cream
2 1/2 cups All-Purpose Flour
3 teaspoons Baking Powder
1 teaspoon Salt
1/4 cup Lemon Juice, (2-3 small lemons)
1 cup Buttermilk
2 cups Sweetened Coconut Flakes, toasted (heaping cups)
10 ounces Lemon Curd, (1 jar)
For the Frosting:
8 large Egg Whites
1 1/2 cups Granulated Sugar
2 1/4 cups Unsalted Butter
1 1/2 teaspoons Coconut Extract
Directions
For the Cake:
Preheat the oven to 350°F. Prepare three 8-inch round baking pans, line the bottom with parchment paper and grease the sides. Prepare your bake even stripes if desired.
In a large mixing bowl, combine the sugar, vegetable oil, eggs, and lemon extract.
Beat on medium speed until the eggs and oil are well incorporated and the batter is lighter in color, about 2 minutes. Scrape down the bowl as needed.
Next, zest 2 lemons and (then set them aside to be juiced) add it to the batter as well as the sour cream. Beat until well combined.
Combine the dry ingredients in a separate bowl. Add half the dry ingredients followed by the lemon juice and half the buttermilk and mix just until the flour starts to incorporate.
Finally add the remaining dry ingredients and buttermilk and beat until all the ingredients are well combined.
Use a spatula to scrape down the sides of the bowl and stir the batter from the bottom to the top to ensure it's well mixed.
Divide the batter evenly between the three pans, about 1 2/3 cups of batter per pan.
Bake at 350°F for 20-23 minutes. Rotate your pans in the oven halfway through baking.
Test the cake for doneness by inserting a toothpick into the center of the cake. If the toothpick comes out clean, you cake is done.
Remove from the oven and allow to cool completely.
Toast the coconut on a sheet pan for 8-10 minutes, stir occasionally and watch closely to prevent it from burning.
Cook until coconut is light brown in color. Set the toasted coconut aside. Baking times will vary by oven, type of coconut and pans used.
For the Frosting:
Wipe down the inside of your stainless-steel bowl with vinegar to remove any grease. Combine sugar and egg whites in the bowl with candy thermometer attached.
Set the bowl over top of a pot with 1 1/4 cups water covering the bottom. Place over medium heat.
Stir constantly with a whisk until the mixture reaches 140°-160°F The sugar should be dissolved in the egg whites. You can test this by placing a drop on your finger tips and rubbing them together. The mixture should be completely smooth.
Immediately place the mixing bowl on your stand. Using the wire whisk attachment, beat the eggs white on low for 2 minutes than increase to medium high.
Beat for another 5 minutes. At this point, your frosting should have turned white and the body of the meringue starts to form.
Increase the mixing speed to high. It will start to look glossy as the peaks begin to form.
Beat for another 3-5 minutes until the bottom of your bowl is cool to the touch and your meringue has stiff peaks.
Turn your mixer down to medium-low. Slowly add your butter, 1 tablespoon at a time. As you add more butter, the frosting might appear to have curdled and lost its body, that's ok. Scrape down the sides of the bowl.
Switch to the paddle attachment, add the coconut extract and continue beating on medium-high speed until your frosting start to have stiff peaks.
Beat for about 3-5 minutes.
Reserve a small handful of toasted coconut to garnish the cake. Use a food processor to grind approximately 2 cups of the toasted coconut into crumbs.
Pour the crumbs in your frosting and mix until combined.
To Assemble the Cake:
Use a cake leveler to cut the domes off the top of the cake. Place a dollop of frosting on your cake board and place the bottom layer of cake on top of that.
Place half of the frosting in a large piping bag fitted with a large open round tip, or simply cut off the end of the piping bag.
Pipe a thick dam around the outside edge of the cake, then spread half of the lemon curd in the middle of the cake.
Add the second layer of cake and repeat the above steps using the remaining lemon curd.
Next, add the final layer of cake on top.
Use your piping bag to fill in any gaps between your layers and to create a crumb coat.
Using an offset spatula or icing smoother, wipe away the excess frosting, leaving you just enough to coat the outside of the cake. Do not mix your crumb coating frosting back into your icing if it has cake debris in it.
Refrigerate the cake for 20 minutes.
Proceed to frost the top and sides of the cake using your offset spatula. Once the sides of the cake are covered, use you icing smoother to remove any excess frosting.
Use remaining frosting to pipe the florets on the top of the cake using an Ateco 846 tip (large open star).
Press any remaining toasted coconut into the bottom edges of the cake or sprinkle over the top.
Recommended
Nutrition Facts
Servings Per Recipe 10
---
Amount Per Serving
Calories from Fat 554
Calories
1088
---
% Daily Value*
37%
Total Carbohydrate
111g
---
* Percent Daily Value are based on a 2,000 calorie diet. Your daily values may be higher or lower depending on your calorie needs.
** Nutrition Facts are estimated based on ingredients and data provided by
Fat Secret
. Please consult a doctor if you have special dietary needs.