Instant Pot Spaghetti Squash Recipe
Stacey Mebs | Bake.Eat.Repeat.

Instant Pot Spaghetti Squash is a game changer. Cook your spaghetti squash the quick and easy way this fall! Perfect spaghetti squash only takes 4 minutes cooked at high pressure in the Instant Pot!
Spaghetti squash is one of my favourite side dishes in the fall.
It makes such a great side dish just tossed with a bit of butter and salt and pepper. Or add your favourite pasta sauce and it can be your main course.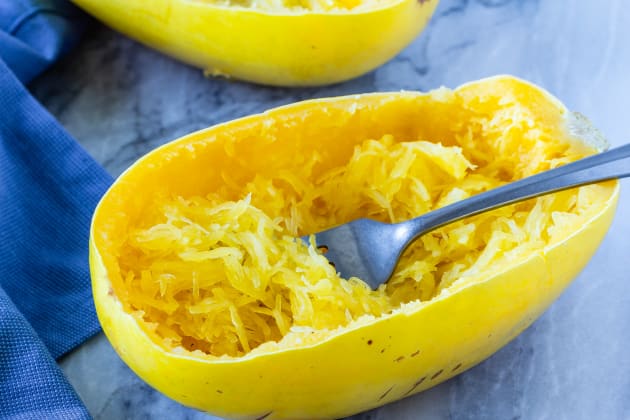 Now I will admit that most of my family is not thrilled with that idea. They like their pasta. 
But my daughter and I both love having spaghetti squash "noodles" occasionally instead. So I usually just boil some regular pasta as well when I want spaghetti squash "noodles" for dinner. Then everyone is happy.
And really, when you make Instant Pot spaghetti squash it takes so little time that making regular pasta as well is no big deal.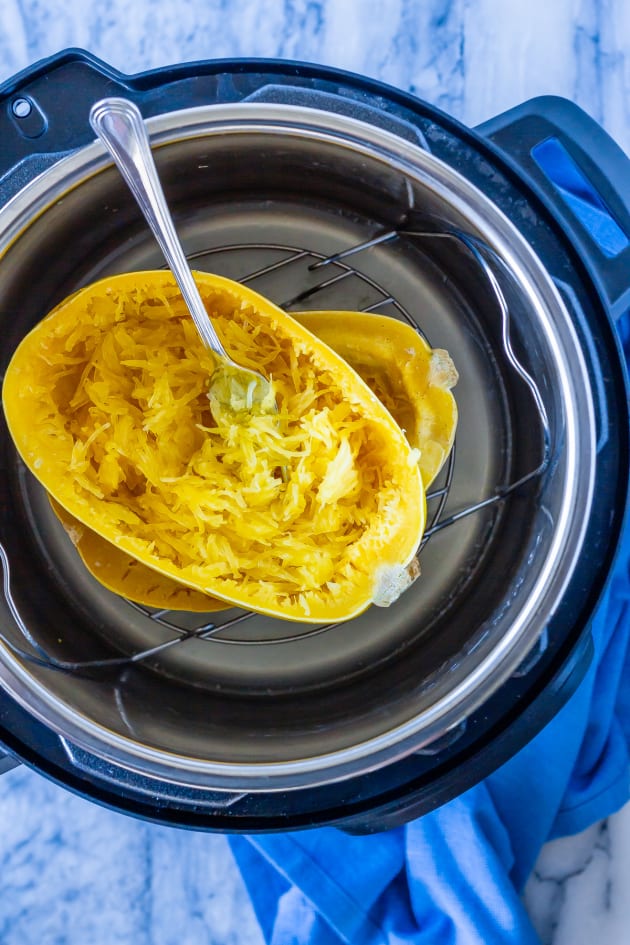 Having an Instant Pot option for spaghetti squash is really just going to mean that my family will be very sick of spaghetti squash this year.
It's gonna happen. My daughter and I will be happy though!
How do you cook spaghetti squash? 
You can cook spaghetti squash several different ways. The Instant Pot is the fastest and easiest way to cook your spaghetti squash. 
Simple slice the spaghetti squash in half length-wise, scoop out the seeds, and place the halves on the rack in your Instant Pot. Drizzle the halves with a bit of olive oil and sprinkle with salt and pepper, and cook at high pressure for only 4 minutes.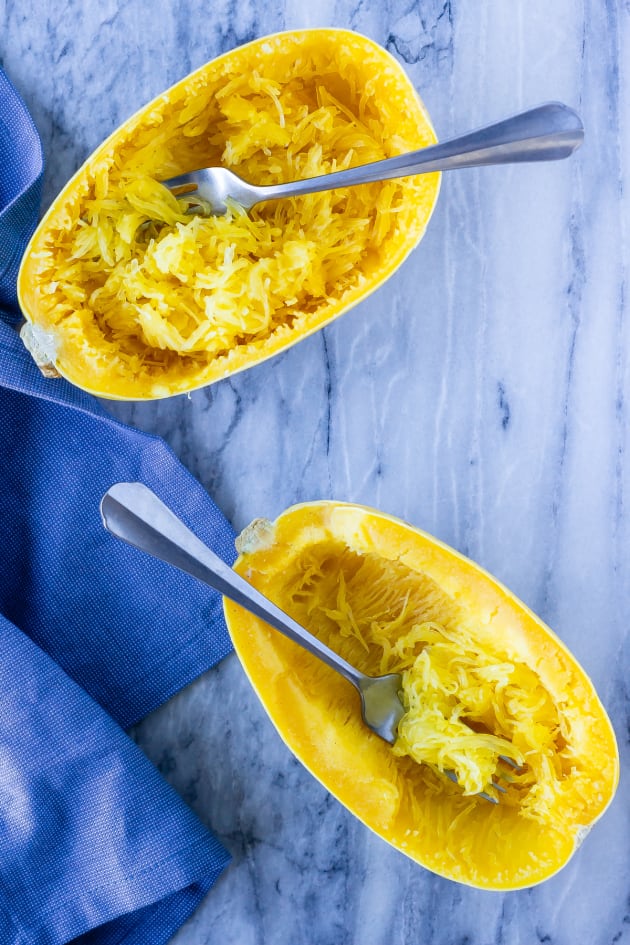 Alternatively, you can roast your spaghetti squash in a 400 degree F oven for 45-55 minutes. Slice the squash in half, scoop out the seeds, drizzle with olive oil and sprinkle with salt and pepper. Roast the squash cut side down on a baking sheet until tender.
I've also cooked spaghetti squash in the microwave. I do find that it tends to cook a little unevenly in the microwave though so this isn't my preferred method. To cook in the microwave, scoop the seeds out of one half of the squash, put a couple tablespoons of water in the cavity, and cover it tightly with plastic wrap. Then microwave on high power for about 10 minutes, or until the squash is tender when pierced with a fork. The time will vary depending on your microwave.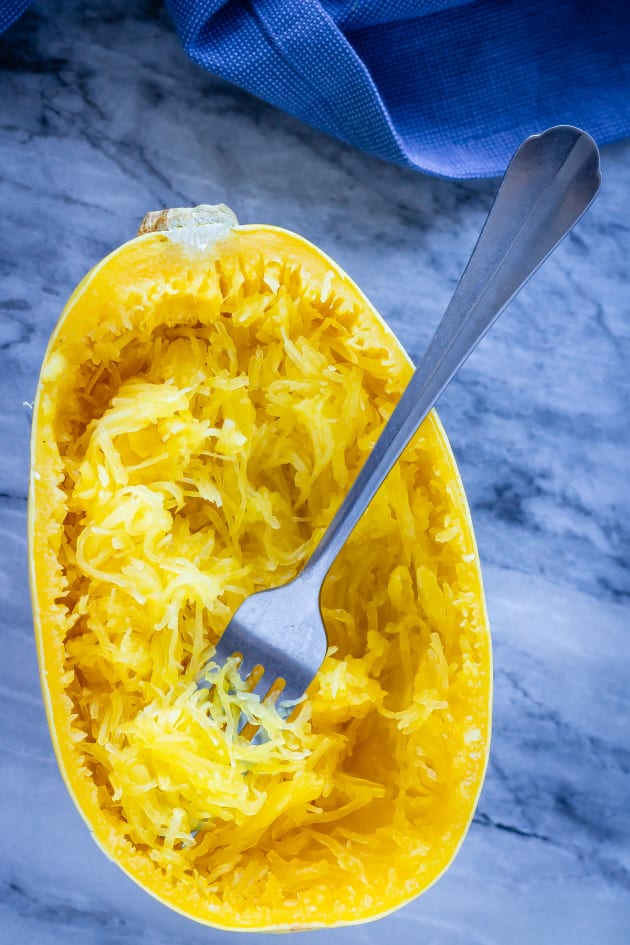 Is spaghetti squash healthy?
I love spaghetti squash, and one of the reasons is that it is very healthy. It is high in fibre, low calorie, and rich in vitamins, minerals and antioxidants. Plus it just tastes great!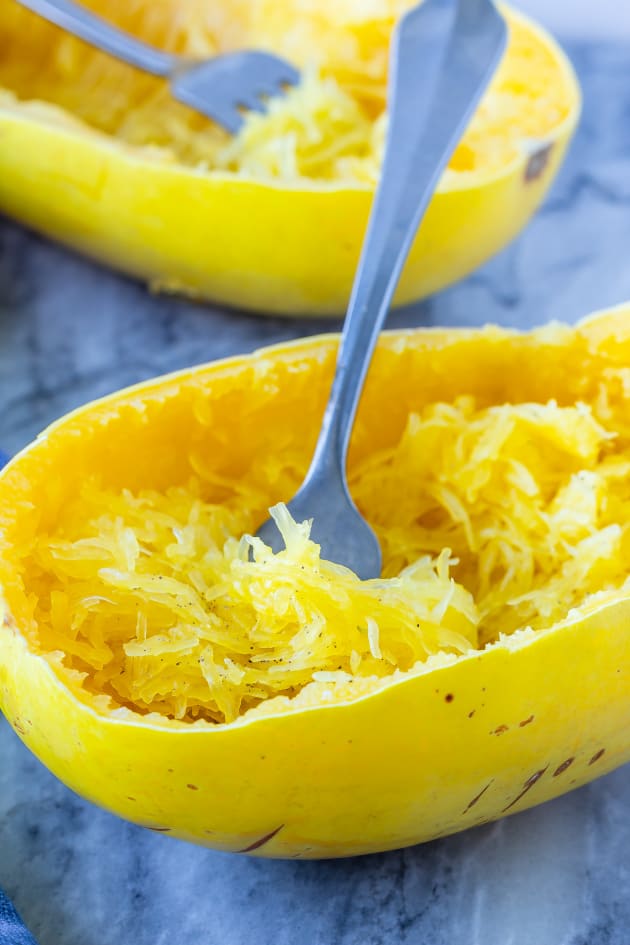 How long is spaghetti squash good for?
If you store your uncooked spaghetti squash in a cool, dry place, it should last for up to 3 months. I buy them in the fall in the 3 packs at Costco and they last for months stored in my pantry.
How to make Instant Pot Spaghetti Squash:
I have an 8 quart Duo Instant Pot and it easily fits a large spaghetti squash. There was plenty of room so I think that a 6 quart model would fit a whole squash easily. Don't fill your Instant Pot more than 2/3 full when pressure cooking - just cook one half at a time if that's all that fits in yours.
I like to drizzle my spaghetti squash with olive oil and sprinkle it with salt and pepper before cooking, but this step isn't necessary if you prefer to skip it.
Once your Instant Pot has finished the pressure cooking cycle, quick release the pressure. You will then want to check if your squash is cooked enough. If it doesn't pierce easily with a fork, it's not cooked enough, so bring your pot to pressure again and cook for another couple minutes. It will come to pressure faster the second time.
Here are some more great Instant Pot recipes for you:
Are you tired of the dinner routine?
Stuck in a rut or looking for fun new recipes to try?
Our Facebook Group is growing every day! If you haven't joined yet, we invite you to come check it out and join the fun.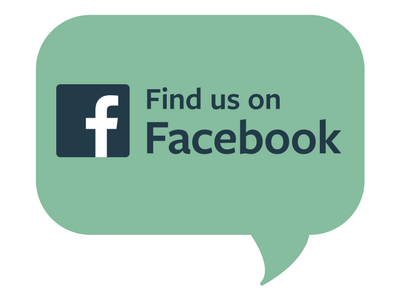 You can ask for recipe ideas, talk about cooking techniques, or get help figuring out the right new pan set for you. If you've already joined, invite a friend along!
Instant Pot Spaghetti Squash Recipe
Directions
Slice the spaghetti squash in half lengthwise and scoop out the seeds.
Brush the inside of the spaghetti squash halves with a bit of olive oil and sprinkle them with salt and pepper.
Fill the insert of the Instant Pot with enough water that there is about 1 inch in the bottom of the pot. Place the trivet in the Instant Pot.
Put the spaghetti squash halves on top of the trivet. It's okay if you have to stack them on top of each other. As long as your Instant Pot isn't more then 2/3 full it will be fine. If you have a smaller pot and a large spaghetti squash you may have to cook one half at a time.
Put the lid on and turn it to the locked position. Make sure the vent is in the closed, sealing position.
Set the Instant Pot to cook at high pressure for 4 minutes.
When the pressure cooking time is complete, quick release the pressure.
Remove the spaghetti squash halves from the Instant Pot and use a fork to pull the spaghetti squash "strands" off of each half of the shell. It should come out very easily with a fork. If the squash isn't separating from the shell easily, pressure cook for another minute or two. The Instant Pot will come to pressure more quickly a second time.
Toss the spaghetti squash with butter or olive oil and salt and pepper to serve it, or serve in place of regular spaghetti noodles with your favourite pasta sauce.
Recommended
Published:

Author:

Cooking Method:

Instant Pot

Category:

Low Carb

Tags:

Instant Pot, Pressure Cooker, Pressure Cooking, Spaghetti Squash, Easy Dinners, Easy, How To Guides, Pasta, Vegetarian, Low Carb, Quick

Related Recipes:

Instant Pot Recipes, Pressure Cooker Recipes, Pressure Cooking Recipes, Spaghetti Squash Recipes, Easy Dinner Recipes, Easy Recipes, How To Guide Recipes, Pasta Recipes, Vegetarian Recipes, Low Carb Recipes, Quick Recipes

Recipe Yields:

4 servings

Prep Time:

Cook Time:

Total Time:

Related Post:
Published:
Author: Stacey Mebs
Recipe Yields: 4 servings
Prep Time: 5 minutes
Cook Time: 4 minutes
Total Time: 9 minutes

Nutrition Facts
Servings Per Recipe 4
---
Amount Per Serving
Calories from Fat 2
Calories
21
---
% Daily Value*
---
* Percent Daily Value are based on a 2,000 calorie diet. Your daily values may be higher or lower depending on your calorie needs.
** Nutrition Facts are estimated based on ingredients and data provided by
Fat Secret
. Please consult a doctor if you have special dietary needs.