Easy Ham & Cheese Hand Pies Recipe
Allison Ruth | Some the Wiser

Easy Ham & Cheese Hand Pies are a great handheld breakfast. Keep in the fridge for a quick snack.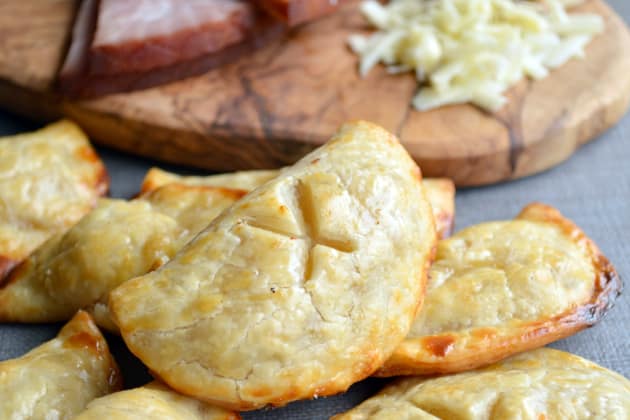 This is one of those recipes that it feels almost like cheating to call it a recipe. It's SO simple and SO quick, and requires so few things. But! You have to turn the oven on. So I am calling it a recipe and you can take all the credit for these easy ham and cheese hand pies. Deal? Ok.
I was never a fan of Hot Pockets, probably mostly because I'm one of those weirdos without a microwave (I hate cleaning it!!!). If we had a microwave and I bought a box of Hot Pockets, they would probably last .0023 seconds with my two boys and their ravenous behavior.
My oldest, who is in high school and therefore hungry all the time, actually ate 4 bowls of cereal on Saturday morning. F.O.U.R.
Where do you even put 4 bowls of cereal? (unless we are talking snack mix of which I can definitely inhale 4 bowls)
So anyway. I've learned over the years that it's best to do a couple of things:
1. do it homemade when I can (so I can save the extra $$ for cereal)
2. include protein because then they eat just a little bit less
Oh and if you are wondering, YES I am calling packaged refrigerated pie crust "homemade". Because this is real life. (P.S. if you have time for from-scratch pie crust at breakfast in your real life then you are amazing and we should be friends so you can teach me how not to waste all my time pretending to be busy but actually being very distracted because INTERNET)
I should explain this recipe now, yes? Easy ham and cheese hand pies are sort of like homemade Hot Pockets, except more delicious and minus the microwave. I used thick slices of leftover spiral ham to make mine, but you could go with deli ham, too. Delicious. I also used Fontina cheese because it is smooth and creamy when it melts and I love the way it complements ham, but ALSO!!! I love the way it works with brown sugar.
Yes. Brown sugar.
Each little hand pie has just a sprinkle of brown sugar before it's folded up and baked. Do you even know what brown sugar does to ham?!!! It's amazing.
These little hand pies are so perfect for brunch or breakfast or you can stuff them in the fridge and have them as a snack. If you dig brunch recipes in small packages, you should definitely also try these spinach artichoke mini frittatas. If you are like me and have hungry boys eating you out of house and home, easy breakfast pizzas might be just the thing.
Easy Ham & Cheese Hand Pies Recipe
Ingredients
1 Refrigerated Pie Crust, 9 inch
9 slices Ham, Two inch, leftovers, or deli meat
1 cup Shredded Fontina Cheese, Or any cheese of your choice--try swiss or cheddar or provolone!
1 1/2 tablespoons Brown Sugar
1 Egg, Plus 1 tablespoon of water (to make the egg wash)
Directions
Preheat the oven to 425°F. Line a baking sheet with parchment paper.
Unroll the refrigerated pie crust. Follow package instructions for letting the temperature rise a little so it's pliable. Once you have unrolled it and you have a flat surface, use your biscuit cutter to punch out 9 circles (I have a 3 1/2" cutter; if yours is smaller you'll have more)
Lay a slice of ham on one half of each pie dough round. Top with a little cheese and then sprinkle each with a little of the brown sugar.
Fold each round in half and press the edges together to seal. Cut a small "X" into each hand pie so they don't explode in the oven.
Beat together the egg and water. Place each hand pie on the prepared baking sheet and brush with the egg wash.
Bake for 7-8 minutes, or until the tops are a pretty golden brown.
You can serve these with Dijon mustard if you'd like.
Notes
Tools You'll Need:
a 3-4" biscuit cutter or round cookie cutter, OR a floured juice glass with a wide mouth (jars work, too)
a brush for the egg wash
Recommended
Nutrition Facts
Servings Per Recipe 9
---
Amount Per Serving
Calories from Fat 118
Calories
234
---
% Daily Value*
---
* Percent Daily Value are based on a 2,000 calorie diet. Your daily values may be higher or lower depending on your calorie needs.
** Nutrition Facts are estimated based on ingredients and data provided by
Fat Secret
. Please consult a doctor if you have special dietary needs.