Easy Cheesy Italian Bread Recipe
Heather Tullos | Sugar Dish Me

This Easy Cheesy Italian Bread is loaded with your favorite cheesy blend, garlic, basil, and roasted tomatoes. It comes together quickly and is sure to complement your next meal.
The contributor was compensated by Silpat® for her time in developing this recipe and post. All opinions are her own.
Is there really anything better than a hot buttery slice of freshly baked yeast bread?
I'm a bread-eater, y'all. Through and through. From the time I was a kid I'd totally rather have an extra helping of bread than a brownie. (I will also take the brownie.)
Bread BAKING is at the top of my list in terms of things I just really love to do in the kitchen. Yeasted Croque Monsieur Rolls and from-scratch Apple Biscuits with Honey Butter Glaze. Homemade Brioche Buns and this Classic Crusty Herbed Dinner Loaf. I get as much joy out of the bread-baking process as I do from eating the finished results.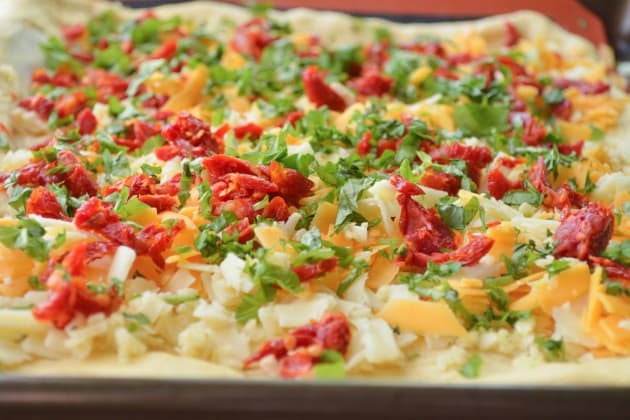 There are a few things in the kitchen that can make bread-baking simple, or can at least help simplify some of the logistics. A stand mixer can be pretty handy (and will definitely help you whip up this Easy Cheesy Italian Bread  super fast), but there's a lot to be said for the actual kneading process, so expensive stand mixers are not a requirement.
A good, sturdy bowl, a trusted silicone spatula, and a canister that lets you reach in and grab flour with ease are all tools that make your bread life easier.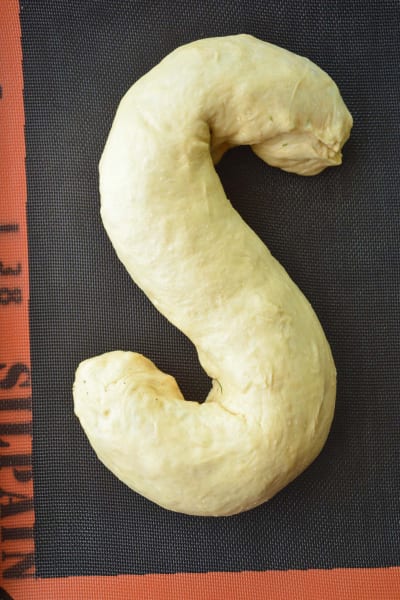 There's one thing I'm not sure how I ever managed all my bread-baking without, though. 
Silpain — the bread-baking mat from Silpat® (the ORIGINAL non-stick baking mat).
Silpain non-stick properties are effective in freezing, proofing and baking for all dough types. So it doesn't matter if you are making Easy Cheesy Italian Bread Stuffed Spinach Bread or Giant Cinnamon Rolls. This silicone-coated fiberglass mat has got you covered.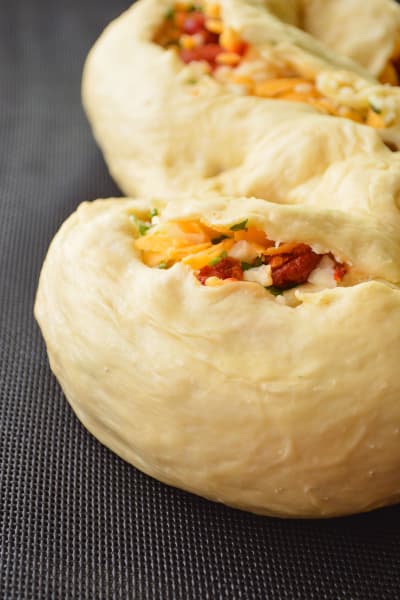 The fiberglass works its own magic because it gives you maximum heat transfer during baking. The perforated mesh helps to give that perfect crusty finish. Basically Silpain does all the good and important bread things.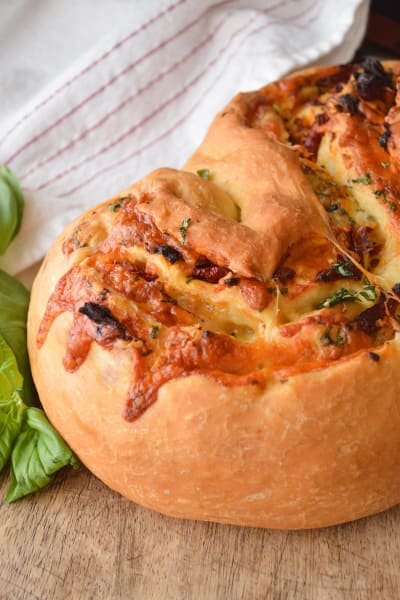 I used my Silpain for this Easy Cheesy Italian Loaf just to show you how perfectly pretty the results can be. Just the right bite and texture and ALL THE CHEESE.
Bonus: the cheese also DOES NOT stick to the Silpain. So you can overload your Easy Cheesy Italian Bread to your heart's content.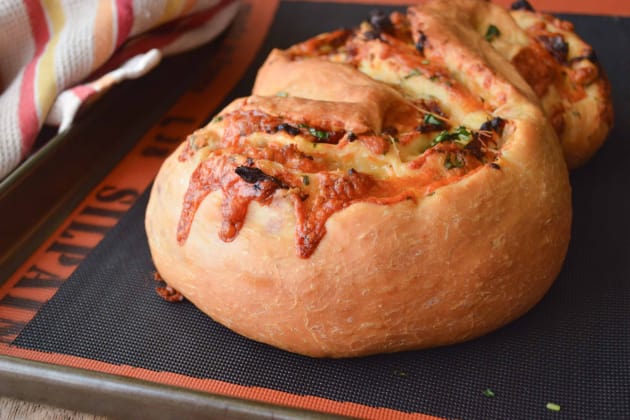 This recipe is the best kind — dump, mix, and go. You can really go with any kind of cheese that your heart desires, but I went cheddar blend in 2 of my 3 recipe tests and it was a win. The fresh basil, minced garlic, and sun dried tomatoes are all additions that load this bread with flavor (and color!).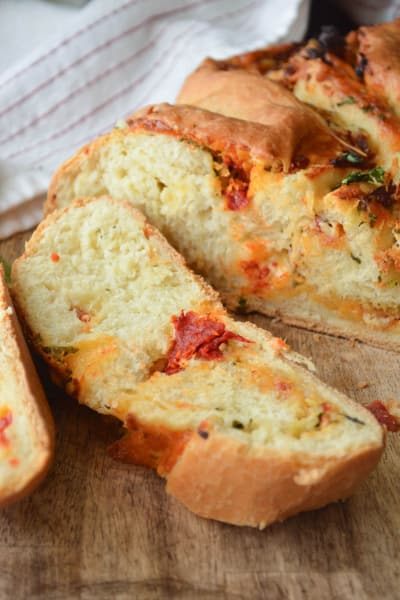 The perfect crust that the Silpain yields will NOT disappoint. 
Planning a dinner party and need some inspiration?
How about looking for a new slow cooker dinner idea?
We've got you covered in our ever-growing Facebook group! If you're not a member yet, why not?!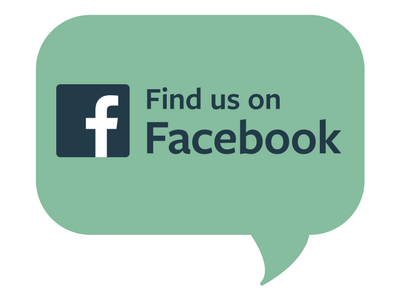 We're chatting cooking techniques, dessert ideas, and everything in between. If you're already a member, invite your friends to join us too!
Easy Cheesy Italian Bread Recipe
Ingredients
3 cups All-Purpose Flour
2 teaspoons Instant Yeast
1 1/4 teaspoons Salt
1 large Egg
1/2 cup Milk, warm
1/3 cup Warm Water
3 tablespoons Olive Oil
3/4 cup Shredded Cheese
1/2 cup Chopped Sun Dried Tomatoes, oil packed, or your own oven-roasted tomatoes
3 cloves Garlic, minced
1/3 cup Fresh Chopped Basil
Directions
Combine the flour, instant yeast, salt, egg, milk, water, and olive oil in the bowl of your stand mixer and mix using the dough hook attachment for 4-5 minutes, or until the dough is very smooth and soft. You can also mix this and knead by hand. Scrape down the sides of the bowl with a silicone spatula as needed; the dough will be slightly tacky.
Place the dough in a lightly oiled bowl, cover, and let it rise for 45 to 60 minutes, or until it's doubled in size.
While the dough is rising, drain the oil from the sun dried tomatoes and pat them dry (or roast your own). Cut the tomatoes into small bits.
Line a baking sheet with your Silpain® liner. (Pro Tip - a perforated baking sheet like a pizza pan can give even crispier crust results!). Push down the risen dough. Flatten and pat it out into a 22" x 8 1/2" rectangle. Spread with the cheese, tomatoes, garlic, and basil.
Starting with one long edge, roll the dough into a log the long way. Pinch the edges to seal. Place the dough seam-side down on the Silpain® liner.
Using kitchen shears, start 1/2" from one end and cut the log lengthwise down the center about 1" deep, to within 1/2" of the other end. Form the log into an "S" shape. Tuck both ends under the center of the "S" to form a "figure 8". Pinch the ends together to seal.
Cover and let the bread rise a 2nd time until it has doubled in size. (About 45 mins). Preheat the oven to 350°F.
Uncover and bake for 35-40 mins. Check the bread after 20 minutes and if it looks like it's getting too dark tent it with foil for the remaining bake time.
You can cool the finished loaf on a wire rack. It's amazing served warm and makes the BEST buttery toast.
Notes
Check your yeast packaging for the recommended temperatures for the water and milk.
Recommended
Published:

Modified:

Author:

Source:

This recipe is based on the Pane Bianco recipe at King Arthur Flour.

Cooking Method:

Baking

Category:

Bread

Tags:

Related Recipes:

Recipe Yields:

10 servings

Prep Time:

Cook Time:

Rising:

Total Time:

Related Post:
Published:
Author: Heather Tullos
Source: This recipe is based on the Pane Bianco recipe at King Arthur Flour.
Recipe Yields: 10 servings
Prep Time: 15 minutes
Cook Time: 35 minutes
Total Time: 140 minutes

Nutrition Facts
Servings Per Recipe 10
---
Amount Per Serving
Calories from Fat 60
Calories
231
---
% Daily Value*
10%
Total Carbohydrate
31g
---
* Percent Daily Value are based on a 2,000 calorie diet. Your daily values may be higher or lower depending on your calorie needs.
** Nutrition Facts are estimated based on ingredients and data provided by
Fat Secret
. Please consult a doctor if you have special dietary needs.