Cauliflower Rice Stuffing Recipe
Taylor Kiser | Food. Faith. Fitness.

Cauliflower rice stuffing is a delicious low-carb alternative this holiday season! This veggie-packed wonder comes together in minutes.
I am about blow your mind in 3…2…1…
STUFFING MADE FROM VEGETABLES WITHOUT BREAD.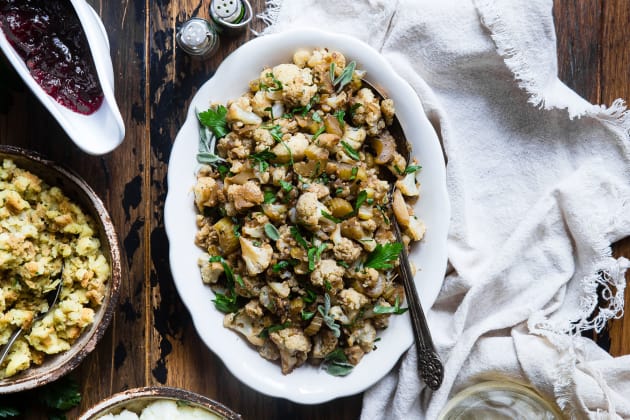 It's a real thing that exists in this universe and it RLY RLY needs to be happening on a Thanksgiving table near you in your VERY immediately real-person life.
A table so near that it is IN YOUR KITCHEN RIGHT NOW. Or it's in the kitchen of wherever you are spending this glorious day of ALL THINGS DELICIOUS FOOD.
Every good memory of my family Thanksgivings revolve around my Grandma's SUPER easy gluten free stuffing, slow cooker mashed potatoes, and her vanilla sweet potato casserole.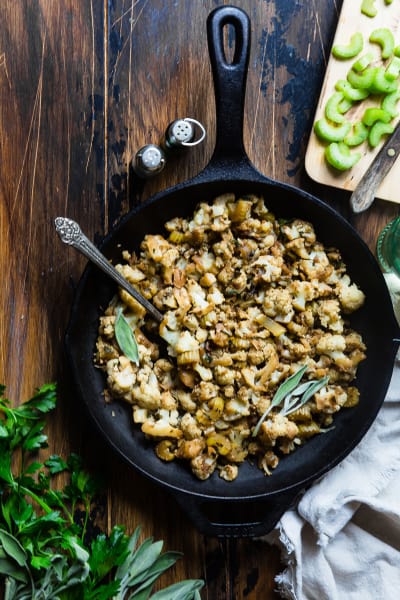 Are you seeing the trend? ALL THE CARBS.
I mean, you know I love me some protein, so they're turkey on my plate. Except you know those "portion plates" that have a tiny tablespoon slot for your "healthy fat?" THAT is where my protein would go at this meal. The rest is MORE CARBS FOR ME PLEASE.
#StretchyPants.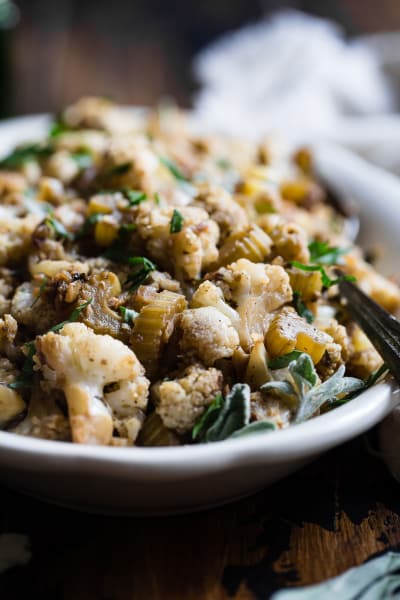 As I age (says the 26-year-old) I have been TRYING to reduce my carb intake a little bit. Real talk though: the keyword is "trying." It usually ends with "AND FAILING."
You can relate to this, I know.
Which is where the idea of cauliflower "STUFFING" came from. We've talked about it eleventy billion times: cauliflower is our miracle veggie friend that can do all kinds of crazy and wondrous things that make us think we are eating unhealthy foods (mango chicken with coconut cauliflower rice, I'm looking at you!) but – PSYCH – VEGGIES YO.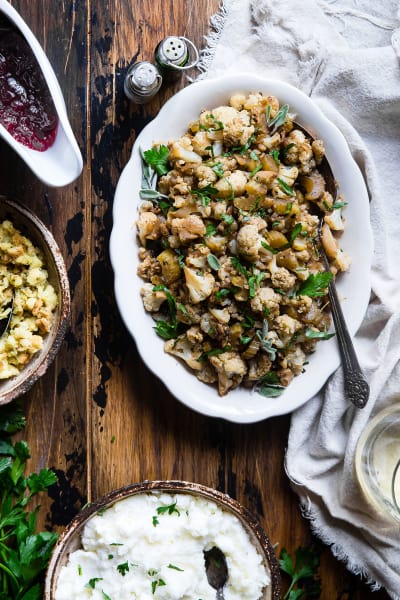 Adding "can make you feel like you're face-planting into cozy, herby stuffing-with-NO-bread" to the "special skills" section of cauli's resume RN.
P.s I just learned that "RN" is "young person" talk for "RIGHT NOW." If you were wondering.
Have to give a shot-out to Grandma for this recipe, 'cause I PRETTY much took HER recipe – the spices/veggies/generally delicious things that she uses – and just chucked in a little vegetable action instead of bread.
You know when you do something and just PRAY PRAY PRAY that it works? That is my life almost always with recipes, and most DEFINITELY in this situation.
I mean, cauli can do A LOT. But mimic pillowy-soft-perfectly-crispy bread? MMMMMMMM. UNSURE.
Internet besties. THIS IS THE REAL DEAL. Liiiike, it W-O-R-K-E-D. SOSOSO WELL.
Crunchy carrots, zesty onions and crunchy celery mish-mash together with tender-crisp cauliflower and simmer in a pool of salty broth and herb-a-LICIOUS, earthy spices to create EVERY. SINGLE. Flavor profile that your mouth expects when you promise to fill it with STUFFING.
Except IX-NAY on the carbs. And HELLO VEGETABLES.
It's the kind of healthy little side dish that you almost don't want to like, because it feels like SUCH a crime when Grandma has been slaving over her carb-inclusive recipe all day long. But, then you taste it, and SO LONG BREAD. THERES A NEW SIDE DISH IN TOWN.
And its name is vegetables forever and ever the end. Not even mad about it one bit.
P.s I made the (eat all the carbs ALL DAY LONG because METABOLISM LIKE WHOA) husband try a bite before telling him what I was "going for" and he was like WHY DO I FEEL LIKE I AM EATING STUFFING RN? ß#Trendy.
Make room for a little from-the-ground-goodness this Thanksgiving. I pinky swear you're gonna like it. 
Planning a dinner party and need some inspiration?
How about looking for a new slow cooker dinner idea?
We've got you covered in our ever-growing Facebook group! If you're not a member yet, why not?!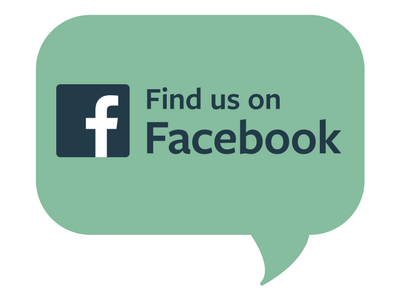 We're chatting cooking techniques, dessert ideas, and everything in between. If you're already a member, invite your friends to join us too!
Cauliflower Rice Stuffing Recipe
Ingredients
1 1/2 tablespoons Olive Oil
1 cup Diced Onion, about half a large onion
1 cup Chopped Celery
1 1/2 tablespoons Minced Garlic
6 cups Cauliflower, cut into small, bite-sized florets, 560g
2 tablespoons Fresh Chopped Parsley, minced, plus additional for garnish
1 teaspoon Poultry Seasoning
1/2 teaspoon Ground Sage
1/2 teaspoon Sea Salt, plus more to taste
Black Pepper
1/2 cup Low Sodium Chicken Broth, or vegetable broth
Directions
Heat the olive oil in a large frying pan on medium-high heat. Add in the onion, celery and garlic and cook, stirring frequently, until the onion is golden brown and tender, about 8 minutes.
Reduce the heat to medium and stir in the cauliflower. Cook until the cauliflower just begins to soften and brown, stirring frequently, or about 10 minutes.
Add in the parsley, poultry seasoning, sage, salt* and a pinch of pepper and cook one minute.
Stir in the broth, cover, and cook until the cauliflower is tender and the liquid is absorbed, about 10 minutes.
Season with salt if needed, garnish with additional parsley and DEVOUR!
Notes
I liked this better with 3/4 tsp of salt. If you're salt-sensitive, you may want 1/2 tsp.
Recommended
Nutrition Facts
Servings Per Recipe 4
---
Amount Per Serving
Calories from Fat 39
Calories
110
---
% Daily Value*
4%
Total Carbohydrate
13g
---
* Percent Daily Value are based on a 2,000 calorie diet. Your daily values may be higher or lower depending on your calorie needs.
** Nutrition Facts are estimated based on ingredients and data provided by
Fat Secret
. Please consult a doctor if you have special dietary needs.