Cajun Cauliflower Tot Casserole Recipe
Taylor Kiser | Food. Faith. Fitness.

Cajun Cauliflower Tot Casserole is full of Cajun spice and cheesy love. You won't believe all the veggies in this dish!
This gluten free tater tot casserole is my marriage IN SKILLET FORM.
And all the people said "WHAAAAAAAAAA?!"
Lemme 'splain.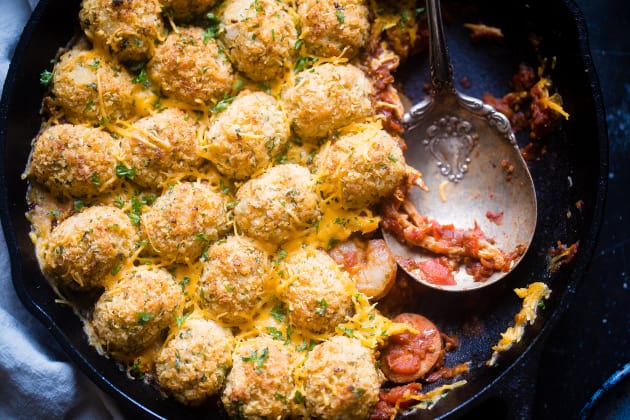 Like I told in the paleo Cajun cauliflower casserole, Mr.FFF is a Cajun connoisseur. Not a week goes by that he doesn't ask me to develop take a recipe and give it a little CAJUN INVASION twist.
And, every week, I say "maybe baby."
And then proceed to make paleo cranberry almond cookies. Because, in my brain, cookies >>>> Cajun eats.
If you're on my side, you agree. If you're on Mr. FFF's side?
Why are here?
Just kidding. Sort of.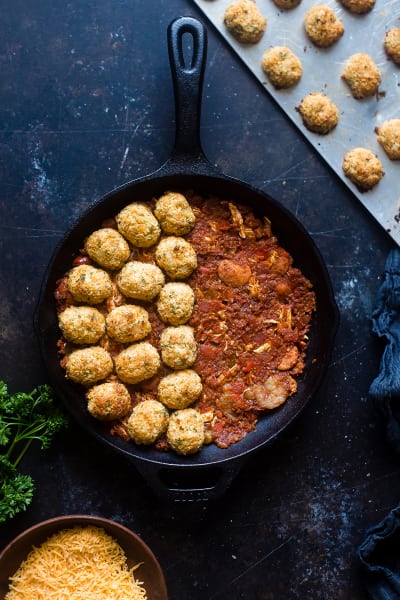 Either way, this skillet full of spicy tomato, tender chicken, juicy slices of sausage, shrimp AND – of course – the HOLY TRINITY of peppers, onions and celery goes out to you BABE.
BUTBUTBUT, the CAULIFLOWER tots in this cauliflower tater tot casserole? ALLLLLL me baby.
ANDANDAND, fun-fact-about-Taylor alert: ever since I was little, my nickname has been "tater tot."
 So, Cajun + Cauliflower + Tater Tot = an FFF marriage made in a skillet. Now you understand.
Did you even know that you could use cauliflower instead of potatoes to get your tater tot B-L-I-S-S on, but without all the mega-overload of carb-ines?
I mean, yes you did, since I already told you about them a few weeks ago. BUT, HAS THIS JOYOUS DISCOVERY REALLY SUNK INTO YOUR REAL PERSON LIFE YET?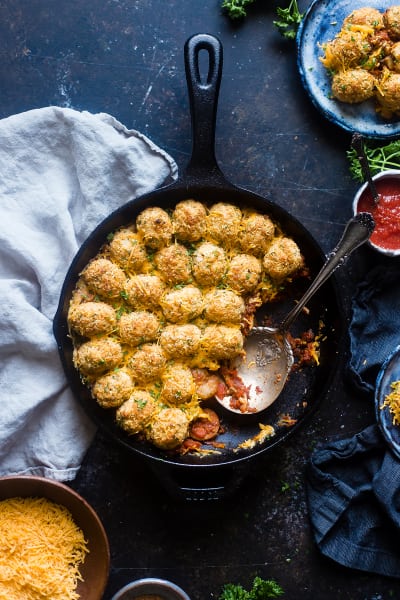 Just to drive it home: cauliflower + food processor + CHEESECHEESECHEESE + BAKE = TOTS! ß How fun is that?
Dip em. Dunk em. Eat them ALL!
These crunchy circles of love and yumminess are meeting your daily veggie requirements friends. And we are NOT going to complain about THAT.
We could just end our saga right there and eat our crispy-golden-brown-pieces-of-vegetable-heaven all on their own.
But, that would be depriving yourself of the ULTIMATE of dinner deliciousness: baking them in a spicy, saucy skillet that's piled high with a flavor BURST of GARLIC! ONION! ANDOUILLE SAUSAGE! PARSLEY! MORE CHEEEEEEEEEESE!
It's the weeknight dinner of your dreams in the sense that 1. HELLO YUMMAY and 2. BOTH your kiddos and your hub' will NOT complain ONE BIT for eating veggies and generally healthy food that is going to make them feel all nourished and good inside.
Not even the cauliflower HATING man that always seems to be hanging around (I guess that happens with marriage?) even QUESTIONED the use of vegetables instead of potatoes.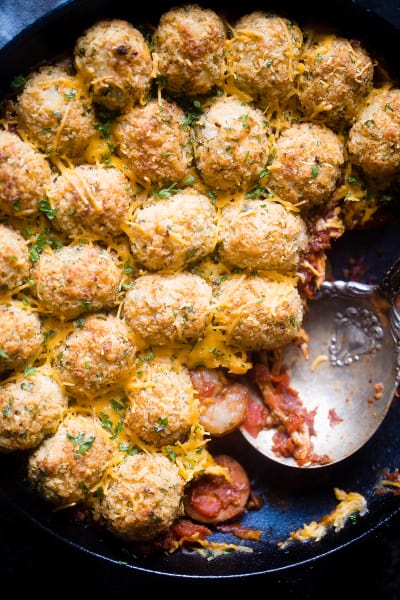 You KNOW the feeling when that happens. I'm tellin' ya: cheesy-crispy-crunchy-cauliflower tots are the way to any "healthy haters" HEART.
Let's sit down and have a little chat about the VRY VRY needed Cajun seasoning in this skillet of weeknight-dinner-dreams: it's got some HEAT.
If you're the kinda person that likes to feel that warm sensation trickling down the back of your throat, and heating up your stomach, then the amount of seasoning is 4 YOUUUU. However, my peeps, if you don't like spicy food, I suggest you reduce it a little.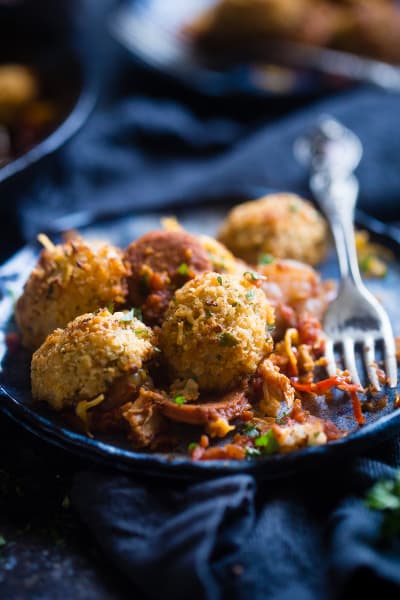 Just warning you. Giving you ALMOST ALL the made-of-vegetables-pieces to the dinner puzzle.
Spoiler alert: face planting into this 2NITE, is the final, missing piece.
Go forth and SOLVE.
Are you tired of the dinner routine?
Stuck in a rut or looking for fun new recipes to try?
Our Facebook Group is growing every day! If you haven't joined yet, we invite you to come check it out and join the fun.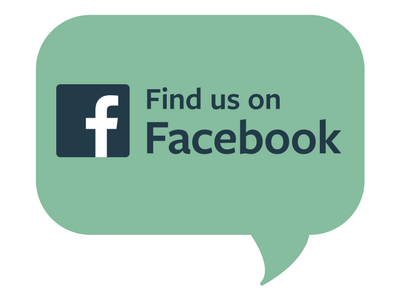 You can ask for recipe ideas, talk about cooking techniques, or get help figuring out the right new pan set for you. If you've already joined, invite a friend along!
Cajun Cauliflower Tot Casserole Recipe
Ingredients
For the Cauliflower Tots:
3 cups Cauliflower, cut into small florets, 290 grams
6 tablespoons Onion, diced
3 tablespoons Light Cottage Cheese
1 1/2 tablespoons Garlic, minced
1 large Egg White
3/4 cup Reduced Fat Shredded Cheddar Cheese
1/2 cup Gluten Free Panko Breadcrumbs, plus 2 tablespoons
3 tablespoons Fresh Parsley, minced
Salt and Pepper
For the Casserole:
1 tablespoon Extra Virgin Olive Oil
1 Red Bell Pepper, minced
1/2 cup Onion, diced
1/3 cup Celery, sliced
1 tablespoon Garlic
1 link Andouille Chicken Sausage, sliced
1 tablespoon Cajun Seasoning, plus 1/2 teaspoon, to taste - less if desired
1 14.5 ounce can Petite Diced Tomatoes
1 tablespoon Tomato Paste
2 Bay Leafs
1/2 cup Cooked Shredded Chicken, such as leftover rotisserie chicken
1/2 cup Raw Shrimp, 3 ounces
1 cup Reduced Fat Shredded Cheddar Cheese
Fresh Parsley, for garnish
Directions
Preheat you oven to 400°F and very GENEROUSLY spray a cookie sheet with cooking spray.
Place the cauliflower florets into a food processor and blend until broken down and "rice-like." Transfer to a microwave-safe bowl and microwave for 3 minutes. Stir and then microwave and additional 2 minutes.
Add in the onion, cottage cheese and garlic and stir until well mixed. Microwave again for 20 seconds.
Finally, add in the egg white, cheddar, panko, parsley and a pinch of salt and pepper. Stir until well mixed and the egg white is evenly distributed.
Using a 1 tablespoon measure form the cauliflower into tots. I find the easiest is to really pack the cauliflower into a 1 tablespoon measuring spoon and then gently top it onto your hand until it comes out of the spoon in a perfect tot shape. Place it on the pan. Do this for all the cauliflower. You should end up with 32-33 tots.
Generously spray the tops with cooking spray and bake for 20 minutes. Then, spray the tops generously again, and bake an additional 7-10 minutes, or until the tots are golden brown and crunchy.
While the tots cook, heat the olive oil in a large, oven-safe pan over medium/high heat. Add in the pepper, onion, celery and garlic and cook for 2-3 minutes, until light browned.
Add in the sliced sausage and Cajun seasoning and cook and additional 2-3 minutes, or until the sausage is lightly browned.
Add in the tomatoes, tomato paste and bay leaves. Turn the heat to high and boil until all the water is evaporated, about 5-6 minutes, stirring frequently so the bottom doesn't burn. Remove from the heat and stir in the shredded chicken and shrimp.
Spread the tomato mixture evenly in the bottom of the pan. Then, sprinkle 1/2 cup of the cheese evenly over top. Place the cauliflower tots on top of the tomato mixture,* followed by the remaining cheese.
Bake until the cheese is melted, about 5 minutes.
Sprinkle with parsley and DEVOUR.
Recommended
Published:

Modified:

Author:

Cooking Method:

Baked

Category:

Healthy Eating

Tags:

Healthy Eating, Spicy, Casseroles, Cauliflower, Cheese, Sausage, Dinners, Family Meals and Snacks, Baked

Related Recipes:

Healthy Eating Recipes, Spicy Recipes, Casserole Recipes, Cauliflower Recipes, Cheese Recipes, Sausage Recipes, Dinner Recipes, Family Meals and Snack Recipes, Baked Recipes

Recipe Yields:

4 servings

Prep Time:

Cook Time:

Total Time:

Related Post:
Published:
Author: Taylor Kiser
Recipe Yields: 4 servings
Prep Time: 15 minutes
Cook Time: 35 minutes
Total Time: 50 minutes

Nutrition Facts
Servings Per Recipe 4
---
Amount Per Serving
Calories from Fat 135
Calories
397
---
% Daily Value*
7%
Total Carbohydrate
21g
---
* Percent Daily Value are based on a 2,000 calorie diet. Your daily values may be higher or lower depending on your calorie needs.
** Nutrition Facts are estimated based on ingredients and data provided by
Fat Secret
. Please consult a doctor if you have special dietary needs.