Can't Find the Famous Costco Peanut Butter Chocolate Pie? Try These Pie Recipes Instead!
Ryan Nadolny | Ryan Eats Everything

If you can't track down the famed peanut butter pie at your local Costco, we've got you covered with these peanut butter pie recipes!
You know you're officially an adult when you begin to look forward to weekend Costco trips. I mean, what's not to love?
Free samples, churros, the famous $1.50 hot dog and soda combo, and the best deal on rotisserie chicken that you will ever find! I'll put money on it.
The samples are my favorite part. Does anyone else take an extra one and say it's for your friend in another aisle, but that friend doesn't exist and you're just hungry for more cheese? You know they know, right?
I digress.
For Pi Day this year, Costco answered my food prayers and bestowed upon us a chocolate peanut butter pie that is quite possibly an actual slice of heaven.
The only catch?  Word got out about how good this pie is and now it can be impossible to find. Luckily for you, we've got a bunch of peanut butter pie recipes you can make at home instead! (And yes, they're just as delicious.)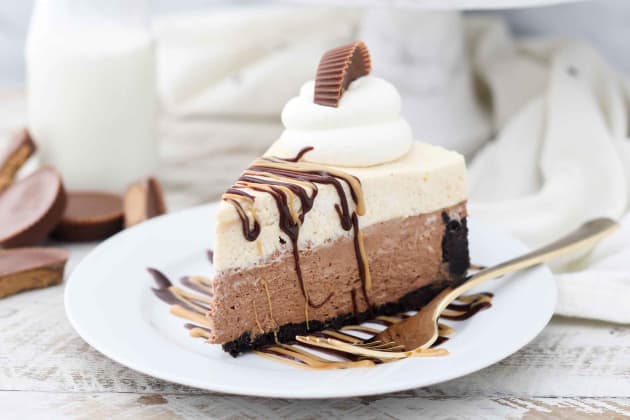 What Is the Costo Peanut Butter Chocolate Pie?
First thing first, let's address the elephant in the room - is the Costco peanut butter really that good? Luckily for all of us, I was able to get my hands on one.
This pie isn't just any old pie. Oh no - this baby clocks in at 72 ounces. That's four and half pounds for those that struggle with the math. That's a big pie!
This no-bake pie is made up of the holy trinity of dessert ingredients. It starts out with a buttery graham cracker crust, then a layer of whipped peanut butter mousse that covers the bottom and sides of the crust.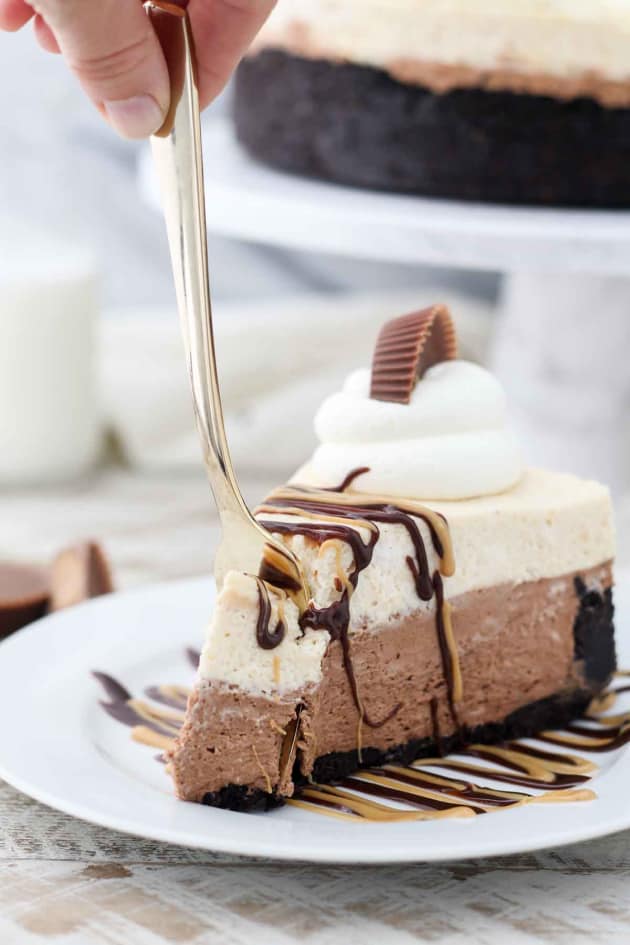 The center is then topped with a decadent liquid truffle chocolate filling. It's basically the same mousse they use to layer their sheet cakes.
Lastly, the pie is topped with a decorative trim of whipped peanut buttercream frosting and a light dusting of graham cracker. Are you drooling yet?
As with most commercially made desserts, this one has a laundry list of ingredients, most of which I can't even pronounce. No one said it was healthy!
So, what's the verdict? Is it really that good? Oh yeah. It's that good.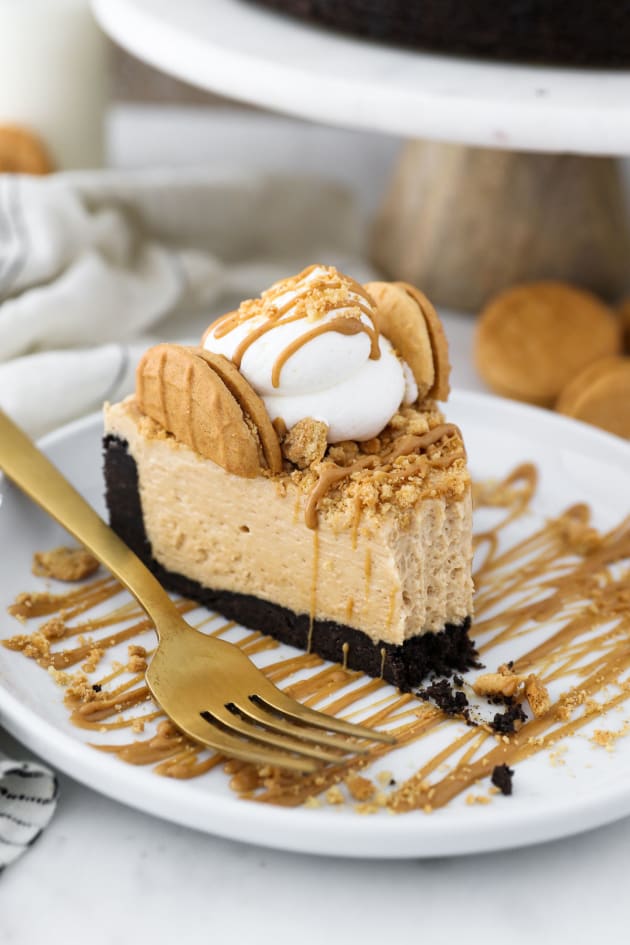 Is the Costco Peanut Butter Chocolate Pie Really That Good?
If relaxing in a hammock on a warm sunny day had a flavor, it would be this pie. It's like eating a peanut butter cup mixed with whipped cream.
This pie cures depression and anxiety. This pie could end all wars.
(Neither of those things are true, but trust me - one bite might have you thinking otherwise.)
The pies are becoming increasingly difficult to find, due to their instant popularity, thanks to social media.
Thankfully, I had an inside source that tipped me off when they would be in stock. I wasted no time, jumped in my car, and got to Costco right as they were opening - the perfect time to shop at Costco.
I located the refrigerated case and took the very first pie from the top of the pile. We all know what five pounds feels like, but the weight was still a shock.
Then, I just had to make the 20-minute drive home. It didn't help that the pie was strapped into the front seat, taunting me.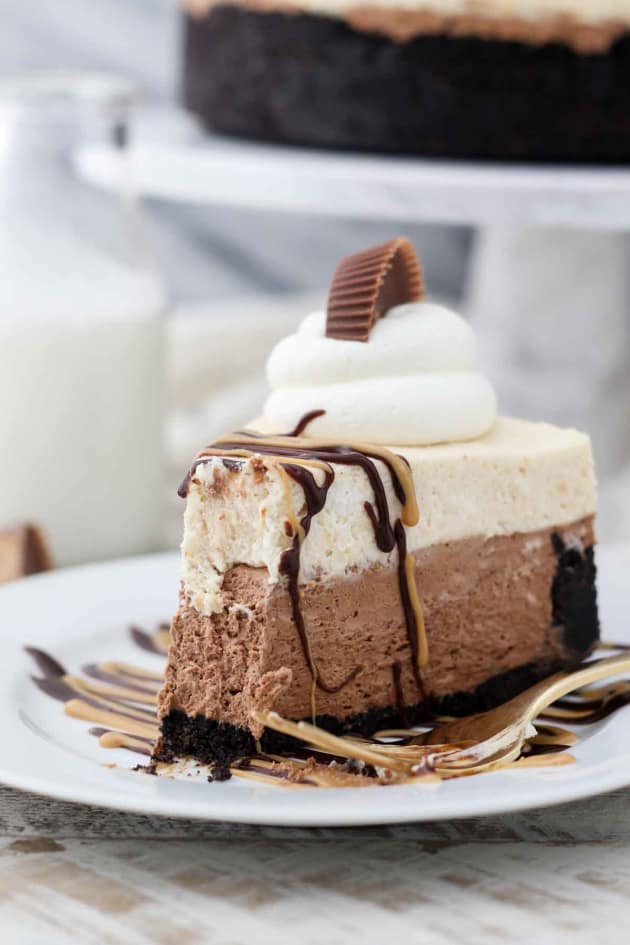 Once in the house, I tore the lid off and cut a rather large slice and placed it on the finest of paper plates. I armed myself with a fork and a tall glass of milk.
First thing I noticed was that the slice came out nice and clean and the piece held up firmly. I fully expected it to collapse under its own weight.
The beautifully layered pie looked almost too good to eat. Almost.
The chocolate mousse makes up the majority of the pie, but the real star of the show is the whipped peanut butter mousse. It's rich but also light and airy.
The chocolate mousse, which consists of dark and milk chocolate, is much heavier and more intense than its peanut butter counterpart.
The crust was buttery, slightly crumbly, and held up perfectly and stayed intact throughout the eating experience.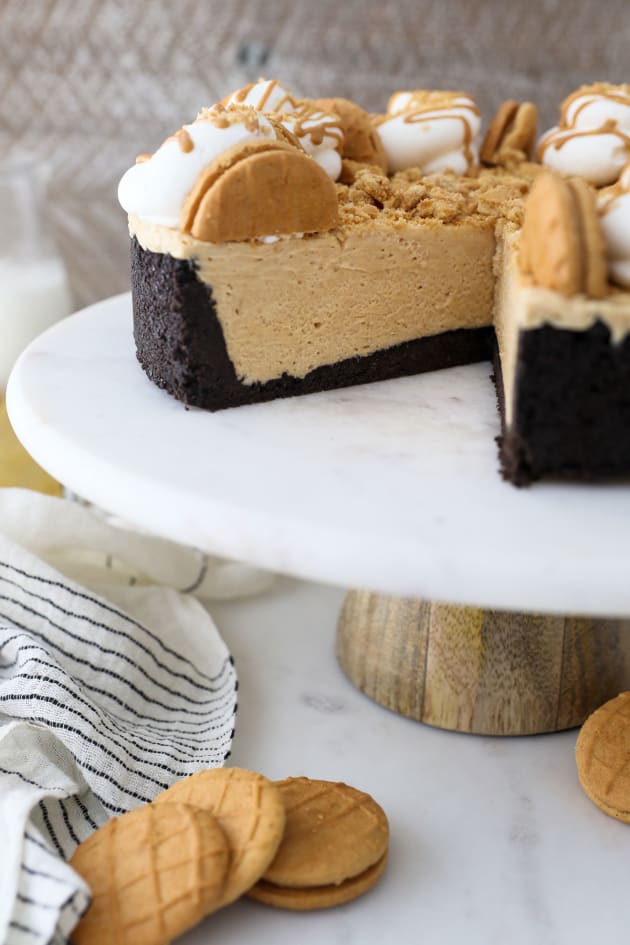 How Much Is Costco Peanut Butter Chocolate Pie?
I've read that some people are upset at the cost of the pie, which is $19.99. It seems a little steep, but I assure you that it's worth every cent.
If you break it down, that's less than $4.50 per pound. With this Costco pie, you get both the quality and value you expect from the Kirkland brand.
If for some reason you don't like it, you can return it for a full refund. But, trust me, that's absolutely not going to happen.
The only downside I could find, was that my wife made me share with her and the kids and it was gone in two days. I guess I'll just have to get another one.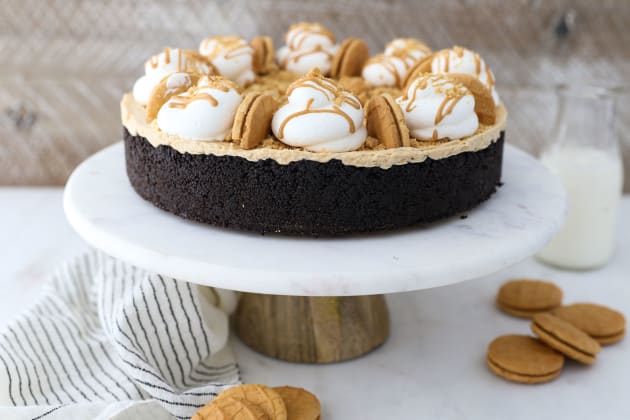 I was lucky enough to get the first pie sold at our local Costco. Since then, the pie has been slowed down due to a supply shortage of whipped topping.
Costco uses the same whipped filling for their giant sheet cakes, and (per a Costco employee we spoke with) they only have enough to keep up with their cake production, which ranks further up in the hierarchy of desserts.
The good news is, I'm not going to leave you empty handed! We have an arsenal of chocolate peanut butter pie recipes that we would love to share with you.
Can't Get Costco's Peanut Butter Chocolate Pie? Try These!
Ok, so, these are going to take a bit more effort than rolling into your local Costco, but I assure you, they're totally worth your time!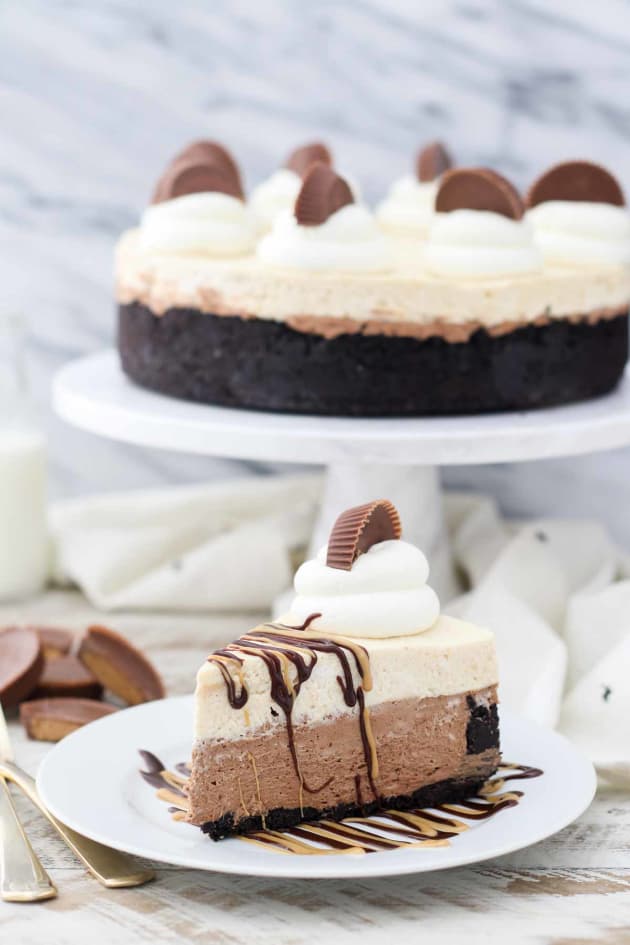 This peanut butter chocolate mousse pie recipe is as close as it gets to the Costco pie only you can make it at home and it won't cost $19.99.
It's layered differently and uses an Oreo crust instead of graham cracker, but I think is better! Plus, you made it, so it's that much more special.
While not as rich with chocolate flavor, if you love peanut butter and you love pie, you will love this no-bake peanut butter marshmallow pie recipe. Trust me!
Fluffy peanut butter mousse with an Oreo crust is topped with whipped cream, crushed peanut butter cookies and a peanut butter glaze. You can't beat it.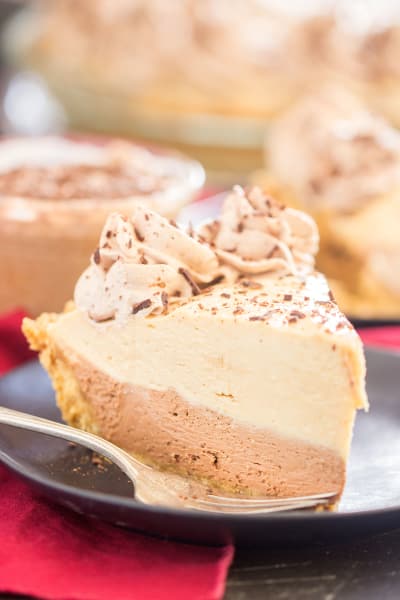 If you're a peanut butter lover, this no-bake chocolate peanut butter pie recipe is for you! It's rich but light in texture, loaded with peanut butter flavor.
I personally love that you can prep it in about 10 minutes and, of course, that there's no baking required!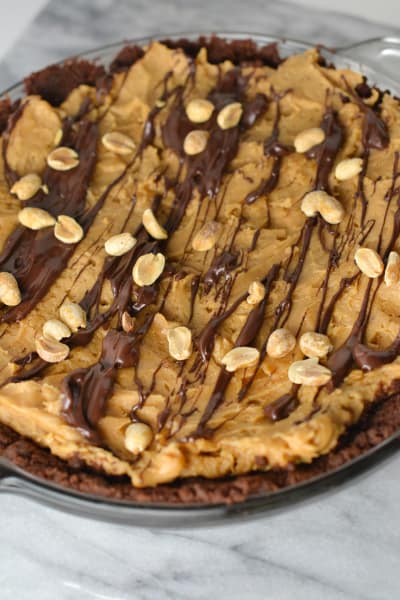 As with most things, I like to mix it up and this spicy pie is the perfect blend of sweet heat - if you don't have a tolerance for spicy foods, skip this one.
For all you chili-heads out there, you are my people and you need to make this spicy chocolate peanut butter pie recipe!
Admittedly, I have an issue with white chocolate. It's not actual chocolate and it tastes funny to me.
However, every so often a recipe comes along that has me question that stance. This white chocolate peanut butter blondies recipe is that recipe.
Also, these white chocolate macadamia nut cookies!
Planning a dinner party and need some inspiration?
How about looking for a new slow cooker dinner idea?
We've got you covered in our ever-growing Facebook group! If you're not a member yet, why not?!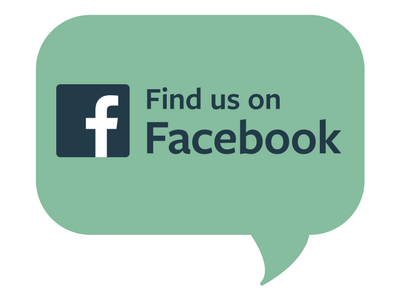 We're chatting cooking techniques, dessert ideas, and everything in between. If you're already a member, invite your friends to join us too!

Ryan is a food and writer from Toledo, Ohio where he's had a love affair with food since 1984. When he's not cooking or writing, he's planning the next he wants to eat.

Tags: Pies, Desserts, Food News