No Bake White Chocolate Macadamia Cookies Recipe
Taylor Kiser | Food. Faith. Fitness.

No bake white chocolate macadamia cookies are gonna make your day! Who needs a vacation when you have these cookies?
My Dad told me to tell you that "people will eat these."
I see your confuzzled eyeballs peepin' back at me. Let me 'splain.
My dad has this THING against healthy foods that "taste healthy." AND he has an even bigger chip on his shoulder against ANYTHING gluten free.
So, uhhhh, ER'YTHANG THAT I MAKE.
He just assumes that every kind of gluten free food item is made with alien ingredients that taste weird and will do strange things to his VERY SOUL. ß I'm exaggerating. But, not really.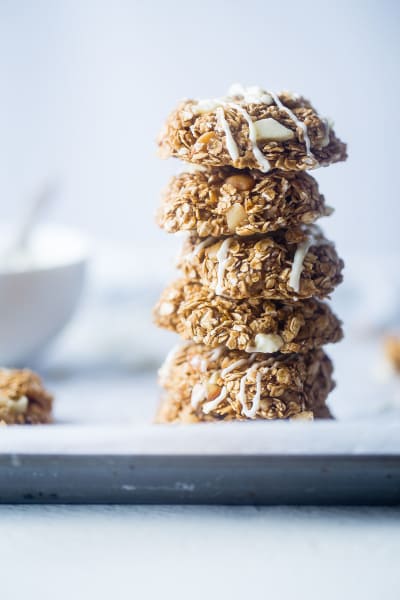 SRSLY, it's an ORDEAL to even get him to try something that I make because of his pre-gluten-free-healthy-food judgey ways.  I actually got him to try cauliflower tater tots once and he LIKED THEM.
On cloud nine for the WHOLE WEEK.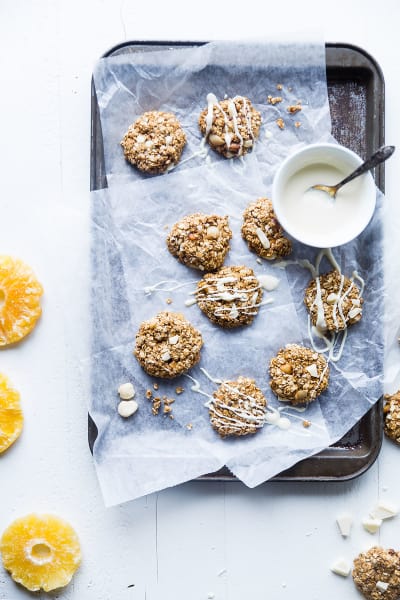 Anyway.  He came down with my Momma a few weeks back to help us pack to move and he was hungry.  I had these INSANSELY delicious, chewy, sweet but A-L-S-O gluten free oatmeal cookies  in the refrigerator so I (VRY VRY HESITANTLY) offered him one. 
Dad: "are they good?"
Me: "No. I just post really gross food for fun. OF COURSE, they are. I am PRETTY excited about them."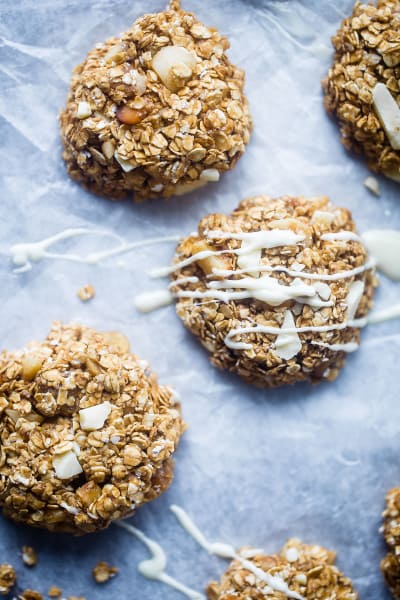 Dad: *takes a bite* "PEOPLE WILL EAT THESE. You need to TELL THEM THAT."
Yes. Because you guys would never eat any of the other 400 recipes I've posted. *rolls eyes. *
Anyway. I told you. He loved them. HE ATE 10 OF THEM. This is a HYOOGE deal and is living proof that your taste buds need to experience the salty-sweet sensation that happens when wholesome flecks of chewy oatmeal dance with coconut sugar that has condensed with velvety smooth coconut milk, to form the ULTIMATE of sticky-sweet sauces that is holding these NO BAKE cookies together.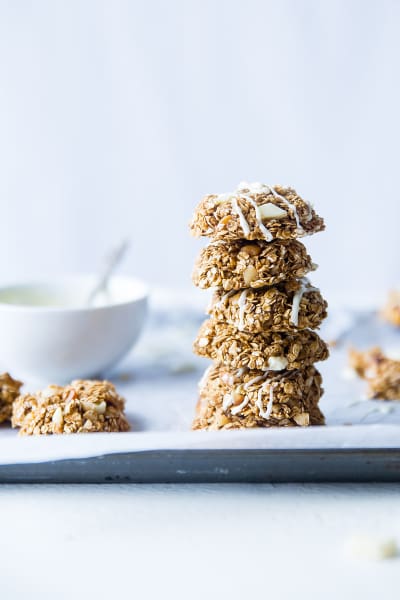 Yes, technically, you use the stove. BUT, you don't turn on the oven. We're going with no-bake.
Just like your favorite Subway cookie (did you know you can ask them to microwave them for you? DO. IT) it has the crave-able taste of crunchy, rich and INDULGENT macadamia nuts with sweet BURSTS of white chocolate.
I usually try to stick to dark chocolate, but sometimes you just NEED to leave the dark side you know?
BUT, what these cookies have that the tradit. Version does NOT, is the fruity, bright sensation of tropical pineapple that is gonna make your taste buds feel like they're sipping a strawberry basil margarita on a Caribbean island FO REAL.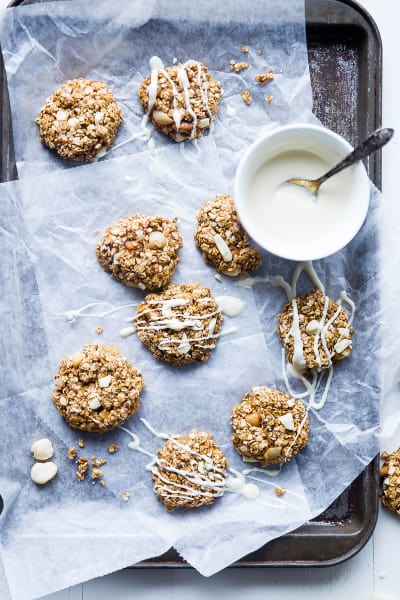 I got this idea from both the pineapple coconut lime paleo bread with the most RIDIC (in a good way) macadamia streusel, and the coconut whipped cream & grilled pineapple stacks,  and it's a flavor-combo that food-loving-you needs to experience in your life. STAT.
Before I leave you, here's a protip:
Do NOT boil your sugar/milk combo too long.  This will cause your cookies to not have the sticky quality necessary for, you know, HOLDING TOGETHER. ß BAD.
You want it thick, but still fluid. Kind of like honey.  Aim for honey and you'll be G-O-L-D-E-N.
Kind of like the sun on the island of tropical taste-bud-vacation cookies.
Planning a dinner party and need some inspiration?
How about looking for a new slow cooker dinner idea?
We've got you covered in our ever-growing Facebook group! If you're not a member yet, why not?!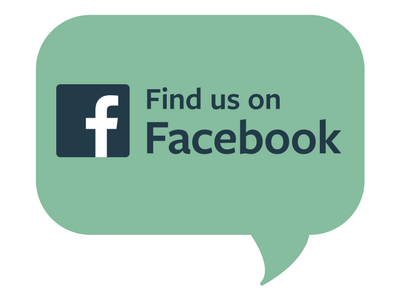 We're chatting cooking techniques, dessert ideas, and everything in between. If you're already a member, invite your friends to join us too!
No Bake White Chocolate Macadamia Cookies Recipe
Ingredients
1/2 cup Light Coconut Milk
1/2 cup Coconut Sugar
1 1/2 tablespoons Coconut Oil
1/2 teaspoon Pure Vanilla Extract
1/2 cup Macadamia Nuts
1 3/4 cups Quick Oats, not old fashioned
1/2 cup Dried Pineapple, diced
1/2 teaspoon Sea Salt
5 tablespoons White Chocolate, diced
Directions
Combine the coconut milk, coconut sugar, coconut oil and vanilla in a large pot on medium heat and bring to a boil. Once boiling cook, stirring frequently, until the mixture begins to darken, thicken and reduces by about 1/3 or about 10 minutes. You want it to be thick, but still liquid.
While the coconut mixture cooks, heat a large pan on medium heat. Add in the macadamia nuts and cook, stirring constantly, until lightly golden brown and "nutty" smelling, about 5 minutes Set aside to cool for a few minutes.
In a large bowl, stir together the oats, pineapple and sea salt. Roughly chop the macadamia nuts and stir in.
Pour the thickened coconut mixture over top of the oats and stir until well combined and you have a thick, sticky mixture. Place in the refrigerator to cool for 5 minutes.
Once cooled, stir in the diced white chocolate until evenly incorporated.
Line a cookie sheet with parchment paper. Pack the cookie dough into a lightly heaping cookie scoop and press out onto the prepared pan. Repeat until all the cookie dough is used.
Wet your hands VERY lightly and use them to really pack each cookie together and press out slightly, about ¾ inch thick. Repeat, lightly wetting your hands as necessary.
Place into the refrigerator to chill and firm up for one hour.
DEVOUR!
Notes
Cookies should be stored in an air-tight container in the refrigerator.
Recommended
Nutrition Facts
Servings Per Recipe 22
---
Amount Per Serving
Calories from Fat 39
Calories
103
---
% Daily Value*
5%
Total Carbohydrate
15g
---
* Percent Daily Value are based on a 2,000 calorie diet. Your daily values may be higher or lower depending on your calorie needs.
** Nutrition Facts are estimated based on ingredients and data provided by
Fat Secret
. Please consult a doctor if you have special dietary needs.