Tuscan White Bean Farro Risotto
Gina Matsoukas | Running to the Kitchen
This Tuscan white bean farro risotto is warm, comforting, hearty and a healthy way to ring in the New Year. Made using Tuscan white bean soup, it's packed with way more flavor than your typical risotto.
This is a sponsored post on behalf of Boulder Organic Foods. All opinions are the contributor's own. She was provided with ingredients and compensated for recipe development.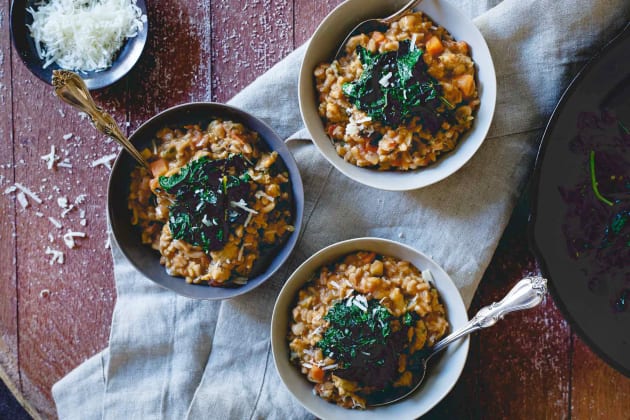 In 2012, my mom and I went on a Tuscan food based tour of Italy. Having been to Italy a handful of times before and always going from big city to big city, I was psyched for a more localized trip outside of the tourist trap places centered around my favorite hobby: eating.
From a small, family-run balsamic vinegar company in Modena where we tasted 100 year aged balsamic, to eating some of the most amazing prosciutto and cured meats in a local man's dining room, to sipping Asti Spumante and nibbling on freshly made warm turrón straight out of the mixer, it was one of the best 10 days of my life.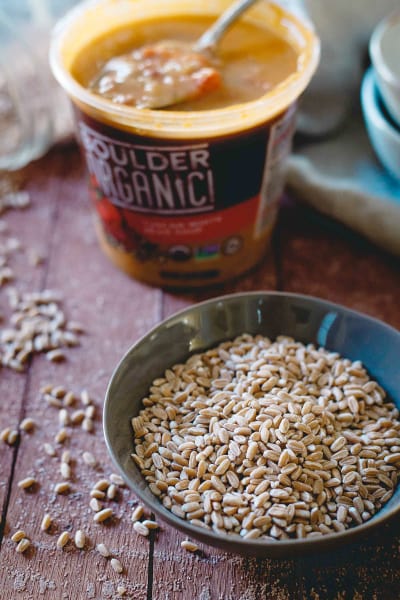 And just when we thought there couldn't possibly be more deliciousness, we pulled into a small rice farm on our last day for a tour of the property and a home-cooked risotto meal on picnic tables outside.
Risotto has a special place in my heart. It's the meal my mom made on special occasions growing up (always with dried porcini mushrooms and sweet sausage) and if anything can trump pasta as my comfort food of choice, it's a hearty bowl of my mom's risotto.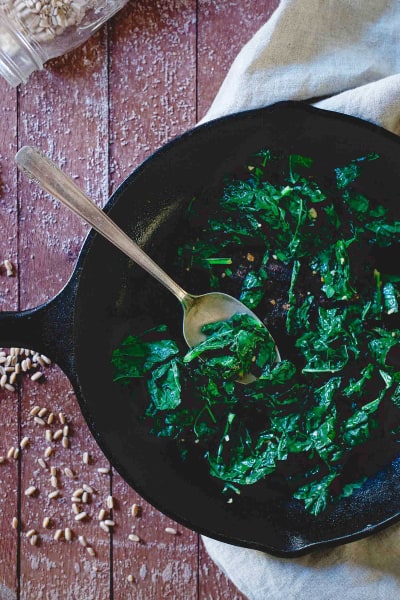 It seemed to make an appearance on many New Year's Days over the years and with 2017 fresh and new, it's immediately what I thought of when thinking up ways to incorporate Boulder Organic's Tuscan White Bean Soup into a hearty, warm and comforting winter recipe. Stealing elements from that risotto lunch in Tuscany and my mom's traditional recipe, this Tuscan white bean farro risotto was born.
Boulder Organic soups are all made in small batches, certified organic, gluten-free and always fresh. By itself, this is one of my favorites of their soups. It's already warm, comforting and full of flavor.
Completely delicious with some crusty bread, a big bowl, and your favorite sweat pants - but, might I say, even better when used to make Tuscan white bean farro risotto.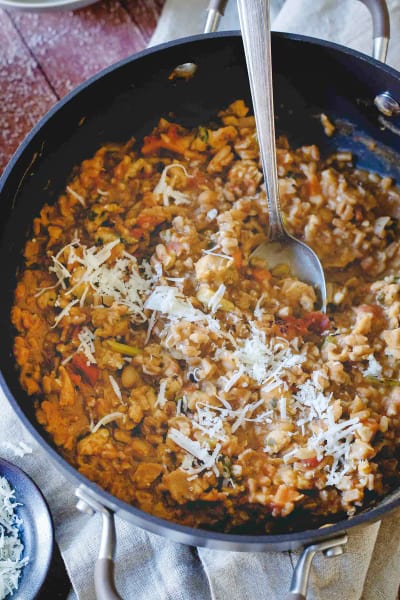 The two things I love about risotto are the chew factor of good quality rice (carnaroli is the best kind, don't be fooled by Arborio!) and the meshing of deep flavors as the dish builds. This farro risotto expands on both of those.
Using farro as the grain instead of rice, you get an even more pronounced chew (like in this blueberry farro yogurt bowl – one of my favorite healthy breakfasts this time of year) to each bite which I love and using the Tuscan white bean soup for the cooking liquid instead of just chicken broth like you'd normally do, you get a much deeper flavor profile in the finished product.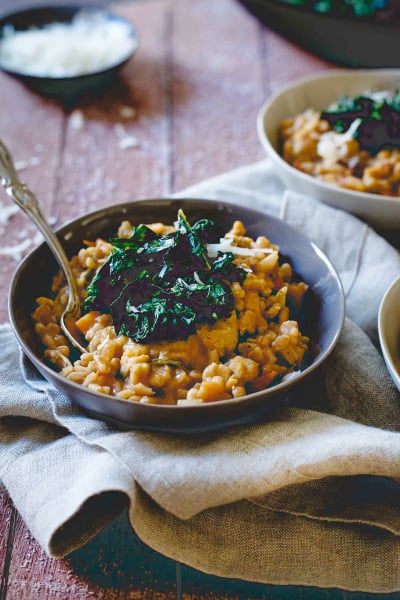 And of course, since it's the New Year, I used chicken sausage to keep things light and added some garlicky kale greens on top for some veggie power. Mangia, my friends!
Ingredients
For the Risotto:
1 tablespoon Extra Virgin Olive Oil
2 cloves Garlic, minced
8 ounces Sweet Italian Chicken Sausage, (or pork sausage) removed from the casing
3/4 cup Farro
1/2 cup Dry White Wine
24 ounces Boulder Organic Tuscan White Bean Soup
1 1/2 cups Chicken Broth
Freshly Grated Parmesan Cheese, for garnish
For the Garlicky Greens:
1/2 tablespoon Extra Virgin Olive Oil
2 cloves Garlic, minced
2 cups Torn Tuscan Kale Leaves
Directions
Combine the soup and chicken broth in a medium sauce pot over low heat.
Add the olive oil to a large sauce pot over medium heat.
Once hot, add the garlic and sauté for 30 seconds until fragrant.
Add the sausage to the pot, breaking up into small pieces with a wooden spoon or spatula until browned.
Add the farro and cook 1 minutes until slightly toasted.
Add the wine, stir and cook an additional 3 minutes.
Ladle about 1/2 cup of the soup and chicken broth mixture into the pot with the farro, just enough to cover the top of the farro mixture. Stir and cook until liquid starts to become absorbed by the farro. Repeat this process until all the soup mixture is gone and the farro is cooked al dente, about 35 minutes.
While the risotto cooks, make the garlicky greens by heating the olive oil in a small skillet over medium heat.
Once hot, add the garlic, cook 30 seconds then add the kale. Stir and cook until wilted. Remove from heat and set aside.
Serve risotto topped with garlicky greens and parmesan cheese.
Recommended
Tags: Easy Dinners, Dinners, Italian, Soups, Farro, Beans, Sausage, Kale, Simmered, Healthy Comfort Food, Comfort Food