Shrimp Risotto
Christina Lane | Dessert for Two Updated
In the mood for some Lemon Risotto with Grilled Shrimp? Read on for our delicious recipe.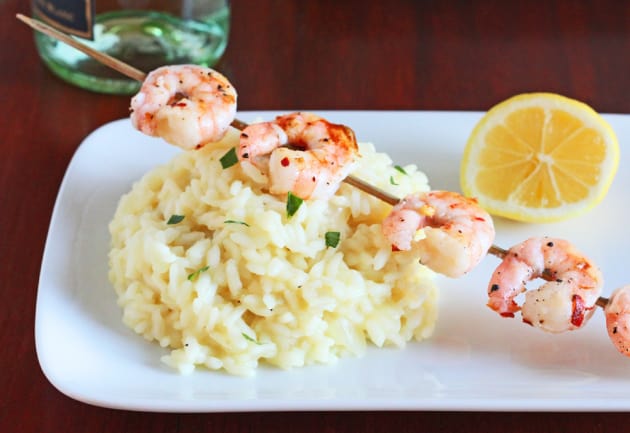 I'm doing my best over here to help y'all make delicious desserts for your sweetheart on Valentine's Day, but someone told me that most couples like to eat dinner before dessert.
Is this really true?
I thought everyone popped a bottle of champagne and immediately dived into the heart-shaped box of chocolates together. (Life tip: Mr. Right will buy a box of chocolates big enough to share. He'll also save the best flavors for you, taking only the lemon cremes for himself.)
If you're the type who eats dinner before dessert, this risotto for two is just for you. Risotto is a romantic meal to make. It must be made right before serving, so your honey can watch you stand at the pot for 20 minutes and stir, stir, stir. It looks like such hard work. Only you and I will know that it's so easy to stir rice while slowly adding the liquid it needs to cook.
When you serve your Valentine this risotto with grilled shrimp on top, be sure to serve the wine you used for the cooking process with the meal. This is my favorite trick for fool-proof food and wine pairing.
Now, eat up so you can get to that box of chocolates!
Ingredients
12 medium shrimps, cleaned and de-veined
1/4 teaspoon salt
dash of black pepper
1/4 teaspoon cayenne pepper
1 lemon-worth lemon juice
2 tablespoons olive oil
2 tablespoons butter, divided use
1/2 cup onion
2 cloves garlics, minced
1 cup arborio rice
6 ounces white table wine
1/2 teaspoon salt
3 cups low sodium chicken broth
fresh parsley, optional
Directions
Preheat a grill pan over medium heat.
Thread 6 shrimps on each skewer and set on a plate.
Sprinkle the salt, black pepper, red pepper flakes, lemon juice and olive oil evenly on both sides of the shrimp.
Once the grill pan is hot, cook the shrimp on each side for 3 minutes. Set aside to rest, but cover with foil to keep warm.
Meanwhile, melt the olive and 1 tablespoon of the butter in a medium pot over medium-low heat. Add the onion and garlic and cook 4 minutes, until the onion is translucent. If garlic threatens to burn, lower the heat.

Next, add the rice and cook while constantly stirring for 5 minutes. When the rice has a slightly translucent edge and white center, it's time to add the liquid.

Add the wine to the rice and stir while cooking until it has almost completely evaporated.

Once the wine evaporates, begin adding the chicken broth a 1/2 cup at a time while continuously stirring. Before adding the last 1/2 cup, taste the rice for doneness. The grains should still hold their shape, and the risotto should be creamy.

When the rice is ready to be served, turn off the heat and add the last tablespoon of butter and the zest of the lemon. Stir until it melts.

Plate the risotto, adding a skewer of shrimp on top. Serve with a lemon wedge and fresh parsley.

Tags: Risotto, Dinners, Shrimp, Entree, Cooking for Couples
Sign Up for Weekly Personalized Recipes. FREE!