Texas Roadhouse Chili
Kristy Still | Mommy Hates Cooking Updated
Texas Roadhouse Chili is famous for good reason - this stuff is to die for! Make it at home, and cozy up with some cornbread too.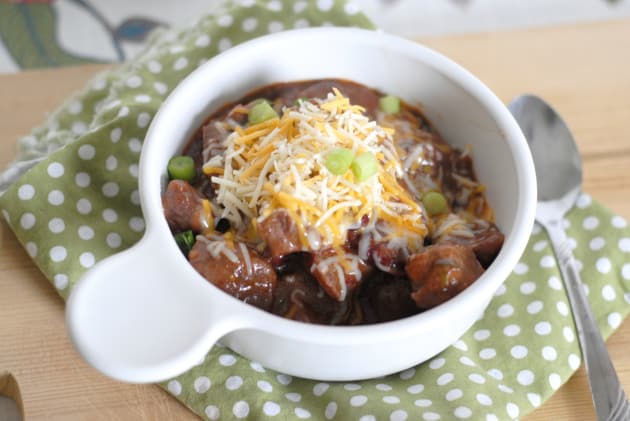 As we get deeper into fall, chili starts finding its way on our menu more and more. I know in my family, a good pot of chili just makes all the cares of the day go away.
I start daydreaming when it comes to fall and imagine myself sitting outside enjoying a nice bowl of chili while watching the kids play.
Last year, I had this playing out in my head but I was dreaming about it in the country at a house we had fallen in love with. This fall, that dream is going to be a reality as we are now in that country house.
I can't wait to watch all those beautiful trees change colors and enjoy the crisp, cool air.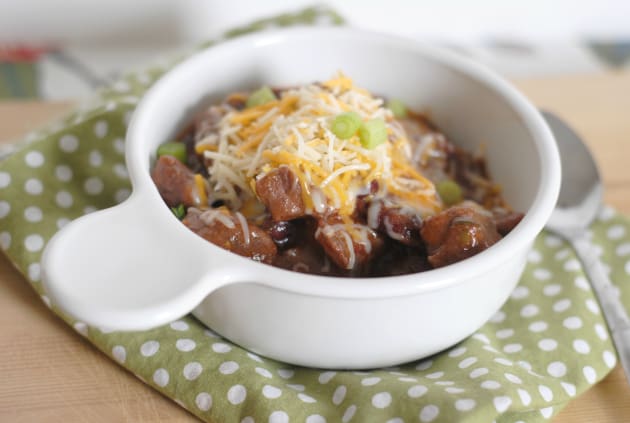 Chili is the icing on the cake for me during the colder months, my husband too. We both have a difference of opinion when it comes to pairing items with chili. For myself, I absolutely love chili with cornbread.
Growing up those two just went together, we did not have one without the other.
Then, I met my husband and he will never eat chili without Fritos. In my mind if Fritos are involved it's Frito Pie, and that just changes the recipe a bit for me. I like my sweet cornbread.
This past week, I decided to try to a copycat recipe from Texas Roadhouse. We love Texas Roadhouse, but it is sometimes a challenge to actually go there to eat, so the next best option is to make your own at home.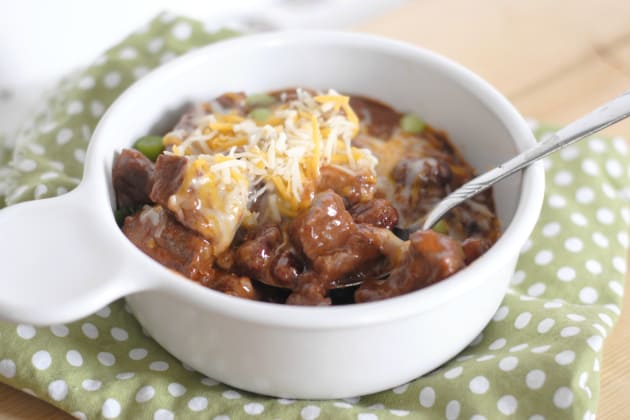 It's interesting preparing this recipe because many people prefer the cubed stew meat in the Texas Roadhouse chili along with ground beef too, but it seems that their chili only has the cubed meat in it.
I went ahead and stuck with just the stew meat in our chili. We really enjoyed it as typically we always use ground beef. It was a nice change of pace to our traditional recipe.
If we're getting crazy, you could pair this with another copycat recipe, with our Red Lobster biscuit recipe.
What is your favorite chili recipe?
Planning a dinner party and need some inspiration? How about looking for a new slow cooker dinner idea? We've got you covered in our ever-growing Facebook group! If you're not a member yet, why not?!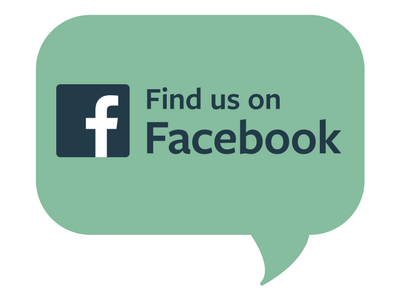 We're chatting cooking techniques, dessert ideas, and everything in between. If you're already a member, invite your friends to join us too!
Ingredients
1 tablespoon Oil
2 pounds Beef Stew Meat
1 clove Garlic, Crushed
1/4 cup Sweet Onion, Chopped
1 teaspoon Chili Powder
1 teaspoon Cumin
1/2 tablespoon Paprika
pinch of Black Pepper
pinch of Salt
1/2 tablespoon Brown Sugar
1 cup Crushed Tomatoes
1 15 ounce can Red Kidney Beans
1/2 tablespoon White Vinegar
2 jalapeños Jalapeños, Sliced and seeded
1 tablespoon All-Purpose Flour, Or gluten free all purpose flour
Shredded Cheddar Cheese
Green Onions, Chopped, or red onions, chopped (for garnish)
Directions
In a large stockpot, warm up the oil on medium heat, add in the beef.
Continue cooking the beef until it's fully browned.
Toss in the garlic and onion; simmer for a few minutes until the onion is soft.
Add in the chili powder, cumin, paprika, pepper, salt, and brown sugar. Stir to mix them in.
Continue stirring in the tomatoes, beans, vinegar, and jalapenos. Let this simmer for about 10 minutes.
Lastly add in the flour and stir to thicken it, this should only take a few minutes.
Serve the chili topped with cheese and onions.
Recommended
Tags: Copycat, Soups, Chili, Simmered, Easy, Easy Dinners, Beef, Beans