Healthy Potato Salad: Barbecue Side Dish Extraordinaire
Steph S. | ::steph chows::
Our healthy potato salad is the perfect side to your Independence Day barbecues. You'll love that it's lighter too.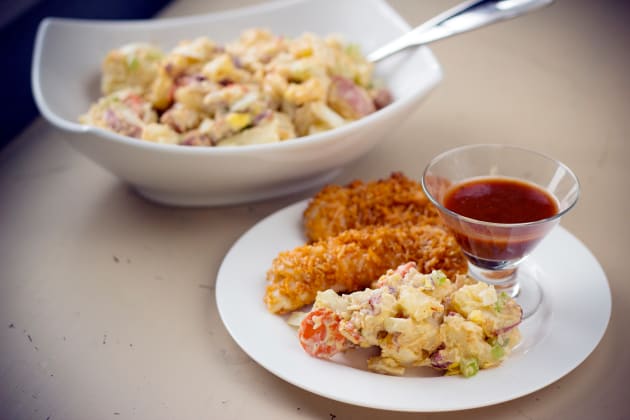 Ever try Vegenaise?
It's wicked tasty, and vegan to boot. I'm not vegan though, so I have this bad habit of bastardizing it by mixing it with things like eggs. I'm probably getting dirty looks from someone out there as I type this. Sorry. But I love the taste of the stuff, and the reduced fat version works perfectly in this potato salad.
You see, the thing is, I personally can't have potato salad without having hard-boiled eggs in it. It's like a rule or something. But if you are indeed vegan, leave the eggs out, and booyah, instant vegan potato salad. If you eat eggs, leave them in, because they are freaking delicious in this stuff!
This is one of the few things I don't mind eating as leftovers. Part of that is the fact this stuff tastes even better when it's had a day to sit and marinate in the fridge. (Insider note: I HATE leftovers, I make John eat them all.)
As summer approaches make sure to save this recipe and bring it along to your next BBQ. I paired it with some baked breaded chicken here, but we're fans of eating it with just about anything tossed on the grill too.
Oh, and if you have picky kids or husbands, no worries, the stuff tastes just like mayo!
Don't forget dessert either! This Peanut Butter Balls Recipe would be great for the dessert table today.
Ingredients
2 1/2 pounds Red Potato, small to medium sized
4 Eggs, hard boiled and roughly chopped
2 Carrots, diced
1/4 cup Onion, diced
1 tablespoon Mustard
1/2-1 cup Reduced Fat Vegenaise
1 teaspoon Paprika
dash of Salt, to taste
dash of Black Pepper, to taste
Directions
Place potatoes in a large stockpot filled with water, bring to a boil and cook potatoes until fork tender (20 minutes for medium sized potatoes).
Remove from pot and place in cold water.
Once cooled, chop into ½ inch cubes.
Toss cubed potatoes and remainder of ingredients in a large bowl.
Toss until everything is coated.
Place in fridge and chill until ready to serve.
Notes
The smaller the potatoes, the faster they will cook. Check tenderness often, you can't undo overcooked potatoes.
I use about 1/2 a cup of veganaise, but some people may want a more mayo packed kind, up to you.
Tags: Healthy Eating, Potatoes, Side Dishes, Healthy, Barbecues, Vegetarian, 4th of July