Gluten Free Coconut Lemon Bars: Sweet, Puckery Perfection
Kate Donahue | Food Babbles
You'll love these Gluten Free Coconut Lemon Bars. Light, summery lemon and coconut give a tropical feel to this yummy dessert.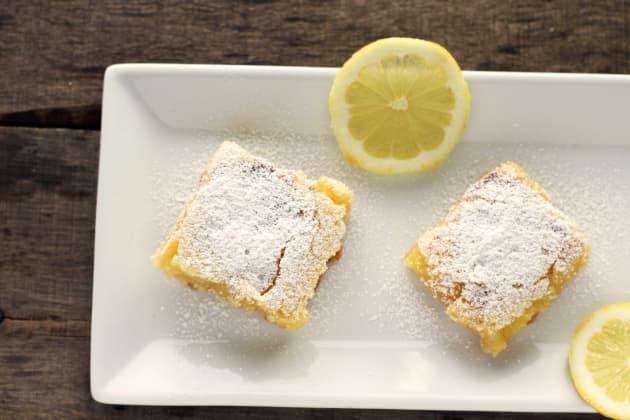 For me, nothing welcomes warmer days like the bright, vibrant flavor of lemon. Just the smell of a fresh lemon makes me feel more awake, happier, and more energetic. Perhaps it's a mental thing. Whatever the reason, I like it. So you can imagine that lemon snacks and desserts are among my favorite.
Nothing perks up my morning like Lemon Swirl Rolls. They're tender, citrusy and best warm right out of the oven. A slice of Lemon Basil Blueberry Swirl Cake is the perfect afternoon snack or summer dessert. Herbs and lemon pair so nicely together and seem to heighten the flavor experience.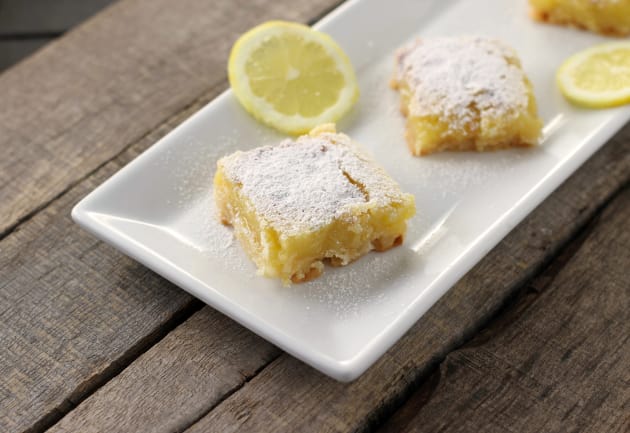 These lemon bars are truly something special too. Lemon bars are a classic treat. Tart, sweet, with a buttery crust. I love the slightly cracked top that covers the smooth lemon filling and a dusting of powdered sugar is an absolute must.
For this variation, I made them gluten-free and also added a little tropical twist with the addition of unsweetened coconut flakes in that classic buttery crust. The lemon and coconut work perfectly together in this spin on a classic. These didn't stand a chance in our home and they won't last long in yours either.
Ingredients
crust:
2 cups All-Purpose Gluten Free Flour
2 teaspoons Xanthan Gum
1/8 teaspoon Salt
1 cup Powdered Sugar, plus more for dusting
1 cup Unsweetened Coconut Flakes
2 teaspoons Lemon Zest, divided
2 sticks Butter, room temperature and cut into 1" pieces, plus more for greasing baking dish
filling:
4 Eggs
2 cups Granulated Sugar
8 tablespoons Lemon Juice, fresh squeezed
6 tablespoons All-Purpose Gluten Free Flour
Directions
Preheat oven to 350°F. Grease a 13x9-inch baking dish with butter. Set aside.
In a large bowl, whisk together flour, xantham gum, salt, powdered sugar, coconut flakes and 1 teaspoon lemon zest. Using a pastry blender, cut in the butter until mixture looks like coarse crumbs.
Press the crumb mixture evenly into the bottom of prepared pan. Bake in preheated oven for 20 minutes.
In a large bowl, whisk together eggs, granulated sugar, lemon juice and remaining 6 tablespoons of flour.
Once the crust is done baking, remove from oven and immediately pour filling mixture over crust.
Continue baking 25 minutes more until filling is set. Remove from oven and cool completely on a wire rack.
Once completely cool, dust with powdered sugar and cut into 16 squares.
Recommended
Tags: Baking, Bar Desserts, Desserts, Lemons, Gluten Free