Funfetti Cookie Dough Truffles: Sprinkles Make Everything More Fun
Aimee Shugarman | Shugary Sweets Updated
If you love sugar cookie dough, then you will flip over these cute, bite sized truffles! Made from no-egg cookie dough with lots of fun sprinkles!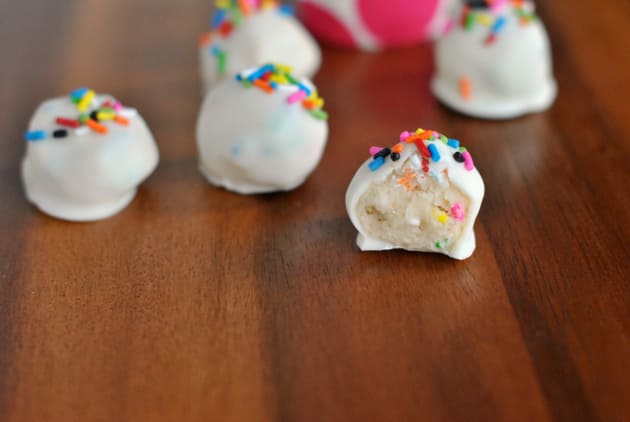 My kids love sugar cookies. Of all the cookie possibilities, sugar cookies are requested most often in my house.
Of course, they are like me, they love the fluffy sugar cookies with lots of fluffy frosting. And sprinkles.
One of my most popular recipes on my blog is Peanut Butter Cookie Dough Truffles. It's seriously like eating a bite of peanut butter cookie dough. Dipped in chocolate. Filled with Reese's Pieces.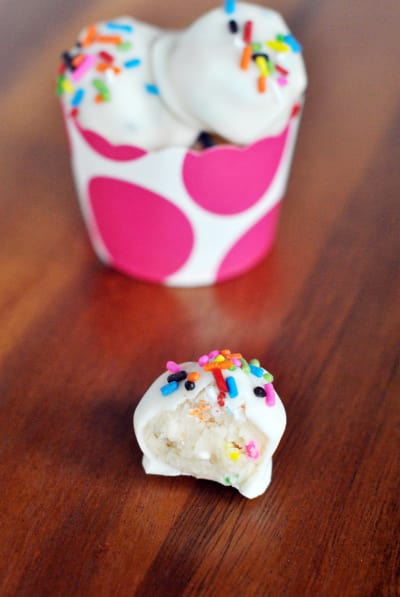 I figured it was time to satisfy my kids' cravings with some of their favorite cookie dough! There is no egg in this dough, so don't worry when they come back for seconds (or thirds)! Don't forget to load these up with sprinkles too!
If you're looking for another delicious, kid friendly treat, try making some Cookies and Cream Fudge. It's so easy… and it has Oreos. Doesn't get much better than that!
If you're looking for more Funfetti fun, make sure you check out my recipe for Funfetti Cookies, too! Or, if you're looking for more truffle love, try these Monster Cookie Dough Truffles.
Ingredients
4 ounces Cream Cheese, softened
1/2 cup Unsalted Butter, softened
1 cup All-Purpose Flour
1/4 teaspoon Kosher Salt
1 teaspoon Pure Vanilla Extract
1/4 cup Sprinkles
3/4 cup Granulated Sugar
candy coating:
16 ounces Vanilla Candy Coating, melted
2 tablespoons Sprinkles
Directions
Beat butter and cream cheese in a large mixing bowl for 2-3 minutes until creamy. Beat in sugar, flour, salt and vanilla until completely combined. Fold in sprinkles.
Drop by one tablespoon scoop onto a parchment paper lined freezer safe cookie sheet. Freeze truffles for about 2 hours.
Using a toothpick, dip frozen truffle into melted vanilla coating. Tap on side of bowl to remove excess. Immediately add sprinkles for garnish.
Notes
If you didn't use a tablespoon cookie scoop, you may need to roll the cookie dough into balls before freezing.

Tags: Homemade Candy, Candy, Cookies, Truffles, Desserts