Vegetarian Shepherd's Pie Recipe
Julia Mueller | The Roasted Root

This Shepherd's Pie Recipe does not call for any meat. Read on to learn how vegetarians can enjoy the hearty meal.
Saint Patrick's Day is right around the corner! Have you prepared your greenery? More importantly, what's on your menu?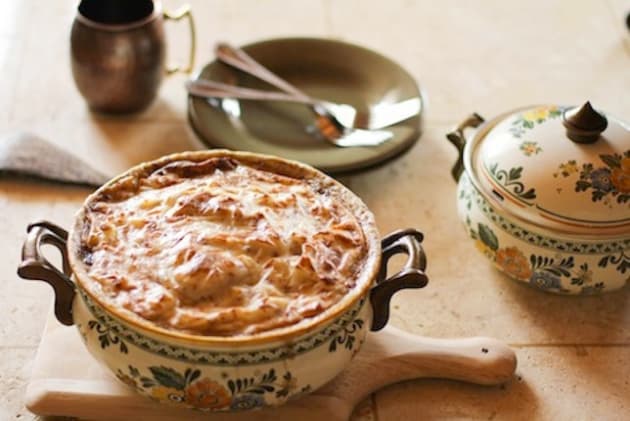 Being as St. Paddy's Day is a declared day of feasting, heavy comfort foods with Irish roots, such as Corned Beef and Shepherd's Pie, are on everyone's mind, running the local grocer plumb out of beef, potatoes and cabbage.
Buuuuuuut…. what about the folks who love celebrating a great holiday and don't eat meat? Never fear, Vegetarian Shepherd's Pie (also known as Shepherdless Pie) is a delicious and easy solution.
Shepherd's Pie has been a popular dish in the United Kingdom since the Middle Ages. It is slow-cooked thick stew typically made with lamb or beef, topped with mashed potatoes and baked.
This ultimate comfort food was the vehicle to use leftover meat in England, Scotland and Ireland.
This recipe makes a great deal of food to share with your friends and family and is packed full of nutrition.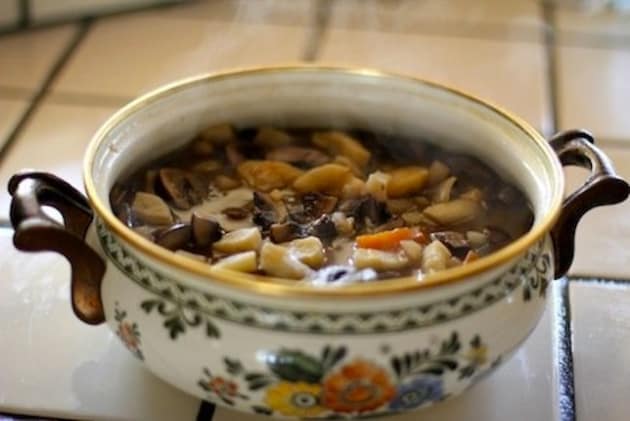 I used parsnips, carrots and mushrooms for the stew but the recipe can be easily adapted to include any of your favorite vegetables or even lentils or beans.  The meal comes out very hearty and filling in spite of the fact that there's no Shepherd in the pie.
You'll feel satisfied with your vitamin-packed meal.
Vegetarian Shepherd's Pie is as simple as sautéing and simmering vegetables in broth (and some beer for good measure), pouring it into a casserole dish, topping with mashed potatoes and baking it.
Boom! Shepherdless Pie. Pair the meal with Irish Soda Bread, such as Gluten-Free Cheese & Herb Irish Soda Bread from The Roasted Root.
However you choose to get your green on for St. Patrick's Day, enjoy a hearty Irish meal and for heaven's sake, don't forget the beer!
Are you tired of the dinner routine?
Stuck in a rut or looking for fun new recipes to try?
Our Facebook Group is growing every day! If you haven't joined yet, we invite you to come check it out and join the fun.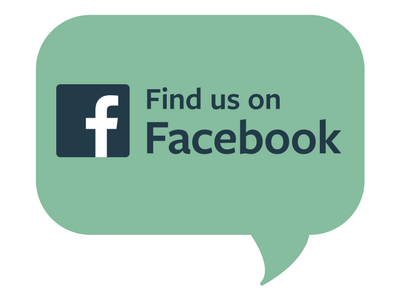 You can ask for recipe ideas, talk about cooking techniques, or get help figuring out the right new pan set for you. If you've already joined, invite a friend along!
Vegetarian Shepherd's Pie Recipe
Ingredients
2 tablespoons Olive Oil
1 large White Onion
3 cups Parsnip, peeled and chopped
1 cup Carrot
3 large Turnips, peeled and chopped
12 ounces Baby Portabello Mushrooms, chopped
1 cup Guinness Draught
2 tablespoons Butter
2 tablespoons All-Purpose Flour
3 cups Vegetable Broth
For the Potatoes:
6 large Red Potatoes
2 tablespoons Olive Oil
Salt, to taste
2 cups Aged White Cheddar Cheese
Directions
Chop the red potatoes in half.
Bring a full pot of water to a boil and add the 6 red potatoes (I chose to leave the peels on, but you can peel the potatoes if you prefer). Allow potatoes to cook until they're tender yet still firm when poked with a fork, about 10 to 15 minutes.
Drain the water and allow potatoes to cool enough to handle.
Place the potatoes in a large bowl and mash them to desired chunkiness using a potato masher. Add the olive oil and cheese and mash to incorporate. Salt the potatoes to taste. If the potatoes seem too dry, you can add a couple tablespoons of water or milk. (Option: Throw the cooked potatoes, cheese, oil and salt in a blender and blend to achieve completely smooth potatoes).
Set aside potatoes.
In a large pot or Dutch oven, sauté the onion in 2 tablespoons of olive oil over medium heat.
Once onion begins to soften, add the parsnips and carrots and sauté about 10 minutes.
Add the chopped turnips and mushrooms. Cook to a full boil until the juices from the mushrooms have seeped out, about 10 minutes.
Add the beer and return to a gentle boil.
Make a roux in order to thicken the stew: In a small separate saucepan, heat the butter over medium until melted. Using a whisk, mix in the brown rice flour. Once the flour has soaked up all the butter, begin adding the vegetable broth about 1/8 cup at a time, allowing the mixture to thicken and reduce. Continue adding the vegetable broth and keep the mixture at a gentle boil until all the broth is all incorporated. The mixture should be thick and creamy looking. Pour this mixture in with the veggies.
Reduce the heat to medium low and allow the veggie stew to cook at a low boil for about 30 minutes. Taste the stew and add salt as necessary.
Preheat the oven to 375 degrees.
Pour the vegetable stew into a casserole dish or individual-sized ramekins or oven-safe bowls. Spread the potatoes on top and bake in the oven about 25 minutes until tops are golden brown. If the potatoes don't crisp up, put your oven on the broil setting and allow it to broil to desired level of golden-brownness.
Allow the shepherd's pie to cool before diving in!
Notes
The original recipe calls for sun chokes instead of turnips but the local grocery store doesn't carry sun chokes, so I replaced them with turnips. When I make this recipe again, I will use sun chokes and turnips instead of parsnips.
To make this recipe vegan, eliminate the cheese from the mashed potatoes and skip the process for making the roux in a separate saucepan. Instead, add the brown rice flour at the same time as you add the Guinness. Allow the mixture to thicken and then add the vegetable broth. This method may take a little extra time (about 5 to 10 minutes longer) to allow the vegetable stew to thicken.
Nutrition Facts
Servings Per Recipe 6
---
Amount Per Serving
Calories from Fat 312
Calories
816
---
% Daily Value*
29%
Total Carbohydrate
88g
---
* Percent Daily Value are based on a 2,000 calorie diet. Your daily values may be higher or lower depending on your calorie needs.
** Nutrition Facts are estimated based on ingredients and data provided by
Fat Secret
. Please consult a doctor if you have special dietary needs.