Rhubarb Lemon Macarons Recipe
Amanda Powell | A Cookie Named Desire
Bright, summery lemon rhubarb macarons with lemony cookies sandwiching lemon rhubarb buttercream and a dollop of rhubarb jam. Don't miss our Silpat Macaron Mat and Visa Gift Card giveaway too!
Nothing makes me happier than making a perfect batch of macarons. It took me over two years to understand how to make perfect macarons and all the tests were well worth the struggle.
After making batch after batch of failed macarons, I am here to tell you the true secrets to making the best macarons outside of France.
First, it takes patience. Real patience. You need to be patient with yourself. Allow yourself enough time to accurately measure how much of each ingredient you need.
Read through the instructions two or so times before you start anything, then read them through each time as you go through each step. By the end of making the macarons, you should basically have the recipe memorized from reading the instructions so often.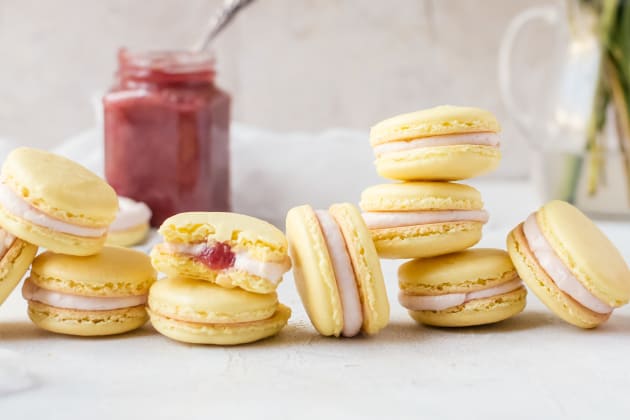 Be patient putting everything together. Stopping and ensuring you are doing everything just so. Most importantly, be patient mixing your batter for the lemon rhubarb macarons, carefully watching it to reach just the right consistency.
Second, always pay attention. Watch the consistency of your meringue. Watch as you mix your batter to get out the air in the meringue and that the batter reaches the perfect ribbon consistency that flows slow like lava.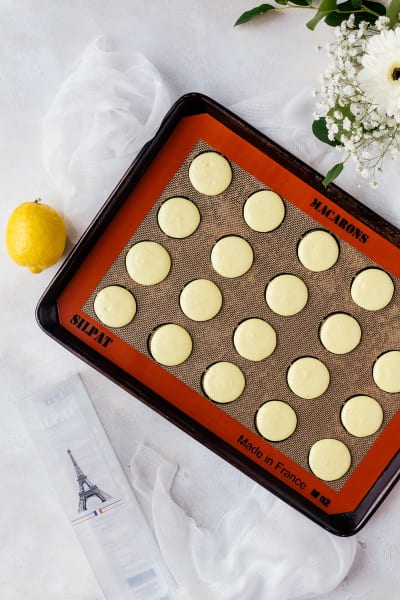 Keep an eye on the temperature of the oven and how long you are baking the macarons. The timer is your best friend. One minute longer and you will end up with lemon rhubarb macarons with browned feet.
Last, but most certainly not least, use the right equipment. I prefer a silicone spatula that bends a lot at the end. It works the best to knock out the air in the meringue which is important to avoid hollow shells.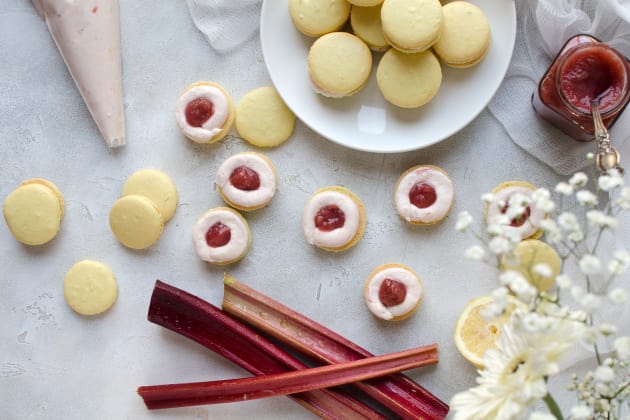 Use a kitchen scale for accuracy. I also recommend getting a good macaron baking mat.
I can't recommend the Silpat macaron mat enough. They are the original creators of silicone baking mats and the only that use a fiberglass mesh which encourages even baking which is vital to perfect lemon rhubarb macarons and helps give it perfect feet all around the cookie.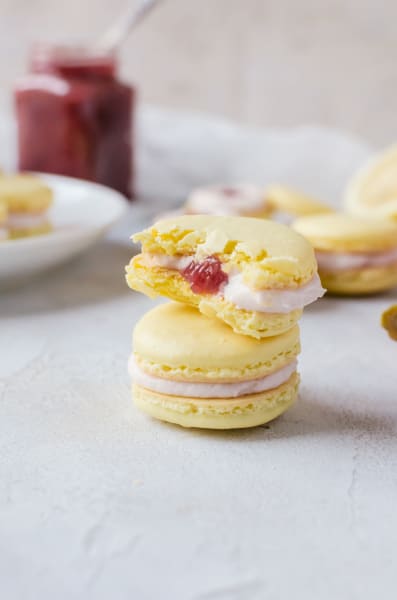 The rings are perfectly spaces and just the right size for macarons (and can also be used as guides for other treats like whoopie pies). More importantly, unlike greasing a baking sheet, or using parchment paper, the macarons don't spread as much and don't unstick before it is fully cooked which also decreases the chance of hollow macarons.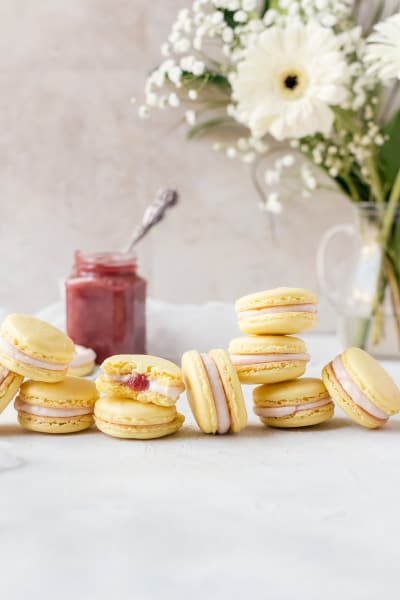 These lemon rhubarb macarons are summer perfection. They burst with bright flavor and reminds me of a wonderful rhubarb lemonade on a hot summer day. It is hard to have just one!
The rhubarb jam adds a wonderful surprise inside each delicate cookie while the lemon adds an irresistible freshness. Be prepared to be asked to make these macarons regularly!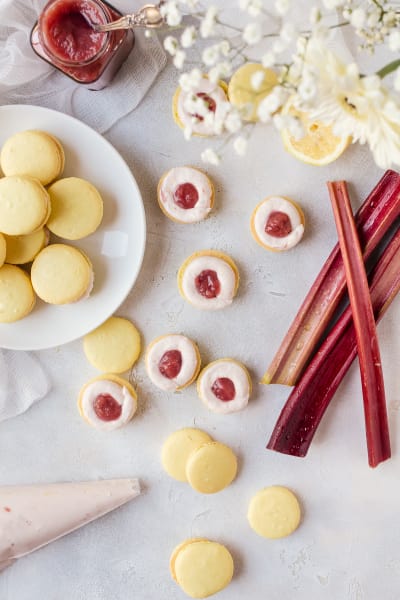 Enter to win your own Silpat Macaron Mat & $75 Visa Gift Card for ingredients!
Are you tired of the dinner routine?
Stuck in a rut or looking for fun new recipes to try?
Our Facebook Group is growing every day! If you haven't joined yet, we invite you to come check it out and join the fun.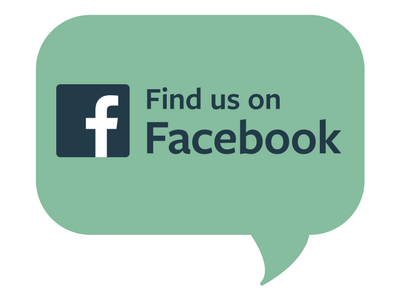 You can ask for recipe ideas, talk about cooking techniques, or get help figuring out the right new pan set for you. If you've already joined, invite a friend along!
Rhubarb Lemon Macarons Recipe
Ingredients
For the Macaron Shells:
200 grams Powdered Sugar
100 grams Almond Flour
3 large Egg Whites, room temperature (120 g)
1/8 teaspoon Salt
40 grams Granulated Sugar
zest from 1 1/2 Lemon
1-2 drops Yellow Food Coloring, (optional)
For the Lemon Rhubarb Buttercream:
1/2 cup Unsalted Butter, room temperature (1 stick)
3 cups Powdered Sugar, For the Lemon Rhubarb Buttercream
3 tablespoons Lemon Juice
3 tablespoons Rhubarb Jam
1/4 teaspoon Salt
For Assembly:
Directions
Add the powdered sugar and almond flour to a food processor and process for about one minute, or until the mixture is well blended and the almond flour is ground down to a fine powder. Sift the mixture into a bowl, discarding any pieces that don't go through the sift. Set aside.
Wash and completely dry your stand mixing bowl and whisk attachment. Briefly rub down both with lemon juice to ensure there is no fat or oily residue on the equipment. Add the egg whites and begin to whip on medium-low for about a minute.
Add the pinch of salt when the egg whites get foamy and bring up the speed up to medium-high until the eggs reach soft peaks – this is when the meringue makes deep curls when you take out your whisk and point the whisk upward. This should take about 3 – 5 minutes.
Add the granulated sugar once it reaches soft peaks and beat for about 2 minutes longer, or just as it is about to reach stiff peaks (stiff peaks happen when the meringue points straight up and does not curve when the whisk is pointed upward).
Turn off the mixer and pour in the almond four mixture, lemon zest, and food coloring. Begin to mix everything together with a rubber spatula. At first it will seem as though it won't work, but it will slowly come together.
Scrape the bottom and sides of the bowl, folding the mixture onto itself. As you do this, also pull up some of the batter into the air to see if it drizzles down in a ribbon. Once it does this, check how long it takes for the ribbon to incorporate back into the batter. It should slowly flow back into the batter like magma. If the ribbon dissolves back into the batter within second, it is over mixed and will not hold a good shape. If it doesn't ribbon, keep mixing otherwise you will end up with cracked, lumpy cookies.
As soon as you reach the desired consistency, immediately stop mixing and set the batter aside uncovered for 30 minutes.
While the batter rests, preheat the oven to 325°F.
Line two baking sheets with Silpat macaron mats and fit a piping bag with a round piping tip. I do not recommend not using a tip as you will not have as much control.
Fill the piping bag with the macaron batter and begin to pipe the batter, using the guides on the mat. You want to fill in the circles on the mats. For smaller macarons, you can pipe them so they are just under the black lines, for larger macarons, you can pipe until the black lines are fully covered.
Once the macarons are piped, tap the baking sheets on your counter two or three times to remove air bubbles. Take a tooth pick to pop any small bubbles you may find.
Leave the macarons to rest for at least 45 – 60 minutes.
Bake the macarons one baking sheet at a time on the middle rack (do not place the second sheet in a lower or upper rack, they must be baked one at a time in the middle rack) for five minutes, then turn the baking sheet 180 degrees and bake for another 5 minutes.
Remove the baking sheet and bake the other batch of macarons. Allow the baked macarons to cool on the baking sheet for about 5 minutes before transferring to a wire rack to cool completely.
Make the buttercream. Beat the butter until it is smooth and cream. Add the powdered sugar one cup at a time, mixing each cup in fully before adding in more. Add in the lemon juice, rhubarb jam, and salt and mix until the frosting is smooth.
Assemble the macarons. Turn the macaron shells upside down and pipe circles on half the shells. Add a dollop of rhubarb jam into the centers of the circles and top with the remaining shells.
For the best results, freeze the finished macarons overnight before serving, but this is not required. Store in an airtight container for up to a week.
Recommended
Nutrition Facts
Servings Per Recipe 18
---
Amount Per Serving
Calories from Fat 85
Calories
246
---
% Daily Value*
18%
Total Carbohydrate
55g
---
* Percent Daily Value are based on a 2,000 calorie diet. Your daily values may be higher or lower depending on your calorie needs.
** Nutrition Facts are estimated based on ingredients and data provided by
Fat Secret
. Please consult a doctor if you have special dietary needs.