Queso Blanco Recipe
Katie Goodman | Good Life {eats}

Queso blanco is the sort of dip that makes everyone happy. Serve it up with fresh tortilla chips, pita chips, and fresh veggies too.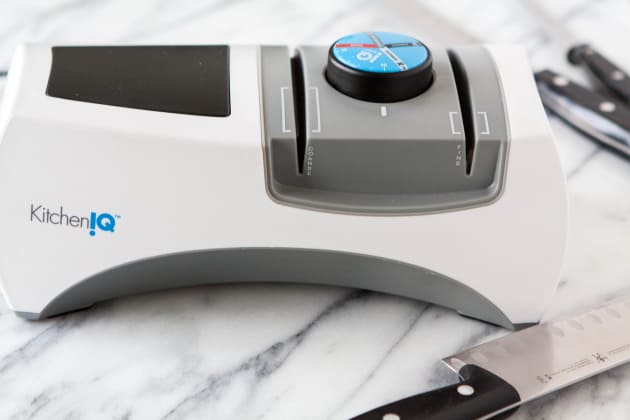 This is a sponsored post on behalf of KitchenIQ. It originall contained a giveaway, which is now over. All opinions are the contributor's own. She was provided with a knife sharpener for review.
When Food Fanatic and KitchenIQ asked me to test out their new KitchenIQ Smart Sharp Electric Knife Sharpener, I was super excited – my knives are SO DULL and haven't really been sharpened properly in…errrrr… years? Or ever?
I have been thinking for months that I should find somewhere to take my knives to get sharpened, so this was a great opportunity to get them sharpened and learn how to do it myself.
If you spend significant time cooking, you've probably heard how dangerous it is to use dull knives. If you haven't heard that, you might be wondering: "Why? Wouldn't a sharper knife cut worse?" Not exactly.  
A dull knife doesn't cut as easily as a sharp knife. It isn't precise, causing the knife to slip and the cook to lose control while cutting, often putting hands and fingers in harm's way! I once spent the evening getting a finger stitched in the ER courtesy of a dull knife. It is no fun, folks.
Overall, I was thrilled with the performance of the Kitchen IQ Smart Sharp Electric Knife Sharpener.  My knives cut so much better now – I did a few before and after test cuts and WOW the difference! It was incredibly noticeable on the tomatoes, which cut like butter post-sharpening.
The user manual was a bit of a beast to read, but totally necessary and informative, so I've condensed some of the main points down to give you an overview of the functionality.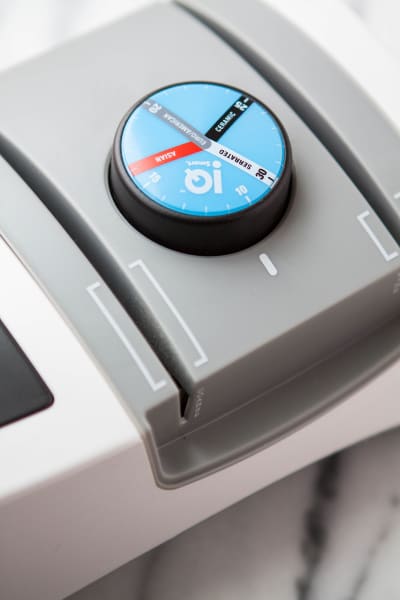 Quick Start Guide
You should always read the user manual before operating any new kitchen appliance. Because I like having my own quick start guide to refer back to upon each repeated use, I've created this easy knife sharpening guide to serve as a refresher after the initial manual reading.
Plug the unit in.
Dial to 10.
Dial to your selected knife style.
Turn the unit on. TIP: don't move the dial when the machine is on.
Proceed with sharpening procedure.
Turn the unit off after completing a sharpening procedure on a knife.
General Sharpening Procedure
When placing the knife into the sharpener, push the heel of the blade straight down into the slot.
Pull the blade straight out, from heel to tip, following the curve of the knife's blade. You will need to pull the blade through 10-15 times (5-10 for serrated).
When removing the blade from the slot, do not pull it all the way out. Rather, lift it straight up once you get to the tip.
After the coarse sharpening, repeat the same process with the FINE sharpening slot, pulling the blade through this 10-15 times.
Remove the blade from the slot, lifting it straight up (rather than pulling it all the way out).
Knife Sharpening Tips
Always redial back to 10 before navigating to your sharpening angle.
This is like resetting to zero on your old school locker combination.  For example, if you're sharpening an Asian style knife, dial back to 10 before switching to something else, serrated for instance.
Serrated knives are only sharpened in the FINE slot and should not be placed in the COARSE sharpening slot. You will perform only 5-10 pulls on serrated knives.
NEVER push and pull the knife back and forth in a sawing motion within the sharpening slot.
If your knives are damaged or very dull, start your sharpening on the COARSE slot, unless it is a serrated knife.
For regularly sharpened knives, you can skip the COARSE slot and performed maintenance sharpening on the FINE slot only. This is great if you spend a few minutes weekly, or even monthly, sharpening your knives.
You might encounter sparks. You will definitely encounter noise and vibration.
Win your very own KitchenIQ Smart Sharp Electric Knife Sharpener and a $50 Visa Gift Card to purchase ingredients!
Queso Blanco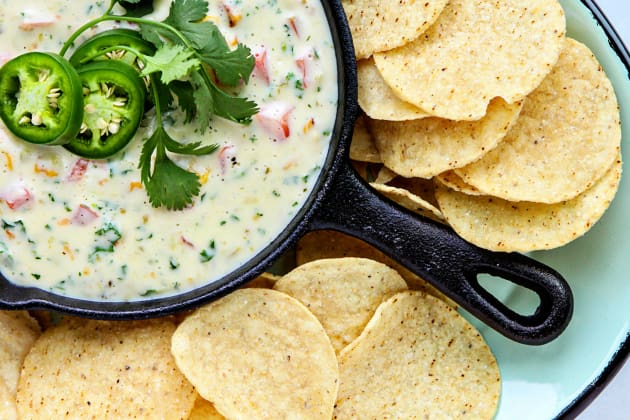 My neighbors are convinced this is the best ever Queso Blanco recipe. I made it earlier this year for a block party and not a spoonful was left. It is full of fresh veggies and flavor and definitely not your ordinary queso recipe. It is perfect for game day because you can keep it warm in the slow cooker.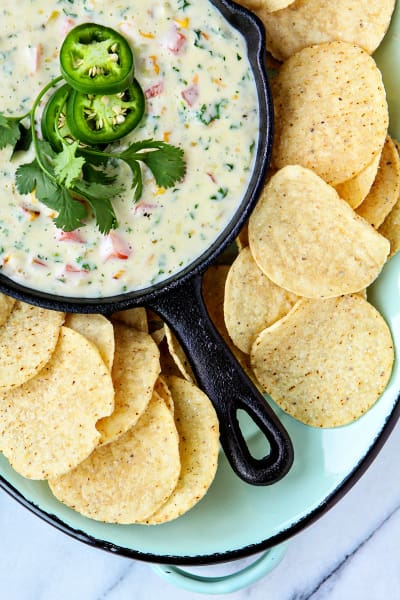 Planning a dinner party and need some inspiration?
How about looking for a new slow cooker dinner idea?
We've got you covered in our ever-growing Facebook group! If you're not a member yet, why not?!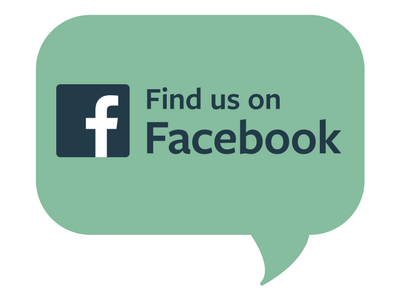 We're chatting cooking techniques, dessert ideas, and everything in between. If you're already a member, invite your friends to join us too!
Queso Blanco Recipe
Ingredients
1 8 ounce package Cream Cheese
32 ounces Velveeta Queso Blanco
1/2 cup Milk
1 1/2 cups Salsa Verde
2 Ear of Corns, cooked
1 Poblano Pepper, or jalapeño
3 Roma Tomatoes
1 tablespoon Fresh Cilantro, chopped
4 ounces Fresh Kale
Directions
Cut the cream cheese and Queso Blanco into cubes. Add to a slow cooker on high heat. Pour in the milk and salsa verde. Stir to combine. Cover and cook until melted and creaming, stirring periodically. Turn the heat to low.
While the cheese is melting, the corn off the cob. Add it to a cast iron skillet over medium-high heat and cook (dry, without oil) until it begins to roast and brown, about 3 – 5 minutes.
Meanwhile, remove the seeds and stem of the poblano and dice it. Add it to the pan with the corn. Stir and then cook an additional 3-5 minutes until corn has a grilled or roasted appearance.
Dice the tomatoes; finely chop the cilantro and the kale. Stir into the melted queso. Cook over low for 20 – 30 minutes, until heated through. Serve.
Notes
Use a poblano or a jalapeño depending on your personal heat preferences. Poblano peppers will be milder than jalapeños. Deseeding the pepper will also tame the heat without taking away the flavor.
Recommended
Published:

Modified:

Author:

Cooking Method:

Knives

Cuisine:

Tex Mex

Category:

Tomatoes

Tags:

KitchenIQ, Knives, Cheese, Cream Cheese, Tex Mex, Slow Cooker, Slow Cooked, Kale, Corn, Tomatoes, Dips, Party Food

Related Recipes:

KitchenIQ Recipes, Knife Recipes, Cheese Recipes, Cream Cheese Recipes, Tex Mex Recipes, Slow Cooker Recipes, Slow Cooked Recipes, Kale Recipes, Corn Recipes, Tomato Recipes, Dip Recipes, Party Food Recipes

Recipe Yields:

6 cups

Prep Time:

Cook Time:

Total Time:

Related Post:
Published:
Author: Katie Goodman
Recipe Yields: 6 cups
Prep Time: 35 minutes
Cook Time: 120 minutes
Total Time: 155 minutes

Nutrition Facts
Servings Per Recipe 24
---
Amount Per Serving
Calories from Fat 66
Calories
161
---
% Daily Value*
---
* Percent Daily Value are based on a 2,000 calorie diet. Your daily values may be higher or lower depending on your calorie needs.
** Nutrition Facts are estimated based on ingredients and data provided by
Fat Secret
. Please consult a doctor if you have special dietary needs.