Paleo Cookies Recipe
Taylor Kiser | Food. Faith. Fitness.

These Paleo Cookies are all full of toasty, warm holiday flavors. From cranberries and orange to cardamom and molasses, we're here for it.
There are only 2 times in life that I think cranberries deserve to be eaten ßThat may sound bold to you, but I just RLY RLY DO NOT like cranberries.
Nope. Not even cranberry sauce on my turkey. I'm THAT GIRL who puts ketchup on it.
And now you're judging me.
Those "approved cranberry" times are:
1.       Any time that they are in the form of cranberry wine (it's a thing that exists and it is GOOD.)
2.       When they are packed into CHEWY, CRISPY cranberry orange COOKIES.
Because we're talking about cardamom cookies here and NOT wine, let's just elaborate on point 2.
For now.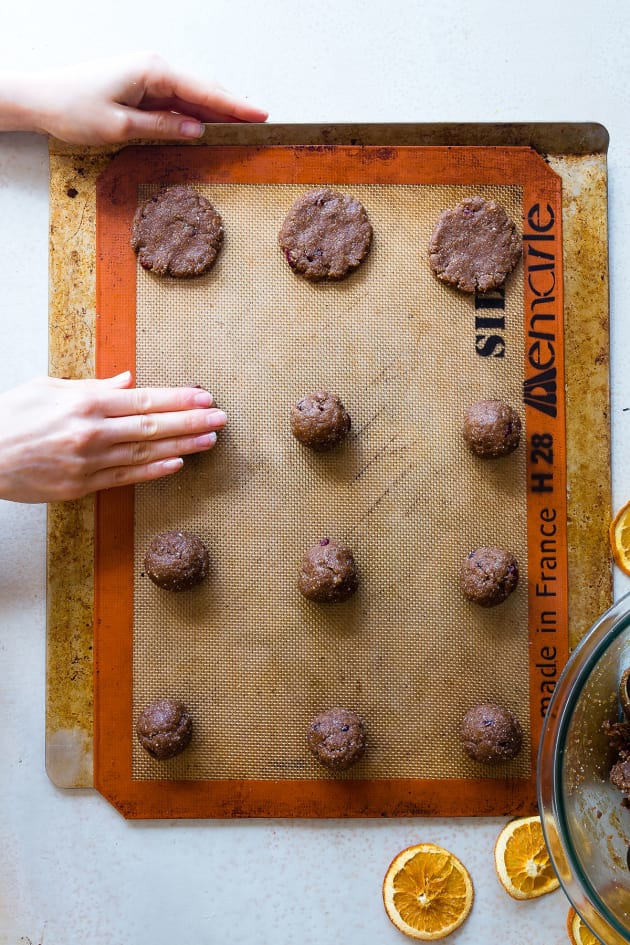 I've been having this moment with cardamom lately. And by "moment" it's really been about a year, so it's a VRY VRY loooong moment.
Cardamom is just one of those INTENSELY flavorful spices that you can make sweet like gluten free apple cardamom cookies OR savory like in a cumin healthy chicken stir fry.
Whatever way you add it to your real-life food, it is going to make your mouth ALL KINDS of happy and excited.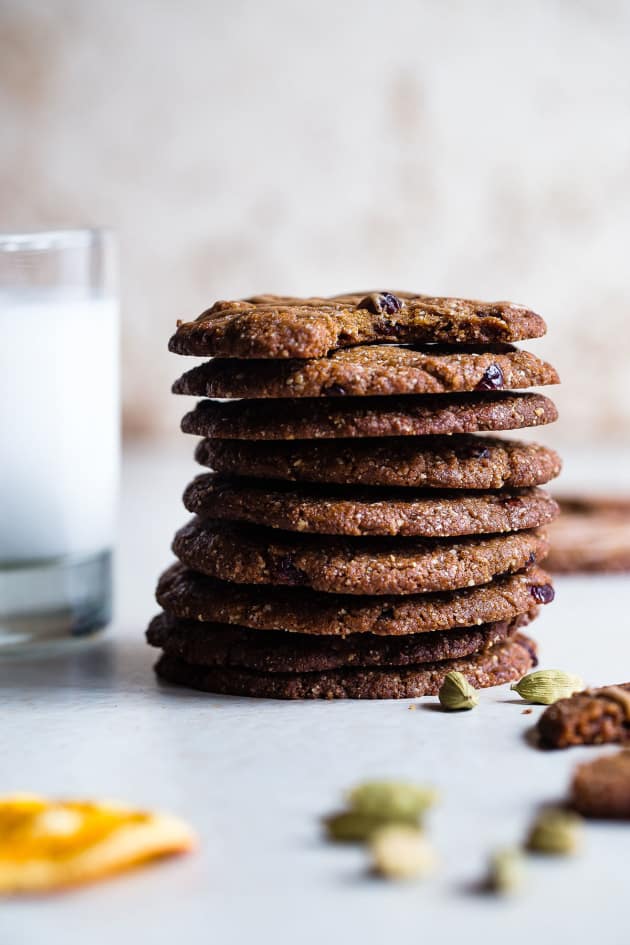 Especially when your tongue gets the tasty cardamom tingles in combination with bright, ZESTY orange, chewy and tangy cranberries and swirls of RICH and creamy almond butter.
Boy oh boy oh boy. These gluten free almond butter cookies. You guys are in for a TREAT.
Fun things that you're about to learn:  you can make the most magically chewy and crispy paleo cranberry almond cookies using almond butter without the need for other binding ingredients like eggs!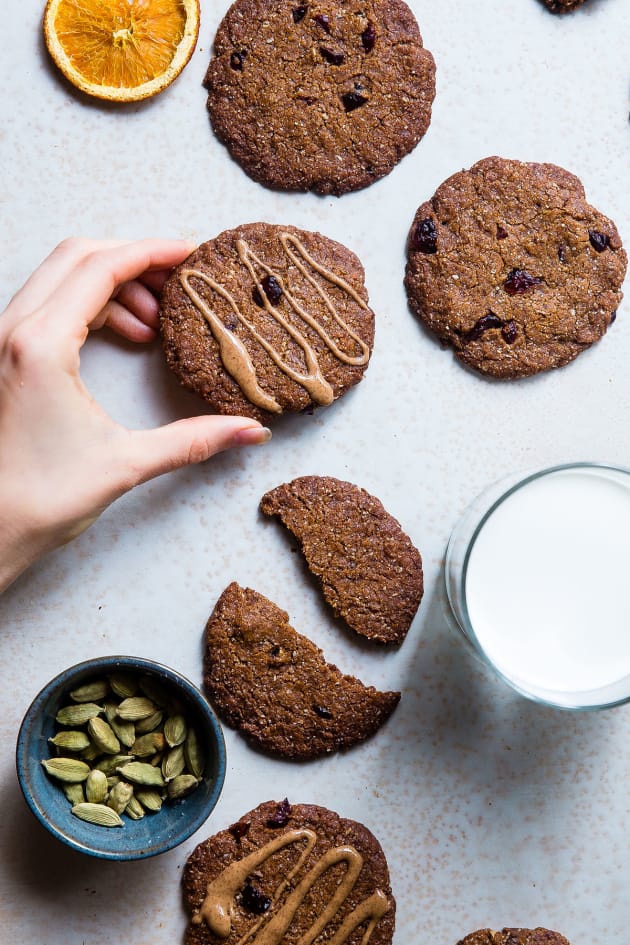 Helloooo vegan friends, these cookies are also 4 U 2.
You can even make them flourless almond butter cookies by using almond flour!
Can basically still taste the DOUBLE DECKER almond butter flavor EXPLOSION on the tip of my tongue as I type.
INTO IT.
This almond butter cookie recipe is just working with the most simple, pantry-essential kind of ingredient list, just like I know you love.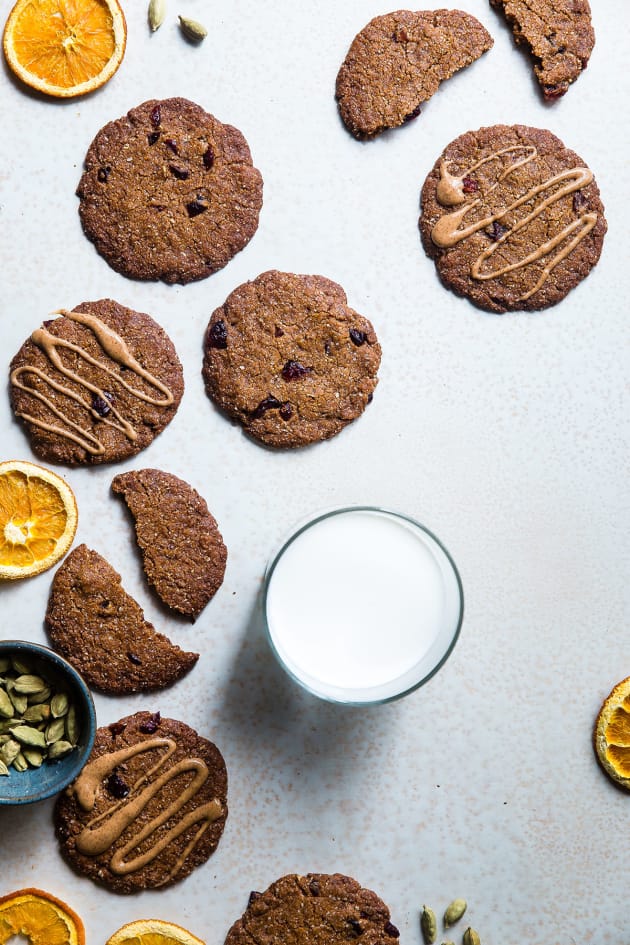 You could probably get off your couch right now, peep your cabinet, and break out into your secret happy-cookie-baking-dance because you're going to find that the GANGS ALL THERE.
You CAN make orange cardamom paleo almond butter cookies RIGHT NOW.
Side note: don't pretend like you don't have a secret cookie baking dance.  Mine looks something like "the shopping cart."  Which is also my dance for any life occasions that require any kind of happy dance.
The more you know.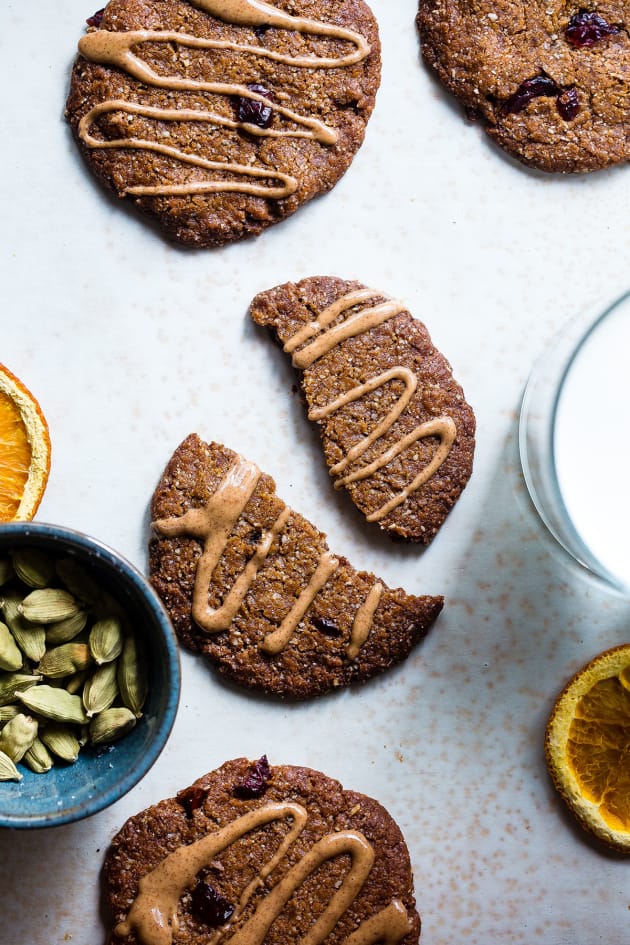 Anyway.
These fruity and tangy and fresh and ZESTY cookies will work for you whether you're embracing the holiday life and waking up to a cookie with a morning cup of coffee, OR whether you're serving them up after your Christmas feast. 
They've got the perfect balance of sweet and spicy that you can include them in any situation of your life that would just be THAT much better accompanied by a BLISSFULLY crispy and chewy spiced cookie, bursting with holiday cheer.
Which, ummm, is EVERY SINGLE situation of your life?
Happy cookie dancing, with a sprinkle of cheer, alllll holiday season long.
Are you tired of the dinner routine?
Stuck in a rut or looking for fun new recipes to try?
Our Facebook Group is growing every day! If you haven't joined yet, we invite you to come check it out and join the fun.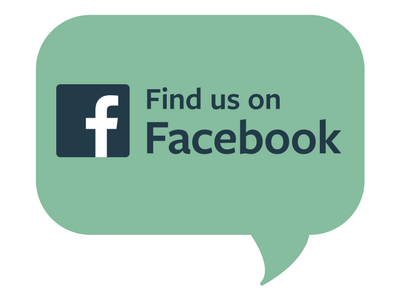 You can ask for recipe ideas, talk about cooking techniques, or get help figuring out the right new pan set for you. If you've already joined, invite a friend along!
Paleo Cookies Recipe
Ingredients
1 cup Coconut Sugar
3/4 cup Creamy Almond Butter, + 2 tablespoons, plus more for drizzling (the no-stir kind works best)
2 tablespoons Unsweetened Applesauce
2 tablespoons Molasses
1 tablespoon Orange Zest, very firmly packed (about 2 large oranges)
1 teaspoon Raw Apple Cider Vinegar
1 1/3 cups Almond Flour, (132g)
2 tablespoons Tapioca Starch
2 teaspoons Ground Cardamom
3/4 teaspoon Baking Soda
1/4 teaspoon Salt
3 tablespoons Dried Cranberries, diced (unsweetened for paleo)
Directions
Heat your oven to 350°F and line 2 cookie sheets with parchment paper or a silpat.
In a large bowl, using an electric hand mixer, beat together the coconut sugar, almond butter, applesauce, molasses, zest and vinegar until well combined and the batter begins to stop sticking to the beaters, about 1 minute.
In a separate, medium bowl mix together all the remaining ingredients except the cranberries.
Add into the almond butter mixture and use your hands to knead the dough together until well mixed and the almond butter begins to release its oil, which will help the dough stick together. It will be VERY thick, which is normal. Use your hands to mix in the cranberries.
Roll the dough into heaping 1 ½ Tbsp sized balls and place onto the cookie sheets. Since the dough is very thick and a little dry, you'll need to spend a little extra time and care rolling them and packing the dough together into balls.
Press out 1/2-inch-thick for thicker, more chewy cookies or 1/3 inch for more thin, very crunchy cookies, making sure to pack the edges together if they crack.
Bake until the tops appear set and the edges are slightly golden, about 14-17 minutes. Let cool COMPLETELY on the pan as they set up a lot once cool.
Drizzle with more almond butter (if desired) and DEVOUR!
Notes
As with all GF baking, please weigh your flour to ensure accurate results.
Recommended
Nutrition Facts
Servings Per Recipe 21
---
Amount Per Serving
Calories from Fat 30
Calories
101
---
% Daily Value*
5%
Total Carbohydrate
15g
---
* Percent Daily Value are based on a 2,000 calorie diet. Your daily values may be higher or lower depending on your calorie needs.
** Nutrition Facts are estimated based on ingredients and data provided by
Fat Secret
. Please consult a doctor if you have special dietary needs.