No-Bake Chocolate Raspberry Cheesecake Recipe
Julianne Bayer Dell | Beyond Frosting

This No-Bake Chocolate Raspberry Cheesecake is a creamy dark chocolate no-bake cheesecake with a fresh raspberry swirl and chunks of raspberries.
Er my gosh you guys, this cheesecake, I can't even handle it. It's like I forgot how good my best ever no-bake chocolate cheesecake is because I fell in love all over again with his baby.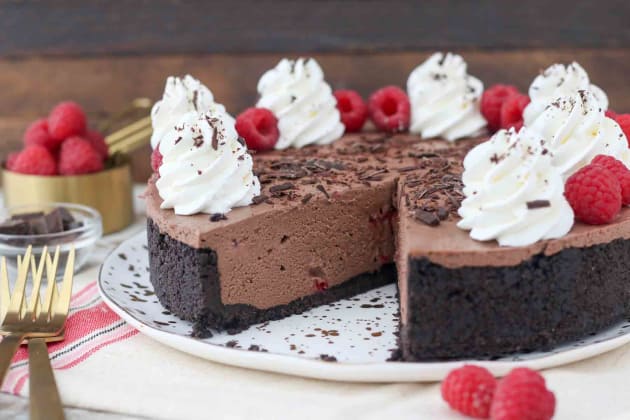 Last summer, I made a white chocolate raspberry swirl cheesecake and I didn't even give it a second thought when I decided I needed a chocolate version.
Of all the summer berries, raspberries are my favorite. At my house in Vermont my parents had huge gardens lining our property, and part of that included quite a large raspberry patch.
We always had more raspberries than we knew what to do with.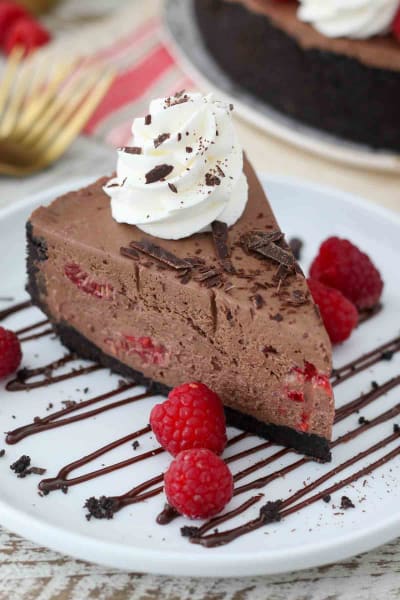 I remember how much I loved to go grab some straight off the vines while trying to avoid all the bees that were flying around!
This No-Bake Chocolate Raspberry Cheesecake is a creamy dark chocolate no-bake cheesecake with a fresh raspberry swirl and chunks of raspberries.
I knew that a simple swirl of raspberry puree would not be enough for this cheesecake, so I sliced up some whole raspberries and tossed them into the cheesecake as well. This is where the flavor really shines through.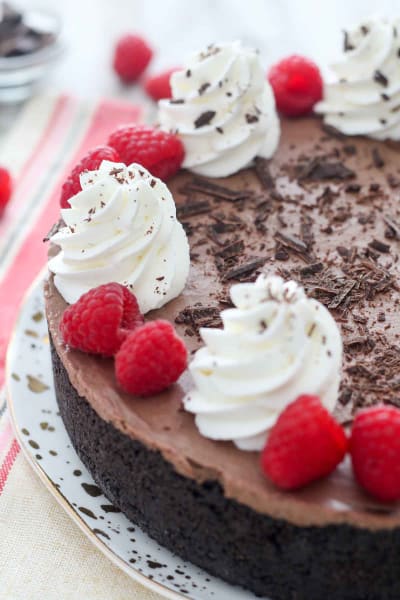 I am pretty good at resisting my own desserts, but I cut a quarter of this cheesecake and saved it for my dad because he would be visiting me the following week. I'm definitely guilty of sneaking a few bites of this for myself, but I simply could not resist.
I loved that no matter how much food we ate for dinner, my dad cut himself a slice of cheesecake every night until it was gone. What can I say? The man loves his desserts.
Okay so to make this dessert, you first need to prepare your crust in a 9-inch springform pan or an 9-inch square pan, just make sure it's 3 inches tall or you'll be right up to the tippy top.
I prefer Oreos for the crust because they hold together so nicely, which makes for a very sturdy crust.
For the cheesecake filling, you have the usual suspects: cream cheese (be sure to use full-fat), sugar, cocoa powder, whipped cream and melted chocolate.
The melted chocolate really is the driving force behind the flavor here, so it's important that you use a high-quality chocolate, and I prefer dark chocolate myself. You can use chocolate chips, but I find that chocolate bars melt the best.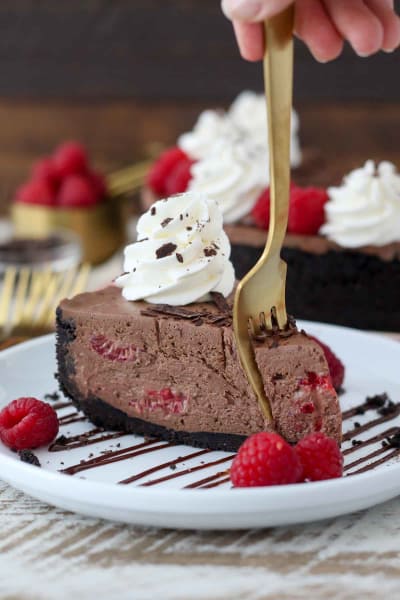 I don't like doing dishes, so first I prefer the whipped cream and then scoop it into a bowl (that can go in the dishwasher- duh), then I make my cheesecake filling in the same bowl. 
My best advice I can give you is to make sure your cream cheese is somewhat soft, or well beaten so that it's easier to incorporate the other ingredients.
Last but certain not least is the raspberry sauce. First, puree 3 ounces of berries in a small food processor, or just smash them in a bag. You can decide if you want to strain out the seeds or just leave them in.
Next, you'll slice some raspberries in half to layer in the dessert. Since the cheesecake batter is pretty heavy, I like to layer these in once I add the cheesecake batter to the pan.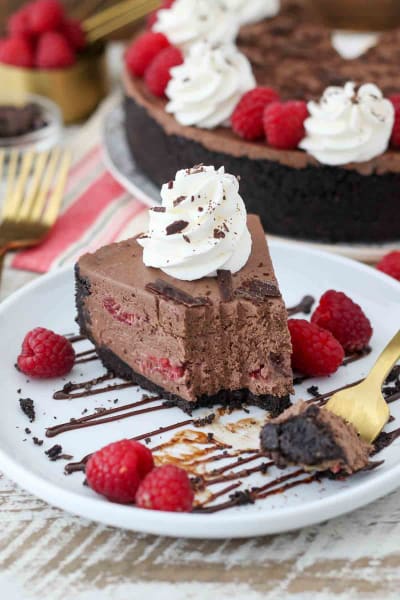 First add 1/3 of the cheesecake batter to the crust, spread it evenly, then drizzle in about 1/3 of your raspberry puree. Gently swirl it with the knife, then place some sliced raspberries in there. Repeat and repeat again.
The reason I don't just use the puree is because I don't think it's enough raspberry flavor for me. I don't want to puree all the raspberries because the additional liquid makes it difficult for the cheesecake to set properly.
For the topping you can garnish however you'd like. I chopped up some of my leftover chocolate bar, made some whipped cream and added more berries.
There you have it folks. I wouldn't blame you if needed to go make this cheesecake right NOW!  
Planning a dinner party and need some inspiration?
How about looking for a new slow cooker dinner idea?
We've got you covered in our ever-growing Facebook group! If you're not a member yet, why not?!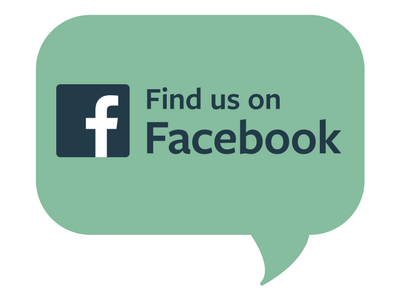 We're chatting cooking techniques, dessert ideas, and everything in between. If you're already a member, invite your friends to join us too!
No-Bake Chocolate Raspberry Cheesecake Recipe
Ingredients
For the Crust:
1 14 oz package Chocolate Sandwich Cookies
1/2 cup Unsalted Butter, melted
For the Filling:
6 ounces Dark Chocolate
9 ounces Raspberries, divided
1 1/4 cups Heavy Whipping Cream, plus 2 tablespoons
1/2 cup Powdered Sugar
2 tablespoons Unsweetened Cocoa Powder
16 ounces Cream Cheese, softened
1/4 cup Granulated Sugar
1 teaspoon Pure Vanilla Extract
For the Topping:
3/4 cup Heavy Whipping Cream
2-3 tablespoons Powdered Sugar
Fresh Raspberries, for garnish
Chopped Chocolate, for garnish, optional
Directions
For the Crust:
Prepare a 9-inch springform pan by lightly greasing the edges of the pan with cooking spray, and then wiping gently with a paper towel. Line the bottom of the pan with parchment paper.
Grind the cookies into a fine crumb using a food processor or blender.
In a small bowl, melt the butter in the microwave for 30 to 45 seconds. Pour the melted butter over the cookie crumbs and stir until the crumbs are well coated.
Pour the crumbs into your springform pan and press firmly into the bottom and up on the sides to create a thick crust. Refrigerate the crust while you are preparing the filling.
For the Filling:
In a microwave-safe bowl, combined the chocolate and 2 tablespoons heavy cream.
Melt the chocolate in the microwave at 50% power in 30-second increments, stirring each time until the chocolate is melted. Stir until completely smooth.
Place the mixing bowl and whisk attachment in the freezer for 5 to 10 minutes to chill.
Puree 3 ounces of raspberries in a small food processor. Strain through a fine sieve if desired. Set aside. Take the remaining 6 ounces of raspberries and slice in half.
Prepare the Whipped Cream:
Pour 1 1/4 cups heavy whipping cream into the chilled bowl and use an electric mixer to beat the heavy cream on medium-high speed until the cream starts to thicken.
Slowly add the powdered sugar and cocoa powder and continue beating on high speed until stiff peaks form. Set the whipped cream aside.
Beat the softened cream cheese until it's completely smooth. Scrape down the sides of the bowl as needed.
Next add the granulated sugar and vanilla extract and continue beating until smooth.
Next add the melted chocolate, beating until it's completely mixed into the cream cheese.
Finally, slowly fold in the whipped cream until it's completely smooth.
To Build the Layers:
Pour 1/3 of the batter into the prepared crust and spread evenly.
Then spoon about 1/3 of the raspberry purée over the cream cheese and use a knife to swirl it into the batter.
Then layer in a handful of the chopped raspberries and gently push into the batter.
Repeat these steps two more times.
Refrigerate for at least 4 hours to allow the cheesecake to set. Add the toppings before serving.
For the Topping:
Prepare a second batch of whipped cream following the same method as described above.
Pipe the whipped cream boarders using a large open or closed star tip.
Garnish with leftover raspberries and chopped chocolate if desired.
Recommended
Nutrition Facts
Servings Per Recipe 10
---
Amount Per Serving
Calories from Fat 397
Calories
682
---
% Daily Value*
18%
Total Carbohydrate
53g
---
* Percent Daily Value are based on a 2,000 calorie diet. Your daily values may be higher or lower depending on your calorie needs.
** Nutrition Facts are estimated based on ingredients and data provided by
Fat Secret
. Please consult a doctor if you have special dietary needs.