Honey Buns Recipe
Amanda Powell | A Cookie Named Desire

Honey buns are a wonderful way to start the day. They'll make the most of your weekend!
I've been dreaming of making homemade honey buns for months. I spent nearly a month trying to come up with the perfect recipe.
At first I tried using a rich French brioche recipe that I love and baked it.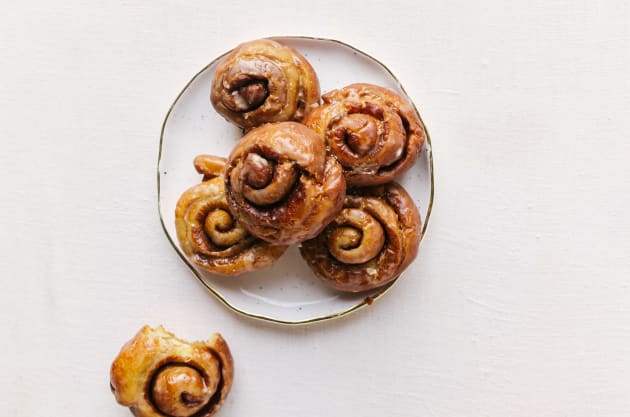 Delicious, but texturally and flavor-wise, it wasn't quite what I wanted. Then, I experimented with fried dough which took some work before I got just right.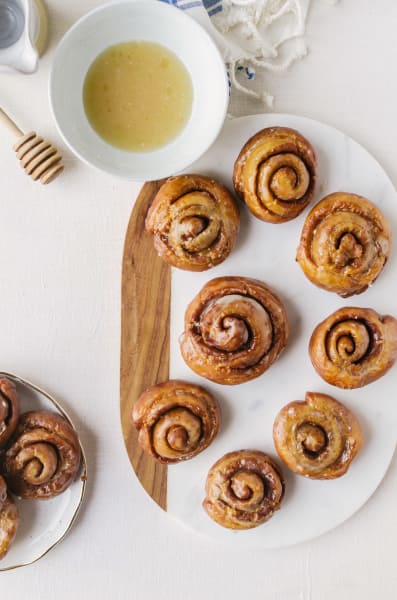 I wanted these honey buns to resemble the kind at the store, but I also wanted to use some nice honey and emphasize that flavor in the glaze. These honey buns are most certainly the best of both worlds.
And oh, so worth the trial and error I did to create the perfect doughnut.
For these honey buns you see in the photos, I rolled out my dough fairly thinly, which resulted in a more cinnamon roll look.
If you prefer your doughnuts to look like traditional honey buns, be sure to stick to the dimensions in the recipe, or even a slightly smaller rectangle.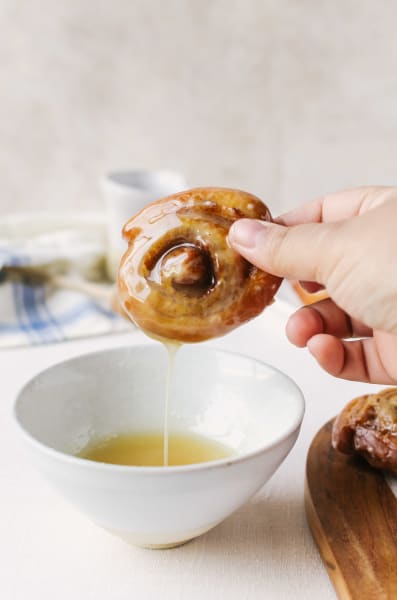 Once the doughnuts are cut, you can also stretch out the rolls to a more oval shape before you allow them to rest for the last time before frying.
Also, be sure to use a good quality honey that you absolutely love. It's the main flavor component, after all!
Don't be afraid of using yeast if this is your first time making a yeast bread. The yeast is easier to use than you might think, and it is so forgiving.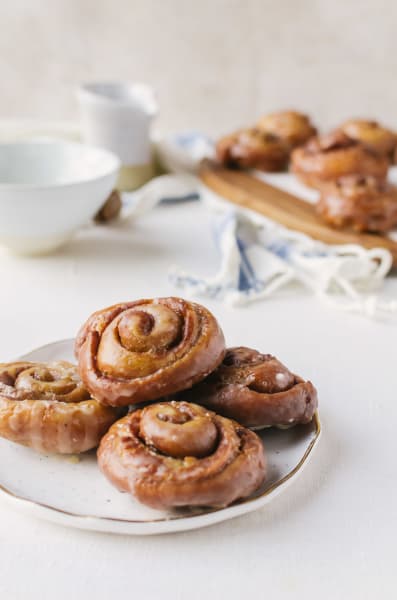 The main thing to remember is to not let the milk get too hot. It should be about the same temperature as a relaxing bath.
If the yeast-milk-flour mixture in the beginning doesn't look puffy and foamy, it means the yeast is dead and you need to buy new yeast. Once you've done that, you should be golden!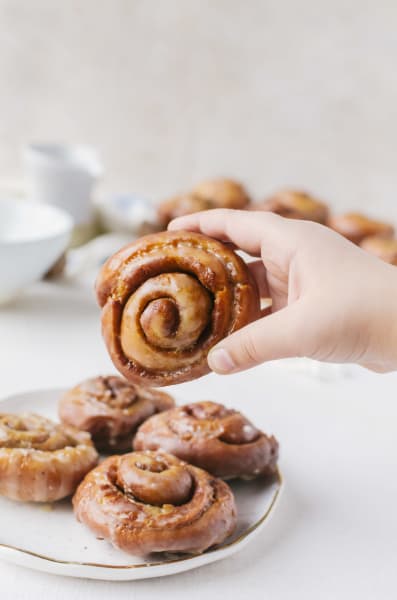 In the end, these homemade honey buns are incredible. The sticky, honey and cinnamon infused doughnut gives way to a soft interior that basically melts in your mouth.
Carbs have never been so good before this. It's perfect for your morning coffee or you can have one or two for dessert with a big scoop of ice cream.
Are you tired of the dinner routine?
Stuck in a rut or looking for fun new recipes to try?
Our Facebook Group is growing every day! If you haven't joined yet, we invite you to come check it out and join the fun.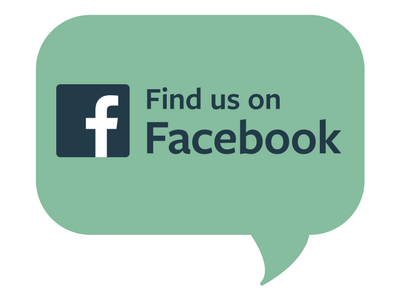 You can ask for recipe ideas, talk about cooking techniques, or get help figuring out the right new pan set for you. If you've already joined, invite a friend along!
Honey Buns Recipe
Ingredients
For the Doughnuts:
3 tablespoons Active Dry Yeast
1 cup Milk, divided (warm)
2 1/2 cups Bread Flour
3 tablespoons Granulated Sugar
1/2 teaspoon Salt
1 teaspoon Pure Vanilla Extract
3 Large Egg Yolks, room temperature
6 tablespoons Unsalted Butter, room temperature
1 tablespoon Ground Cinnamon
For the Honey Glaze:
2 1/4 cups Powdered Sugar
1-2 tablespoons Milk
1/2 tablespoon Honey
2 teaspoons Pure Vanilla Extract
Directions
In your mixing bowl, add 2 tablespoons of yeast, 3/4 cups of the flour, and 3/4 cups of the milk.
Mix until it forms a paste.
Cover and allow to rest for about 30 minutes.
Add the remaining yeast and milk. Add in the sugar, salt, vanilla, and egg yolks. Mix until completely combined.
Slowly add in the remaining flour, 1/4 cup at a time until completely combined.
Beat the dough until it pulls away from the mixer.
Slowly add in the butter one tablespoon at a time, adding more butter only when the previous tablespoon of butter fully incorporated into the dough.
Place the dough in a lightly greased bowl and cover. Rest the dough in the refrigerator for about an hour and up to 12 hours.
Lightly flour a surface and roll out the dough on this surface. The dough should be a rectangle with dimensions of about 6 x 10 inches.
Sprinkle the ground cinnamon onto the dough and spread evenly around.
Roll the dough along the longest side of the dough to form a long log.
Cut out thin round of about half an inch. Slightly flatten the round by pressing on the cut sides and place them cut side down onto a floured baking sheet.
Cover and allow to rest for about 10 minutes while you heat the oil.
Add oil to a deep fryer or cast iron skillet (if using a cast iron skillet, make sure the dough is at least 3 inches deep). Heat the oil to 360°F.
Take our two wire racks and line the bottom with paper towels.
Fry the doughnuts 2 – 3 minutes on each side, or until they are golden brown. Place on the wire rack.
Mix the ingredients for the glaze and dip the doughnuts in the glaze, removing any excess. Serve warm.
These doughnuts are best the same day, but can be stored in an airtight container up to three days. I recommend rewarming in the microwaves for a few seconds before enjoying.
Recommended
Nutrition Facts
Servings Per Recipe 15
---
Amount Per Serving
Calories from Fat 48
Calories
223
---
% Daily Value*
12%
Total Carbohydrate
37g
---
* Percent Daily Value are based on a 2,000 calorie diet. Your daily values may be higher or lower depending on your calorie needs.
** Nutrition Facts are estimated based on ingredients and data provided by
Fat Secret
. Please consult a doctor if you have special dietary needs.