Gluten Free Southwest Breakfast Pizza Recipe
Brianna Hobbs | Flippin' Delicious

Gluten Free Southwest Breakfast Pizza will bring joy to any Mother's Day. The creamy guacamole can't be beat.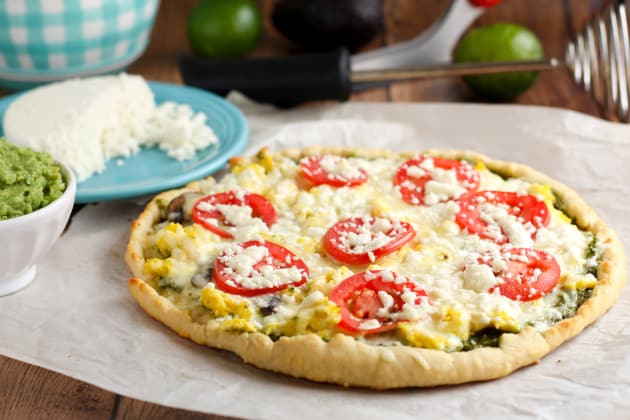 I've always looked forward to Mother's Day. My mom is just awesome! She definitely deserves a break, and a holiday just to celebrate her. I mean, she has nine kids. She sacrifices EVERYTHING for her kids.
My mom really has taught me everything I know. Except for how to cook. She doesn't enjoy cooking and was very excited when I loved being in the kitchen, because that meant that I could help with meal prep. She was a huge encouragement to me in the kitchen and I definitely wouldn't be a food blogger now if she hadn't helped me along the way.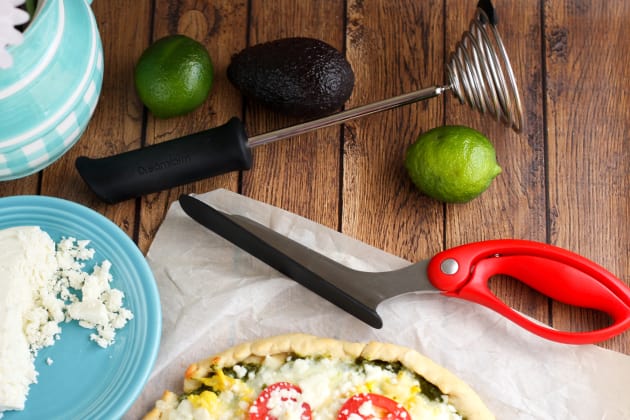 When I was a kid I'd always try to make a special Mother's Day brunch for my mom. At a young age I learned how to make pancakes, so I think a lot of years that is what she got. I remember coordinating with my younger sisters and setting our alarms for early in the morning.
We'd sneak down to the kitchen and would make my mom a yummy spread complete with a wild flower (aka a weed) in a drinking glass and then bring it to her in bed. Even though we'd serve her in bed, she'd always come out to the kitchen table to eat brunch with the rest of us. She'd say that she'd rather eat with us than alone in her bed. My mom is just the best!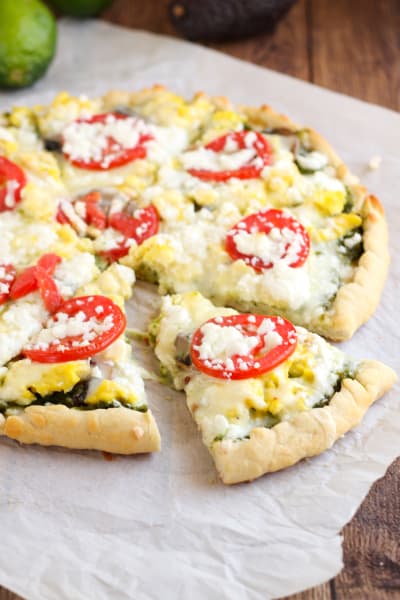 One of my favorite brunch dishes is pizza. That might sound a little odd, but not once you take a bite of this gluten-free Southwest breakfast pizza. You can make it with either your favorite homemade gluten-free pizza crust, or your favorite store bought crust or dough. I used a recipe from one of my favorite gluten-free cookbooks. Instead of the traditional pizza toppings, I topped it the same way I'd fill my favorite breakfast burrito.
I started it with a poblano-cilantro pesto instead of pizza sauce. It is super easy to make! Just toss a roasted poblano pepper with cilantro, some olive oil, and a bit of lime juice into your food processor or blender. It has just a hint of mild spice and is packed with flavor!
I topped the pizza with some sautéed mushrooms, sliced tomato, and some soft scrambled eggs. And two different cheeses! I used Monterrey Jack because it melts so nicely. What is pizza without some ooey, gooey cheese? I also used Queso Fresco, which is a soft Mexican farmer's cheese that I crumbled on top. It has a clean, slightly salty flavor and brings the pizza to the next level.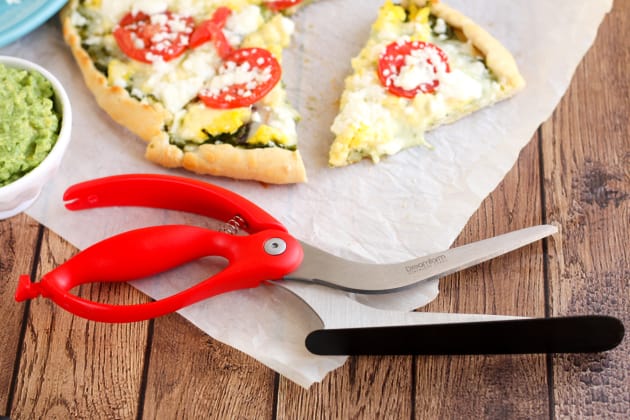 If you can't find it, don't worry. Just replace it with some more Monterrey Jack. The Queso Fresco is a nice touch, but the gluten-free southwest breakfast pizza recipe will work just as well without it.
I was super excited to use Dreamfarm's Scizza to cut my gluten-free southwest breakfast pizza. I have always had a hard time keeping my toppings in place while I cut my pizza, they seem to move all over the place. Especially when I use lots of toppings or the toppings are soft like the scrambled eggs. I've never had a pizza cut so cleanly and the toppings all stayed perfectly in place.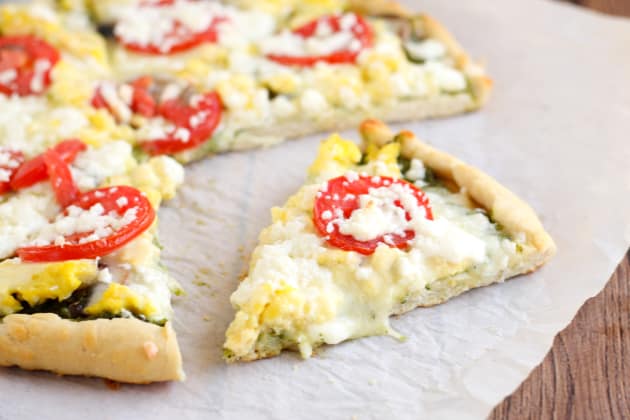 Don't forget to make some creamy guacamole to top and dip your pizza in. It is a cinch to make with Dreamfarm's Smood! Just peel and pit an avocado, mash it with the Smood, and add some lime juice and a pinch of salt. The Smood makes the guacamole smooth and creamy while leaving just the right amount of texture. I have always had a hard time getting my guacamole just right. It has always been too chunky or too smooth and pasty. The Smood made it perfectly!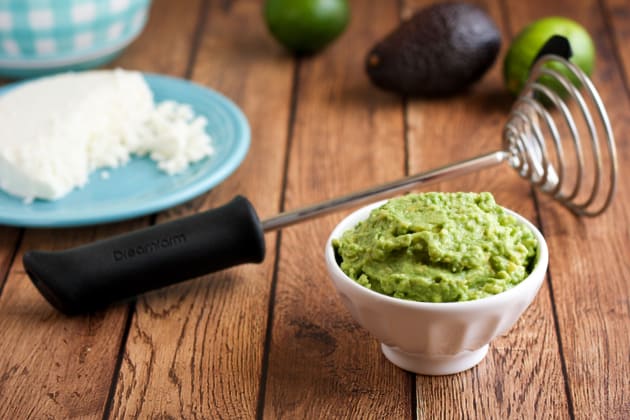 This is my third Mother's Day since my oldest daughter made me a mom. Let me tell you, being a mom is a lot of hard work, but it is more than worth it. I love being able to share Mother's Day with those that mean the most to me. If I'm lucky maybe someone will make me this gluten-free southwest breakfast pizza for me too!
---
Disclaimer: The contributor was compensated by Dreamfarm for recipe development. Any opinions expressed are her own.
Are you tired of the dinner routine?
Stuck in a rut or looking for fun new recipes to try?
Our Facebook Group is growing every day! If you haven't joined yet, we invite you to come check it out and join the fun.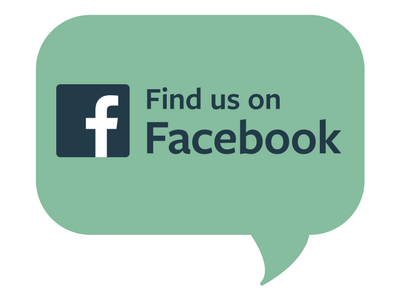 You can ask for recipe ideas, talk about cooking techniques, or get help figuring out the right new pan set for you. If you've already joined, invite a friend along!
---
Disclaimer: The contributor was compensated by Dreamfarm for recipe development. Any opinions expressed are her own.
Gluten Free Southwest Breakfast Pizza Recipe
Ingredients
1 Gluten Free Pizza Dough, Prepared crust or your favorite dough recipe
1 Poblano Pepper
1/2 cup Fresh Cilantro
1/4 cup Olive Oil
1 Lime
1 clove Garlic
3 Eggs
1 Roma Tomato, Sliced
1/2 cup Sliced Mushrooms
3/4 cup Shredded Monterey Jack Cheese
3/4 cup Queso Fresco, Crumbled
1 Avocado
Directions
Prepare your pizza dough and par-bake according to the recipe/package directions. (Mine baked for 7 minutes at 400°F)
For the Poblano Pesto:
Blacken the pepper either over the direct flame on a gas stove-top or broil it, turning it ever few minutes until it is scorched all over. Immediately place the pepper into an airtight container and let it sit for 10 minutes.
Scrape off the skin with the back of a knife. Remove the core and seeds.
In a food processor, pulse the skinned poblano pepper, cilantro, olive oil, garlic and the juice from half of the lime.
For the Rest of the Toppings:
Whisk the eggs with 2 tablespoons of milk or water and season with salt and pepper. Scramble them in a nonstick skillet, removing to a plate when they are soft so that they don't overcook.
Sauté the mushrooms in a skillet with a little bit of oil or butter.
Spread the gluten-free pizza crust with the poblano pesto (you don't have to use all of it, I saved some for dipping.) Top with the mushrooms, tomatoes, scrambled eggs, and cheeses.
Return to the oven and bake until the cheese is melted and the crust is golden. (Mine took about 7 minutes at 400°F.)
Let cool slightly before cutting.
For the Guacamole:
Peel and pit the avocado and mash it. Add the juice from the other half of the lime and season to taste with salt and pepper.
Recommended
Published:

Modified:

Author:

Cooking Method:

Baked

Cuisine:

Gluten Free

Category:

Mother's Day Brunch

Tags:

Mother's Day Brunch, Mother's Day, Breakfasts, Brunches, Gluten Free, Gluten Free Baking, Pizza, Tex Mex, Baked, Peppers, Tomatoes, Cheese

Related Recipes:

Mother's Day Brunch Recipes, Mother's Day Recipes, Breakfast Recipes, Brunch Recipes, Gluten Free Recipes, Gluten Free Baking Recipes, Pizza Recipes, Tex Mex Recipes, Baked Recipes, Pepper Recipes, Tomato Recipes, Cheese Recipes

Recipe Yields:

8 slices

Prep Time:

Cook Time:

Total Time:

Related Post:
Published:
Author: Brianna Hobbs
Recipe Yields: 8 slices
Prep Time: 30 minutes
Cook Time: 30 minutes
Total Time: 60 minutes

Nutrition Facts
Servings Per Recipe 8
---
Amount Per Serving
Calories from Fat 229
Calories
451
---
% Daily Value*
10%
Total Carbohydrate
30g
---
* Percent Daily Value are based on a 2,000 calorie diet. Your daily values may be higher or lower depending on your calorie needs.
** Nutrition Facts are estimated based on ingredients and data provided by
Fat Secret
. Please consult a doctor if you have special dietary needs.