Cookie Dough Billionaire Bars Recipe
Hayley Parker | The Domestic Rebel Updated
Cookie Dough Billionaire Bars are loaded with a sugar cookie base, chocolate, and caramel. And crowned with chocolate ganache!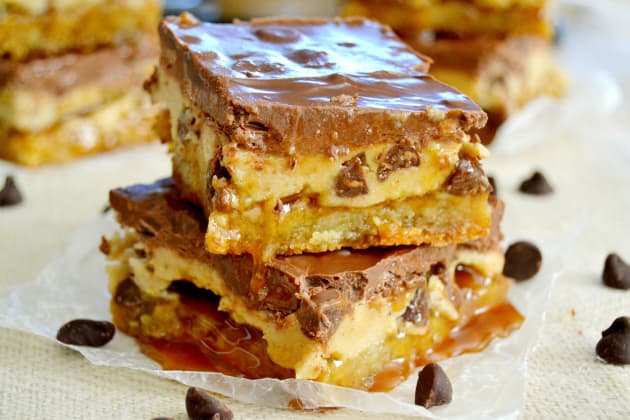 I wish I could be a billionaire like the Olsen twins.
Did I tell you that I used to be obsessed with them? Like obsessed. I wished I could be one so badly it hurt my non-Olsen soul.
I had all of their books, movies, and dolls, watched their TV shows religiously and subscribed to their magazine the second it was launched. I was – and still am – a member of their fan club and I have the card of authenticity to prove it. Still. In my wallet, just in case there's ever an issue and I need to verify my identity, of course.
And I dreamed of being just like them – a meddling pre-teen detective in a trench coat exploring random mysteries of life while randomly breaking out in the occasional catchy song. And I would have to have a color-coordinated scrunchie, because they always had color-coordinated scrunchies and socks. Hello, it was the 90s. There were worse trends than color-coordination.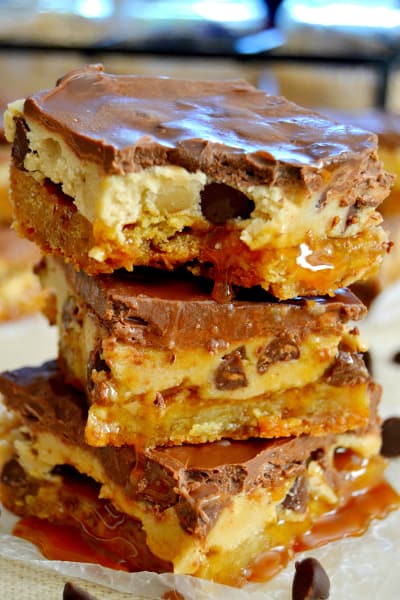 Plus, if I were an Olsen twin (well, triplet), I would be a billionaire now, sitting pretty on a fat stack of money from all those gigs I did as a kiddo. That would be awesome. I wonder if Mary-Kate and Ashley ever think about their old movies – do you think they watch them? Would that be weird seeing yourself randomly breaking out into song and dance while wearing color-coordinating clothes? I guess I never really pondered this one. And like, would they reread their books and get caught up in the riveting childlike wonder of being a teenage detective? I mean, they've built like, an empire on the whole trench-coat thing. I'm surprised Burberry hasn't offered them their own Olsen Twin Collection for trenches. (Or am I the only one obsessed? Don't answer that).
Anyway. Billionaires clearly have to eat like it and I'd imagine they'd eat these billionaire bars. These bad boys have been circling the interwebs for awhile now and for good reason: they're loaded! It starts with a sugar cookie base, which is fine and all, but don't you want more? So then I added caramel, because GOOEY, and topped it off with egg-free chocolate chip cookie dough. And the diamond on top? Chocolate ganache, because DUH.
And since I'm no Olsen twin, this is the closest I can get to being a billionaire, so excuse me while I eat the whole batch. 
Are you tired of the dinner routine?
Stuck in a rut or looking for fun new recipes to try?
Our Facebook Group is growing every day! If you haven't joined yet, we invite you to come check it out and join the fun.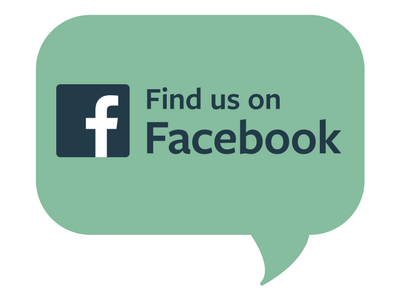 You can ask for recipe ideas, talk about cooking techniques, or get help figuring out the right new pan set for you. If you've already joined, invite a friend along!
Cookie Dough Billionaire Bars Recipe
Ingredients
1 package Sugar Cookie Dough, At room temperature
1 jar Caramel Sundae Sauce
3/4 cup Unsalted Butter, Softened to room temperature
3/4 cup Brown Sugar
1/4 cup Granulated Sugar
1 tablespoon Pure Vanilla Extract
2 teaspoons Milk
2 cups All-Purpose Flour
3 cups Semisweet Chocolate Chips, Divided
1/4 cup Heavy Cream
Directions
For the Cookie Layer:
Preheat your oven to 350°F and line a 13x9" pan with foil, extending the sides of the foil over the edges of the pan. Spray the foil liberally with cooking spray.
Using your hands, press out the sugar cookie dough into an even layer that covers the bottom of the pan.
Bake for approx. 12-15 minutes or until the cookie dough layer appears set and is a light golden brown. Cool completely.
Once cooled, pour the caramel over the top of the sugar cookie base. Refrigerate for about an hour or until the caramel is still tacky but not as fluid.
For the Cookie Dough:
While the caramel sets, cream together the butter, brown sugar and granulated sugar in a stand mixer with paddle attachment until creamy, about 2 minutes.
Add in the vanilla and milk. Gradually add in the flour until a soft dough comes together. Stir in ONE (1) cup of the chocolate chips.
Very gently press the cookie dough mixture onto the caramel layer. I like to flatten chunks of dough in my hand and kind of puzzle-piece it on top of the caramel layer so the caramel doesn't ooze out. Refrigerate the bars for about 30 minutes.
For the Ganache:
In a medium microwaveable bowl, melt together the remaining chocolate chips and the heavy cream for 30 seconds on HIGH power, stirring after.
Microwave for another 30 seconds and stir again, until chocolate chips are melted and the mixture is smooth.
Spread the mixture over the top and in an even layer.
Refrigerate once more for about 20 minutes to set the ganache topping before cutting into squares.
Store leftovers in the fridge, covered. Allow to briefly come to room temperature before serving.
Recommended
Nutrition Facts
Servings Per Recipe 15
---
Amount Per Serving
Calories from Fat 247
Calories
695
---
% Daily Value*
35%
Total Carbohydrate
104g
---
* Percent Daily Value are based on a 2,000 calorie diet. Your daily values may be higher or lower depending on your calorie needs.
** Nutrition Facts are estimated based on ingredients and data provided by
Fat Secret
. Please consult a doctor if you have special dietary needs.