Chocolate Peanut Butter Banana Upside Down Cake Recipe
Sarah Grossett | The Gold Lining Girl

Chocolate Peanut Butter Banana Upside Down Cake is an OMG dessert perfect for any dinner party you hold. Such a great combo of flavors and textures!
I think we can all agree that there are different types of desserts in this world, and they are suitable for different types of occasions. Some desserts are more fancy and formal, while others are quite unpretentious and uncomplicated.
Some are seasonal – like for holidays, and other desserts, perhaps no-bake desserts and ice cream recipes, are most fitting for spring and summer.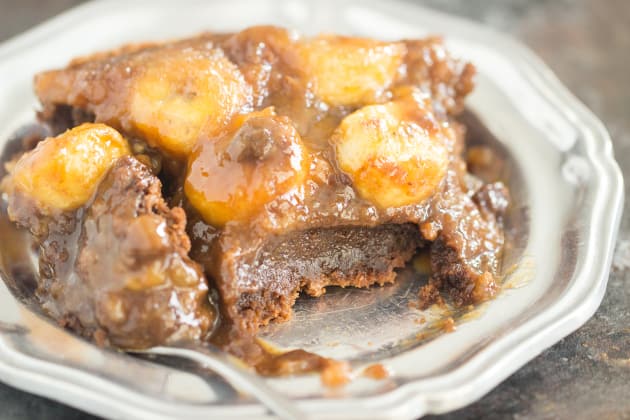 Right?? We all agree. Eat anything, anytime you want, but most things have an optimal time and place.
This Chocolate Peanut Butter Banana Upside Down Cake is like the sweatpants of desserts. It's the least fancy, least presentable, most messy dessert of all time.
This is the kind of dessert that you serve to a small group of close friends when they're over to share a few bottles of wine. You can all just dive in with a fork!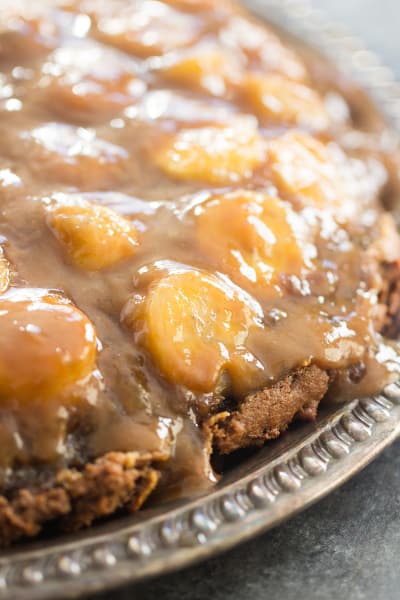 Or what you and your significant other share on a nice and cozy movie night.
It's one of the most fabulous desserts you'll ever try, but it's like sweatpants. You don't want to take this Chocolate Peanut Butter Banana Upside Down Cake to your in-laws for Christmas dinner, just like you probably wouldn't wear sweatpants to a holiday either.
Oh wait, I do that all the time.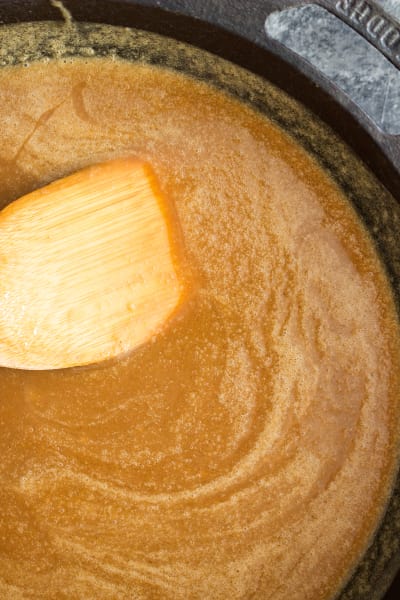 Anyway, let's cut to the chase: this Chocolate Peanut Butter Banana Upside Down Cake is kinda ugly food! I don't personally discriminate against ugly food.
As long as something tastes good, I'm a happy camper, and I don't care too much whether it's beautiful and impressive to look at. Sure, that's a nice feature, but I can do without great presentation.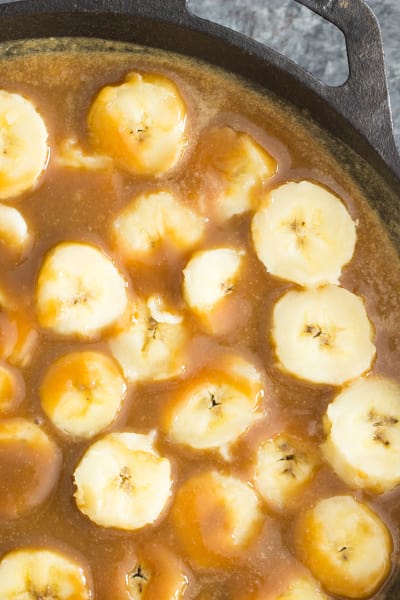 I care that it's mouthwatering and decadent and delicious.
As far as that goes, this Chocolate Peanut Butter Banana Upside Down Cake doesn't disappoint. Yes, it's downright ugly, but DAMN is it good.
It's sweet, sinful, and oh-so-gooey.
The layer of peanut butter caramel on top is beyond generous. There's tons and tons of that gooey, sticky caramel, and it drips and seeps down everywhere.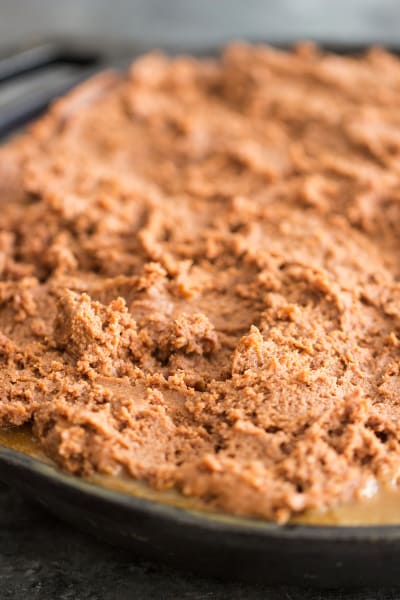 The bananas caramelize while they bake, so they're ultra soft and sweet. And the chocolate peanut butter cake… it's crispy on the edges, but moist and dense on the inside, almost like brownies.
The cake layer is so rich and moist, and all the flavors together are just insane. I'm sure I don't need to sell you on the combo of chocolate, peanut butter, and bananas!
I have a bunch of recipes with that amazing trifecta of flavors, and some of the most popular are these Chocolate Crepes with Peanut Butter Marshmallow Filling & Caramelized Bananas. They're a little extra work, but worth it. A total dessert crepe!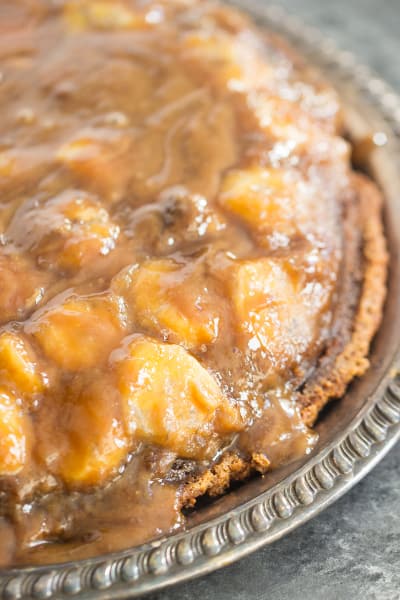 And these Peanut Butter Banana Brownies are easy and wonderful, and feature the same awesome flavors.
The ingredient list for this Chocolate Peanut Butter Banana Upside Down Cake looks long, but they're all common and easy to find. The directions are quite simple and straight-forward too.
While this Chocolate Peanut Butter Banana Upside Down Cake is not the prettiest to look at, it is one of the most incredible desserts to taste! 
Planning a dinner party and need some inspiration?
How about looking for a new slow cooker dinner idea?
We've got you covered in our ever-growing Facebook group! If you're not a member yet, why not?!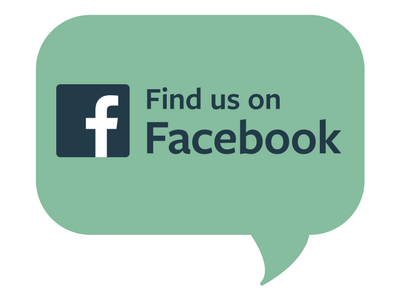 We're chatting cooking techniques, dessert ideas, and everything in between. If you're already a member, invite your friends to join us too!
Chocolate Peanut Butter Banana Upside Down Cake Recipe
Ingredients
For the Topping:
1/2 cup Unsalted Butter
3/4 cup Brown Sugar, packed
1/3 cup Creamy Peanut Butter
1 tablespoon Water
2 teaspoons Pure Vanilla Extract
3 medium Bananas, sliced
For the Cake:
1/2 cup Unsalted Butter
1 cup Granulated Sugar
1 large Egg
1 teaspoon Pure Vanilla Extract
3/4 cup Creamy Peanut Butter
1 1/4 cups All-Purpose Flour
1/4 cup Unsweetened Cocoa Powder
1 teaspoon Baking Powder
1/2 teaspoon Baking Soda
1/2 teaspoon Salt
1/2 cup Whole Milk, or heavy cream
Directions
Preheat the oven to 350°F.
In a 12-inch cast iron skillet, melt butter over medium heat.
Add brown sugar, peanut butter, and water, whisking until smooth.
Bring to a boil, and cook for 2 minutes.
Remove from heat, and add vanilla.
Stir in banana slices, arranging them in a single layer.
In a large mixing bowl, beat butter and sugar until creamy.
Add egg, vanilla, and peanut butter, beating until combined.
In a medium bowl, whisk together flour, cocoa powder, baking powder, baking soda, and salt.
Gradually add the dry ingredients to the mixing bowl, beating on low speed, alternating with the whole milk.
Beat until just combined.
Working from the outer edges to the center, spoon cake batter over the bananas in the skillet. It's a very thick batter, so you'll drop it by spoonfuls or dollops, and then use a spatula to carefully spread and cover the bananas completely.
Bake for 40-45 minutes, or until the edges and center appear set, or until a toothpick inserted near the center comes out clean of cake crumbs.
Remove from heat.
Cool for 20-30 minutes before inverting onto a serving platter.
Cut and serve.
Recommended
Nutrition Facts
Servings Per Recipe 8
---
Amount Per Serving
Calories from Fat 337
Calories
722
---
% Daily Value*
24%
Total Carbohydrate
72g
---
* Percent Daily Value are based on a 2,000 calorie diet. Your daily values may be higher or lower depending on your calorie needs.
** Nutrition Facts are estimated based on ingredients and data provided by
Fat Secret
. Please consult a doctor if you have special dietary needs.