Chocolate Angel Food Cake Recipe
David Dial | Spiced Blog

Chocolate angel food cake is best served with whipped cream and fresh berries. Everyone will love it!
The contributor was compensated by Nielsen-Massey Vanillas for his time in developing this recipe and post. All opinions are his own.
Given that we're smack in the middle of winter right now, it's usually a safe bet to assume that the weather forecast is "cold." Sometimes it's "downright cold" or even "blustery."
And of course, there's also the occasional "snow expected" or "don't even think about leaving the house today."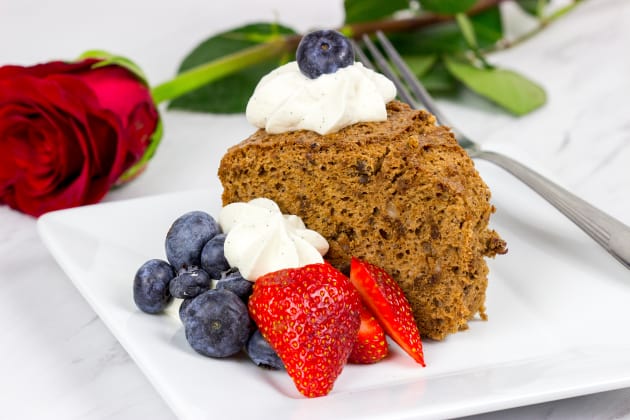 But the weather for February 14 will be different... trust me - I peeked at the 5-day forecast. The prediction: "chocolate expected."
Yup, chocolate. It's Valentine's Day after all, so chocolate must be included in the mix!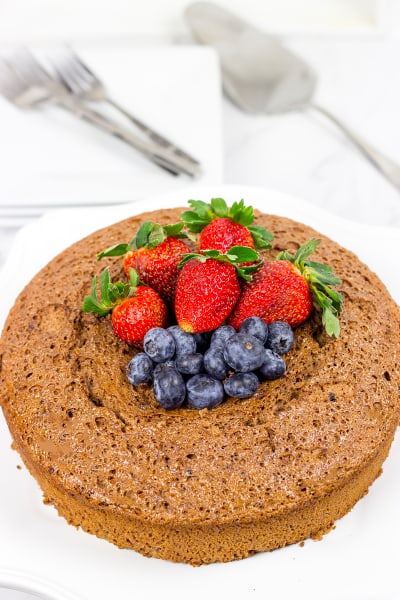 I saw a stat the other day that more than 35 million heart-shaped boxes of chocolate will be sold for Valentine's Day this year. 35 million!
My wife has never been a big fan of the heart-shaped box of chocolate. I got her chocolate on our first Valentine's Day together, and she was politely excited about it.
But then she gently dropped hints that she would prefers a dozen roses over boxed chocolate. That's fine by me... except for the time I swung by the store to pick up roses on Valentine's Day.
There were absolutely no roses to be found. And I even went in the morning! (I learned my lesson the next year, and just grabbed roses the day before.)
This year, I decided to slightly break the rules. No, I didn't go out and get a heart-shaped box of chocolate.
But chocolate will be involved. I made this fun chocolate angel food cake as a way to celebrate Valentine's Day this year.
Angel food cake is made with egg whites and no butter, so it doesn't pack the same calories as a normal chocolate cake. But don't worry... this chocolate angel food cake is still a decadent, delicious dessert for Valentine's Day! (And for the record, I still love a normal chocolate cake, but I also like mixing things up from time to time.)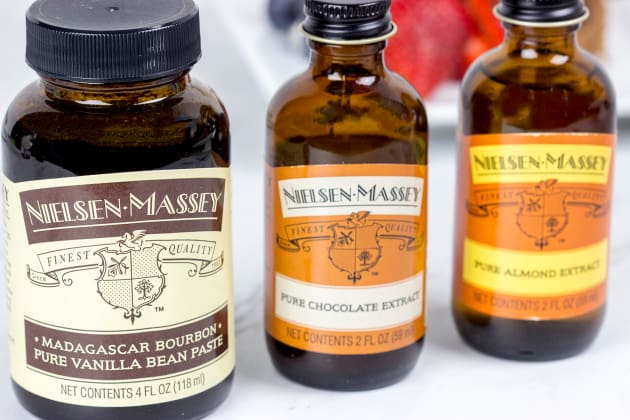 In addition to the cocoa in this chocolate angel food cake, I added a bit of Nielsen-Massey's pure chocolate extract.
Nielsen-Massey has always been my go-to for vanilla extract, so I figured why not let the chocolate extract make an appearance in this cake. And I'm glad I did!
This cake is light and airy, but still incredibly rich and chocolaty. I'm a big fan of chocolate extract now!
And the really cool thing is that since the extract is liquid, it can be used to create some pretty epic drinks. Chocolate martini with a slice of chocolate angel food cake?
Yes, good idea.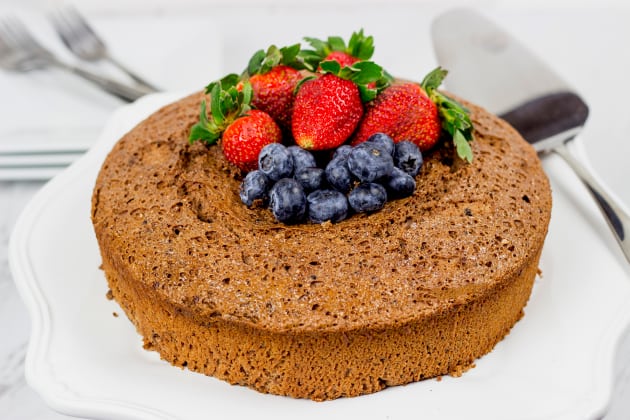 Have you guys ever used vanilla bean paste? Vanilla bean paste is seriously a staple in my baking cabinet.
This paste has a thicker consistency (think maple syrup), so it allows you to bring a strong vanilla flavor without thinning out batters and sauces. And as a bonus, the vanilla bean seeds in the paste bring an awesome visual appeal to whatever you are making.
I used Nielsen-Massey's Madagascar Bourbon Pure Vanilla Bean Paste to create this quick and easy vanilla bean whipped cream. (In case you're wondering, this paste doesn't taste like bourbon. Rather, the vanilla beans themselves come from the Bourbon Island off the coast of Madagascar.)
This is seriously the only way I make whipped cream now! I love the little specks of vanilla bean seeds in the whipped cream.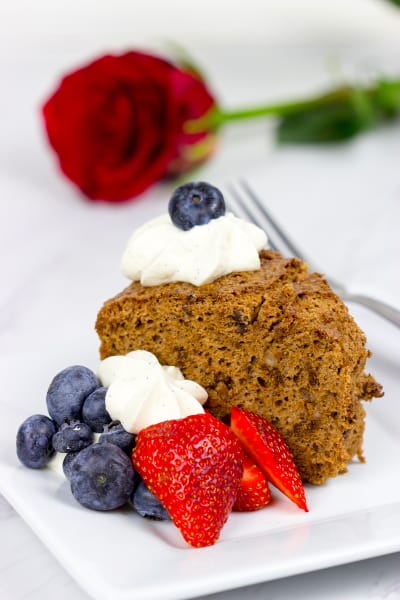 Have you ever made an angel food cake?
And I'm dying to know - heart-shaped boxes of chocolate? Yes, or no?
Are you tired of the dinner routine?
Stuck in a rut or looking for fun new recipes to try?
Our Facebook Group is growing every day! If you haven't joined yet, we invite you to come check it out and join the fun.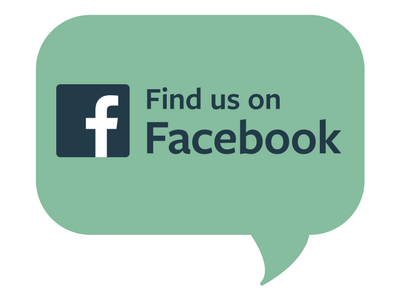 You can ask for recipe ideas, talk about cooking techniques, or get help figuring out the right new pan set for you. If you've already joined, invite a friend along!
Chocolate Angel Food Cake Recipe
Ingredients
For the Cake:
3/4 cup Cake Flour
1/3 cup Unsweetened Cocoa Powder
1 1/3 cups Granulated Sugar, divided
12 large Egg Whites, room temperature
1/4 teaspoon Salt
1 1/2 teaspoons Cream Of Tartar
2 tablespoons Heavy Cream
1/2 teaspoon Nielsen-Massey Pure Almond Extract
1 tablespoon Nielsen-Massey Pure Chocolate Extract
Assorted Fresh Berries, for serving
For the Vanilla Bean Whipped Cream:
1 cup Heavy Cream
2 tablespoons Powdered Sugar
2 teaspoons Nielsen-Massey Madagascar Bourbon Pure Vanilla Bean Paste
Directions
For the Cake:
Preheat oven to 350°F.
Using a large bowl, sift together the flour, cocoa powder and ⅔ cup of sugar. Stir until well combined; set aside.
Using a countertop mixer fitted with the whisk attachment, add the egg whites, salt and cream of tartar. Beat until soft peaks form.
Gradually add the remaining ⅔ cup of sugar that was not mixed with the flour to the bowl. After each addition, mix on low speed until combined.
Add the heavy cream, almond extract and chocolate extract; mix until combined.
Finally, gently fold the flour-sugar mixture into the egg white mixture until it is fully absorbed. (Note: Take care not to overmix/deflate the batter at this stage.)
Gently spoon batter into an ungreased tube pan.
Bake at 350°F for 32-34 minutes, or until a toothpick inserted into center of cake comes out clean.
Leave cake in pan and turn upside down on a cooling rack; let cool for at least 1 hour.
Loosen edges of cake and carefully remove cake from pan. Serve with Vanilla Bean Whipped Cream and assorted fresh berries.
For the Vanilla Bean Whipped Cream:
Combine all ingredients in small bowl. Using a hand mixer, beat until stiff peaks form.
Recommended
Nutrition Facts
Servings Per Recipe 16
---
Amount Per Serving
Calories from Fat 52
Calories
167
---
% Daily Value*
8%
Total Carbohydrate
23g
---
* Percent Daily Value are based on a 2,000 calorie diet. Your daily values may be higher or lower depending on your calorie needs.
** Nutrition Facts are estimated based on ingredients and data provided by
Fat Secret
. Please consult a doctor if you have special dietary needs.