How to Eat Tamales
Amber Bracegirdle | Bluebonnet Baker

Have you always wanted to try tamales but felt unsure about how to eat them? Here we'll answer all your questions so you can go ahead and enjoy this delicious and traditional Mexican treat!
Tamales may be a traditional Mexican dish, but they've become more popular all over the world including in the United States! But have you ever wondered how to eat tamales?
Fun to eat and with hundreds of variations, fillings, toppings and sides, there are plenty of different ways to enjoy tamales.
Consider this the ultimate guide to eating tamales, which have become a mainstay of food trucks and the star of any Mexican cuisine menu. Tamales are street food at its best!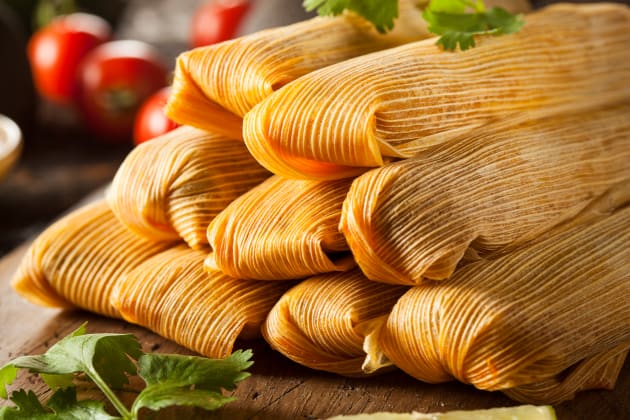 What Are Tamales?
A Mexican food favorite, tamales are a main dish generally served in banana leaves or plantain leaves or, alternately, corn husks that are stuffed with fillings like chilli, salsa, vegetables, cheeses or meats.

Traditionally tamale recipes would call for a paste of freshly ground corn to form a wrapper of sorts. Masa harina is mixed with water to make corn masa, a corn dough used for making tamales.

Filling tamales with beef, shredded chicken, pork, cheese and veggies (or even fruit) makes for delicious treats popular for special occasions and year round.

If you are in a rush, tamales are a great grab and go meal. Simply open one end of the wrapping (either the corn husk, banana leaf or plantain leaf) and snack away! 
How to Eat Tamales
The first rule of thumb when eating tamales is don't consume the wrapper - corn husks aren't meant to be eaten and can result in an upset stomach and may pose a choking risk for younger children.
Plantain leaves or banana leaf wrappers can be eaten, but we don't recommend doing so, and it is not traditional to consume the wrapper.
The best way to eat tamales is to top them with salsa, cotija cheese, sour cream or mole to really bring out their flavor.
Mole is a Mexican sauce generally made from a concoction of chocolate, chilli peppers, and spices.
Make sure you peel back the wrapper before topping, you don't want to miss out on the added flavor! 
Some people prefer to dip their tamale into sauce as opposed to topping it. But either way, the addition of mole or a substitution is highly recommended!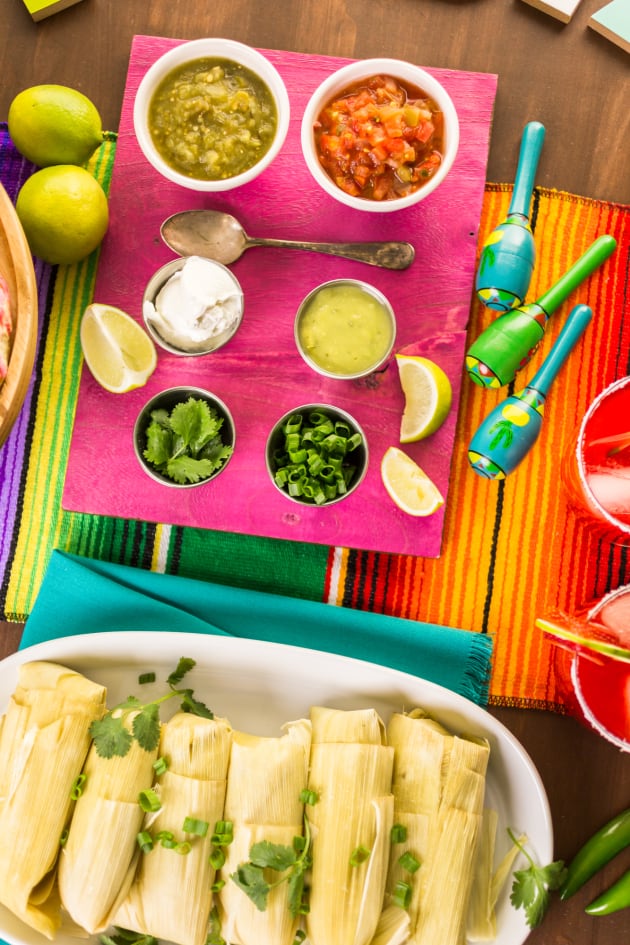 You can substitute the
salsa
or mole for any of your favorite sauces, but spicy tends to be best! Hot tamales are always a popular option.
Why not try a black bean and
corn
topping or a spicy mango habanero pepper sauce? If all else fails, a dash of hot sauce will satisfy any spice element you may be craving.
Traditional tamales are generally thought of as being a spicy, savory food, but you can find sweet tamales which make an excellent dessert.
Sweet tamales usually offer fillings such as bananas, chocolate, raisins, spices such as cinnamon, nutmeg and cardamom topped with cream or honey. 
For the rare instance that you have leftover tamales, you have a few options to reheat them without losing flavor and texture.
You can either steam them in a pot of boiling water or put them in the oven drizzled with some oil. You can microwave them, but they can end up being dry. 
Tamale Fillings
Chicken tamales are super popular, but we love a variety of tamale fillings. Here are a few favorites:
Beef is always delicious option for a traditional tamale
Chicken seasoned with chili powder is another tasty option for a great tamales recipe
Crispy fried pork is another of the most popular meat fillings for traditional Mexican tamales
Sweet tamales are often made dried fruit and are also popular
Veggies, cheese and other fresh ingredients offer a savory option for vegetarian tamales
Vegan tamales can be filled with roasted or grilled vegetables or even Mexican rice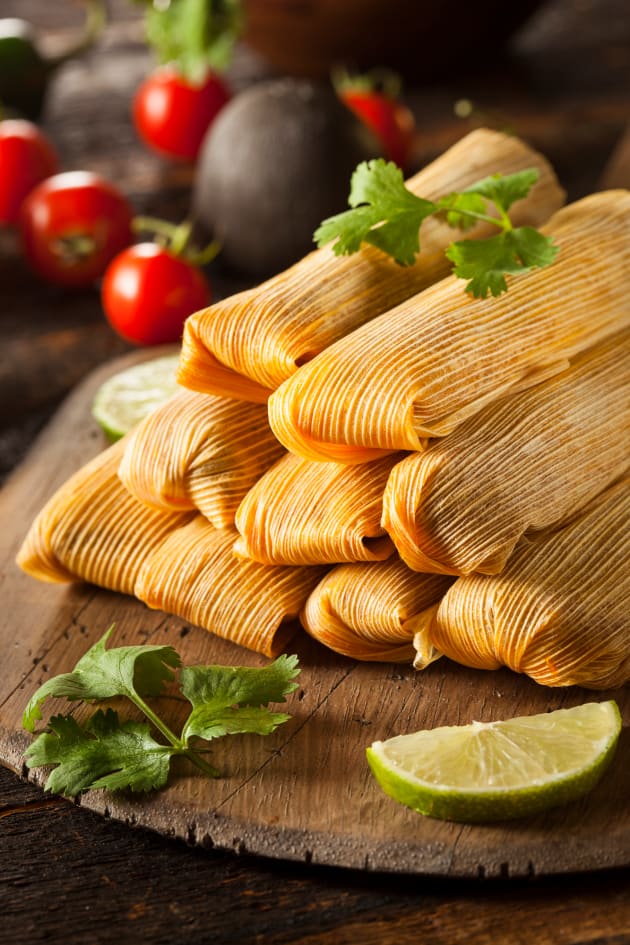 To take full advantage of the tamale experience, try serving them with some Mexican sides
A popular beverage served with tamales is a hot drink called atole, which is made from simmering ground corn with water and a sweet flavoring like chocolate, fruit, cinnamon or vanilla. 
Another traditional Mexican side dish commonly served with tamales is arroz con leche, which is a rice pudding boiled with cinnamon until it is of custard-like texture. You may find additions to arroz con leche such as chopped fruit and nuts.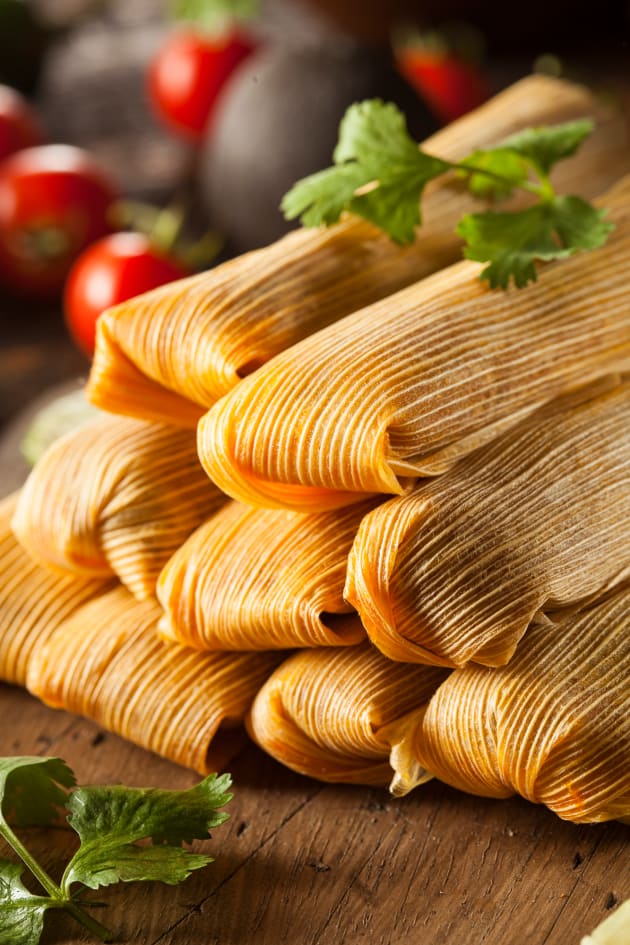 For a more savory accompaniment, smother

homemade chilli

on your tamale, or serve it on the side. You can then top it with cheese, onion, black beans, sour cream or anything else you enjoy with your chilli. 

Tamales are best when eaten within 4-5 days of making them, although we doubt you'll have too many hanging around that long! 

How To Guides, Mexican, Snacks, Family Meals and Snacks, Tamales