Slow Cooker Mexican Corn Cakes
Katie Jasiewicz | Katie's Cucina
Slow cooker Mexican corn cakes are just what you need for your taco dinner. They're a simple side made quick and easy!
We love Mexican food in our house. It's always a delicacy when I make Mexican corn cakes to go with our tacos. My husband Jon and I grew up eating at Chi-Chi's Mexican Restaurant. Do you remember the 90's chain restaurant? Both of our favorite parts of eating at Chi-Chi's as a kid were the corn cakes.
Sadly, in the late 90s/early 2000s all of the restaurants closed. Gone were the beloved Mexican corn cakes. They did, however, have the packet of corn cake mix in the supermarket, so it sufficed and I found myself making them all too often.
And then, a few years ago, gone went those lovely packet mixes. You literally added butter; creamed corn and the packet into a 9x5-inch loaf pan and let it bake in the oven until the creamy corn mixture had set.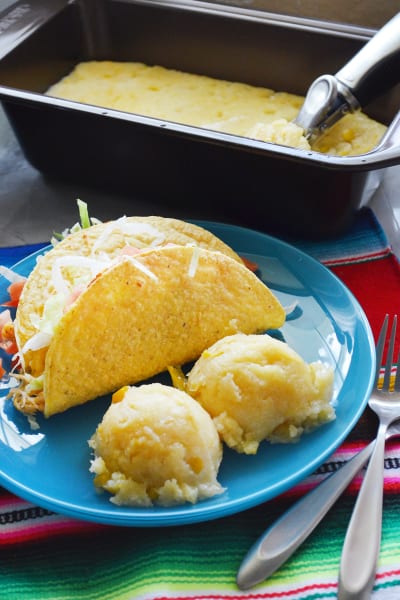 Once the packets became extinct I knew I needed to work on a homemade version since I couldn't live without them. I make this recipe both in the slow cooker and in the oven. On days when I don't feel like tending to the oven and heating up the house I make this slow cooker version. 
If I bake them in the oven I do the same water bath method I do in the slow cooker. Except, I use am 8x8 glass dish set on top of a 9x12 glass pan with an inch of water. I also cover the corn cakes. For the slow cooker, you'll need an oval slow cooker. I use a 9x5 loaf pan and add in about a cup of water into my slow cooker.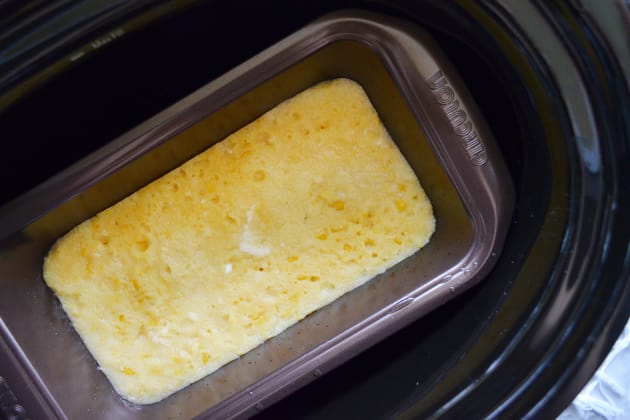 I also find that I like to "preheat" the slow cooker. I turn the slow cooker on and add the water then cover it. Then I work on the batter.
You can use fresh or frozen corn and purée some of it; however, I like to stick with a can of creamed corn. It speeds up the prep process by a good 5-10 minutes and then I have fewer items to clean (i.e., no blender or food processor to clean).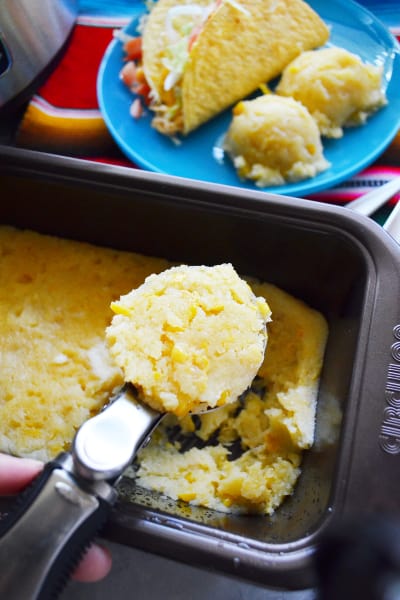 Since you cook this recipe in the slow cooker you will want to cover your corn cakes with tinfoil or place a kitchen towel on top of the slow cooker then place the lid on top. This will help reduce the amount of water that will drip down on the corn cakes.
Don't worry — if you forget to do this step you can easily (and carefully) drain the water off the top of your corn cakes.  I've tested this recipe multiple times and have found that for the best consistency you'll want to let the corn cakes sit outside the slow cooker for at least 10-15 minutes to firm up.
Then, simply take an ice cream scoop and scoop the corn cakes out of the pan. If you scoop when they are still warm you can use up all the corn cake batter no problem.
If you scoop what you need then let it sit and go back it starts to harden and you don't get the same great silky smooth corn cake consistency. So my advice to you, scoop it while it's warm.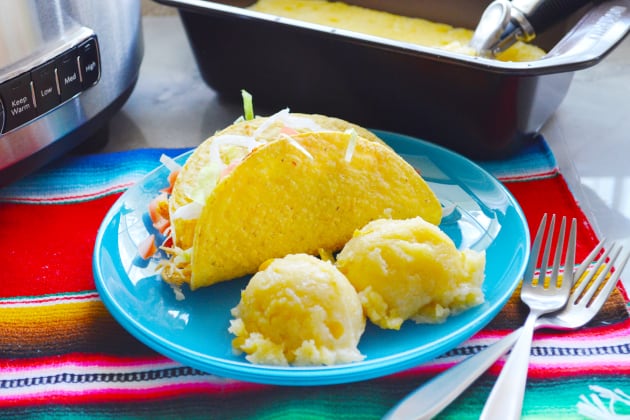 Whether you're having a Mexican fiesta for a crowd or just a taco dinner for your family, add my Mexican corn cakes to your menu!
Ingredients
1/2 cup Unsalted Butter, softened
1/3 cup Granulated Sugar
1/3 cup Masa Harina
1/4 cup Warm Water
1 14.75 ounce can Creamed Corn
1/4 cup Cornmeal
1 teaspoon Salt
1/2 teaspoon Baking Powder
Directions
Place 2 cups of water in a 6.5-quart oval slow cooker. Preheat the slow cooker on high while you are prepping the corn cakes.
Place the softened butter and sugar in a stand mixer. Using a paddle attachment beat on medium until incorporated (about 30 seconds). Place the remaining ingredients in the stand mixer and beat on medium for 1 minute or until fully incorporated.
Pour the corn cake mixture into a 9x5 loaf pan. Place the loaf pan in the slow cooker with the lid on. Cook on high for 2 hours 30 minutes. Once the corn cakes are done carefully lift the lid, tilting it to one side first so that the water doesn't pour into the corn cakes.
Let the cooked corn cakes sit outside the slow cooker for 10-15 minutes to firm up. Using an ice cream scooper, scoop corn cakes on to a platter. Enjoy immediately. 
Recommended
Tags: Slow Cooker, Tex Mex, Mexican, Corn, Side Dishes, Easy, Family Meals and Snacks