Bourbon Chicken Sheet Pan Dinner
Tanya Schroeder | Lemons for Lulu
This bourbon chicken sheet pan dinner recipe tastes so good! Any time dinner only takes one pan you know it's a winner.
One of my favorite food court meals has always been bourbon chicken. There was a time where my friends and I would go to the mall every Saturday when was in college. While we never had a lot of money to spend, we somehow always managed to scrape up enough money to treat ourselves to lunch.
There was something so addictive about that food court bourbon chicken! The sauce was thick and tangy with a hint of sweetness. Everything about the sauce appealed to my senses. It smelled good, tasted good, and looked good. And it didn't require much in the way of sides. It was perfect with rice or all on its own.
I am fairly sure I ate that chicken every weekend for six months straight. I only stopped because I got a job. No job, no money. No money, no bourbon chicken.
I forgot my old favorite meal until now. I figured it was time to teach the family all about bourbon chicken. Making this recipe at home would mean that I can control things like fat and sodium and turn this into a sheet pan dinner meant that I could make it a simple, everyday recipe.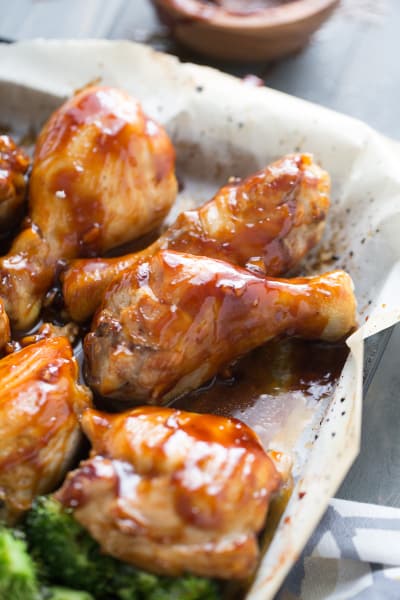 I used chicken thighs and drumsticks for this recipe. The darker meat stayed moist during the cooking and added a lot of flavor to any dish like these sesame ginger chicken thighs or these grilled chicken drumsticks.
The sauce for this bourbon chicken is so simple, and chances are you have all the ingredients in your pantry. I roasted potatoes and broccoli alongside my chicken, but you could easily substitute your favorite veggies.
While this recipe is simple, you will need to work in stages. Prepare your sauce while you roast your chicken and potatoes. Baste your chicken and add your broccoli. Before long your kitchen will be filled with that special, savory/sweet aroma that comes from good bourbon chicken!
Ingredients
1 pound Chicken Thigh
1 pound Chicken Drumsticks
1 pound Fingerling Potatoes
1 teaspoon Salt
1 teaspoon Black Pepper
1 bunch Broccoli, cut into florets
For the Sauce:
1 teaspoon Olive Oil
1/3 cup Apple Juice
1 teaspoon Ground Ginger
1 clove Garlic, minced
1/4 cup Brown Sugar
1 tablespoon Apple Cider Vinegar
1 tablespoon Molasses
2 tablespoons Soy Sauce
1/3 cup Ketchup
1/4 cup Bourbon
Directions
Preheat the oven to 450°F.
Spray a sheet pan with non-stick spray.
Arrange chicken pieces and potatoes on the baking sheets. Sprinkle with salt and pepper. Bake chicken and potatoes for 20 minutes.
Meanwhile, prepare bourbon sauce. Combine the sauce ingredients in a medium saucepan over medium heat. Whisk until the ingredients are incorporated. Continue to cook on low until the mixture begins to thicken.
After the chicken has been baking for 20 minutes, add the broccoli to the same pan. Baste chicken pieces with the sauce and continue to bake chicken for another 18-20 minutes or into an internal temperature registers 165 degrees. 
Recommended
Tags: Easy Dinners, Dinners, Family Meals and Snacks, Chicken, Broccoli, Roasted, Potatoes