Cinnamon Fudge
Aimee Shugarman | Shugary Sweets
Cinnamon fudge is a great take-along hostess gift. We know you've got at least one more party coming up!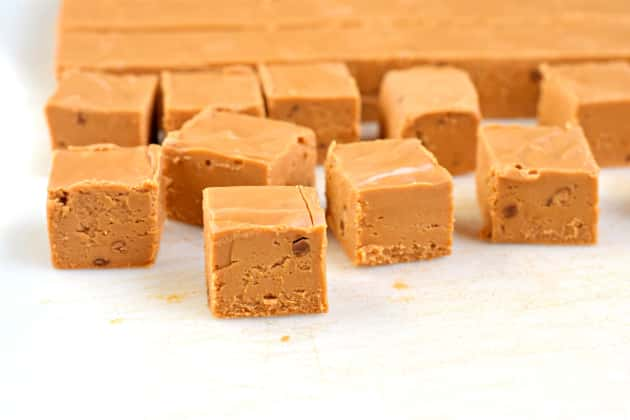 Christmas is over. But if you're like me, you still have holiday parties to attend! (or maybe you're reading this blog post in June!). Either way, this Cinnamon Fudge is the perfect year round treat!
As a kid, making sugar cookies, I used to be obsessed with putting as many cinnamon red-hots onto my cookies as possible. The more, the merrier! I LOVE cinnamon.
From cinnamon coffee cake, to cinnamon coffee creamer… and everywhere in between, I LOVE IT. It's probably my most used spice in my kitchen (along with cumin, but that doesn't belong in fudge!).
Today's Cinnamon Fudge recipe uses those Hershey's Cinnamon Morsels. I have a hard time finding them at my grocery store, but when I do (it's usually at Walmart) I stock up! I've also ordered them on Amazon by the case, super easy and inexpensive!
I used my favorite fudge recipe base to get this going, and then instead of using white chocolate chips, I used the Cinnamon Chips. Oh my gosh, the depth of flavor is incredible.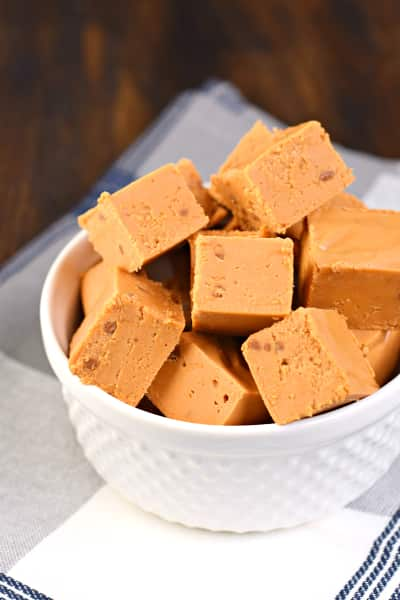 As you can see, I didn't let them melt 100% like I usually do with the white chocolate. While there were still some bits of cinnamon chips left, I poured this into my prepared pan to set. Another genius decision, if I do say so myself!
A few notes about making today's fudge recipe:
Place your marshmallow fluff and cinnamon chips in the bowl of an electric mixer. Set that aside while your prepare the butter/sugar/cream mixture on the stove
You want your stovetop mixture to come to a rolling boil. Once it does, let it boil vigorously for 4 minutes (set your timer)! And be sure to stir CONSTANTLY!
Using your electric mixer (with a whisk attachment), pour your hot mixture over the cinnamon chips and marshmallow…then turn it on medium to blend. This will melt the cinnamon chips, stop it before they are completely melted (make sure you scrape down the sides of your bowl too)!
Pour this into a prepared baking dish. I use an 8 or 9-inch square pan lined with parchment paper. This makes it easy to remove once it's set up (and clean up is a breeze)!
If you're making this ahead of time (you can make it 1-2 weeks in advance, if you store it in the refrigerator) don't cut it until the day you serve it. This keeps the fudge fresher and it won't dry out! ENJOY!
If you make this fudge, let me know what you think!! It's up there as one of my favorites right now!
Check out some of my other favorite truffle and candy recipes!
Ingredients
2 cups Granulated Sugar
3/4 cup Heavy Whipping Cream
3/4 cup Unsalted Butter
pinch of Kosher Salt
10 ounce bag Cinnamon Chips
7 ounce jar Marshmallow Fluff
Directions
Line an 8 or 9-inch square baking dish with parchment paper. Set aside.
In a large bowl (for a stand mixer), add cinnamon chips and the jar of marshmallow cream. Set aside.
In a large saucepan, melt butter with sugar, heavy cream and salt.
Cook and stir over medium heat until mixture begins to boil. Boil for 4 minutes, stirring continuously.
Remove from heat and pour over cinnamon chips and marshmallow in bowl.
Beat for about one minute using the whisk attachment, just until cinnamon chips are melted (but not completely, leaving a few pieces).
Pour immediately into prepared baking dish.
Refrigerate for 4 hours (or overnight).
Cut into bite size pieces and enjoy. Best stored in refrigerator in air tight container for one week.
Recommended
Tags: Fudge, Homemade Candy, Homemade Gifts, Cinnamon, Easy, Boiled
Sign Up for Weekly Personalized Recipes. FREE!