Classic Banana Bread
Kate Donahue | Food Babbles
Classic banana bread shouldn't be underestimated. This sweet treat goes over well with any crowd, morning, night, or in-between.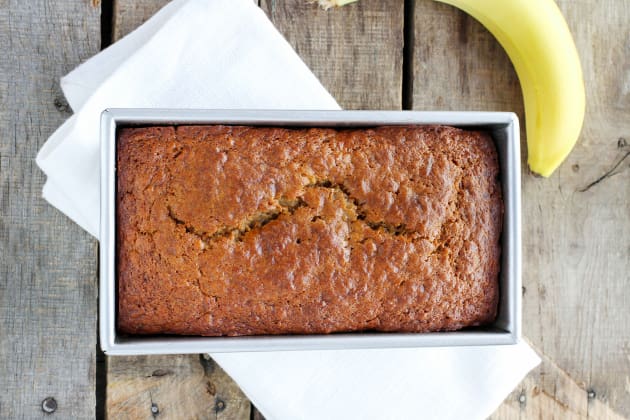 Most people look at a browning bunch of bananas and think to themselves, "Those are about ready for the trash." I always look at that same sad bunch of spotty bananas and think to myself, "Ooo!! It's just about time to make banana bread!"
I never even used to like bananas at all, in any form. As a kid, I wouldn't touch them although my dad always tried sneaking slices into my Cheerios. I don't know why he thought he would get away with it. I simply avoided them and ate all the cereal, leaving the poor banana slices behind swimming in leftover milk.
These days, I'm still not too crazy about them straight up, but blending into a cinnamon pear green smoothie, I love them. They add sweetness without adding sugar! The only other way I really enjoy bananas is if they are baked into moist, cinnamony banana bread.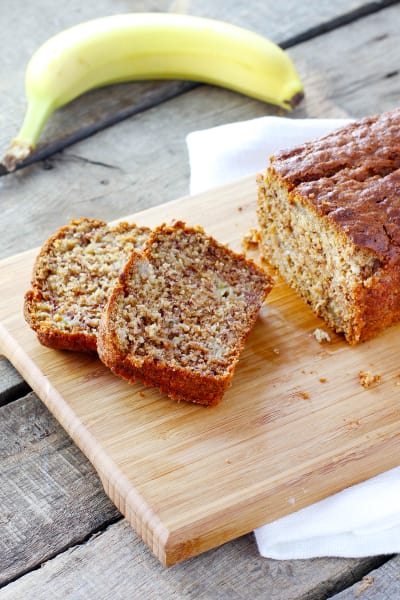 Growing up I vividly remember my grandfather baking banana bread. His had walnuts in it, which I didn't care for, but I still devoured his banana bread, picking out the walnut along the way. Just try keeping me away from Grandpa's classic banana bread!
For that matter, try to keep anyone away. As soon as that sweet scent starts wafting through the air in my house people start calling dibs. That's why I now know better than to ever just make one loaf. The minimum is always a two loaf batch.
The moment those bananas turn brown, every one of them is spoken for. Today I'm sharing my grandfather's recipe.
This classic banana bread recipe is so easy and comes together in a flash! It's moist, slightly sweet with warm cinnamon and just a touch of nutmeg. I assure you, you'll have people lining up at your door when they find out you've got brown bananas on your countertop.
Ingredients
2 cups All-Purpose Flour
1 teaspoon Baking Soda
1 teaspoon Baking Powder
1 teaspoon Salt
2 Eggs
1 cup Granulated Sugar
5 Ripe Bananas
1 teaspoon Pure Vanilla Extract
1/2 cup Vegetable Oil
1 teaspoon Cinnamon
1/4 teaspoon Nutmeg
Directions
Preheat your oven to 350°F. Spray two 8x4-inch loaf pans with baking spray containing flour. Set aside.
In a medium bowl, combine the flour, baking soda, baking powder and salt.
In another bowl, beat together the eggs and sugar. Stir in the bananas, vanilla, oil, cinnamon and nutmeg.
Stir in the flour mixture in two parts, just until combined. Divide the batter evenly between the two loaf pans.
Bake in preheated oven for 50 minutes to 1 hour, or until a tester comes out clean.
Remove from oven and cool in pans on wire rack for 30 minutes then turn bread out on to wire racks to cool completely.
Recommended
Tags: Bread, Quick Bread, Baking, Baked, Bananas, Easy, Breakfasts, Brunches, Snacks, Family Meals and Snacks, Lunchbox