Espresso Toffee Fudge
Aimee Shugarman | Shugary Sweets
Espresso toffee fudge is just the bit of sweetness you need to power through your afternoon. Whip some up so you've got afternoon treats for dayyyyys!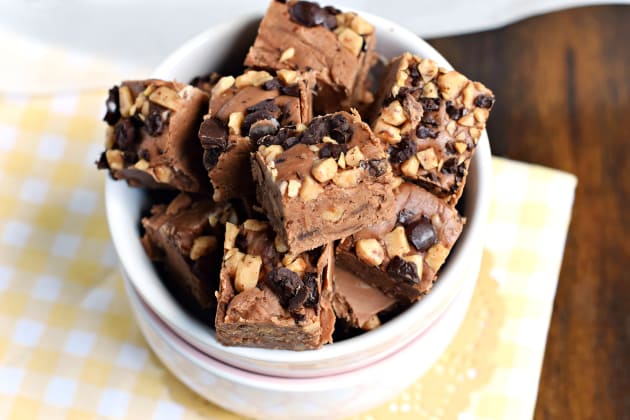 You guys would be so proud of me! I've totally cut back on my coffee consumption. You see, I had this horrible addiction.
I knew it had peaked when I got a Keurig to go on my nightstand so I could have a cup of coffee in the morning before even leaving my bed. I would brew a cup of Keurig while my coffee pot was brewing a full pot. Seriously, you guys, it had gotten pretty insane.
I also realized that I love coffee creamer. And as the pounds started to pack on the past year, I'm positive the excess was because of all the coffee I was drinking (and all the creamer in that coffee). Because it certainly couldn't have been all the desserts, hahaha!!
So, this past fall we got the new Ninja Coffee Bar. Replaced all our other brewers (Keurig, espresso machine and drip coffee) with the single coffee maker. While this is not a sponsored post, I will say, GO GET ONE. It's fantastic. But more to the point, I decided I would try cutting back to two or three cups per day. While that may seem like a lot to some people, it's definitely a reduction in my book!
And I'm happy to report I've adjusted to my new routine. That's not to say I don't still love to "coffee all the things." Which includes today's fudge recipe.
You may remember awhile back I made this salted caramel fudge that also had espresso powder in it. TO DIE FOR! Packed with creamy chocolate flavor and a tablespoon of espresso powder, it's truly delightful. Add in the creamy caramel and it was a winning combo in flavors!
Today's version has the buttery flavor of toffee combined with the robust flavor of coffee. I not only added in espresso powder, I took it a step further and crushed some dark chocolate espresso beans. I found mine at Aldi, but you can also get them at Trader Joe's and Amazon!
Don't be giving this to people who hate coffee. While I like to sneak coffee into my chocolate desserts to enhance the chocolate flavor, in today's fudge, the coffee flavor IS noticeable. And amazing.
And if you're like me and want to get coffee any way possible, this is a great recipe! It would also make a fantastic gift if you wrap it up in a pretty box (or MUG) and give it to a friend, teacher, or coffee lover!
Make sure to check out some of my other favorite truffle and candy recipes!
Ingredients
2 cups Granulated Sugar
1/2 cup Skim Milk
1/2 cup Unsalted Butter
3/4 cup Marshmallow Cream
12 ounces Milk Chocolate Chips
1 teaspoon Espresso Powder
1/2 cup Dark Chocolate Covered Espresso Beans, Crushed, divided, coarsely, not fine
3/4 cup Toffee Chips, Divided, or crushed toffee candy bars
Directions
Line an 8-inch baking dish with parchment paper. Set aside.
In a large saucepan over medium high heat, combine sugar, milk and butter.
Bring to a boil. Stirring constantly, boil for a full 2 minutes (ROLLING BOIL).
Remove from heat.
Pour hot mixture into a mixing bowl and add in the marshmallow cream, milk chocolate chips and espresso powder.
Beat until smooth (several minutes).
Fold in half of the crushed espresso beans and 1/2 cup of the toffee bits.
Pour into prepared baking dish.
Press the remaining espresso beans and 1/4 cup toffee bits on top of the fudge.
Refrigerate for 3-4 hours until firm.
Before cutting into pieces, allow to come to room temperature.
Recommended
Tags: Fudge, Homemade Candy, Coffee, Toffee, Easy, Simmered, Snacks, Desserts, Family Meals and Snacks, Homemade Gifts, Holidays