Salted Nutella Crunch Bars
Kelsey Banfield | The Naptime Chef
These salted Nutella crunch bars are super easy, no bake treats. They're only THREE ingredients, and so, so good!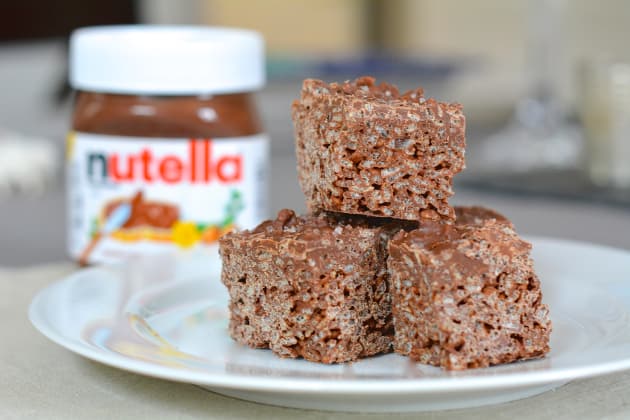 I'll be the first to admit it: I am a candy bar addict. I LOVE candy bars and do everything in my power to keep them out of my house and out of my mind completely. I don't even go down the candy aisle at the supermarket.
Why? Because I would buy every single one without a second thought, pop them in my freezer, and eat them all summer long. (Bliss!)
However, I do, at times, make myself some homemade candy bars. They are simpler than the ones at the grocery store, but still deliver a satisfying crunch, chocolate flavor, and overall mouth feel. They squash my cravings for chocolate in just two bites, and are sophisticated enough to feel more like a gourmet chocolate than something from the five and dime down the street.
The trick to these candy bars is that they are very, very simple. There are no additives or bizarre ingredients that lend them any kind of manufactured taste. I also don't add in anything too complicated.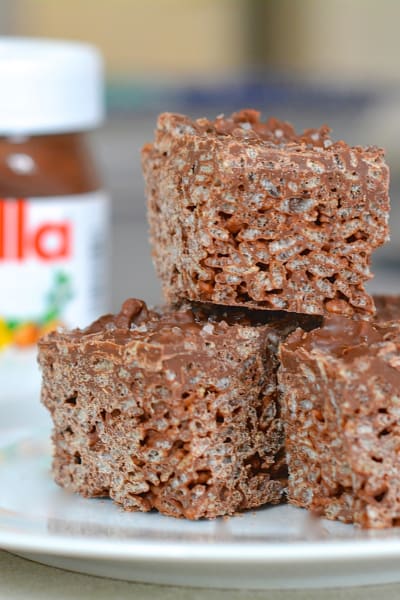 For example, there are no layers of nougat or caramel. There are no food colors or flavors. There are just three ingredients: crispy rice cereal, melted chocolate hazelnut spread, and flakes of sea salt. Yes, it is simple, but they are oh so good.
Getting these just right isn't hard, but here are my tips anyway: First, you have to work fast, so it is best to have the ingredients all lined up. Once the chocolate is melted, you want to stir in the ingredients and get them into the pan right away.
If the mixture gets sticky, dip your spatula in cold water and press down on the chocolate firmly. The spatula won't stick and nothing will be ruined. Then, let them chill for as long as needed until completely firm. Don't risk cutting them if they seem too soft.
Once the bars are firm you are all set to enjoy them! Break them up, take them to the beach, or eat them all when nobody is looking!
Ingredients
16 ounces Nutella, Or chocolate hazelnut spread of your choice
6 cups Crispy Rice Cereal
2 teaspoons Flaked Sea Salt
Directions
Lightly spray the bottom of a 8"x8" glass baking dish with cooking spray and line the bottom with parchment paper. Then spray the baking dish again.
Set a large bowl over a saucepan of simmering water and add the chocolate spread. Once it has melted, stir in the crispy rice cereal until completely incorporated.
Transfer the mixture to the lined pan and press the mixture in tightly with a spatula.
Dust the top liberally with sea salt.
Cover the pan and chill completely until firm, at least 6 hours.
Break the bars into large chunks and enjoy!
Recommended
Tags: Bar Desserts, Desserts, Snacks, Family Meals and Snacks, Nutella, No Bake, Easy, Lunchbox